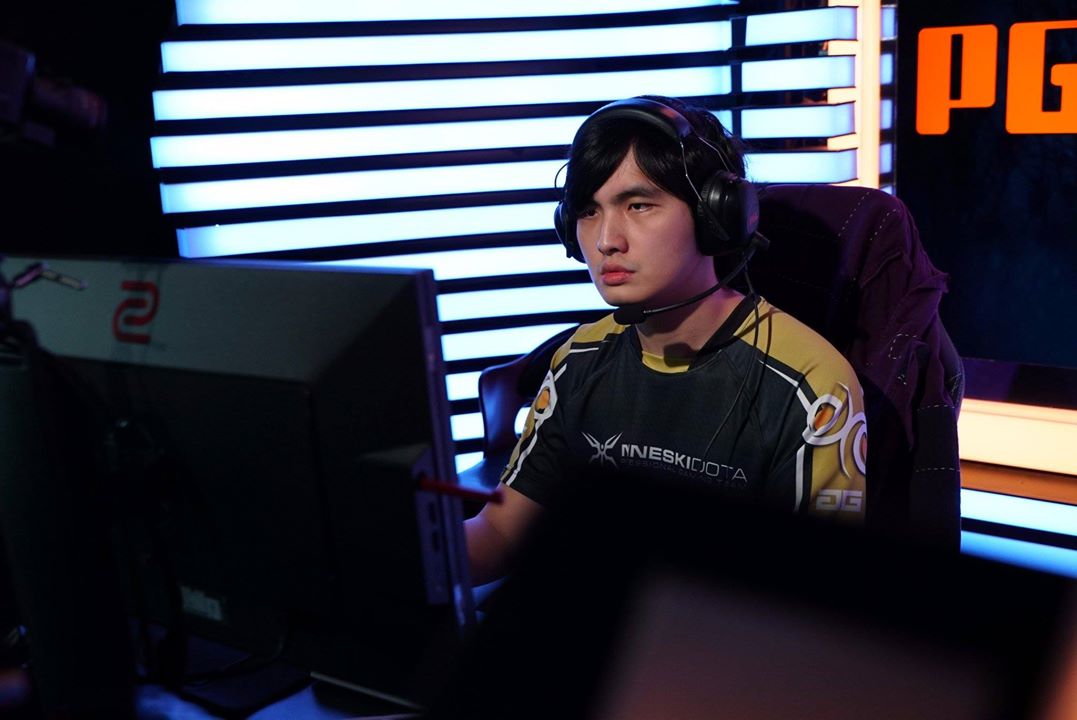 We're kicking off our Secretlab Endorsers Series with a feature on iceiceice, fresh from his Dota 2 Asian Championship triumph. Stay tuned to our blog and Facebook page for more.
It's hard to take Daryl "iceiceice" Koh seriously.
On one hand, he's the Dota 2 offlane superstar and a key cog of the first Southeast Asian team to clinch a Dota 2 Major tournament. On the other, he's infamous for trolling his teammates and fans; clear case-in-point: iceiceice's Invoker Guide (start from 1:57).
Yet for all his deadpan, whimsical theatrics, such as him pretending to detach his thumb right before a tournament match, the 27-year-old's stock has never been higher.
On Sunday, his team, Mineski, made history by defeating LGD Gaming 3-2 in a nail-biting Grand Final to clinch the Dota 2 Asian Championship (DAC) in Shanghai, China, earning $370,000 in prize money and a heap of qualifying points for this year's The International, Dota 2's equivalent of the World Cup.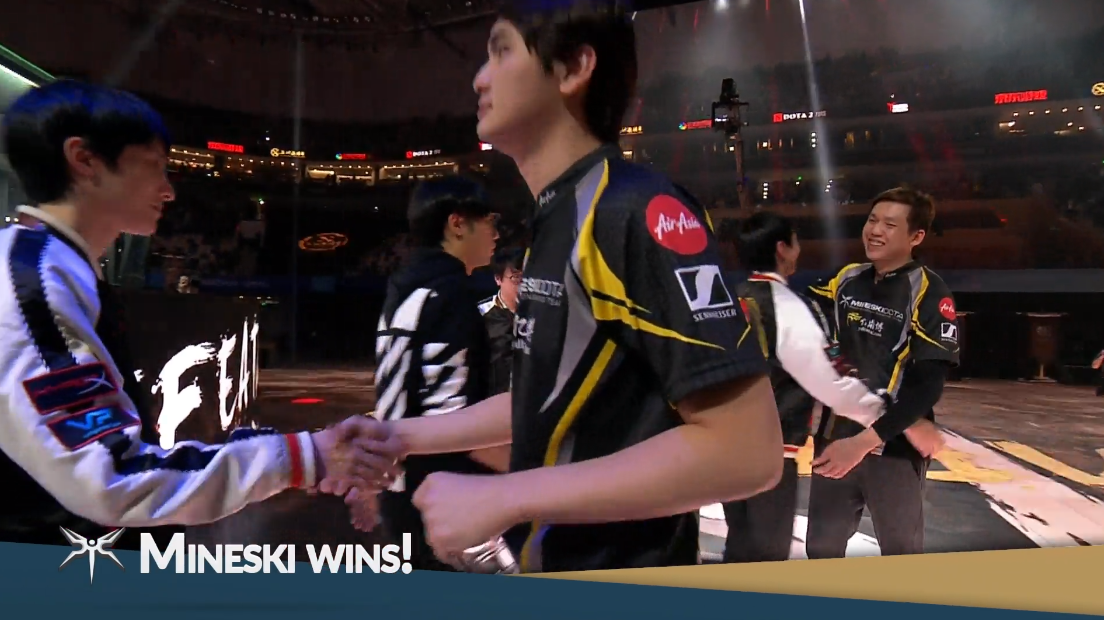 iceiceice played a pivotal role in his team's romp to the Major title, with his Pangolier producing one of the best showings of the tournament; repeatedly causing chaos and frustration by disrupting the opposing team's formations and tactics, subsequently allowing his team to pick off their opponents.
"It feels good to be playing together as a team and I hope we'll be able to improve together while having fun," he tells us, fresh from his DAC triumph.
To date, iceiceice has raked in about $1.3 million worth of esports prize money—putting him at 32nd overall in the world, ahead of other well-known esports names such as League of Legends star Lee "Faker" Sang-hyeok, and Newbee's Song "Sccc" Chun—according to esportsearnings.com.
At the same time, he's probably the best-known in the world for messing around during player interviews—having earned quite a reputation for distorting questions as a translator, such as during this interview with/for Xu "fy" Linsen.
In our hour-long interview with him as we kick off our blog, it's evident iceiceice does what he does simply because he enjoys what he's doing. After all, he started on video games almost 20 years ago simply because "it was fun".
"I started playing games when I was six. Back then I recall playing Sonic and other games on the Sega (console). That was when I started playing and really enjoyed it and continued playing since," he says.
His parents were not always the most thrilled though, and would often chide or find ways to stop him from playing video games.
"But I would always find ways to continue playing. If they took away my modem (to stop me from playing), I will find it. If they cut off my wire, I would buy a new one," he says.
His foray into competitive gaming was not with Dota 2, but Starcraft II. After competing in a few regional tournaments, he signed for FXOpen e-Sports in 2011, only to be called up for conscription to Singapore's military service a week later.
"I signed a contract but after that I got called off for army enlistment straight away. I had to tell them: 'Guys, I'm sorry I can't fulfil the contract.'," he says.
He eventually switched to Dota 2, and has not looked back since.
"I played Dota 2 because it was fun and I got better. I didn't play because I was good at the game, but I played because I enjoy the game.
"There's no particular reason, it's just fun," he says.
After stints with a number of teams, including then-powerhouse EHOME, Iceiceice set up his own team, Team Faceless, with Anucha "Jabz" Jirawong, and Wong "NutZ" Jeng Yih in September 2016. Team Faceless, however, disbanded a year later after failing to qualify for The International 2017, despite some strong performances such as a Top 4 finish at the 2017 Manila Masters.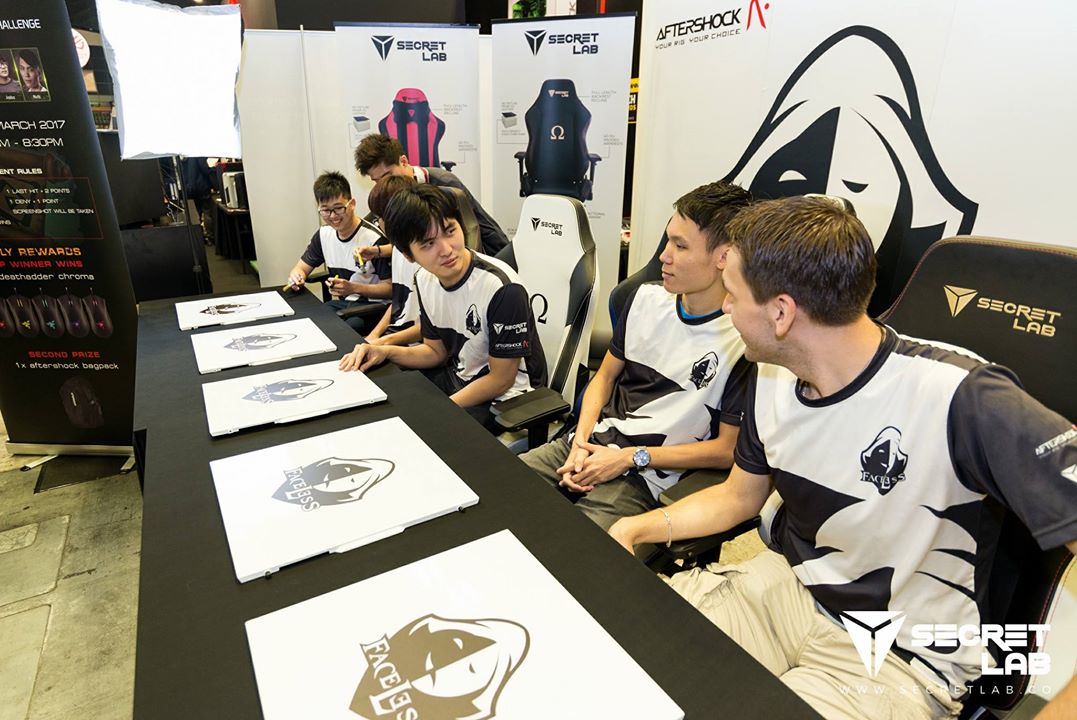 Team Faceless at a fan meet-and-greet.
There was no shortage of interested teams looking to snap up Iceiceice though; he reveals he received "a lot" of offers, but eventually chose to sign for Mineski last August.
"I told them that I was going to stay in China, Singapore or Asia. If I was going to stay in Southeast Asia, I want to stay in Singapore. I told them that I will only go for boot camps, I would not stay anywhere else," he says.
Since joining Mineski, iceiceice has already tasted success at major tournaments twice, beating LGD Gaming to win last November's PGL Bucharest Open, who were the same unfortunate opponents in last Sunday's DAC Grand Final.
Despite being Singapore's top-earning and the Republic's most decorated competitive gamer, he insists he has little regard for such labels.
"I don't feel like I am representing Singapore. Although it's (the country's) got something to do with me, I am representing myself first and foremost. It's nice to know there are supporters from Singapore but I feel there is no difference if they are from elsewhere."
iceiceice also reveals his strategy of improving his gameplay isn't etched in hours of locking himself in a dark room watching replays and video analyses, but simply by playing.
"For me, I actually play more than I watch. I almost don't watch any game," he says.
The only times he watches replays—or forces himself to—are when his teammates have strongly recommended him to view certain past matches, or when he's suffering from a bad patch of form.
"I then study how other players are playing in a similar situation and environment. But normally I just play and play and play," he says.
How does he formulate new strategies?
"You play."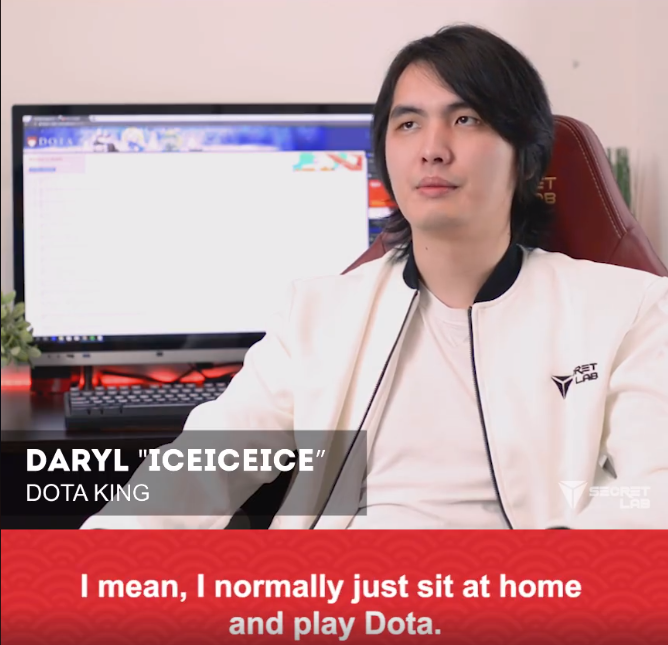 Our Q&A with iceiceice back in February
His daily routine, outside of tournaments, sees him starting "work" at 10am and continuing till 1am, chalking over 10 games each day.
"During these games, I would only do one set of certain things. Every single game. I don't care what the opponent are doing. I will just do this and counter whatever the opponents throw at me.
"I will then write down notes on what to improve and what I did wrong. If I need to watch a replay, I would then watch a replay and see what the opponents are doing," he says, adding that he repeats this up to 100 or 200 games until he masters what counters his selected hero's moves and what complements them.
"When you go a tournament, you play maybe just 10 games. So essentially, out of 100 or 200 games, I am preparing for those 10 games."
"And every of those 10 games are going to be very different. You may be playing a certain hero five games in a row, but those five games are going to be very different. So you've got to know everything that's good and bad about it," he says.
He cites experience and memory as key for success, but the most important aspect of a professional athlete remains his mentality, he says.
"You have to remain calm, get rid of your bad emotions and understand that you are there to play a game.
"Yes, you are there to win, but winning comes after playing your game properly. If you are thinking too much of winning, you are going to be afraid of losing," he says.
He doesn't put a timeframe on when he would hang up his keyboard and mouse and call time on his competitive gaming career, but reveals he has put thought into life post-Dota 2.
"Gaming is only viable as a career if you enjoy it and continue to be better than those around you.
"If I am done with competitive Dota, I will go stream for like a while. Get some money and then, when I have enough, invest and sit back and rest. I like investing so yeah, that's something to consider," he says.
This time, we think he's serious.
Secretlab congratulates Iceiceice and Mineski for their incredible Dota 2 Asian Championship victory. Stay tuned to our blog (https://blog.secretlab.co) and our Facebook page as we bring you more features and announcements.
(Cover photo from PGL)