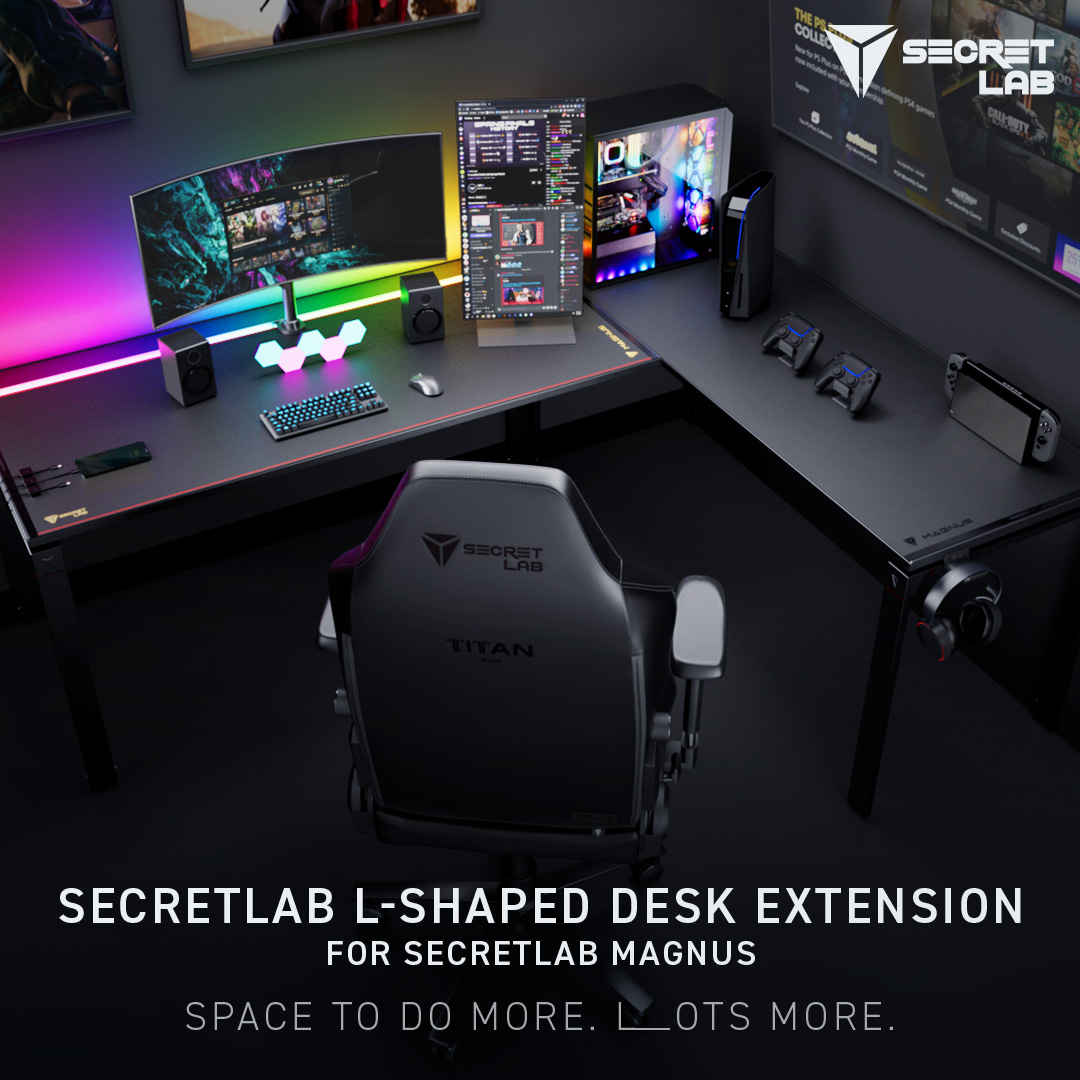 Maximize and personalize your battlestation with our growing suite of MAGNUS accessories.
Designed for the power users who want to do it all, the all-new Secretlab L-Shaped Desk Extension is here to give you more room to work and game, with 1.5m (59") of additional space. Expand your MAGNUS desk real estate and free up space for greater gaming freedom, and a clearer mind.
Thoughtfully engineered, the L-Shaped Desk Extension integrates seamlessly on either side of your MAGNUS via a secure mounting bracket for a perfect fit. It is also crafted to be fully compatible with the Secretlab MAGPAD™ and the MAGNUS magnetic ecosystem.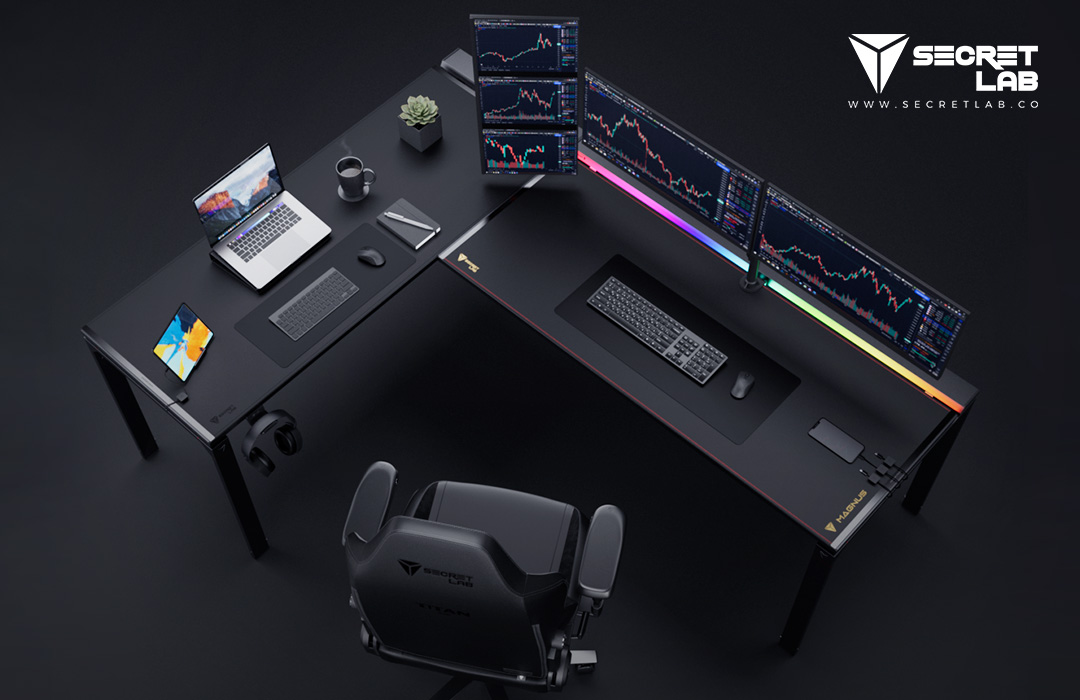 The Secretlab MAGNUS Metal Desk was designed to meet the needs of the most discerning gamers, creators, and professionals. Equipped with a built-in cable management tray and a proprietary ecosystem of modular, magnetic accessories, every element has been specially engineered for unrivaled cable management and total control over your space.
Built to complement the MAGNUS, the L-Shaped Desk Extension was also designed to pair perfectly with your Secretlab gaming chair. Altogether with our full collection of award-winning gaming chairs and desks, level up your work and play with a functional, versatile setup built for maximum productivity and performance.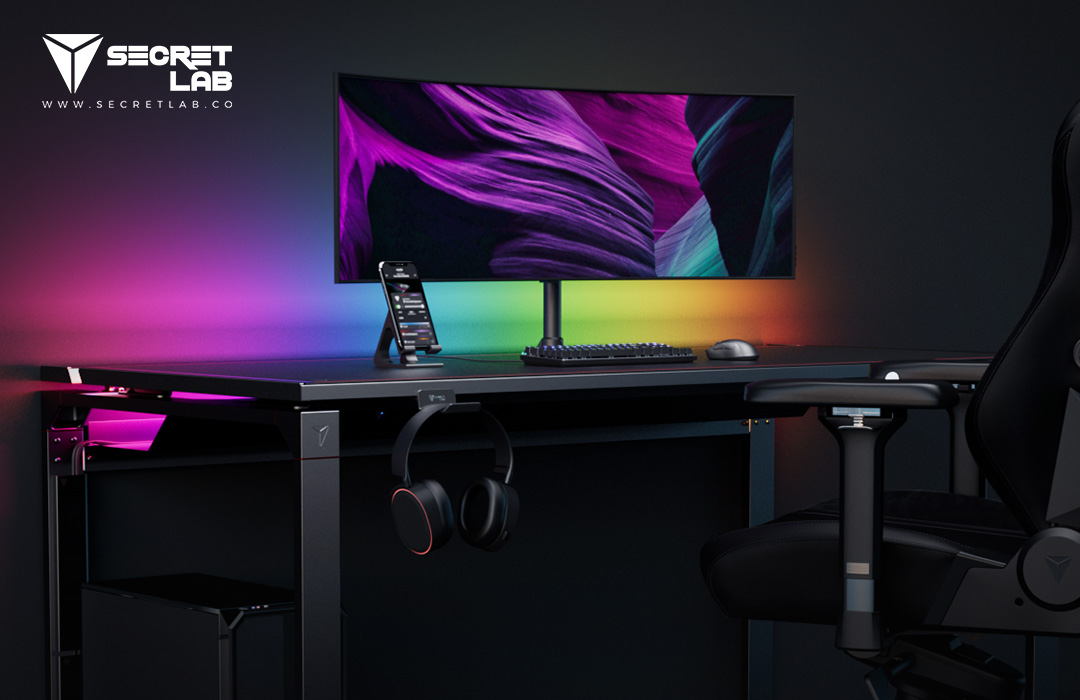 Put the finishing touches on your gaming setup and illuminate your desk with lighting that fits your every mood. Co-developed by Nanoleaf and Secretlab's engineers, the Secretlab MAGRGB™ Diffused LED Strip (Smart Lighting Edition) plugs your Secretlab MAGNUS Metal Desk into Nanoleaf's expansive smart lighting ecosystem.
Light up your desk in sync with the rest of Nanoleaf's RGB lighting products through the Nanoleaf app to experience unrivaled work, entertainment, and gaming immersion. With 123 individually addressable LEDs and support for over 16 million colors, create the perfect ambience for your home and battlestation with custom Scenes, lighting presets and more, all at the touch of a button. You can even complete your Secretlab MAGNUS Teams Edition desk setup with Secretlab-exclusive custom lighting presets from your favorite esports teams.
Designed to function effortlessly with your smart home, integrate your setup with Thread mesh technology for improved connectivity and instantly control your lights using just your voice with Google Home or Apple HomeKit. A built-in magnetic base makes installation a breeze, and embedded magnets securely anchor it in place for seamless integration in a snap.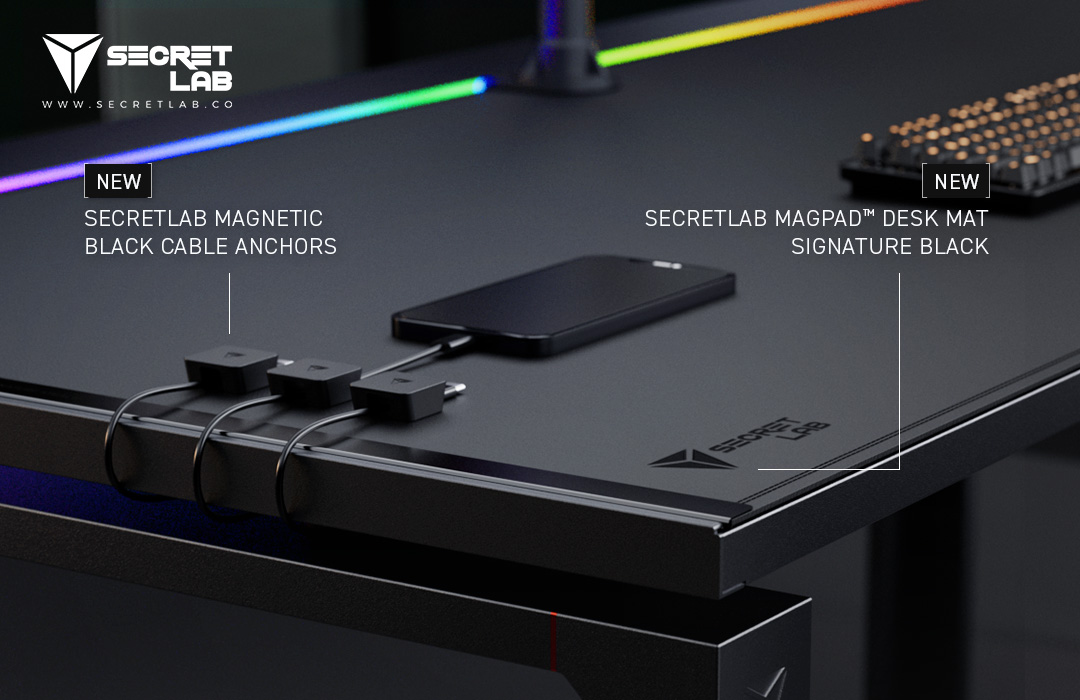 Set the stage with the Secretlab MAGPAD™ Desk Mat, a full coverage magnetic mat that swathes your desk in a plush and supple leatherette. Capped with tough metal sleeves and a full-coverage magnetic bottom, it stays securely in place throughout your all-night gaming session or workday. Top it off by securing all your cables in place with the Secretlab Magnetic Cable Anchors — because cable management should be this easy.
Achieve the perfect blackout battlestation with the all-new MAGPAD™ Desk Mat Signature Black and Magnetic Black Cable Anchors. Understated and elegant, right down to the smallest detail. With more designs and add-ons on the way, you'll soon have access to a full suite of accessories designed for versatile organization of all your gear.
Shop the Secretlab L-Shaped Desk Extension, MAGRGB™ Diffused LED Strip (Smart Lighting Edition), MAGPAD™ Desk Mat Signature Black and Magnetic Black Cable Anchors.