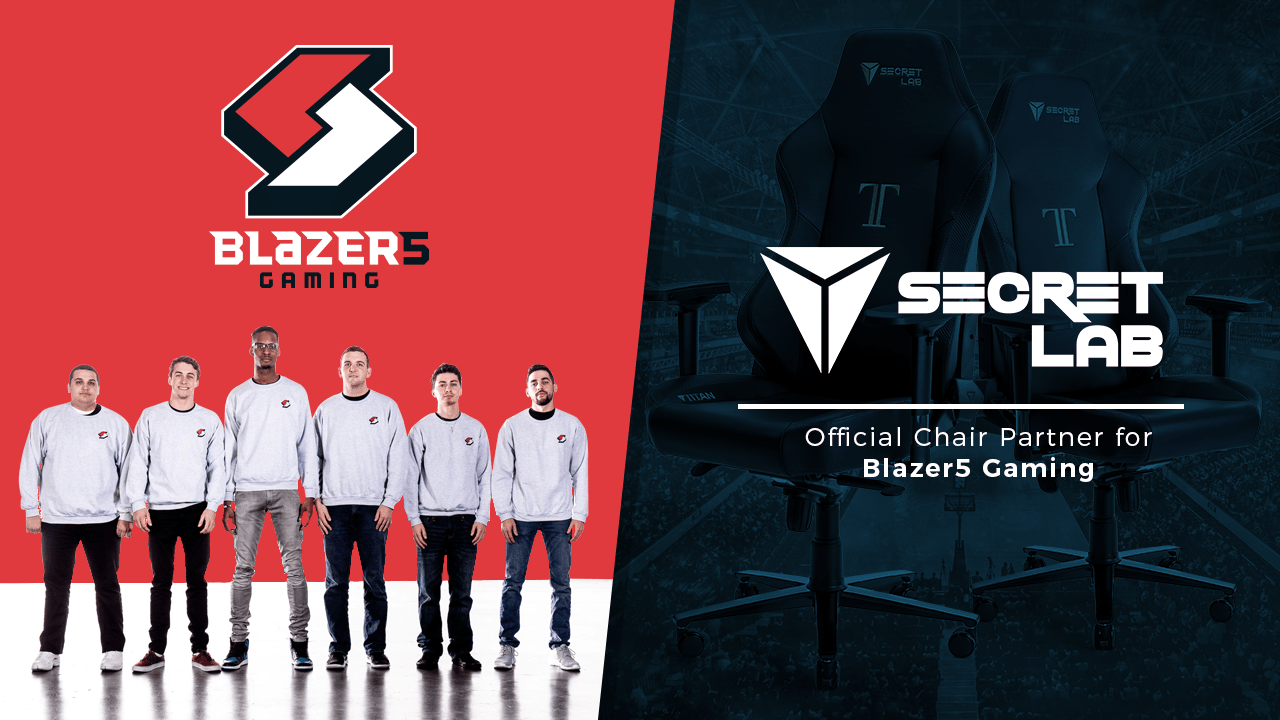 PORTLAND, Ore. (April 30, 2018) – World-class professional gamers need pro-level seating for intense competition, and that's exactly what Blazer5 Gaming is bringing aboard for its debut season in the NBA 2K League. International computer chair maker Secretlab has signed-on as the official gaming chair partner for the new franchise.
"Secretlab's reputation for quality and style played a major role in the development of this partnership," said Cameron McAlees, Operations Manager for Blazer5 Gaming. "We felt that the competitive demands of our Blazer5 Gaming roster would be best-served by a chair of the caliber of the Secretlab TITAN model. It's great to have them as a part of our team."
Said Alaric Choo, Secretlab's co-founder and PR & Technical Director: "Anyone who loves basketball and the excitement and competitiveness of the NBA would know the Portland Trail Blazers franchise well. We are excited to be partnering their NBA 2K team, Blazer5 Gaming, and supporting them for the inaugural NBA 2K League season."
Earlier this month, Blazer5 Gaming stacked its roster with powerhouse NBA 2K talent, including Dayne (OneWildWalnut) Downey; California – Center; Nidal (Mama Im Dat Man) Nasser; California – Point Guard; Connor (Dat Boy Shotz) Rodrigues; California – Power Forward; Andron (Lavish Phenom) Thomas; New York – Small Forward; Grant (GRANT MONSTER) Barker; California – Shooting Guard; and Jomar Varela (Jomar12 PR) Escapa; Puerto Rico – Center.
The inaugural season will include weekly matchups, three in-season tournaments, playoffs and the NBA 2K League Finals to determine a champion – all played at a central studio location in Brooklyn, New York. Fans can connect with Blazer5 Gaming content, information, announcements and other special promotions at www.blazer5gaming.com; and by following the team @blazer5gaming on Twitter, Facebook and Instagram.
ABOUT SECRETLAB
Secretlab was founded in 2014, and the Singapore-based computer chair manufacturer has since expanded worldwide, priding itself on its high-quality products, great customer service and fair price. How? By always emphasizing on its direct sales—minimizing middleman costs—which allows it to maintain quality and service standards, while transferring cost savings to the customer. Today, the company has upgraded the seating experiences of users in over 40 countries worldwide—such as the United States, Canada, United Kingdom, Australia, Singapore, and regions such as Europe and South-east Asia. Its four product lines mean there is a chair for everyone: The THRONE, the OMEGA, the TITAN and the ultra-luxurious NAPA Series, upholstered in soft, supple Napa leather.
ABOUT THE NBA 2K LEAGUE
The NBA 2K League is a professional esports league co-founded by the NBA and Take-Two Interactive Software, Inc. (NASDAQ:TTWO). Launching in 2018, the league will feature the best 102 NBA 2K players in the world. Each of the league's 17 teams will draft six players to compete as unique characters in 5-on-5 play against the other teams in a mix of regular-season games, tournaments and playoffs. The league hosted tryouts in early 2018 before the draft in April; with the season beginning with its Tip-Off Tournament on May 1. For more information about the NBA 2K League, visit www.NBA2KLeague.com.