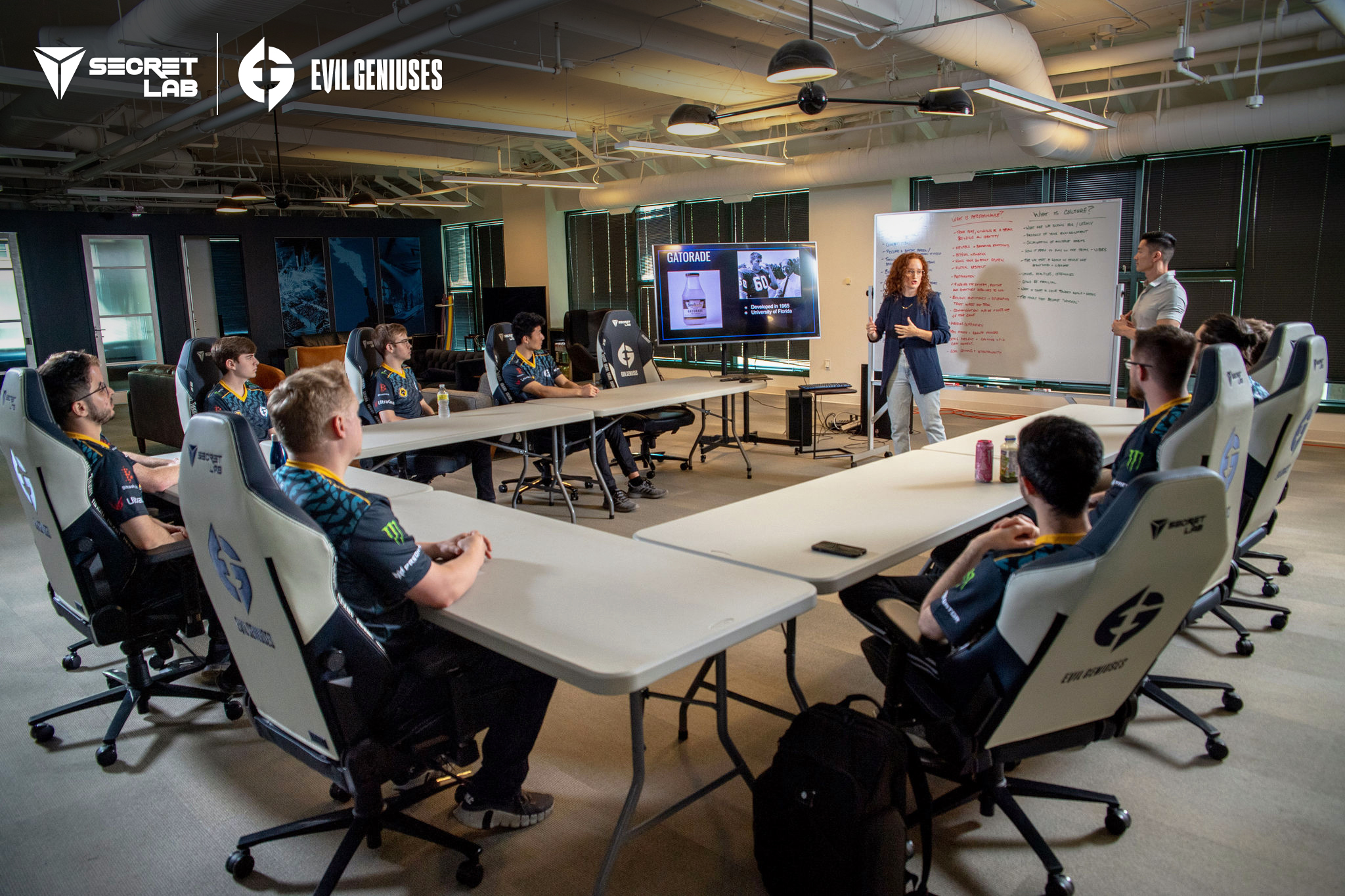 Achieving peak performance through good sitting health habits with TITAN Evo 2022 gaming chair
For esports athletes, being in the right mental state and good physical health at all times is synonymous with good performance. Last month, our esteemed Secretlab Ergonomics Advisory Board (EAB) members, Dr. Jordan Tsai (Respawn Therapy) and Dr. Lindsey Migliore (Gamer Doc), lent their expertise in sports health and physiotherapy and conducted an Ergonomic Wellness Seminar for the new CS:GO division of Evil Geniuses (EG), one of North America's most established esports organizations.
Held at the EG headquarters in Seattle, 10 members and two coaches of the CS:GO squad were taken through a series of recommended sitting postures by our esports physicians, including simple exercises one can do while seated, and the best ways to utilize the personalized features of their Secretlab TITAN Evo 2022 gaming chair.
Here are some key highlights structured for your benefit at home and at work:
On mobility: Shifting between a relaxed and active posture while seated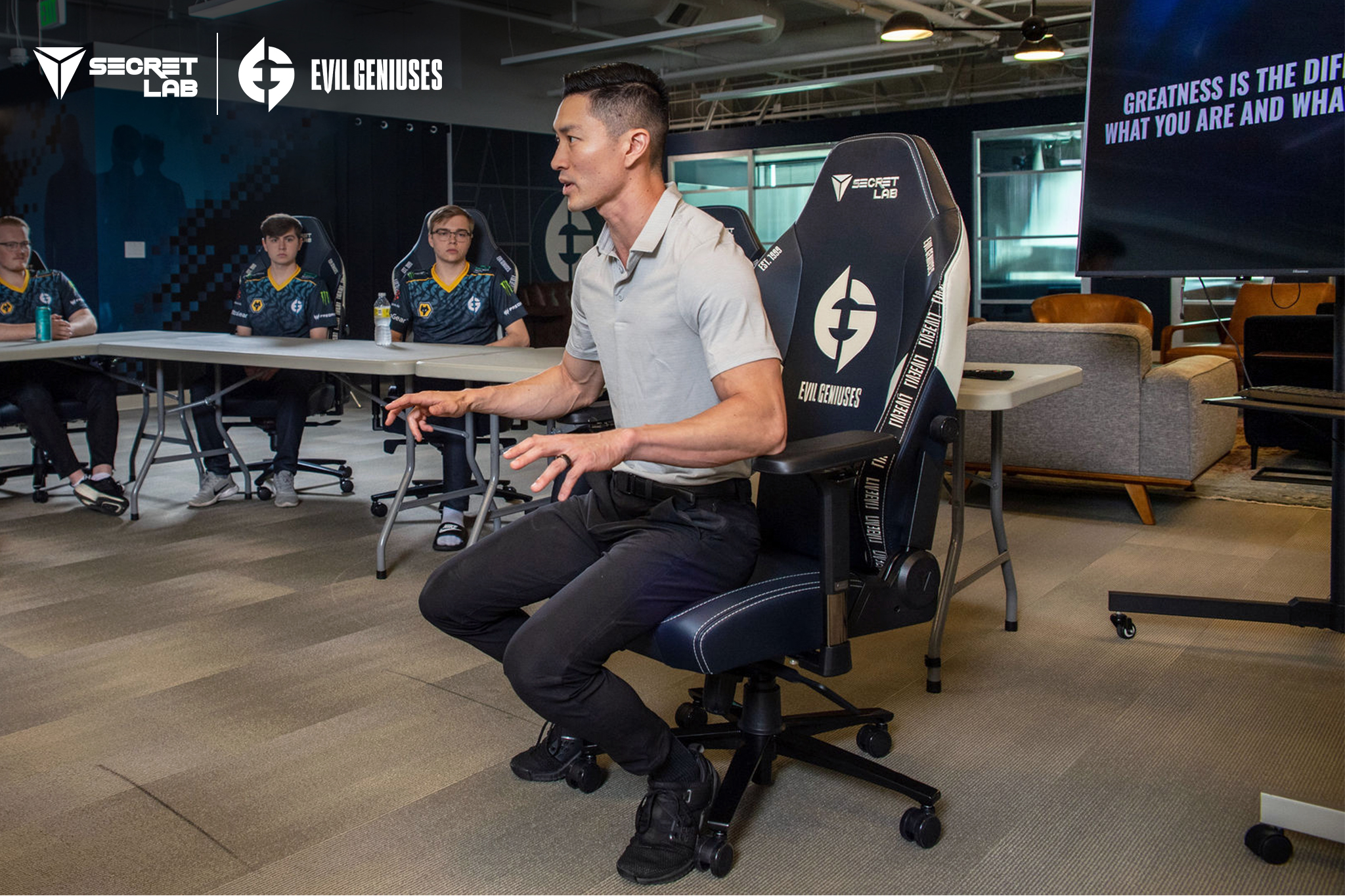 Contrary to popular belief, there is no one "perfect" sitting position, and the EG players were quickly shown the differences between a relaxed and an active posture, and how both adequately and ergonomically support an individual whether they're relaxing or engaged in-game.
Relaxed posture: Whether unwinding after a long day watching past playthrough videos or simply resting on your gaming chair, it is recommended to be seated back in your chair with both feet placed flat on the ground. Your back should be against your chair's backrest which should ideally also be slightly reclined.
To receive maximum ergonomic benefits while in a relaxed posture, EG players were recommended to place the Magnetic Memory Foam Head Pillow on their TITAN Evo 2022 right under the base of the back of their heads. The chair's built-in lumbar support should then be adjusted so that it is positioned to adequately support the middle of the lower back. It's also important to ensure the chair's armrests are adjusted to fully support the width of their elbows, while being level with the desk being used.

Active posture: We know this colloquially as Serious Mode, but when deeply focused in-game, it is best advised to sit on the front half of one's seat and have your feet placed flat on the ground. This position naturally straightens out your back and neck.
On wellness: Balancing one's mental and physical health 24/7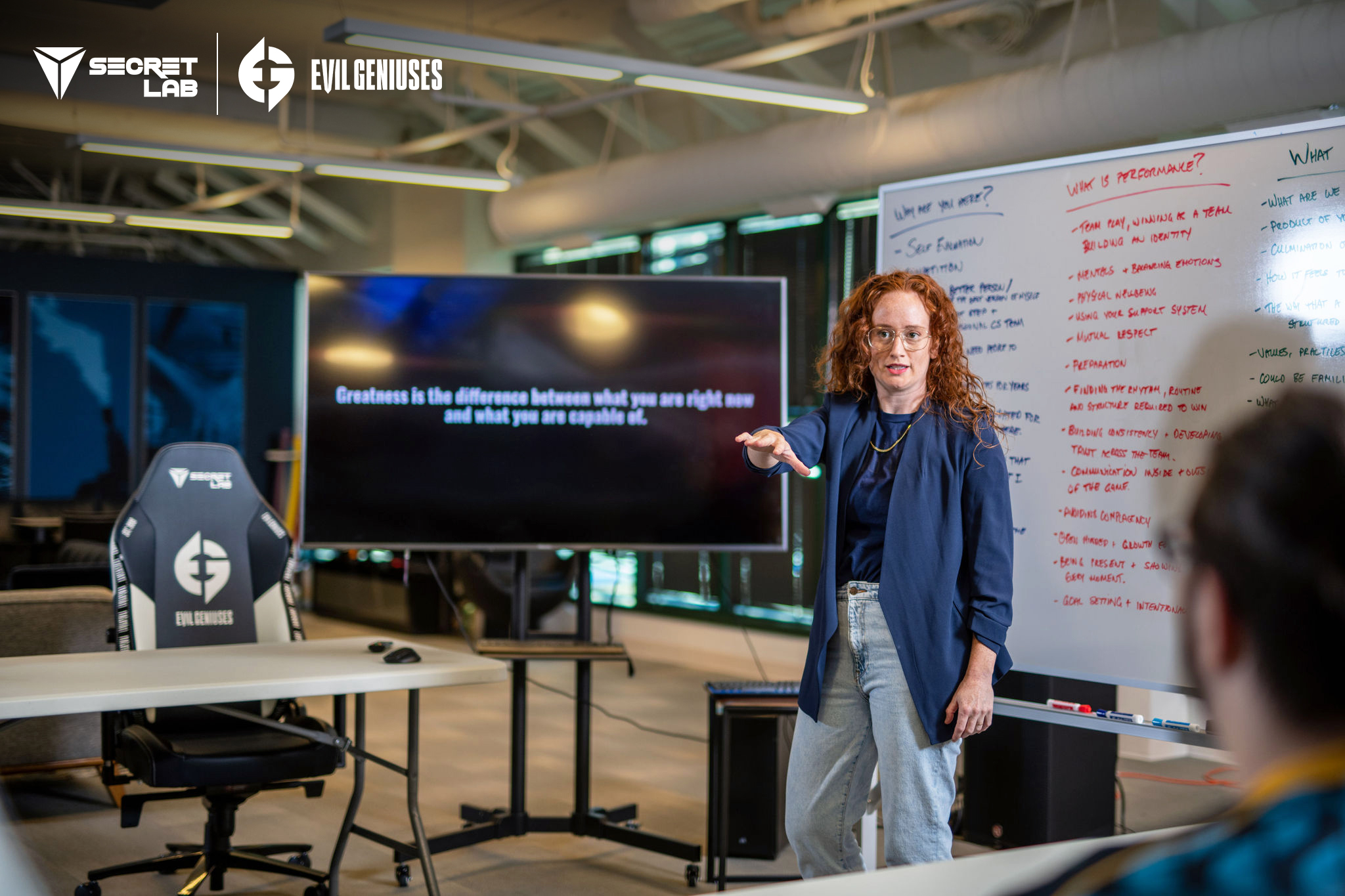 Eating a few gummy worms may elevate one's brain functions before playing — a most fun fact shared by Dr. Lindsey — but achieving a well-rounded mind and body requires allocating stretches into one's routine.
Wrist and forearm injuries are common issues for even the best esports athletes, given repetitive actions like sustained button presses, odd finger positioning, and rapid mouse movements. Rifler Jadan "HexT" Postma, one of the latest additions to EG's main CS:GO lineup, shared an issue he had with previous chairs was that their armrests were too stationary, leading to poor sitting habits at his desk.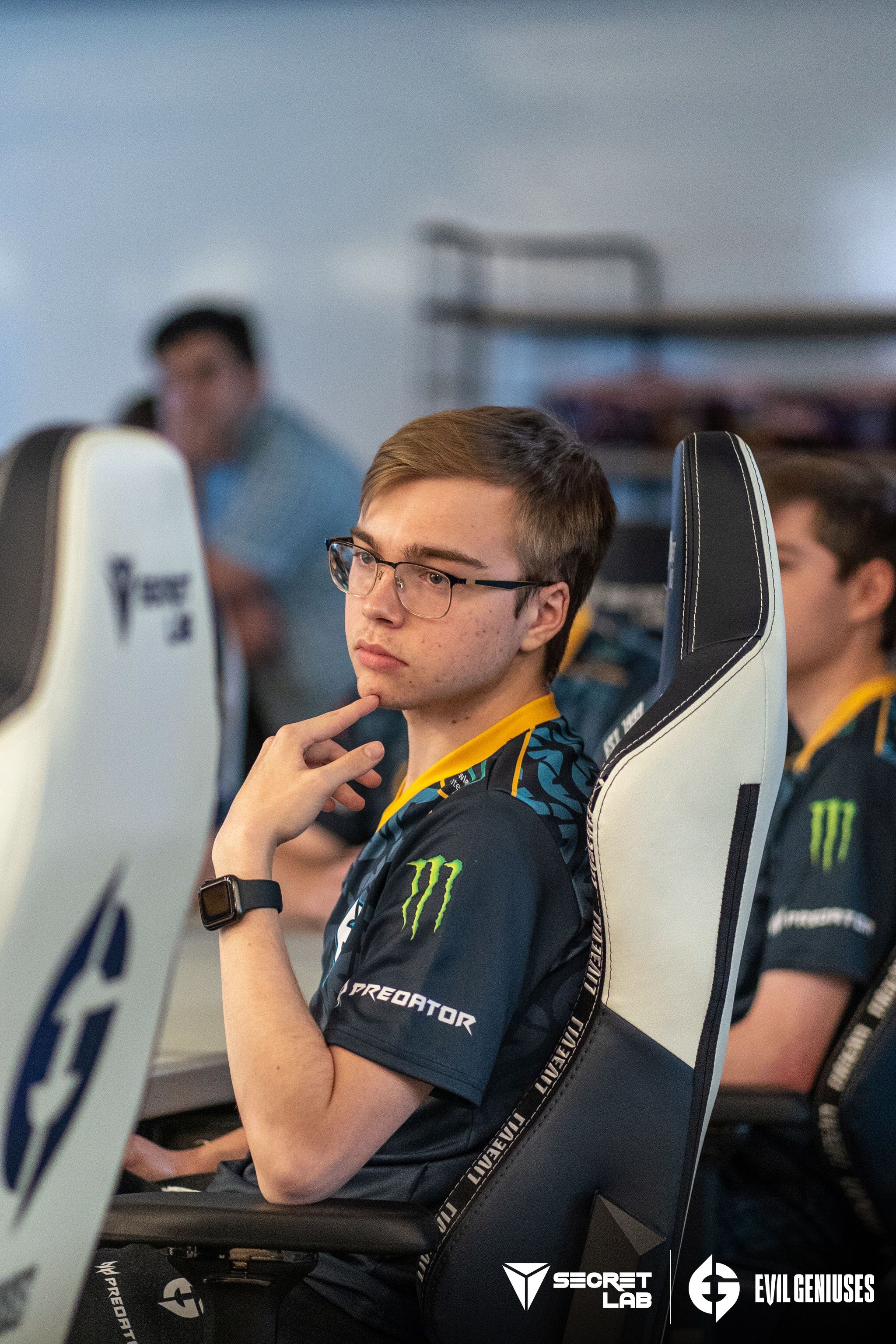 Connor "chop" Sullivan was also a fan of the seminar, especially happy that the basic stretches taught by Dr. Jordan and Dr. Lindsey during the session could be used immediately, especially when he shared that he had been struggling with minor pains in his shoulders and wrists after intense gaming sessions. chop shared that his favorite part of the TITAN Evo 2022 gaming chair was its generous 165° of recline, enabling him to lay back after a long day of practice to decompress.
On performance: A good ergonomic gaming chair really does make a difference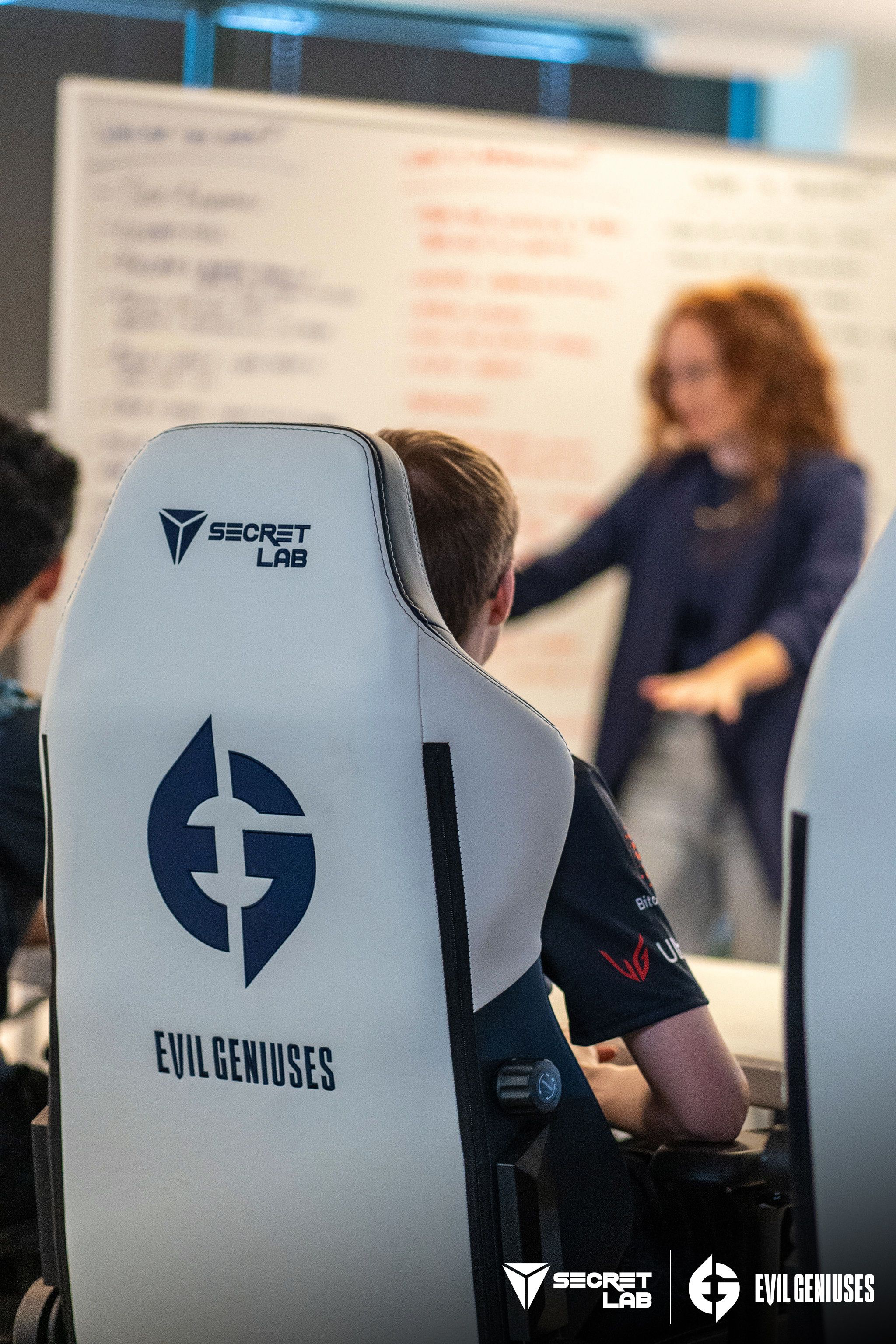 Sitting ergonomics refer to the adjustability of a chair to match an individual user's needs and preferences. For the younger players of EG's Blueprint CS:GO squad, playing in an optimal position can prevent both short- and long-term injuries, especially when certain physical injuries only surface after a long period of gaming.
Every EG player uses a Secretlab TITAN Evo 2022 during training, up till match days at large international competitions like the ESL Pro League and Majors. Being familiar with their gaming chair enables a player to tailor their comfort exactly the way they like it — while assured they're supported with optimal ergonomics no matter how they choose to sit. Couple that with good sitting habits and you're looking at a comfortable match made to last.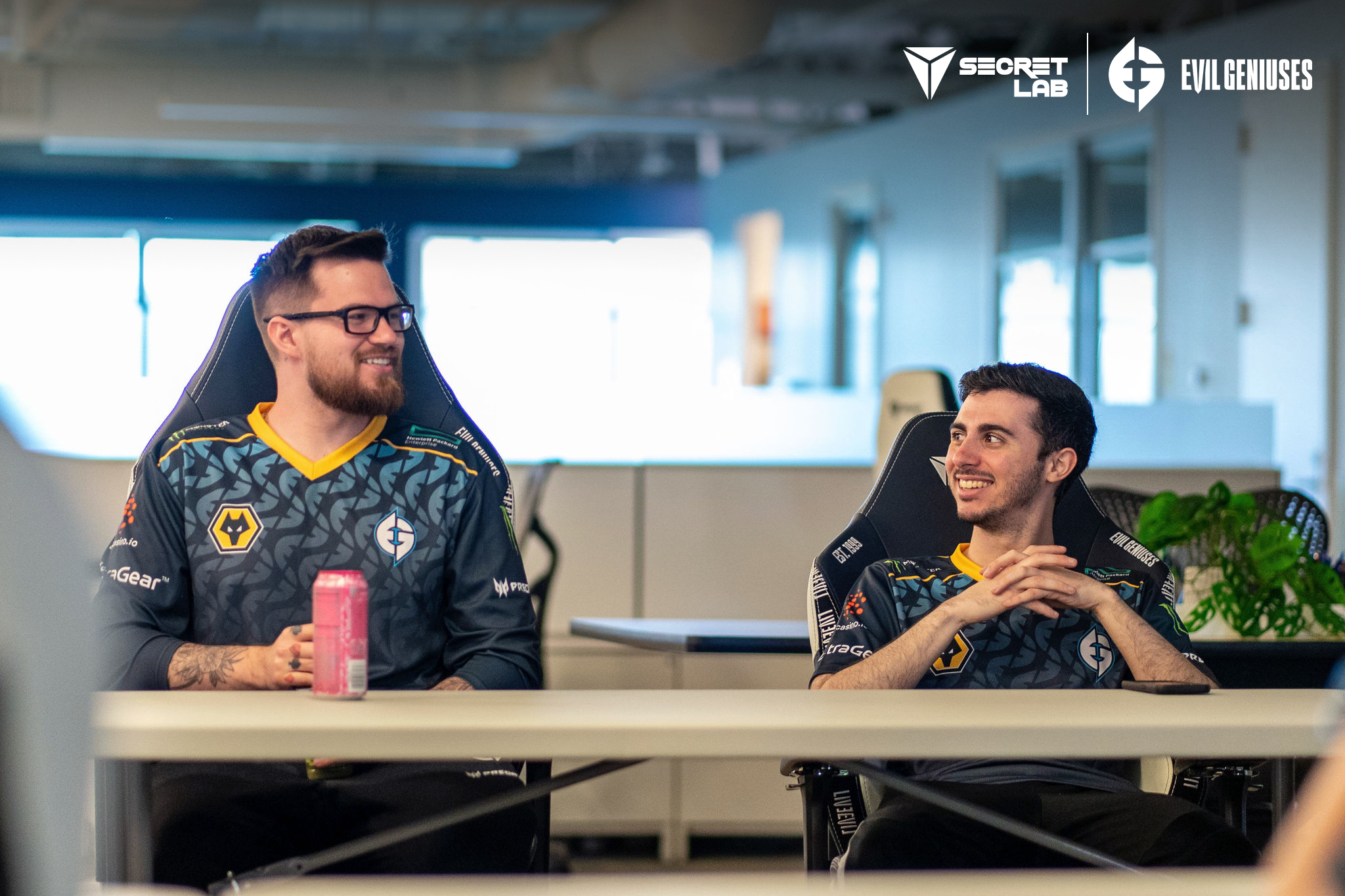 For players like Josh "PwnAlone" Pigue who appreciate extra maneuverability while gaming, the reshaped pebble seat base of the TITAN Evo 2022 provides ample room to sit comfortably even when gaming for extended hours. EG coach Joe "Muenster" Lima also shared how the precise adjustability of his Secretlab chair — from height and recline, to lumbar support — makes for an extremely comfortable and personalized experience.
On personalized support: Rounding off the session with individual player sessions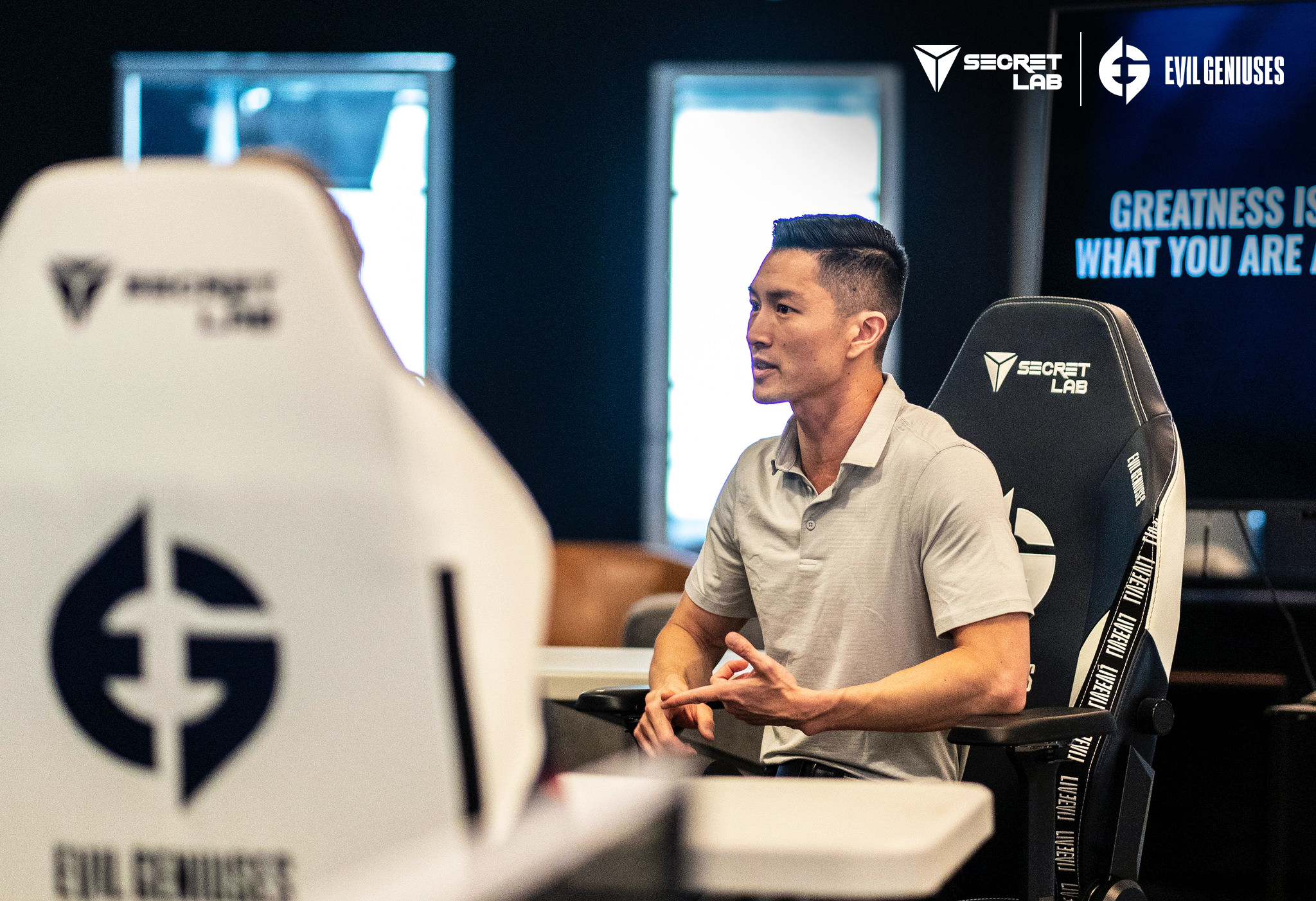 Every player had 15 minutes with Dr. Jordan to demonstrate how they usually sit, allowing the esports physician therapist to refine minute posture details of individual players on the spot. Jon "djay" Dallal had an especially meaningful 1-on-1 session, finding out that his current gaming posture was already ideal thanks to a combination of his Secretlab setup and his natural sitting form.
For a new and young roster with high expectations on their shoulders, the Ergonomic Wellness Seminar was a great start to enable the EG players with the right tools and knowledge to take care of themselves and strive towards being well-rounded athletes.
At Secretlab, we manufacture and provide professionals to everyday users worldwide with the best possible gaming chairs designed from ground up — relentlessly tested, detailed, and certified by international experts. Having experts like Dr. Jordan and Dr. Lindsey on our independently assembled Ergonomics Advisory Board help us drive and demonstrate our dedication to player health and performance, and we continue to be committed to ergonomic development and the education around the science of healthy sitting.
This is only the beginning — and we look forward to sharing more in the near future.
Discover the official TITAN Evo 2022 gaming chair for Evil Geniuses here.