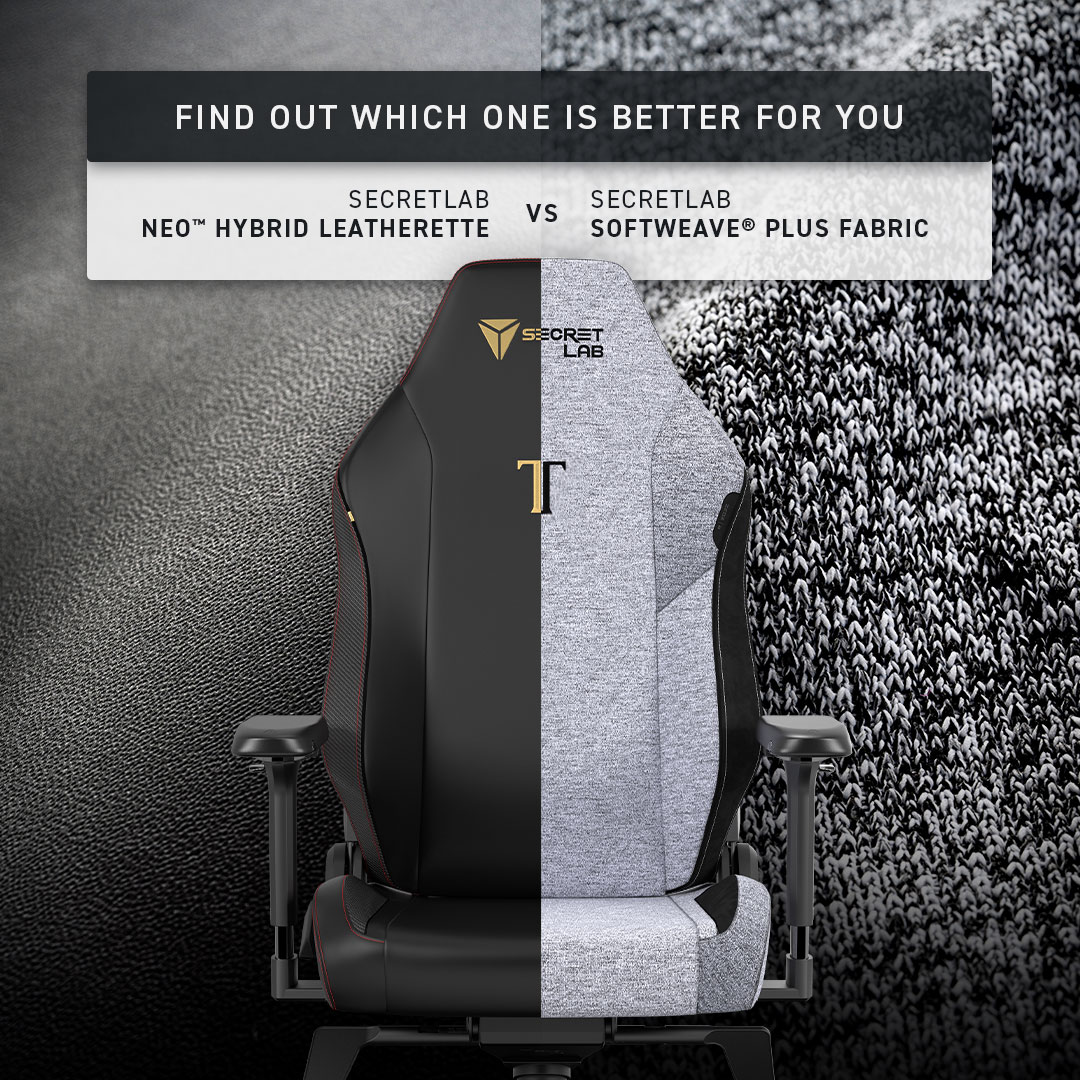 One for soft, breathable comfort, the other for those who want leatherette that's as luxurious as NAPA leather.
A comfortable setup can help you work and play better, stay focused for longer, and be a private space where you recharge. And when you're seated on your gaming chair all day, the upholstery you choose matters. A lot.
All our upholstery materials go through an extensive development process where we experiment with different threads and layer compositions to get it just right. Countless fabric and leatherette swatches make their way through our design lab and state-of-the-art testing facilities, so we can make sure they pass the ultimate test — supporting you comfortably through years of daily use.
We engineered Secretlab NEO™ Hybrid Leatherette and SoftWeave® Plus fabric with different properties in mind. If you're after a plush and supple hand feel that's just like NAPA leather, Secretlab NEO™ Hybrid Leatherette is what you want. On the other hand, if you prefer the comforting feel of softly textured fabric, you might want to check out our upgraded SoftWeave® Plus fabric.
Read on for a handy breakdown of the differences between Secretlab NEO™ Hybrid Leatherette and SoftWeave® Plus fabric. We'll also share some tips on which is the best option for you, depending on your preferences.
1. Breathability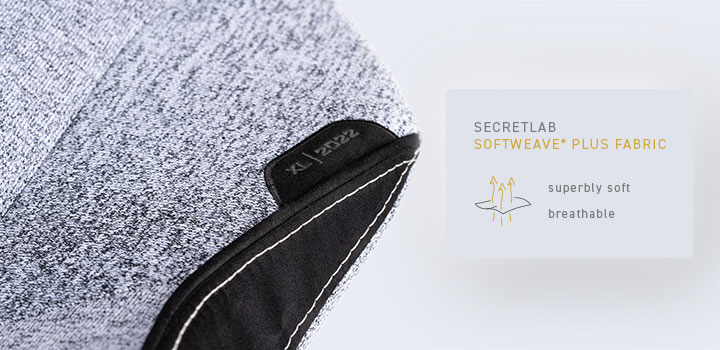 Secretlab SoftWeave® Plus fabric is a more advanced version of our popular SoftWeave® fabric. A new construction comprising interlacing loops of high-strength yarn fibers allows more air to pass through, making it even more breathable than before. Engineered for an ultra-soft and fluffy feel against the skin, it is comfortable any time of the year, even during the long summer days.
If you live in a tropical climate or don't have access to air-conditioning, SoftWeave® Plus fabric keeps you cool, even after long hours of sitting.
2. Durability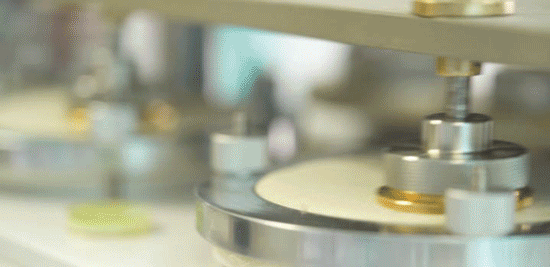 To accelerate aging, we put Secretlab NEO™ Hybrid Leatherette through 3,000,000 cycles on the Martindale Abrasion Test. It remains completely intact. (Image Source: YouTube)
Our new-generation materials take their signature durability even further. SoftWeave® Plus fabric is 3.5x stronger than its predecessor, while Secretlab NEO™ Hybrid Leatherette is a whopping 12x more durable than regular PU leather. They've been certified for strength and durability by internationally recognized authorities, and then put through custom scenarios designed together with A*STAR scientists. Whichever you pick, you're in good hands for years to come.
The high tensile strength of SoftWeave® Plus fabric ensures it retains its form and structure, even after years of stretching and shifting around in your gaming seat. It's also more pet-friendly than leatherette, but we still recommend keeping it away from sharp teeth and claws. Constructed from yarn selected for its incredible feel and resilience, it'll continue to feel just as good as it did on Day 1.
Secretlab NEO™ Hybrid Leatherette is engineered to be just as resilient as real animal hide. Our most advanced leatherette to date, its base layer has been reinforced with a bespoke 3D structure of ultra-fine fibers for exceptional strength and flex and abrasion resistance. We've also immersed it in sodium hydroxide to accelerate hydrolysis, exposed it to artificial sweat, and then subjected it to over 3,000,000 cycles on the Martindale Abrasion Test to accelerate aging — and it's come out the other end completely unscathed. This is the new-generation leatherette to put to bed all your worries about peeling.
3. Feel

Secretlab SoftWeave® Plus fabric is softer than ever, kind of like sitting on your favorite t-shirt. Its fluffy texture exudes that comforting, lived-in feel, so you immediately feel right at home.
For those looking for a touch of luxury, Secretlab NEO™ Hybrid Leatherette delivers. With the rich, glossy look of NAPA leather and an incredible plush and supple hand feel, it elevates any setup. Leatherette has never looked this good.
4. Maintenance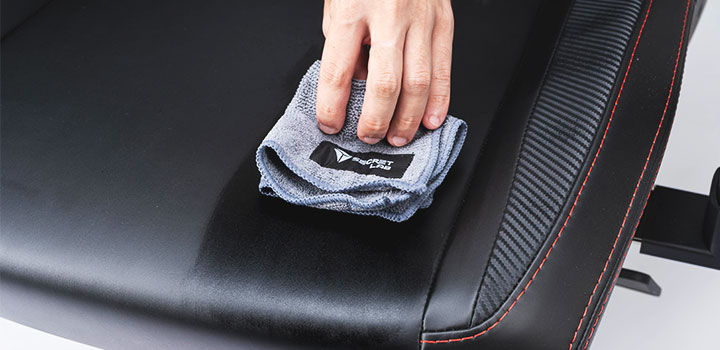 SoftWeave® Plus fabric doesn't require much maintenance, and dust and other loose particles can be easily vacuumed up. But because fabric is absorbent, it doesn't take as well to spills. Immediately blot up any liquids with a dry cloth or paper towel — do not rub the stain as this could cause it to set. If you eat frequently at your desk, we recommend taking extra care to avoid accidents.
On the other hand, Secretlab NEO™ Hybrid Leatherette is more liquid-resistant than SoftWeave® Plus fabric. Spills are easily cleaned up and less likely to stain, so it may be a safer choice if you're prone to accidents. That said, make sure to keep it away from pets — the super smooth and soft top hide won't take well to sharp claws.
To keep your gaming chair in tip-top condition, we recommend using our specially formulated Secretlab SoftWeave® Fabric Wipes and Leather Wipes to wipe down the upholstery regularly.
Which should you choose?
All Secretlab upholsteries are built for all-day comfort, whichever you choose. So when picking the best option for yourself, start with your preferences and needs. If you perspire frequently in your gaming chair, we'd recommend SoftWeave® Plus fabric for the soft, breathable experience it offers. It's got the added bonus of coming in a range of fresh, pastel colors — if you've been looking everywhere for a chair in pink, you're in luck.
But if you prefer the feel of leather and don't want to worry about spills, Secretlab NEO™ Hybrid Leatherette may be the better pick. Our leatherette options are styled for a more subdued look, while still possessing enough flair to make a subtle statement.
Check out our complete collection to find a gaming seat that matches your style and needs.