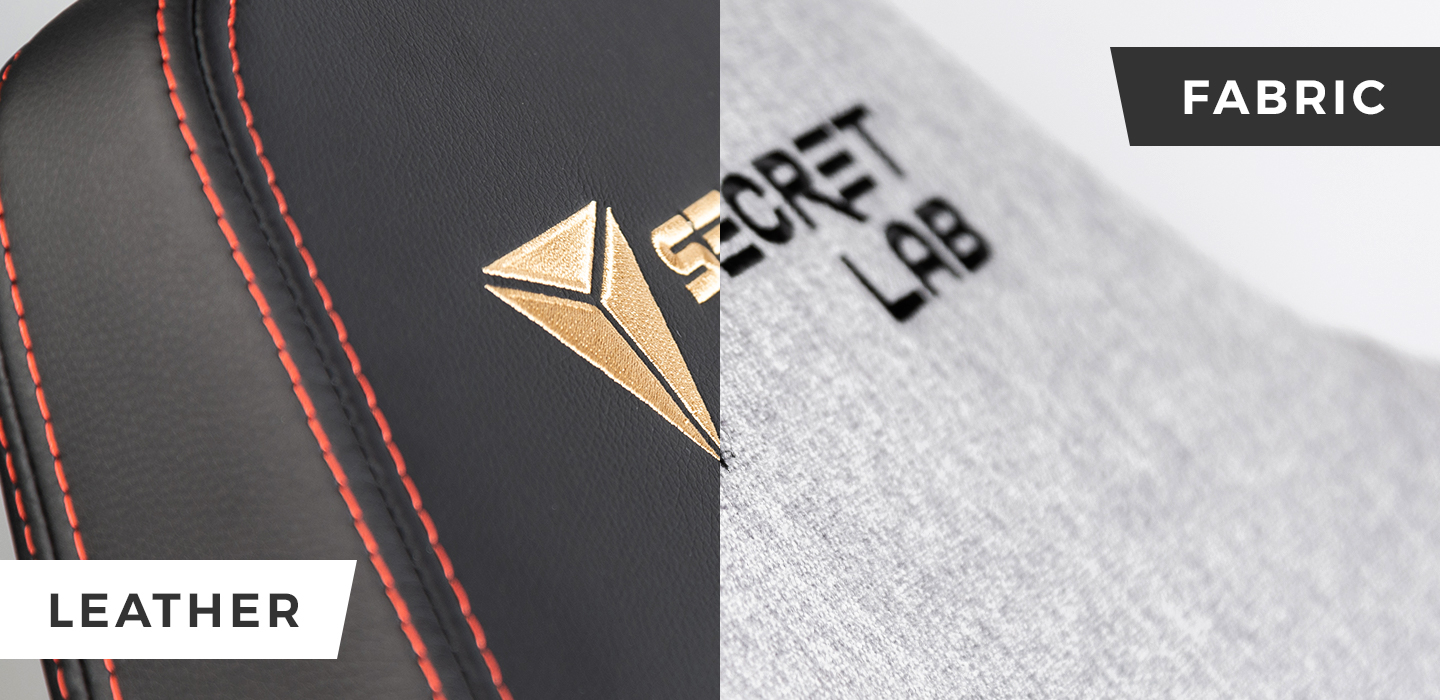 Secretlab SoftWeave® Fabric or PRIME™ 2.0 PU leather? One of them is airy and soft to touch, while the other is plush, supple, and cleans up easily.
While both will serve you well, they're each designed for a specific type of user. Read on to find out which one will suit you best.
PRIME™ 2.0 PU leather

SoftWeave™ Fabric

Breathability

✔✔✔

✔✔✔✔✔

Durability

Rigorously tested to be more resistant to spills and will quickly dry upon wiping

Engineered to keep its form even after extended use, and is more pet-friendly

Feel

Soft, flexible, and smooth

Softer, cozy, and textured

Maintenance

Simply wipe down once a week with the

Secretlab Premium Leather Cleaner

Vacuummable, and easily cleaned with most commercial fabric cleaners*





*Spills should be blotted up as soon as possible
1. Breathability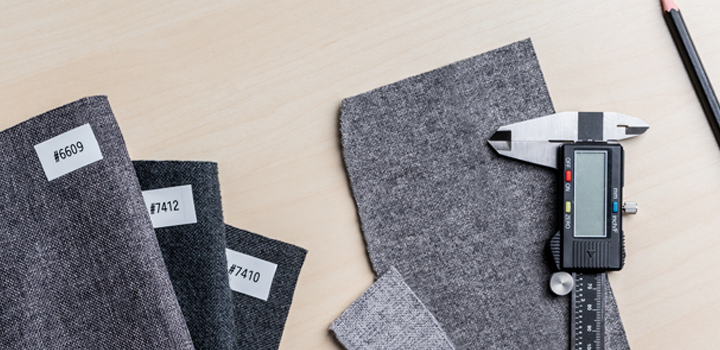 Secretlab SoftWeave® Fabric was specifically engineered with breathability in mind. Ultra-soft against your skin and with a unique fluffy handfeel, it is comfortable any time of the year and especially perfect for those balmy summer months.
While the threads are tightly woven for durability, they still allow air to flow through, helping dissipate heat more easily. SoftWeave® Fabric keeps you cool, even after long hours of sitting.
2. Durability
Stylish and elegant, Secretlab SoftWeave® Fabric is inspired by the high-performance textiles used by streetwear and tech giants and is designed to be exceedingly durable. Made from densely-woven dense short yarn and featuring high tensile strength, SoftWeave® Fabric has been engineered and tested to retain its form and structure, even after extended use. It's also more pet-friendly than PU leather, but we still recommend keeping your determined critter and its sharp teeth and claws away from it.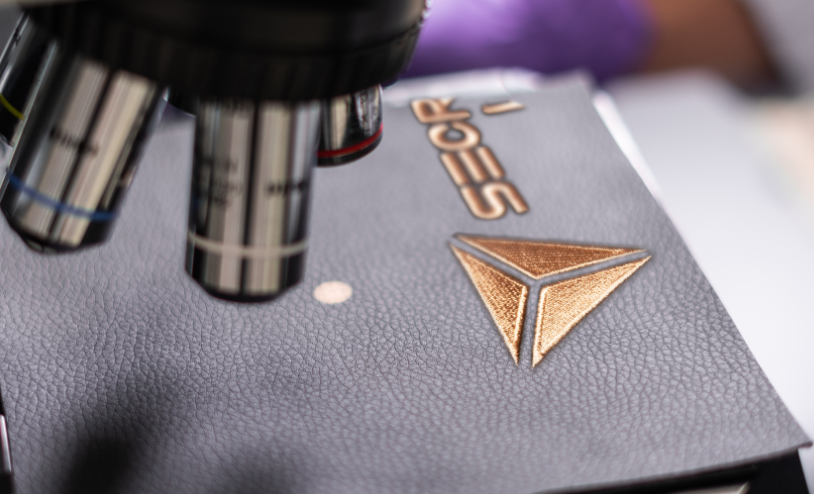 On the other hand, PRIME™ 2.0 PU leather is more resistant to spills and other small accidents. It's more difficult to get stains out from SoftWeave® Fabric, but you'll be able to easily wipe down PRIME™ 2.0 PU leather (preferably using Secretlab's Premium Leather Cleaner) and have it looking pristine in no time. We recommend cleaning up any spills or your sweat as soon as you can, because prolonged exposure to liquids and body oils, coupled with friction, may cause the top coating of the PU leather to weaken or degrade over time.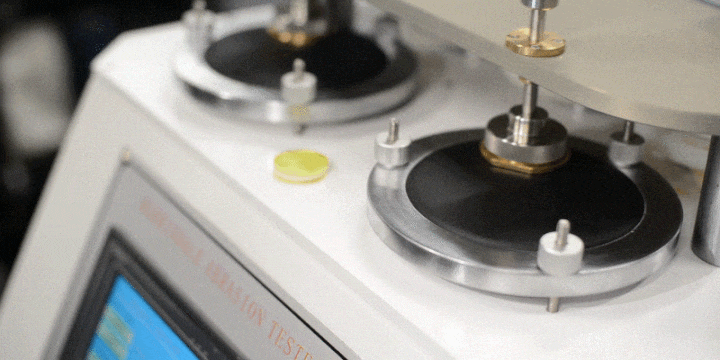 An example of the Martindale Abrasion Tester, which we use to put our PRIME™ 2.0 PU leather through 200,000 flexing and abrasion resistance test cycles (10 times the standard test requirements of 20,000). Image from YouTube.
Alongside SoftWeave® Fabric, PRIME™ 2.0 PU leather has also been put through over 10 rigorous tests, each stress-testing its durability, performance, and mechanical properties such as abrasion and flex resistance. PRIME™ 2.0 PU leather has been certified to be 4 times more durable than regular PU leather, overperforming in sweat, humidity and abrasion tests by TÜV SÜD and Singapore's Agency for Science, Technology and Research.
3. Feel
Secretlab SoftWeave® Fabric is the result of a careful weaving process, which is then finished with a process of meticulous grinding to produce a soft and fluffy feel under the skin. It is dreamily comfortable to the touch, and exudes a casual elegance, no matter which colorway you pick. If you're looking for a softer upholstery, SoftWeave® Fabric is for you.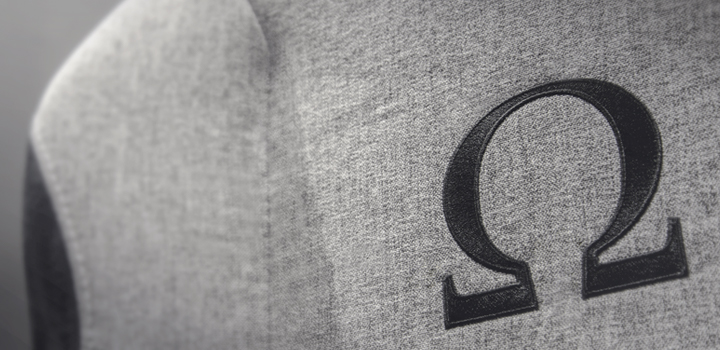 Meanwhile, PRIME™ 2.0 PU leather is known for its signature plush and supple feel. We've retained its signature plushness from its PRIME™ 1.0 predecessor, while also making significant upgrades in terms of durability. Your gaming seat will last for years, even with heavy usage.
4. Maintenance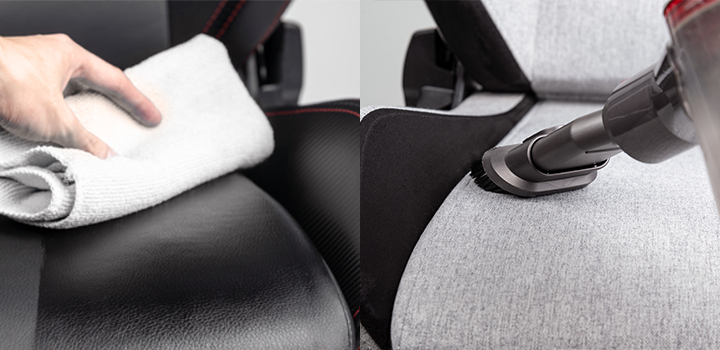 Secretlab PRIME™ 2.0 PU leather features a coated surface, which means it is more liquid-resistant than SoftWeave® Fabric. Maintenance is easy, simple, and fuss-free — for some quick-and-easy steps on keeping your Secretlab gaming chair and PU leather in tip-top condition, you can refer to our blog right here.
Similarly, SoftWeave® Fabric does not require much maintenance. However, you'll need to be more careful around it — certainly don't spill soft drinks on it — because accidents will require more effort to clean up. If a spill does occur, immediately blot it up with a dry cloth or paper towel, while taking care not to rub it into the fabric. That aside, anything else is easily dealt with, and loose particles and dirt can simply be vacuumed up.
We recommend using the Secretlab Premium Fabric Cleaner to clean it, but a commercial fabric cleaner should work just as well on dirty spots. Just be sure to test it on a non-conspicuous part of your gaming seat first.
Which should you choose?
Both PRIME™ 2.0 PU leather and SoftWeave® Fabric have been certified by global authorities such as ANSI and BIFMA and have undergone the same rigorous tests for durability. They are both exceptionally resilient and comfortable, but their different properties make them suited for different users.
At the end of the day, it all comes down to your lifestyle needs and what you want in a chair. If you're looking for upholstery that requires the least amount of care, PRIME™ 2.0 PU leather will be easier to maintain in mint condition. But if you live in the tropics and are after a more breathable upholstery and airy feel, you'll want to pick SoftWeave® Fabric.
All Secretlab gaming chairs are built for all-day comfort, whichever upholstery you choose. For a look at our complete gaming chair collection, including additional upholstery options such as luxurious NAPA leather, click here.