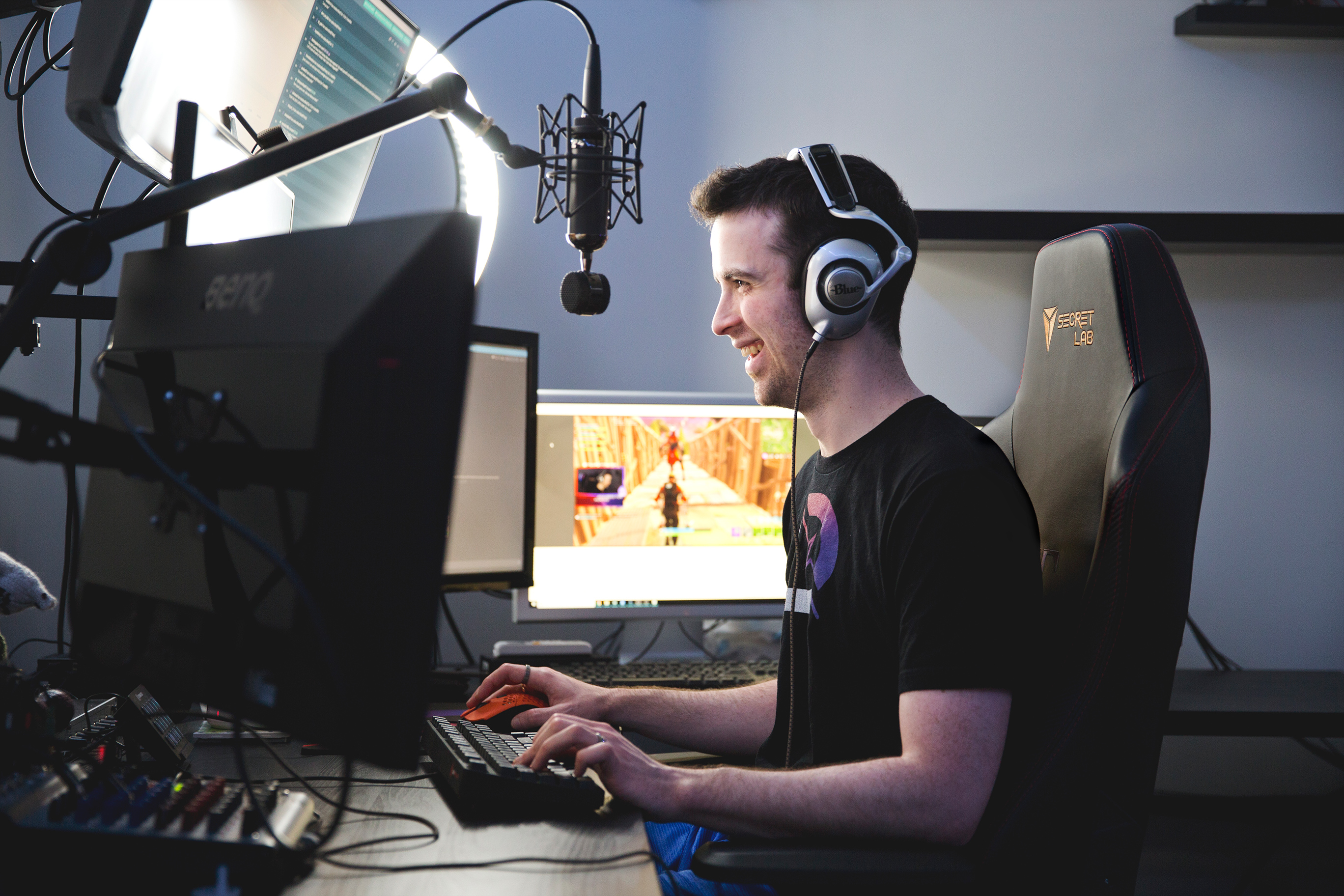 UPDATE (JUNE 24, 2019): DrLupo has done it again for charity, raising $920,343.98 for St Jude's Children's Research Hospital in just 4.5 hours, offering a behemoth amount of support to the overall amount of $3.7 million raised by the 2019 GuardianCon Charity Marathon Stream. DrLupo's achievement may also be the most money raised in the shortest period of time for a gaming charity stream, according to Forbes.
---
A big heart, positive infectious energy and deadly split-second reflexes hardly make for a usual combination of attributes in gamers today, but they're why Benjamin "DrLupo" Lupo is fast becoming the next most popular streamer.
If you haven't already watched his zany gameplay (watch him lob and attach a grenade on himself and run into battle victory with it on Fortnite) mixed with his deep booming voice and deadpan expression, it means DrLupo's 1.5 million followers, and probably more, have already beaten you to it.
Just over a month ago, over 130,000 viewers were simultaneously tuned in to DrLupo's Twitch channel watching him smash his opponents in Fortnite.
And in April 2018, DrLupo and his fellow streamer friends—Internet sensation Tyler "Ninja" Blevins and fellow streamer Timothy John "TimTheTatMan" Betar—raised over $300,000 for St. Jude's Children's Research Hospital via their Fornite streams on Twitch.
The online charity drive, #Clips4Kids, garnered so much attention and propelled DrLupo to 3rd in the rankings of the most-watched Twitch streamers that week, according to The Esports Observer.
Headshots, for the kids. #Clips4Kids pic.twitter.com/BNsBWp8B0d

— DrLupo (@DrLupo) April 28, 2018
While some cynics may claim the campaign to be a publicity stunt, it's worth noting this isn't the first time that DrLupo has gone out of his way to help others.
In fact, DrLupo, 31, a former senior systems engineer, told us for the 2nd installment of our Secretlab Endorser Series the reason he started his channel in 2015 was to help other gamers.
"I only started building a channel because my friend Brian… was interested in helping people in Destiny. I wouldn't have bothered if it weren't for him," he said.
A significant moment in DrLupo's streaming career came at the close of 2016, when a subscriber reached out about a cancer-stricken gamer friend, Mike Mariana, who desperately wanted to reach the Lighthouse in Destiny.
The Lighthouse is an area only accessible to players who achieve a flawless 9-0 run in Trials of Osiris, a weekend event in Destiny.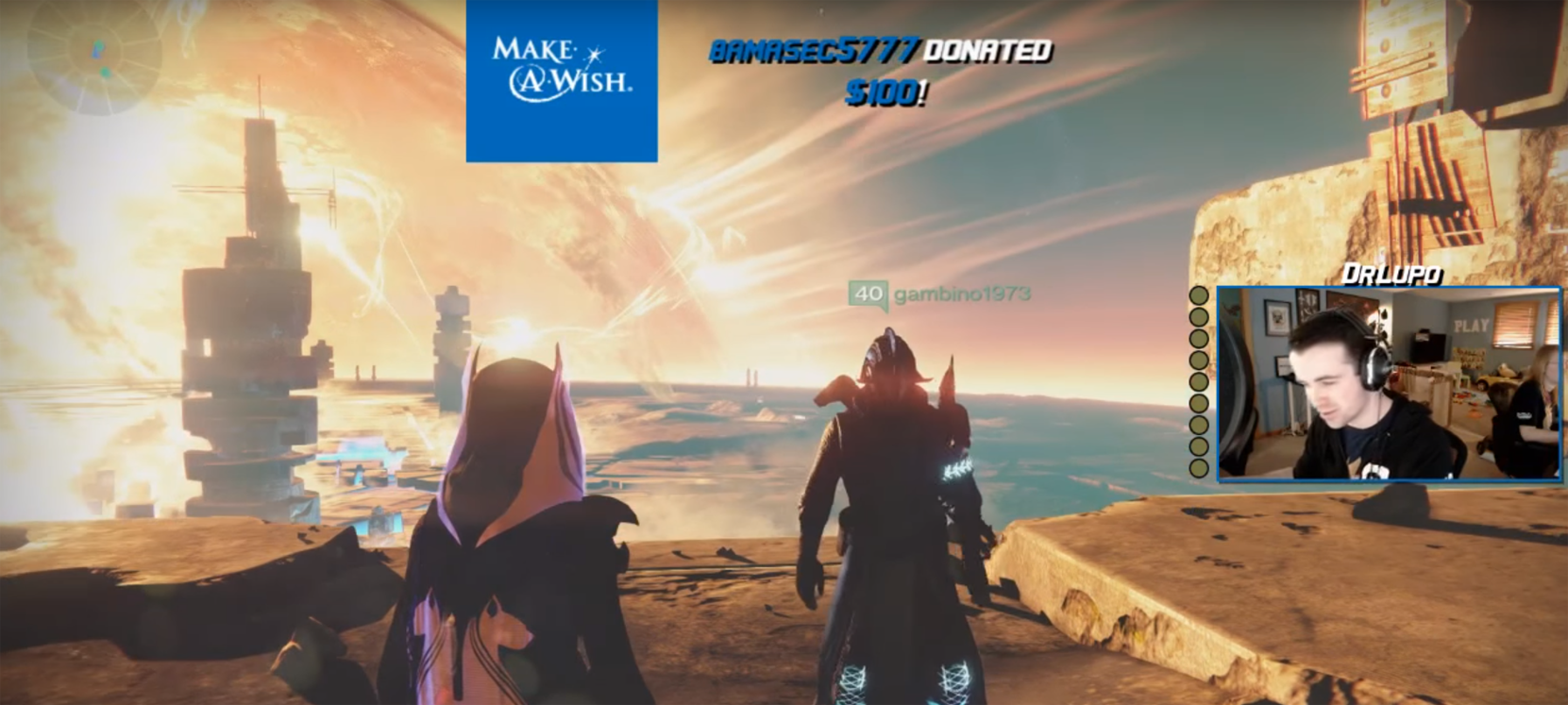 Mike's friend, Tim, told Kotaku that the only game Mike could play was Destiny as all other games would leave him nauseous due to the side effects of his chemotherapy treatments.
Mike had reportedly played over 2,800 hours (that's almost 120 days' worth) and tried his hand at all three classes, but lacked the skills to make it to the the prestigious Lighthouse.
As his health started to decline, it was getting harder for him to play Destiny. Still, Tim knew how much it would mean for Mike to get to the Lighthouse, and they decided to reach out to DrLupo.
Upon receiving the request, DrLupo, however, admitted to us that he was initially skeptical.
"As disappointing as it may be, some people try to take advantage of negative situations and fake illnesses. Around the same time, I had received at least two other direct contact messages asking for help for themselves or a friend because of an illness.
"(Mike's) case was different though. I asked for proof, and Mike's friends essentially began to scramble: Facebook post links, images, they even tried to have Mike take a picture of a recent medical bill to show me. They didn't have to get that far, though. Anyone who attempts to go to lengths like that—there was no way it wasn't real," he said.
On Jan 1, 2017, DrLupo, with his friend Brian, played with Mike as part of DrLupo's 24 hour stream to (you guessed it) raise money for the Make-A-Wish Foundation.
It was the first time DrLupo interacted with Mike, but revealed to us that Mike's radiant, cheery character was unmistakable.
"You know how you can usually tell when someone is smiling just by how they sound when they talk? That was Mike the whole time," he said.
It took them just an hour to reach the Lighthouse, with DrLupo and his friend doing most of the carrying. "We did, but that was in no way Mike's fault. My friend Brian and I had been playing Destiny together almost every day for over a year at that point. People often told us we shared a brain—it was hard to compete with that."
It may have been "another day at the office" in Destiny for DrLupo, but helping someone achieve his dream was altogether special. After reaching the Lighthouse, DrLupo and his friend took the time to show Mike around, allowing an ecstatic Mike to bask in the accomplishment.
"Helping someone who had been trying… for quite a while is a feeling that you can't replace. Gaming brings people together every single day. Knocking out goals, both in-game and personal, will always give the whole group that feeling of success. Mike was ecstatic. And I will never blame him for that!"
DrLupo later received messages from Mike's friends and family members and how it was the first time in long time that they'd seen Mike happy, cheerful and talkative. "I'm glad I could bring that to their family," he said.
Just over a month later, he received news of Mike's passing. While he admitted on Reddit that it left him seated on his bed crying, he was glad to have made an impact on someone's life.
He added in his interview with us: "I've seen video games do all sorts of things for all sorts of people. It's brought joy to my own life as well, it's a great outlet for stress relief, and there are tons of people that have met, become friends, fallen in love – all because of gaming.
"It's no surprise to me that it could give someone like a Mike a happy escape, even if just for a moment."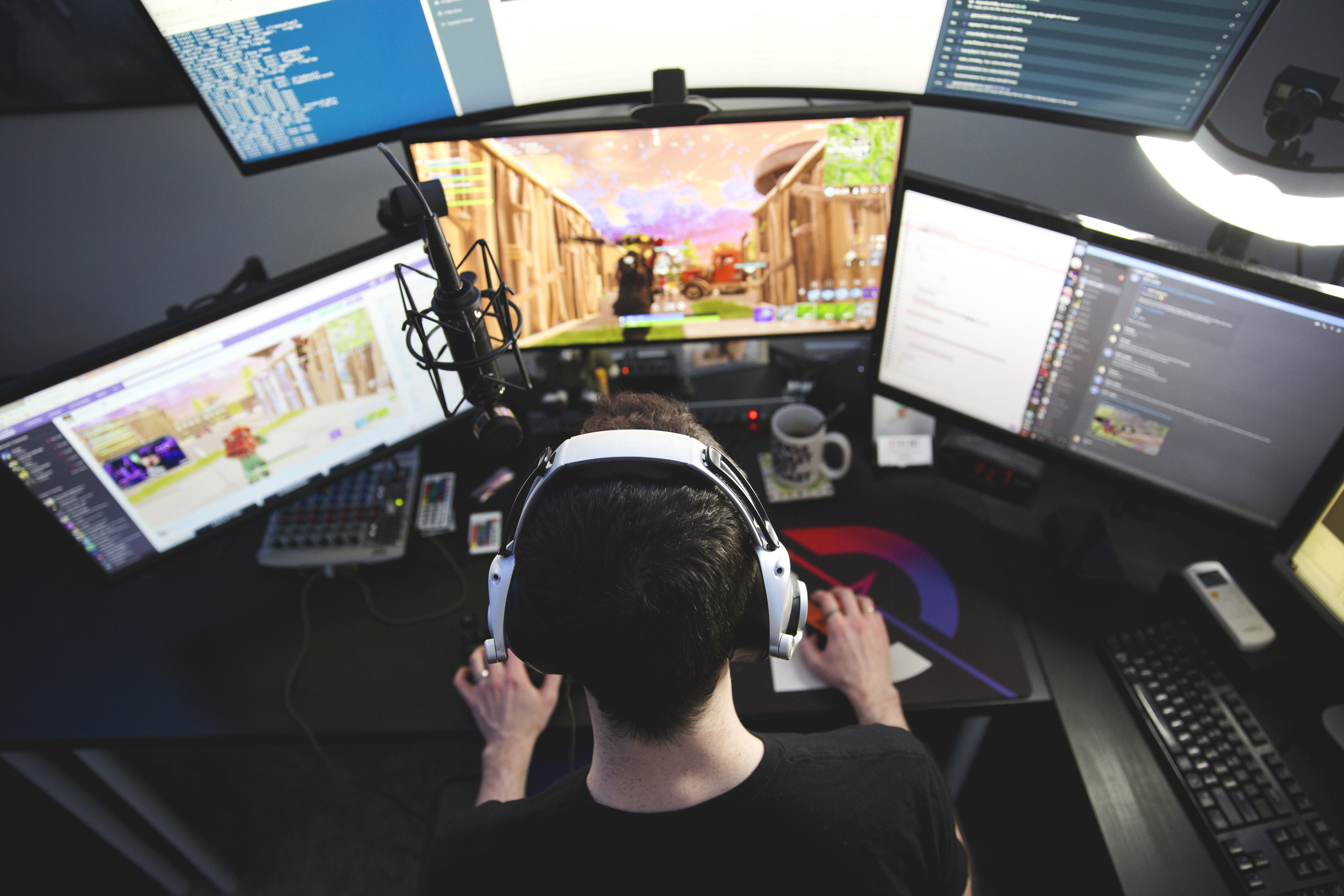 DrLupo also quick to play down what he did, choosing to remain focused on what he does best—entertaining his fans.
"I don't go by the term hero. I'm just a guy that likes playing video games and having fun," he said.
That brimming, positive and grounded attitude is what endears DrLupo to his community and wins over new fans, having crossed the 1.4 million follower mark (that's 10 times larger than the start of the year!) on Twitch last week.
"I'd like to think it's because people like my brand of humor. Part self deprecating, part nerdy, and part terrible-dad-jokes. Or maybe it's because I'm relatively decent at the games I play? Honestly, who really knows.
"Each time, I just remind myself what I'm doing this for – to entertain people, to provide a home for them on the internet, and to make people smile." he said.
Today, DrLupo plays mostly Fortnite, which is the most popular game on the planet at the moment. Earlier this week, he was among the team of casters for the first ever Epic Games Fortnite Celebrity Pro-Am tournament.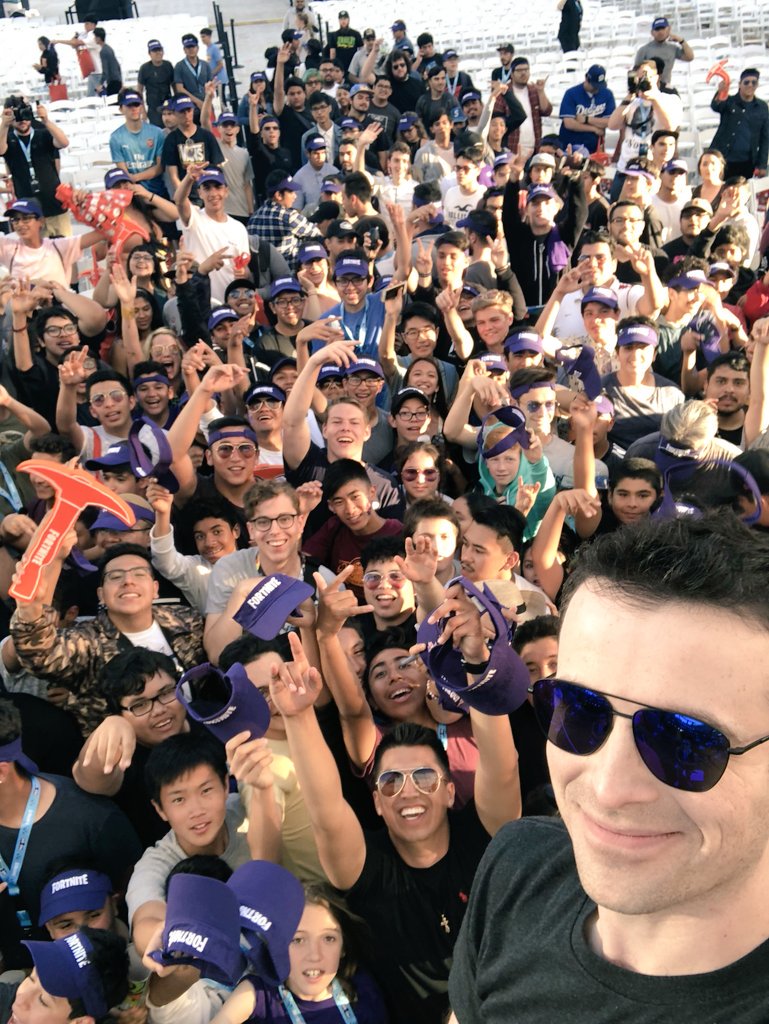 He revealed he draws inspiration from his family—his wife, who goes by the online moniker MrsDrLupo, and his son.
"My wife is a photographer, but as of late, she's also my full-time manager. She answers all the emails. She posts everything on Instagram, Twitter, Facebook, etc. She is the behind-the-scenes driver for everything. I'd probably melt if it weren't for her."
"At this point, I just take any free time I have to hang out with my family. My wife and my son are everything to me. And since I currently work a job that requires 100% focus on it, all day, every minute I can get with them is important," he said.
Love. pic.twitter.com/SpQ47s4gd8

— MrsDrLupo (@MrsDrLupo) April 22, 2018
Secretlab is proud to support DrLupo and #allthework he's done for the community. Catch DrLupo's at https://www.twitch.tv/drlupo.
(Photos courtesy of DrLupo and MrsDrLupo; DrLupo's Twitter; MrDrLupo's Twitter)