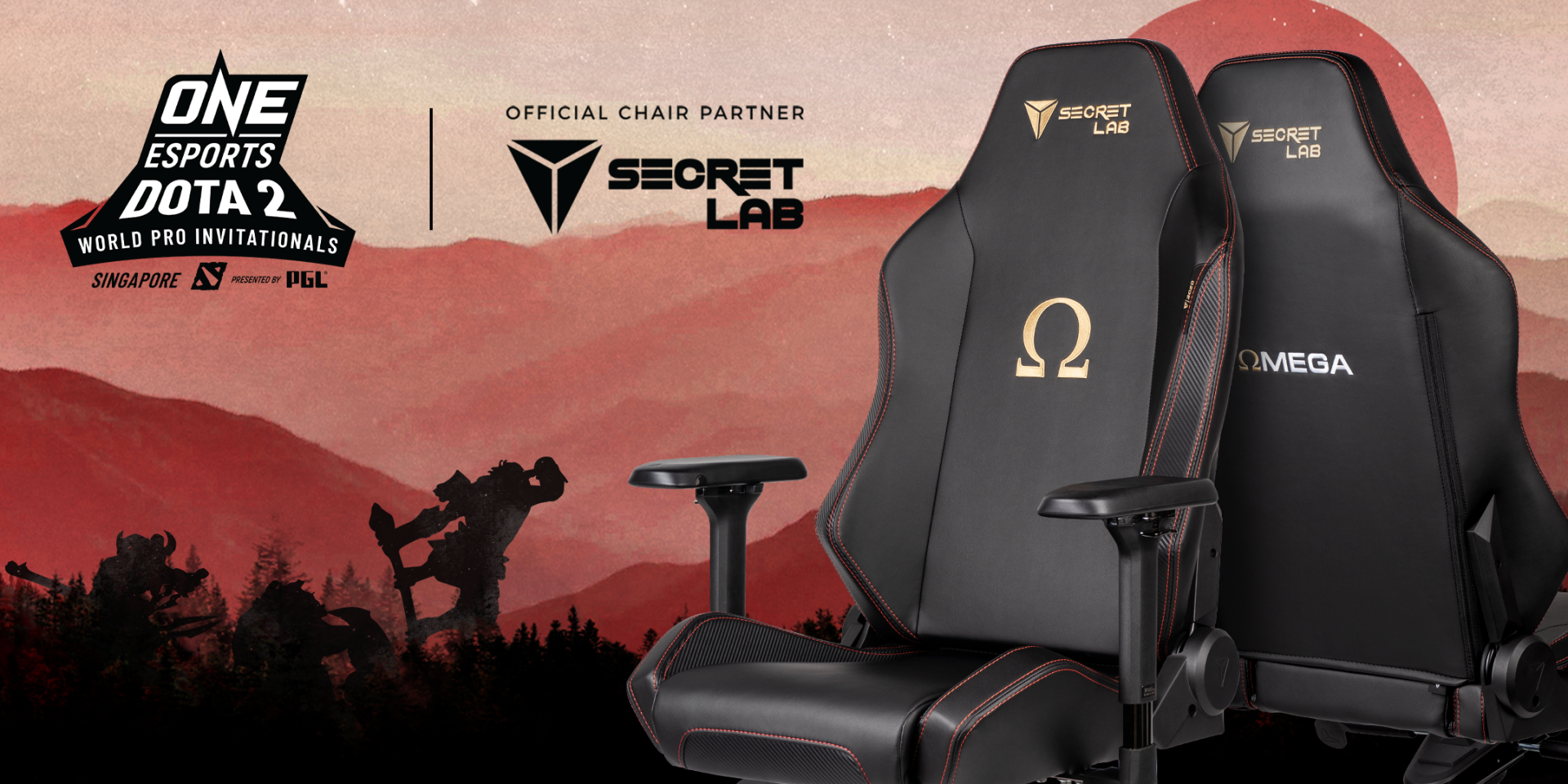 DECEMBER 10, 2019—International gaming seat specialist Secretlab today announced a partnership with ONE Esports, the esports venture of global sports media property ONE Championship.
The tie-up sees Secretlab named as the Official Chair Partner for ONE Esports' upcoming Dota 2 World Pro Invitationals, set to be the largest in Asia, as part of its efforts in driving the Asia region's esports ecosystem and vision of inspiring and celebrating gaming heroes.
Earlier this year, ONE Esports announced it will be organizing a series of Dota 2 World Pro Invitationals featuring the top teams in the world, starting with the first-ever ONE Esports Dota 2 Singapore World Pro Invitational, kicking off later this month.
To ensure an unmatched, lasting sitting experience to bring out the players' top performance, Secretlab will provide the competitions with its award-winning Secretlab Classics*—which has become the standard for top tournaments. Secretlab today is the gaming seat of choice for the world's most premier esports tournaments such as the League of Legends' World Championships, Valve and Dota 2's The International, as well as the recently-concluded StarLadder Major Berlin 2019, one of Valve's only two official Counter-Strike: Global Offensive Major tournaments for 2019.
*Secretlab Classics is the official collection of our 2020 award-winning gaming chairs, which includes the Secretlab OMEGA 2020, the Secretlab TITAN 2020 and TITAN XL 2020, and all their Special Edition (SE) variants.
Said Carlos Alimurung, CEO of ONE Esports: "We are proud to be working with Secretlab, who like ONE Esports started in Singapore and risen to become a global leader. Secretlab's partnerships with the world's most prestigious esports tournaments, as well as their roster of the top international teams are a testament to their products and brand. This makes them a great partner for ONE Esports, whose mission is to celebrate and share the stories of the world's best esports athletes."
Said Ian Alexander Ang, CEO and co-founder of Secretlab: "ONE today is the largest global sports media property in Asian history and is revered for their large-scale sporting events, production and content—as well as bringing up sporting heroes. With esports booming today, we want to support their efforts to orchestrate the growth of esports and gaming in Asia to millions of fans worldwide. Just like for their sporting athletes, ONE only wants to provide the best environment for their esports athletes to perform at their best, which requires them to use the best equipment possible."
The ONE Dota 2 Singapore World Pro Invitational will be held at the Singapore Indoor Stadium on December 20-22, 2019 and the ONE Dota 2 Jakarta World Pro Invitational will be held at ICE BSD on April 17-19, 2020. Each Invitational will see the world's best professional Dota 2 teams compete for a prize pool of USD$500,000.
Ticket information for the ONE Esports Dota 2 Singapore World Pro Invitational is available at http://www.oneesports.gg/buydota2tickets. More information on the event can also be found here.
About Secretlab
Secretlab was established in 2014 to create the pinnacle of gaming seats—each extensively designed and engineered with only materials of the highest grade to ensure absolute comfort and unparalleled support. Today, Secretlab is the global choice of gaming seats for the world's most premier gaming tournaments, top esports professionals and over 250,000 satisfied users from more than 50 countries worldwide, alongside rave reviews from international media publications. And we're only getting started.
To learn more about us, visit www.secretlab.co, or follow Secretlab on our Facebook, Twitter (@secretlabchairs), and Instagram (@Secretlab) pages.
About ONE Esports
ONE Esports is the esports arm of ONE Championship, Asia's largest global sports media property, and is formed via a joint venture with Dentsu Inc., the leading advertising agency in Japan and one of the largest in the world. As the Home of Esports, we celebrate and share with the world the stories and values of esports heroes, who ignite the world with hope, strength, dreams, and inspiration. ONE Esports is a combination of oneesports.gg and a live experiential business. Oneesports.gg is a Top 5 global esports site that reaches millions of visitors each month, and delivers to its community the latest esports news, reviews, features, how-to guides, and in-depth stories on esports athletes, teams, and fans. The site is currently localized in Bahasa Indonesia, English, Japanese, Thai, and Vietnamese. Oneesports.gg is complemented by ONE Esports' live experiential business, which creates and executes world-class esports competitions and experiences that amaze fans and feature the world's best esports talent. ONE Esports uniquely provides partners with an always-on, 360-degree, turnkey solution to access and connect with the esports ecosystem.