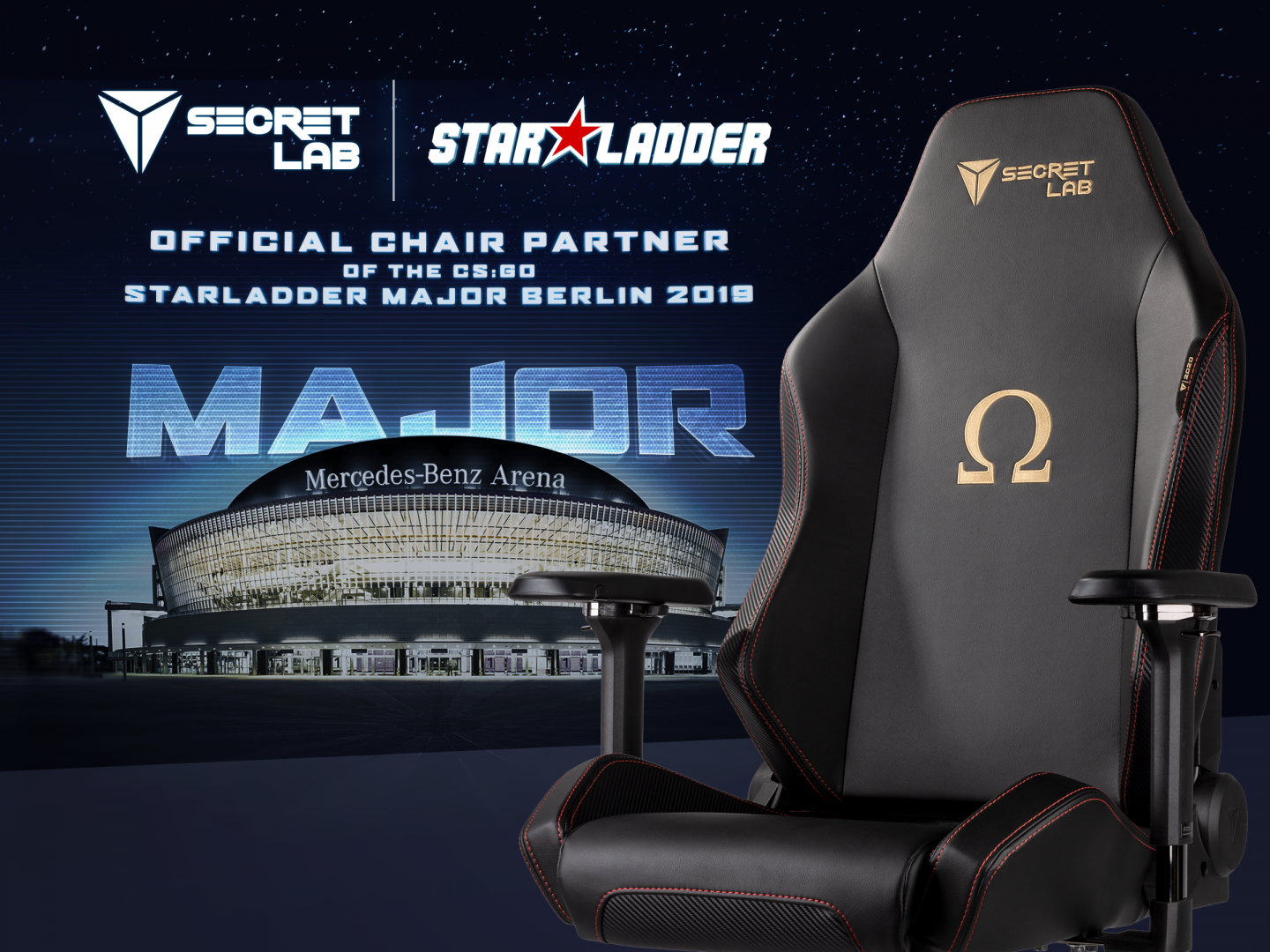 JULY 15, BERLIN—International gaming seat specialist Secretlab today announced a partnership with StarLadder to become the official choice of gaming seats for the highly-anticipated StarLadder Major Berlin 2019, the final of only two Counter-Strike: Global Offensive (CS:GO) Major Championships held each year, and the first-ever CS:GO Major to be hosted in Berlin, Germany.
The StarLadder Major Berlin 2019 – which takes place from August 23 to September 8 – is the most important tournament of the year for teams, particularly being the final CS:GO Major of the year for the likes of legendary Astralis and current #1 CS:GO seeds Team Liquid, to prove their mettle. Astralis and Team Liquid have already qualified for this event based on their performance at the previous CS:GO Major, along with 11 other teams. The final 11 spots will be decided through the Minor Championships starting this week.
This is the first CS:GO Major tournament that StarLadder is hosting and boasts a whopping $1 million prize pool, with the winning team taking home $500,000. It will also be hugely watched by fans all over the world – with last year's CS:GO Majors raking in 47.2 million and 49 million viewers respectively, ranking only behind the League of Legends 2018 World Championships and Dota 2's The International 2018.
To ensure the best player performance, the top S-Tier CS:GO tournament will be equipped with the world's top-rated gaming seats, particularly the all-new Secretlab Classics* – the result of 3 years' extensive R&D as well as rigorous quality and durability testing and certification – to comfortably support the players, as well as casters, for the matches and training sessions during the course of the qualifiers and the tournament.
*Secretlab Classics is the official collection of our 2020 award-winning gaming chairs, which includes the Secretlab OMEGA 2020, the Secretlab TITAN 2020 and TITAN XL 2020, and all their Special Edition (SE) variants.
Said Ian Alexander Ang, co-founder and CEO of Secretlab: "We're proud to provide our award-winning chairs to support these top Counter-Strike: Global Offensive players with the best sitting experience throughout the StarLadder Berlin Major so they can deliver the best gaming showing of their lifetimes. CS:GO players today are rightfully selective about only using the best-quality gear – even tilting their keyboards to give themselves a performance edge. This is what Secretlab chairs are engineered for: To perfectly complement and support every gamer's unique sitting preference regardless of game, from the fully-adjustable armrests to the backrest – giving the best comfort and optimizing their performance."
Said Alexander Chegrinez, Chief Business Development Officer at StarLadder: "Partnering with the world's best gaming equipment brands to support the most talented and top CS:GO players is of the utmost importance as tournament organizers. Secretlab was the clear choice as a gaming product leader; their gaming seats are of unmatched quality. Having sat on their award-winning chairs ourselves, we are confident their gaming chairs would complete every CS:GO professional's list of essential gear for top gaming performance."
About Secretlab
Secretlab was established in 2014 to create the pinnacle of gaming seats – each extensively designed and engineered with only materials of the highest grade to ensure absolute comfort and unparalleled support. Today, Secretlab is the global choice of gaming seats for premier gaming tournaments, top esports professionals and over 100,000 satisfied users from more than 50 countries worldwide, alongside rave reviews from international media publications. And we're only getting started.
To learn more about us, visit www.secretlab.co, or follow Secretlab on our Facebook, Twitter (@secretlabchairs), and Instagram (@Secretlab) pages.
About StarLadder
Founded in 2001, StarLadder, one of the global esports industry leaders, has been hosting proprietary international tournaments StarSeries and Invitational in CS:GO, Dota 2, PUBG and HearthStone. StarLadder is known for its high quality and innovation in handling event management, studio and video production, live streaming for global audiences and supporting its online platform for amateur, semi-pro and professional tournaments. For more information on StarLadder please visit www.starladder.com.