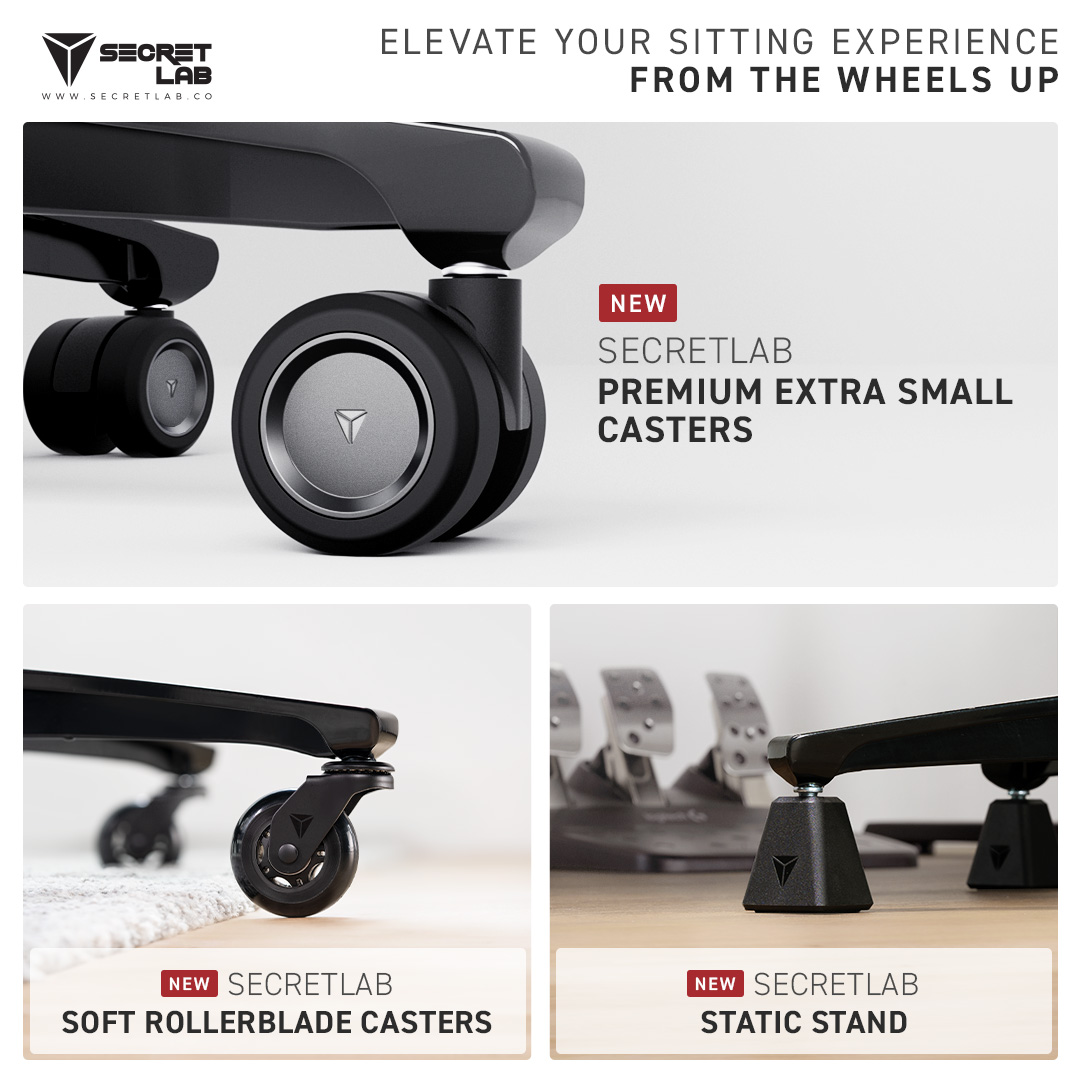 We all roll different. Back and forth during a brainstorm. A carpet that you maneuver over all the time. Perhaps you enjoy a good spin especially after a thrilling game, but you'd rather your chair not roll across the room in your jubilation.
While there are no perfect casters in the world, especially when our rolling needs aren't entirely universal, we've gotten pretty close with our default Secretlab XL PU Casters that come with every Secretlab TITAN Evo and Secretlab Classics* chair. Made of polyurethane, they provide a solid, all-rounded rolling experience on your Secretlab gaming chair.
*Secretlab Classics is the official collection of our 2020 award-winning gaming chairs, which includes the Secretlab OMEGA 2020, the Secretlab TITAN 2020 and TITAN XL 2020, and all their Special Edition (SE) variants.
However, with the right type of casters to cater to the specific way you experience your Secretlab gaming seat, improved movement and control is absolutely within reach. Especially for discerning users who want to personalize their Secretlab chair experience with specific types of gaming wheels, we've created multiple caster options for you to choose from.
Chart new territory on wheels that are more your speed
Elevate your maneuverability with premium add-ons designed exclusively for your Secretlab chair for a sitting experience that's tailored to you. Shift gears and be wheels ahead of your competition.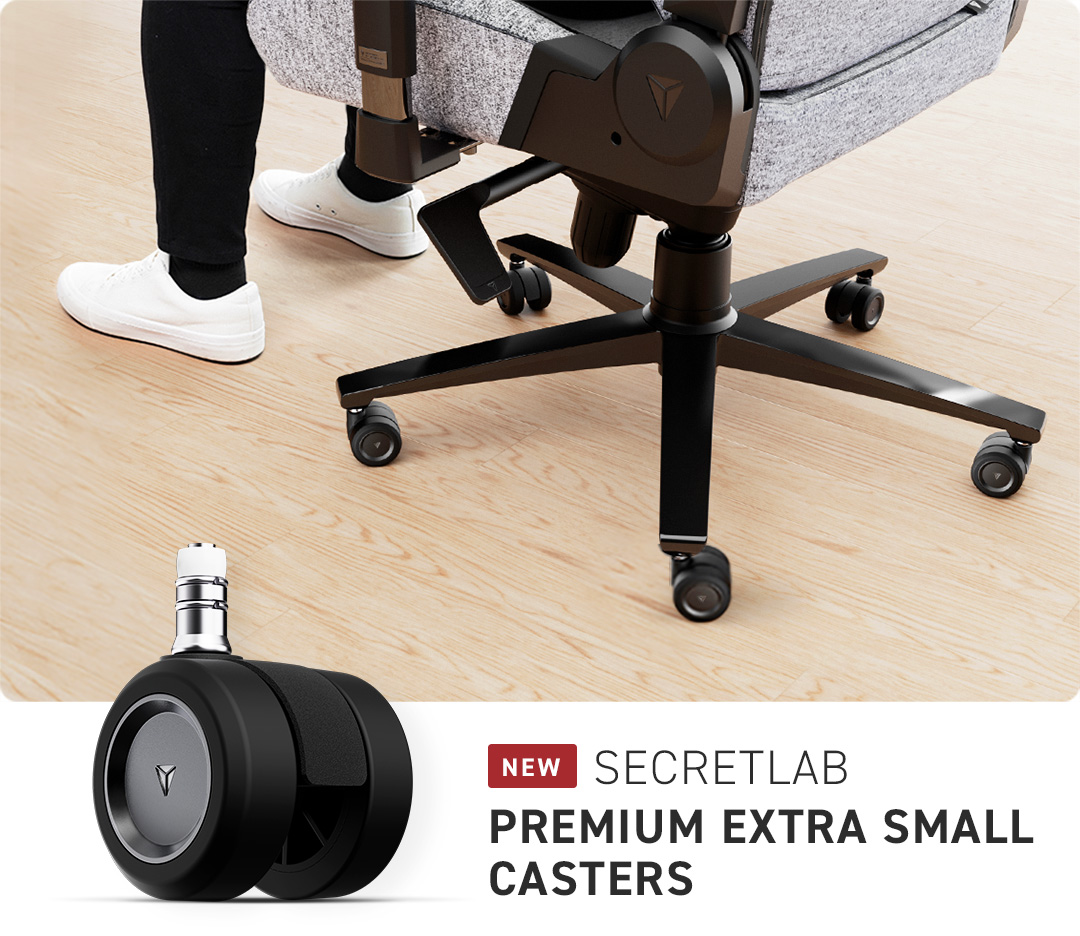 Stay low-key with smaller polyurethane caster wheels, with anodized aluminum and reinforced steel for durability.
With a reduced wheel diameter of 50mm (1.9"), the Secretlab Premium Extra Small Casters lower the chair height by 10mm (0.4″) so more are able to plant their feet firmly on the ground for optimal support while seated. For those of us who struggle sometimes to put our feet flat on the ground, even with smaller-sized chairs, we've made something really special for you. With these Premium Extra Small Casters, you can now achieve better ergonomic posture with a lower seat profile, and fully experience the personalized Secretlab sitting experience you want.
To ensure that these gaming chair casters are durable despite their smaller form factor, we used anodized aluminum construction and instilled reinforced steel axles. These casters will stay sturdy for a long time so you can roll with peace of mind. From its monochromatic gunmetal gray finish to its sleek size – add an elegant and luxurious flair to your Secretlab gaming chair with these Premium Extra Small Casters.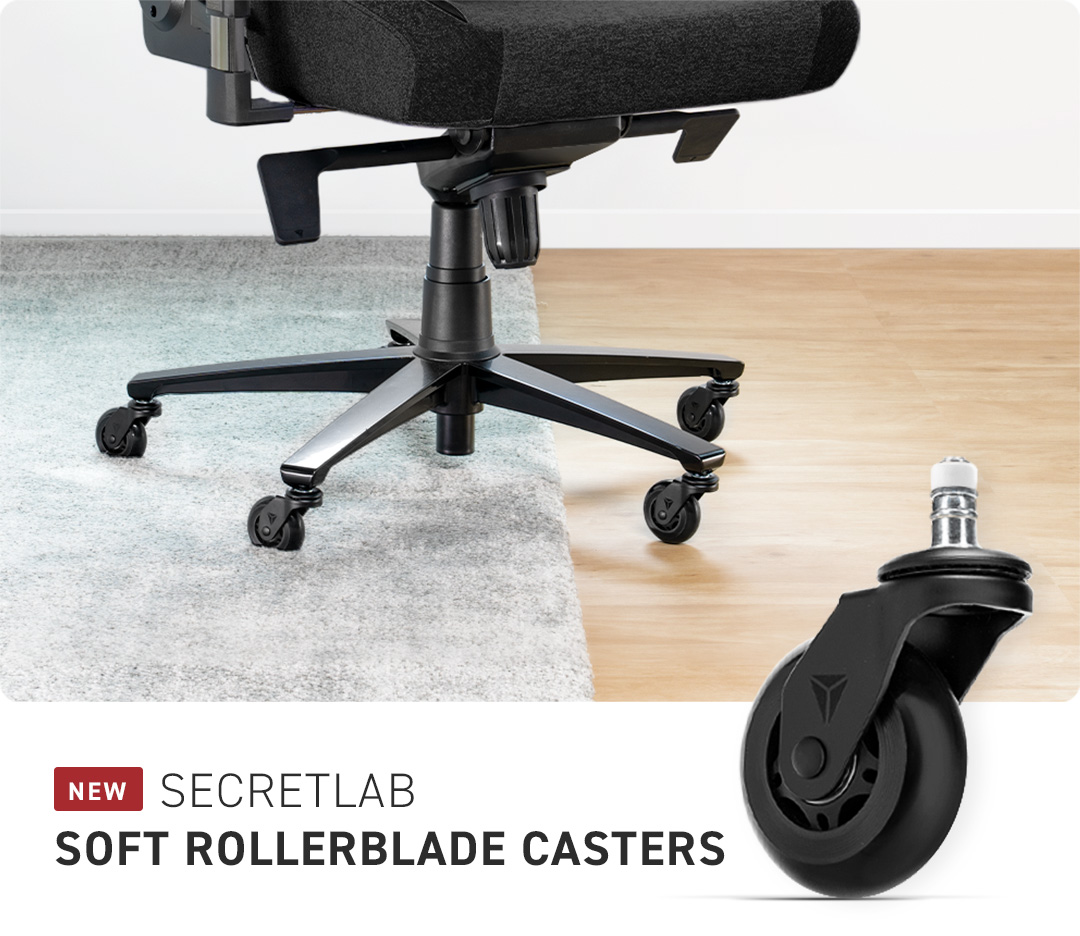 Larger wheels made of thick, soft polyurethane rubber for the smoothest rolling experience, even when going from high pile carpet to hardwood flooring.
Carpets can sometimes get in the way, especially when you have a chair on wheels. If you find yourself struggling to maneuver your chair while trying not to get stuck in place, there's no need to throw out your rugs just yet.
Made of thick and soft polyurethane rubber, the Secretlab Soft Rollerblade Casters offer the smoothest rolling experience across any surface – including dense, textured carpets. The larger wheel diameter of 63.5mm (2.5") prevents fibers of your carpet from being caught in your caster brackets, while working in tandem with swivel ball bearings to provide better rotational motion with less friction. You can now effortlessly swerve without a hitch, and keep your favorite carpet.
Remain locked in place on your Secretlab gaming chair
Stay laser-focused. Take your performance to new limits without budging from your spot.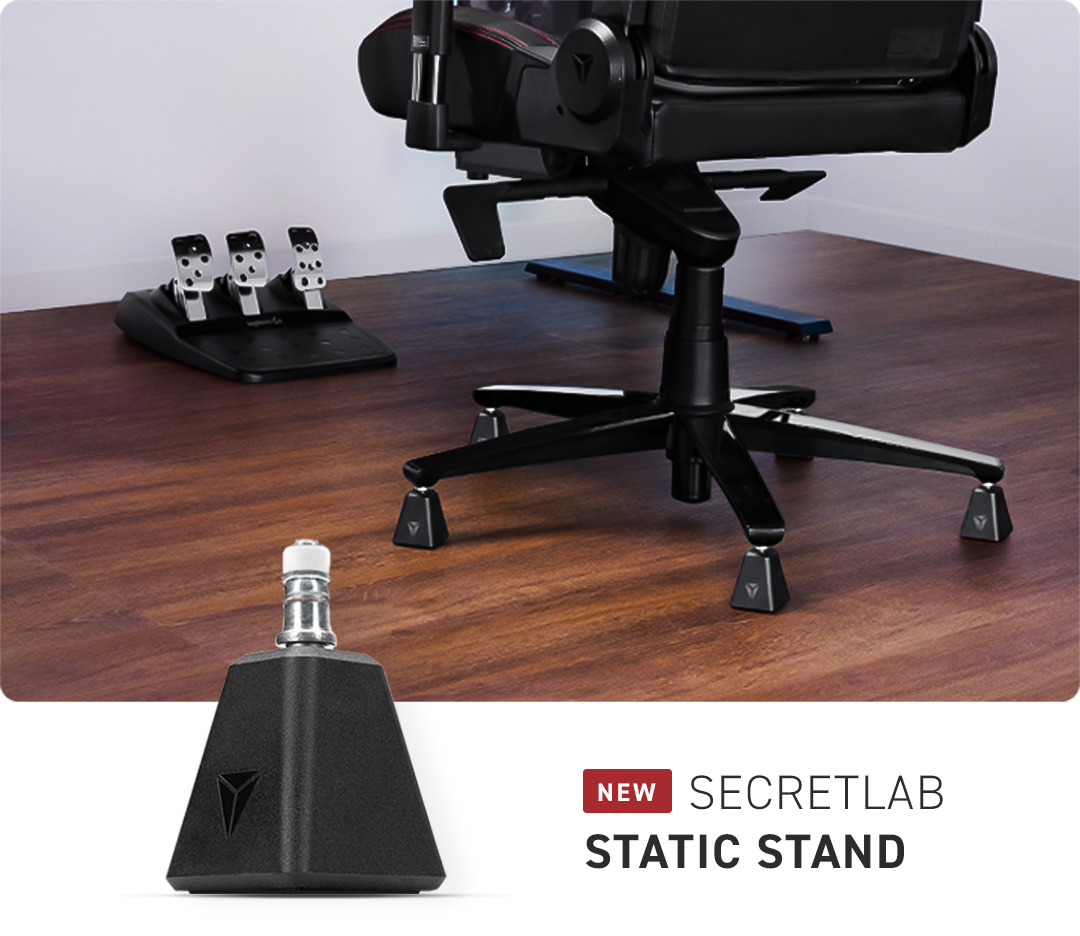 Hold fast for increased stability on your gaming chair. Ideal for racing rigs and flight simulators.
If racing rigs and flight simulators are more your wheelhouse, consider staying anchored to the ground with the Secretlab Static Stand. Slip into the zone and stay in it – the boost in stability you'd get with the custom wide base area will reduce any potential interruptions so you can maintain peak concentration. The Static Stand is also made of high-quality nylon material for extra points in durability. The non-slip rubber bases will also keep your Secretlab chair locked in place even as you're making moves at your desk.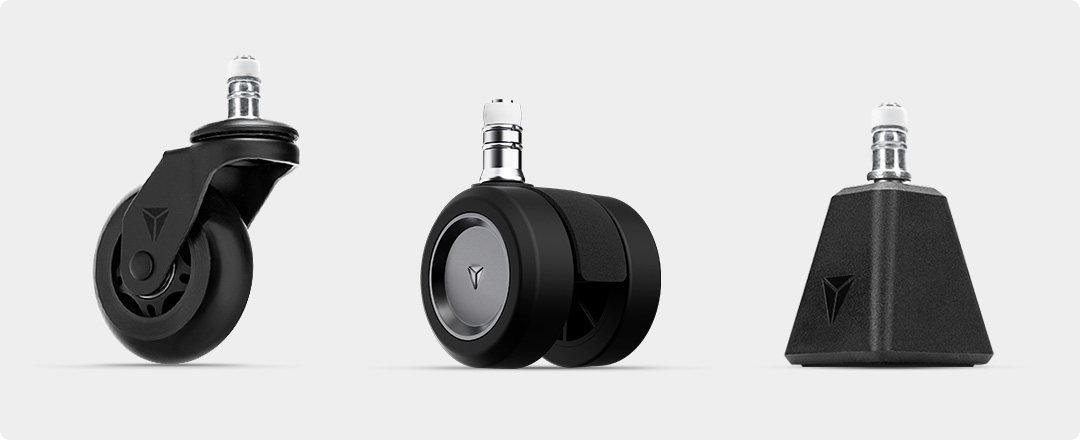 Let your casters match the way you roll
Getting the right gaming casters can make a whole world of difference. Consider what type of casters to equip your Secretlab chair with according to your personal needs.
Your feet can't comfortably reach the floor
Lower your seat height by 10mm (0.4″) with smaller wheels so you can plant your feet firmly on the floor.
Recommendation: Secretlab Premium Extra Small Casters
You own high pile carpets
High pile carpets feel great beneath your feet, but they can be a literal bump in your daily life at the desk. Experience the best of both worlds – have smooth maneuverability and enjoy the soft comfort of carpeted floors with our casters, built with a larger wheel diameter and swivel ball bearing to smoothen out the rough ride from right beneath you.
Recommendation: Secretlab Soft Rollerblade Casters
You prefer to stay anchored in place
Go ahead. Make the choice for a stationary sitting experience for the boost in concentration and stability you need. It will do wonders for your performance especially in racing rigs or flight simulators.
Recommendation: Secretlab Static Stand
You look for quality in every little aspect
You won't settle for anything less than the best and we like to think we know a thing or two about that. If you favor sleek, luxurious designs with long-lasting durability to match, we have just the thing.
Recommendation: Secretlab Premium Extra Small Casters
---
Get even more things rolling
Your comfort is paramount to us, and that's why we spare no expense when it comes to customization options. Enjoy the freedom to further personalize your Secretlab chair experience from armrests to lumbar pillow add-ons. You deserve the ergonomic chair experience tailored to you.
Discover more exclusive Secretlab exclusive chair add-ons and accessories here.