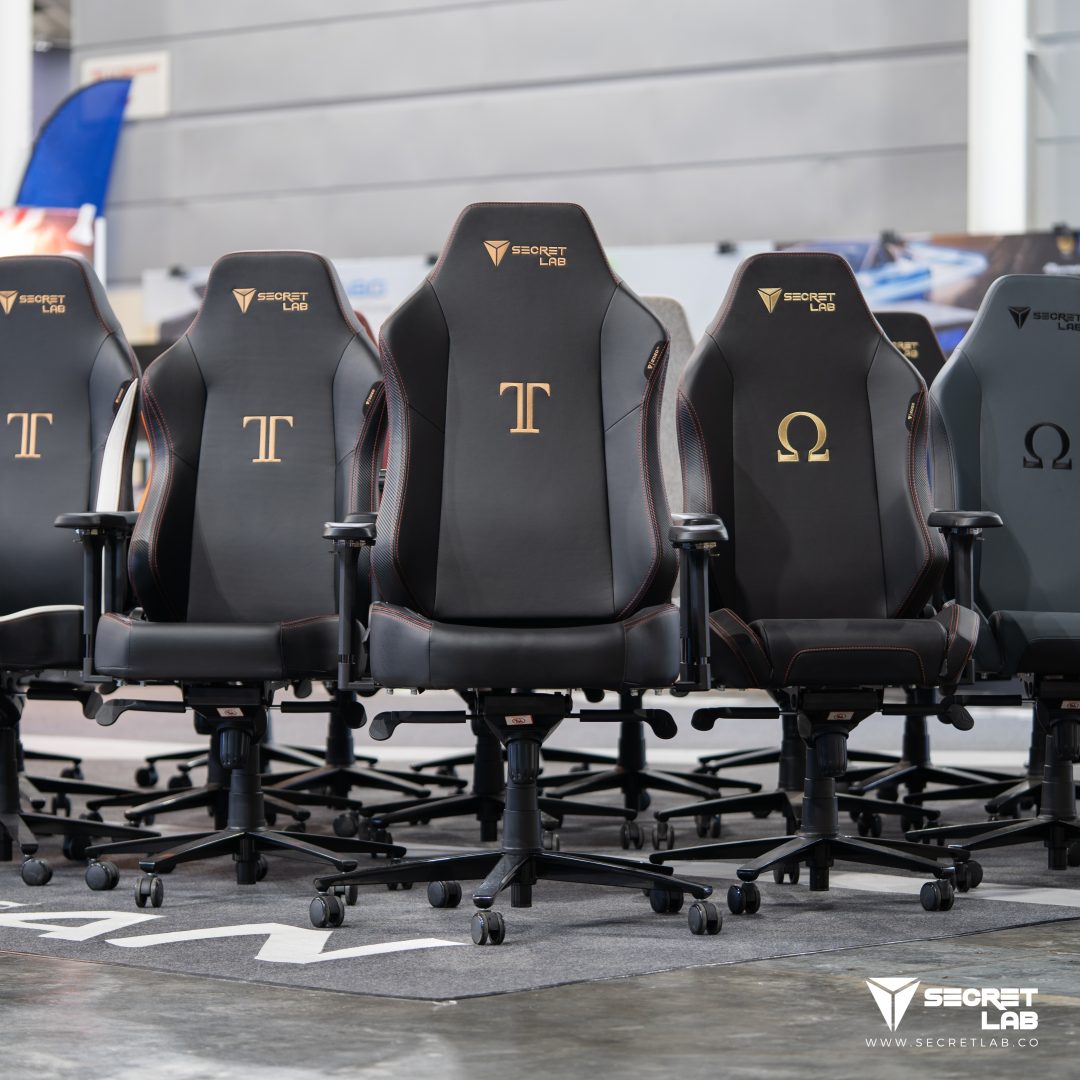 What is PRIME™ 2.0?
Over three years ago, we set out to engineer and spec a PU leather that would be the hallmark for durability on the market. The result was Secretlab PRIME™ 2.0 PU leather, an all-new and upgraded leatherette that has been specially tested to serve you well even in a harsh, humid climate. Together with scientists from Singapore's Agency for Science, Technology and Research (A*STAR), PRIME™ 2.0 PU leather was developed, after outperforming a battery of custom-designed tests that were far more rigorous than existing industry standards for durability. 
Most tests fail to take into account prolonged exposure to high humidity and moisture such as perspiration, and we wanted to come up with a way to make sure that our choice of material held up under the harshest possible conditions.  If you're looking for a supple and premium sitting experience that will outlast the test of time — and the competition — on your gaming seat, look no further.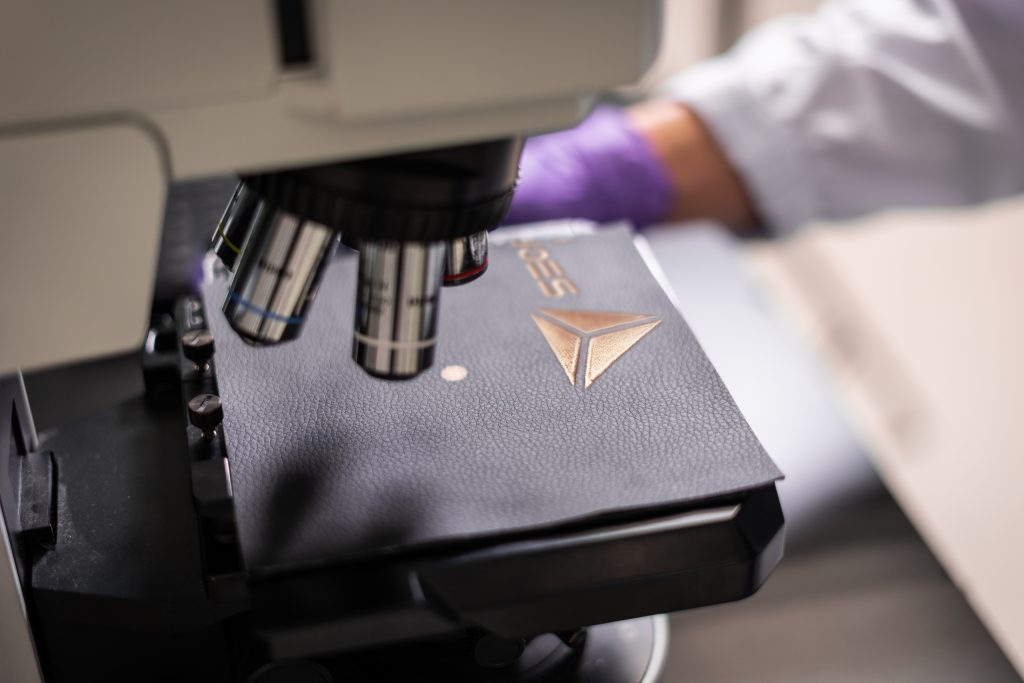 Do I have to worry about Secretlab PU leather peeling?
Not under normal circumstances, and not for several years even under humid conditions. After years of extensive R&D, Secretlab PRIME™ 2.0 PU leather passed even the most stringent durability tests with flying colors. It has been rigorously tested and certified to be 4x more durable than regular PU leather, and continues to lead the market in terms of flexing and abrasion resistance. It retains the signature plush feel of its PRIME™ 1.0 predecessor, which means you enjoy the combination of enhanced durability and comfort. All so you can sit with an even greater peace of mind.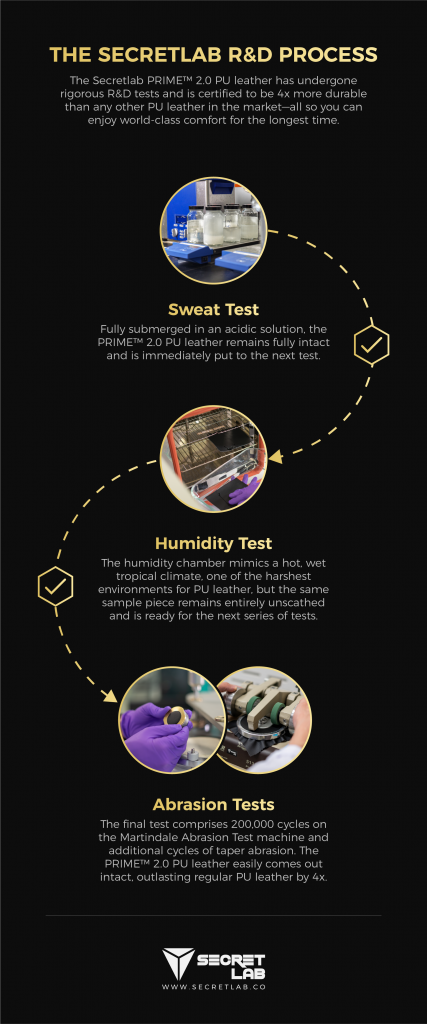 Proving its utmost durability, PRIME™ 2.0 PU leather is put through a series of extreme stress tests, each carried out in immediate succession:
SWEAT TEST
A PRIME™ 2.0 PU leather sample is first fully immersed in an acidic solution that simulates human perspiration. It remains completely intact.
HUMIDITY TEST
The soaked piece of PRIME™ 2.0 PU leather is immediately put into a humidity chamber that mimics the conditions in the most humid, tropical climates

.

  
ABRASION TESTS
PRIME™ 2.0 PU leather is then put through over 200,000 cycles on the Martindale Abrasion Test machine and even more cycles of Taber abrasion. To put things in perspective, the standard test requirement is just 20,000. PRIME™ 2.0 PU leather successfully retains its integrity, outlasting regular PU leather by 4x.
At the end of the day, we want you to enjoy a greater peace of mind and focus on getting the most out of your Secretlab chair. We stand fully behind these results too. Whether it's a TITAN Evo 2022 or one of our Secretlab Classics*, every Secretlab seat is eligible for a 5-year Manufacturer's Extended Warranty, far exceeding the industry standard of 2 years. When you buy a Secretlab gaming chair, we're going to be there to back you up for a long time to come.
*Secretlab Classics is the official collection of our 2020 award-winning gaming chairs, which includes the Secretlab OMEGA 2020, the Secretlab TITAN 2020 and TITAN XL 2020, and all their Special Edition (SE) variants.
Why might PU leather peel?
At Secretlab, we don't cut corners when it comes to quality. Every Secretlab gaming seat is built only from materials of the highest grade, and we carefully source and vet every component that goes into our chairs. Everything from the hydraulics to the upholstery has been certified for safety and extreme durability by internationally-recognized authorities such as BIFMA, TÜV and Intertek. 
That said, all materials, no matter the quality, can be compromised if they are continually exposed to less-than ideal conditions. PU leather is no exception.
DIRECT SUNLIGHT/HEAT
Prolonged exposure to direct sunlight — which contains harmful UV rays — and heat may lead to discoloration of the upholstery and even the degradation of the top layer of PU leather.
LIQUIDS
Similarly, long-term exposure to and absorption of any form of liquid can be harmful to PU leather. One of the biggest culprits is perspiration, which is naturally acidic. If you're breaking out in a sweat after a long gaming session, we recommend wiping down your chair immediately after your match ends.
SWEAT/BODY OILS
Intense gaming sessions or long hours of work can lead to the build up of sweat and body oils. When this is combined with friction from your skin or clothing rubbing against the material, the upholstery's protective coating could be compromised.
SITTING HABITS
Odd sitting positions can also exert uneven pressure across the leather's surface, causing particular points to flex and stretch more than usual. This can speed up the natural process of wear-and-tear, and also negatively impact your sitting posture and restrict blood flow to certain parts of your back and legs.
ABRASIVE CLOTHING
Finally, rough-textured clothing such as jeans create an additional source of friction between your seat and rear end, which might cause the leather to wear down more quickly than anticipated.
Why did we choose PU leather over PVC?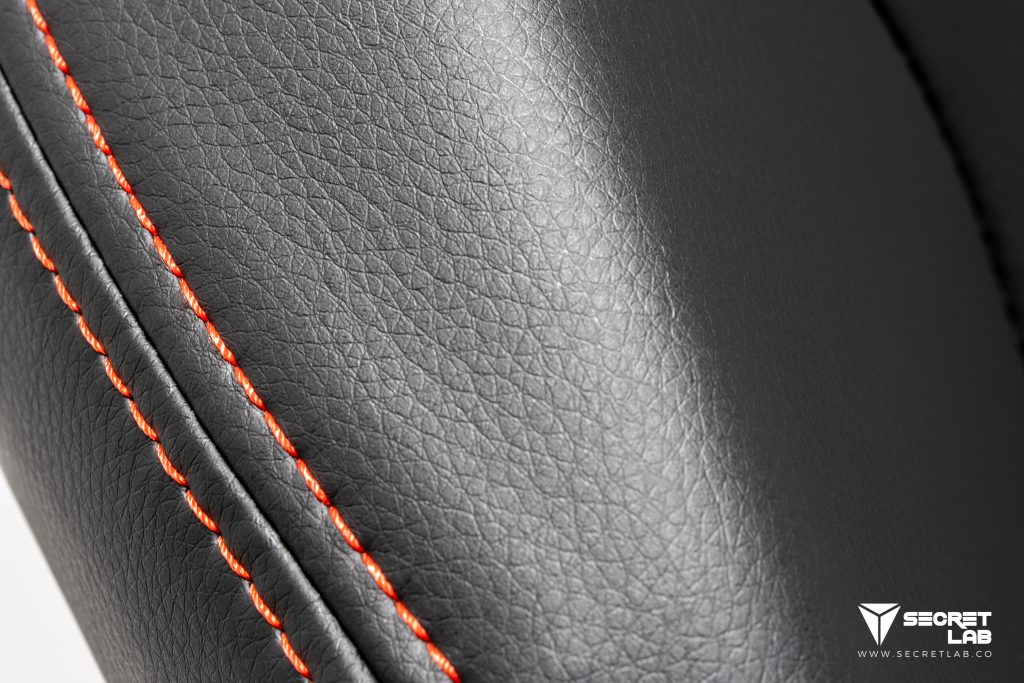 PU and PVC leather are both synthetic leathers. They differ mainly in terms of the surface layer that is applied to the base material, ultimately resulting in very different end products and suitability for different uses. 
If you're looking for the most realistic approximation of genuine animal hide, both in terms of appearance and surface feel, then PU leather is the only way to go. This is especially so because PVC is generally thicker and less breathable, and cannot emulate the look and natural feel of real leather the way PU can. PVC is also comparatively cheaper to produce than PU leather, but its use of toxic chemical plasticizers means that it is less friendly to the environment.
You'll find chairs and furniture that use both PU and PVC leather. But after years of testing, research and deliberation, there's no doubt that the properties of PU leather best fit our main goal of a plusher, more breathable, and durable experience for gamers. 
Factors
PU vs PVC?
Breathability

PU leather easily bests other forms of synthetic leather, including PVC, because it has more pores on its surface. It also has fewer layers beneath its coating, which makes it more pliable and flexible. If you're looking for the soft and supple feel of real leather, PU gives the closest and most realistic approximation. 

Plushness

PU also exudes a plusher skinfeel, successfully emulating the feel of genuine leather. This gives you an equally supple feel, but at a far more accessible price.

Durability

PVC leather consists of additional layers, which means it can be tougher than certain grades of PU leather. However, with advancements in technology and material production, PU leather has enjoyed significant improvements in terms of durability and comfort. Secretlab's

PRIME™ 2.0 PU leather

, in particular, has been certified to outperform regular PU leather for long-term durability. 
How can I keep my PRIME™ 2.0 PU leather in tip-top condition?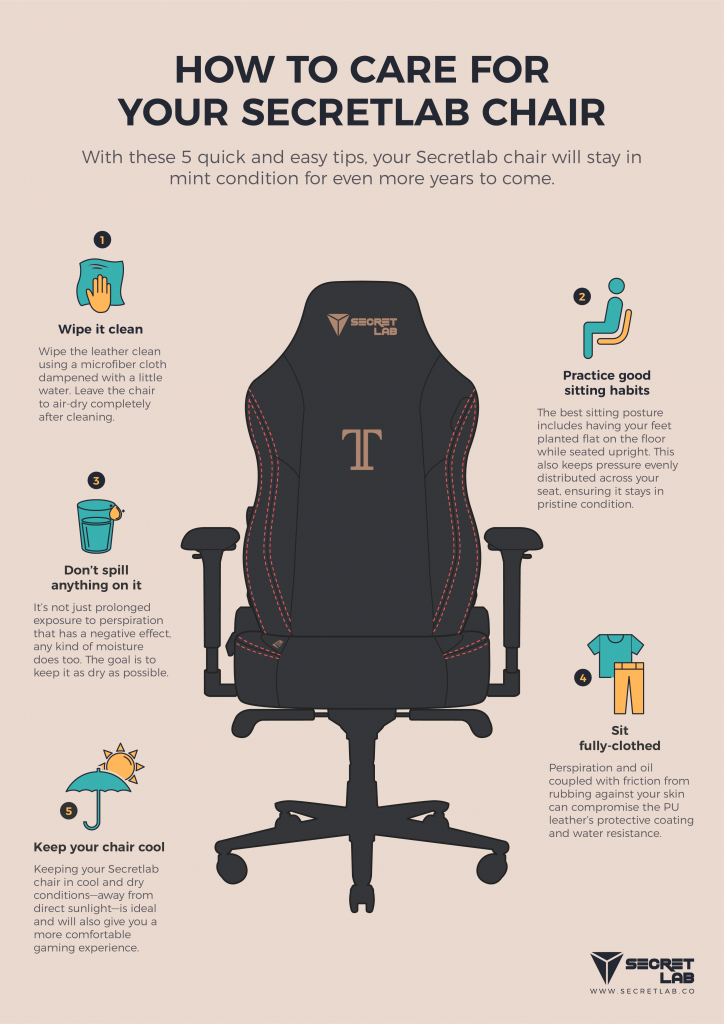 No matter your mileage on your chair, peeling PU leather doesn't have to be the inevitable outcome. When you pair the durability of PRIME™ 2.0 PU leather with the right care and habits, your Secretlab chair will stay in mint condition for years to come.
CLEAN YOUR GAMING CHAIR REGULARLY
Simply

wipe the leather clean using a microfiber cloth dampened with a little water

. Leave the chair to air-dry completely after cleaning.  As a good added measure, you can also opt for the Secretlab premium upholstery cleaner.
KEEP LIQUIDS AWAY FROM YOUR GAMING CHAIR
Whether it's a glass of water, a canned soft drink or even your perspiration, we advise keeping them all away from your chair.

Quickly wipe any liquids off should they come in direct contact with your chair

. 
SIT FULLY-CLOTHED
Put on some clothes when you game. When sweat and body oils constantly rub against the leather, you might experience wear sooner rather than later. 
KEEP YOUR GAMING CHAIR COOL
Just as it's important to keep your gaming rig chilly, keeping your Secretlab chair in a dry and cool environment (and away from direct sunlight) will help keep the chair in tip-top condition.
PRACTISE GOOD SITTING HABITS
If you're looking for an even more breathable alternative…
All Secretlab chair upholsteries undergo the same series of durability tests as PRIME™ 2.0 PU leather. So no matter which you pick, you'll never miss out on an award-winning sitting experience. Each of our fabric choices is also specially designed to cater to different lifestyle needs, so you can choose the one that suits you best without worrying about its longevity.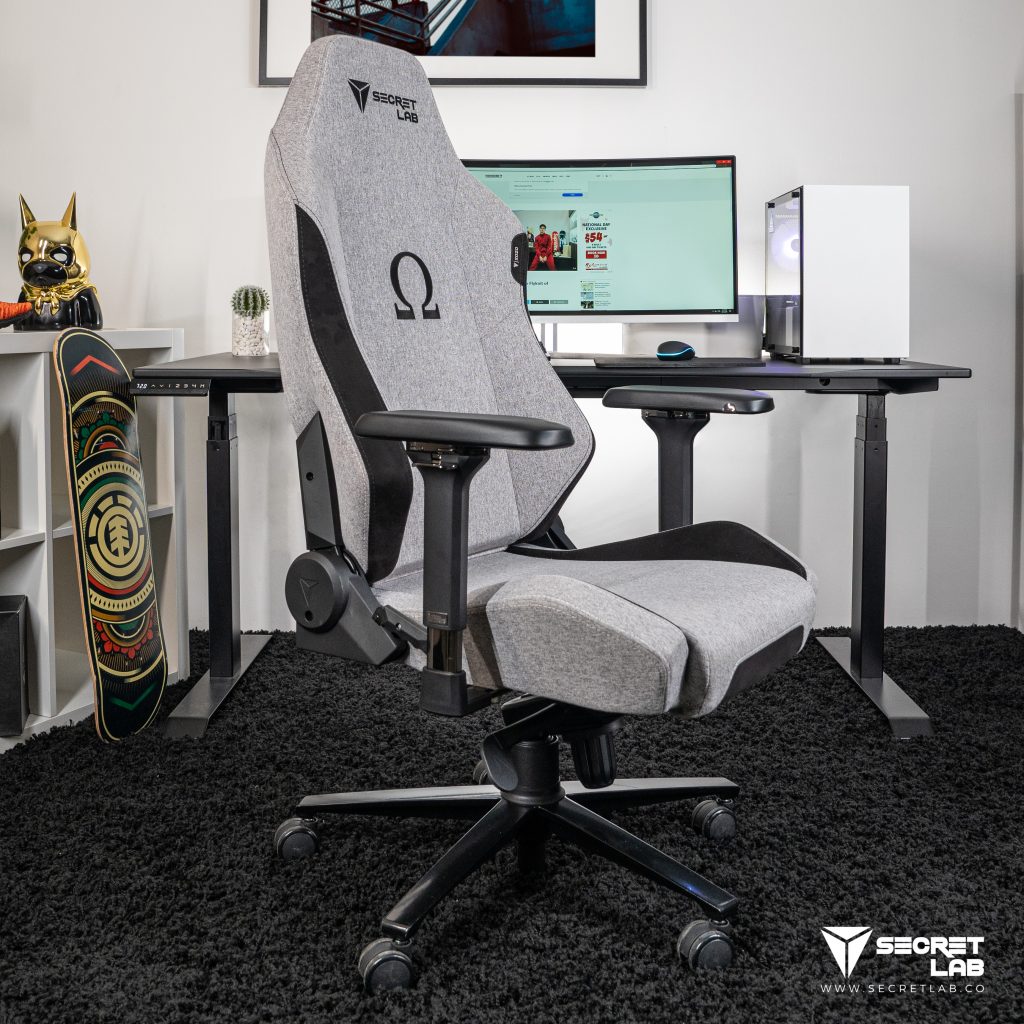 Secretlab PRIME™ 2.0 PU leather is an accessible and high-quality option, and it's great if you eat at your desk because any accidents can be easily cleaned up. But if leather is just not what you're looking for, and you'd prefer a fluffier texture that's breathable and soft against your skin, the Secretlab SoftWeave® Fabric series is a good alternative.
It is inspired by the use of woven fabrics by streetwear and tech giants, and like many of their performance-enhancing fabric products, SoftWeave® has been specially engineered to offer the perfect blend of comfort, durability and breathability.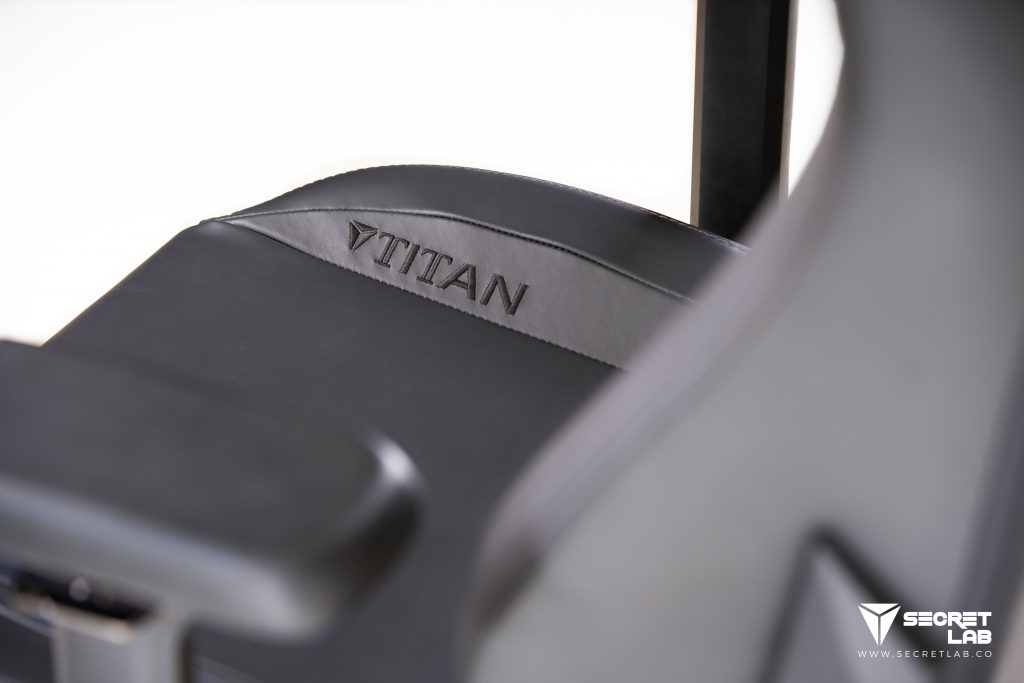 However, if you're after a more luxurious sitting experience that's exceptionally smooth and supple to touch, Secretlab NAPA leather might be the one for you. With its subtle sheen and remarkably soft handfeel, it is the preferred material of luxury automobiles and boutique bags. This is genuine, unsplit leather and is designed for those of you for whom the very idea of compromise is anathema.