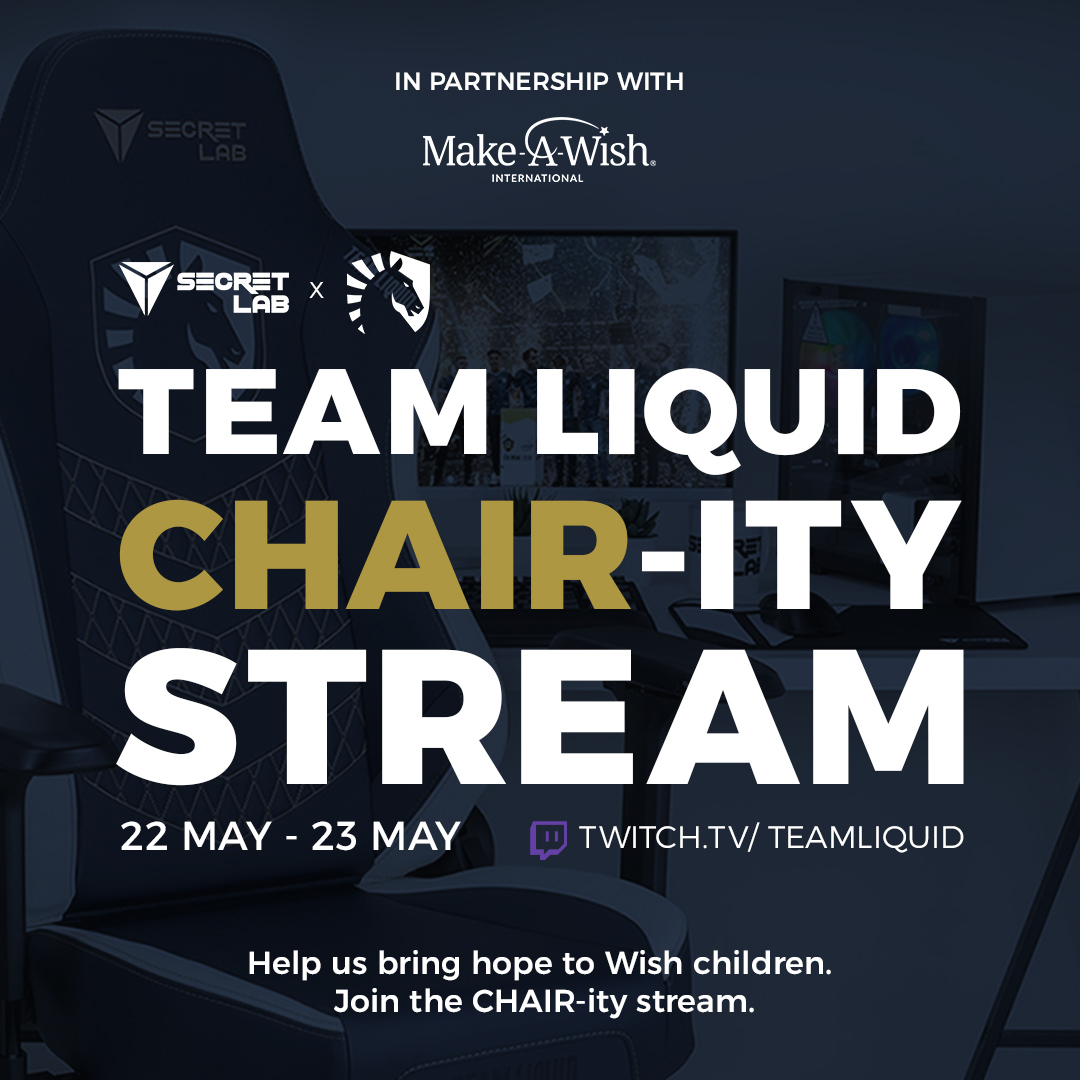 MAY 12, 2020—Secretlab today announced a partnership with Make-A-Wish®, the world's leading wish-granting organization for children with critical illnesses and its first charity of choice. Make-A-Wish® has been helping wish children fulfill their wishes for the past 40 years, giving them the hope, strength and joy they need to beat back their illness.
Having recently concluded a campaign that will see 400,000 masks donated to hospitals in the US, UK, and Singapore, Secretlab remains committed to doing its part to give back to the community as the world continues to battle COVID-19. However, certain vulnerable groups are more heavily affected by the pandemic, and the partnership with Make-A-Wish® is part of Secretlab's efforts to support those in need and bring hope and smiles to wish children during this difficult time.
Gaming has become wildly popular across the globe—with 2.6 billion gamers worldwide today—including among children with critical illnesses. Make-A-Wish has seen a rise in the number of gaming-related wishes, and this partnership with Secretlab will help wish children who are also passionate gamers form positive experiences and empower them with renewed energy and optimism to take on their illnesses. 
As a leader in performance gaming seats and the partner of the world's most successful esports teams and tournaments, Secretlab will support Make-A-Wish® in its drive to grant the wish of every eligible child, infusing happiness and cheer into the lives of wish children, inspiring them to fight even harder. The COVID-19 pandemic has resulted in many wishes being postponed, and this partnership will ensure that some wish children still continue to have something to look forward to and see their most cherished wishes fulfilled.
To kickstart the partnership with Make-A-Wish®, Secretlab is collaborating with Team Liquid, one of the world's oldest and most successful esports organizations with whom it recently partnered, to organize a 24-hour CHAIR-ity stream supporting wish children. The stream will be hosted by Team Liquid, where stream donations as well as part of the proceeds from every Secretlab Team Liquid Edition chair sold during this period will help grant life-changing wishes to children with critical illnesses. 
The stream will go live on 22 May at 12.00PM PST at twitch.tv/teamliquid, featuring Liquid influencers and players from its championship winning teams, such as Counter-Strike: Global Offensive talent Nicholas "nitr0" Cannella, Super Smash Bros. extraordinaire Juan "Hungrybox" Debiedma, and Team Liquid co-owner Steve "LiQuiD112″ Arhancet.
In addition, wish children will have the opportunity to participate in the stream, alongside their favorite players and personalities. Together with Team Liquid, Secretlab aims to spread a message of hope for wish children and make a meaningful difference. The CHAIR-ity stream will also help raise awareness of the transformative power the fulfillment of a wish can have on individual wish children and further highlight Make-A-Wish®'s need for support at this time.
Said Ian Alexander Ang, co-founder and CEO of Secretlab: 
"This is a particularly isolating time for all of us, as we are told to distance ourselves from one another to combat the spread of COVID-19. This is even more so for wish children, who may have their lifelong wishes put on hold during this social distancing period. Gaming has been shown to be able to bring people together virtually in a safe space and forge tight-knit communities. It remains accessible, and wish children with gaming-related wishes can still have their wishes fulfilled and at the same time connect with their fellow gamers and the rest of the community. Make-A-Wish® has been granting the most cherished wishes of wish children for the past four decades. Secretlab is truly heartened to be able to work with them to bring hope and strength to wish children and their families. While a small wish, like meeting a favorite streamer or player, may not seem like a big deal to someone looking in from the outside, it can make all the difference to wish children and spur them on to fight harder."
Said Luciano Manzo, President and CEO of Make-A-Wish® International:
"We are very grateful for this opportunity to work with Secretlab and look forward to leveraging Secretlab's dominant presence in the esports industry to help wish kids fulfill their dreams in the esports and gaming space. For our wish kids, gaming allows them to regain a bit of normalcy and to be included in a bigger community of gamers and streamers. This is especially important now as more wish kids are waiting for wishes than ever due to COVID-19. With this collaboration, we call upon people looking to do something positive and impactful during these uncertain times to bring hope and joy to children and families who need it most.''
About Secretlab
Secretlab was established in 2014 to create the pinnacle of gaming seats—each extensively designed and engineered with only materials of the highest grade to ensure absolute comfort and unparalleled support. Today, Secretlab is the global choice of gaming seats for the world's most premier gaming tournaments, top esports professionals and over 400,000 satisfied users from more than 60 countries worldwide, alongside rave reviews from international media publications. And we're only getting started.
To learn more about us, visit www.secretlab.co, or follow Secretlab on our Facebook, Twitter (@secretlabchairs), and Instagram (@Secretlab) pages.
About Make-A-Wish®
Make-A-Wish® creates life-changing wishes for children with critical illnesses. We seek to bring every eligible child's wish to life because every child deserves a childhood. Research shows children who have wishes granted can build the physical and emotional strength they need to fight their illness. This year marks the 40th anniversary of the wish that inspired the founding of the organization in 1980. Since then, Make-A-Wish has become the world's leading children's wish-granting organization, serving children in nearly 50 countries worldwide. Together, generous donors, supporters, staff and more than 43,000 volunteers unite to deliver hope to wish kids and their families when they need it most. In total, Make-A-Wish has granted more than 500,000 wishes; more than 33,000 wishes in 2019 alone. For more information about Make-A-Wish America, visit wish.org and for more information about Make-A-Wish International, visit worldwish.org.