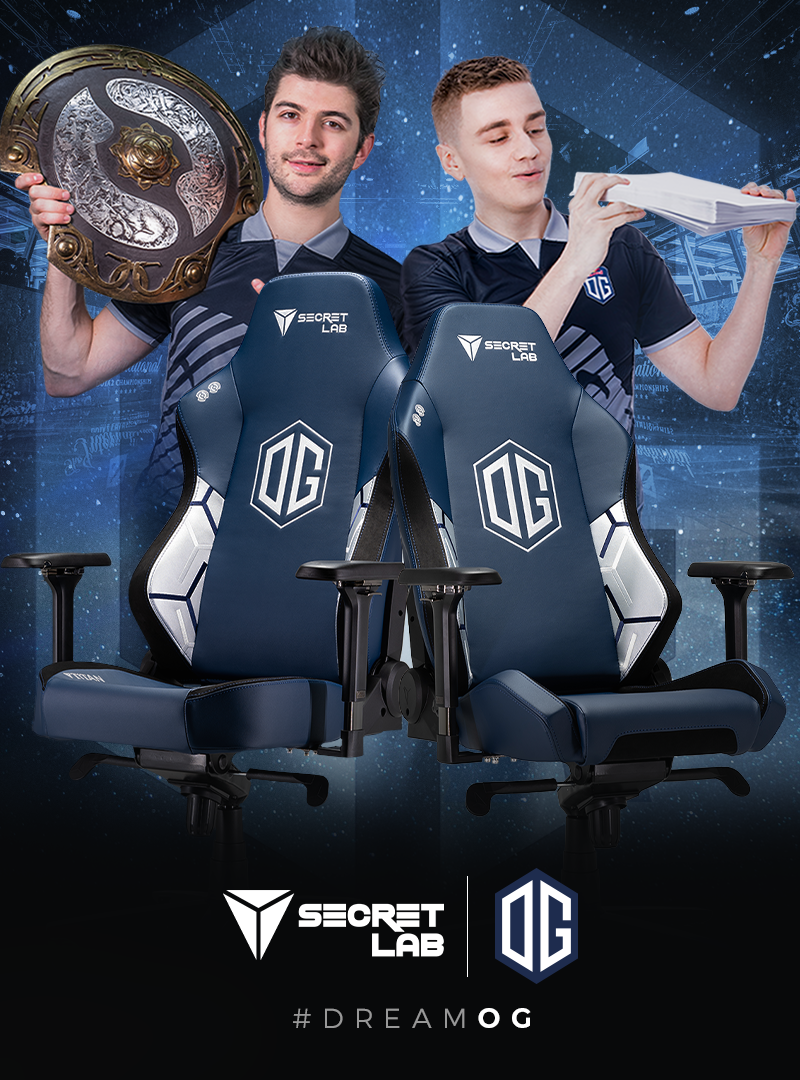 JANUARY 21, 2020—The world's first back-to-back and repeat Dota 2 world champions. The youngest esports organization to achieve such an unprecedented level of success. Historymakers. These are the defining characteristics of OG, who today announced a partnership with award-winning gaming seat specialist Secretlab to further elevate its standing as one of the most successful esports organizations in the world and inspire the next generation of top esports athletes.
In just five years since OG was founded, the Europe-based esports organization ascended from a young organization to become the world's best in Dota 2. Their most defining moment in the history books was cemented last August when they became the first-ever team to win The International (TI)—Dota 2's most prestigious tournament and the de facto world championship—twice and in consecutive years. OG's back-to-back TI victories also showcased to the world how their collective indomitable psyche, as well as a perfectly-synced team chemistry were such crucial ingredients in order to achieve the highest echelon of success.
Now, in partnership with Secretlab, who have outfitted the team and staff with its high-performance chairs, OG truly have the best equipment to further enhance and maintain peak performances, and allowing them to further stake their claim on global success across all their teams—namely their Dota 2 line-ups (OG and OG seed) and their new Counter-Strike: Global Offensive (CS:GO) roster.
In celebration, Secretlab and OG have created the Secretlab #DreamOG Edition gaming seat. The special edition is decked in a navy-blue base, complemented with white and silver accents. The colourway is carefully designed to represent OG's iconic emblem, as well as the DNA of the highly-successful organisation: Simplicity, solidity and strength.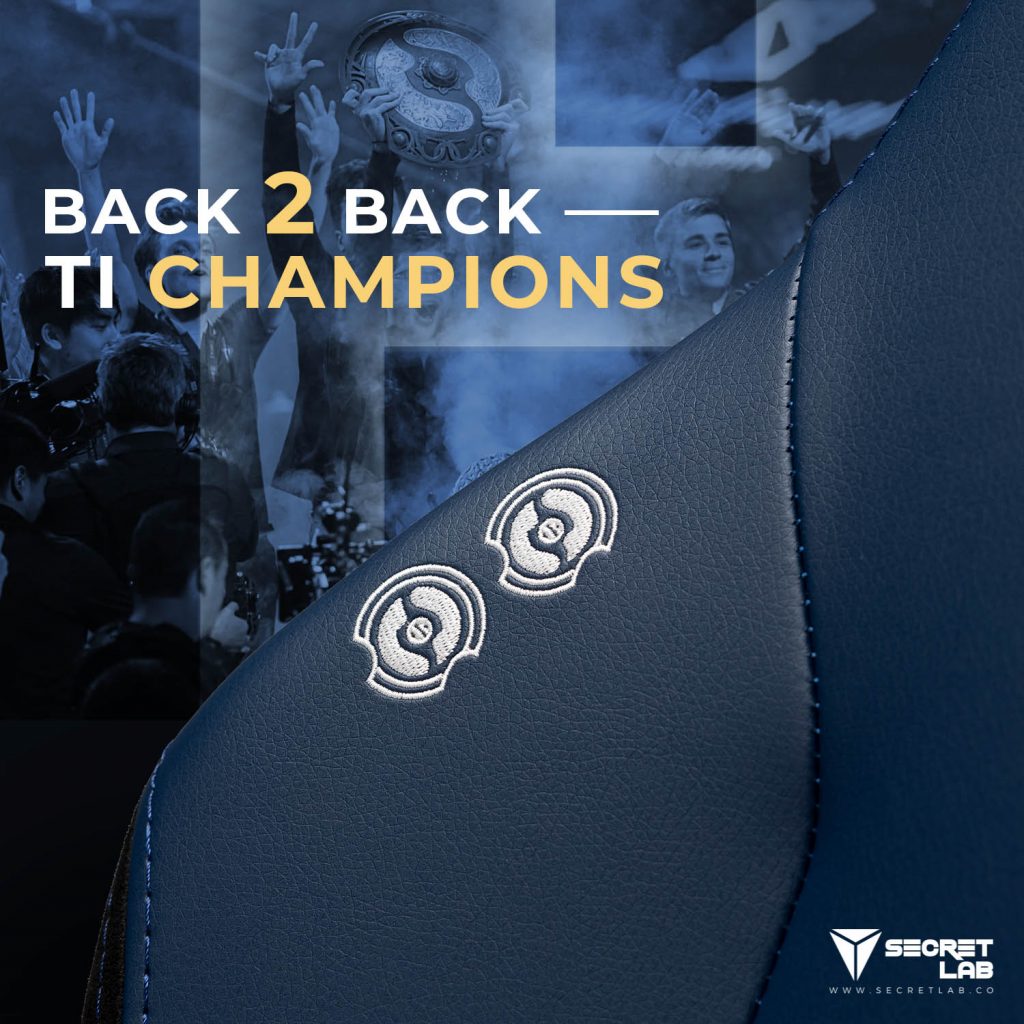 OG's most historic achievements are honoured with two Aegis icons—intricately embroidered into the right shoulder of the chair's backrest—proudly serving as a reminder that they are the only team in the world to have ever accomplished back-to-back TI triumphs. 
Finally, the backrest is also decorated with inverse hexagon tile patterns (intentionally bearing a similar look to chemical bonds) to illustrate the strong bond between the organization, players and fans.
The Secretlab #DreamOG Edition will incorporate the technologies and upgrades of the Secretlab Classics*, engineered to keep the team's professional players seated in full, proper form, utmost focus and unmatched comfort—all crucial to driving and maintaining peak performance—for over 18 hours each day. 
*Secretlab Classics is the official collection of our 2020 award-winning gaming chairs, which includes the Secretlab OMEGA 2020, the Secretlab TITAN 2020 and TITAN XL 2020, and all their Special Edition (SE) variants.
OG fans can also enjoy the same pinnacle of sitting experiences, with the special edition now available in two models (the OMEGA 2020 and TITAN 2020) for pre-order on Secretlab's website (https://secretlab.co/OG).
Said Ian Alexander Ang, co-founder and CEO of Secretlab: "OG are esports' biggest historymakers—winning unprecedented back-to-back The International world championships as well as being the youngest esports team to achieve such massive success. These stemmed from how their team, assembled right before TI8, has fought to stay together, especially when most teams reshuffle each year. This forged an unrivaled bond and commitment among the players that is so rarely seen in esports today. This is also what transformed an unexpected team of individuals into a superstar team—inspiring millions of gamers worldwide and represent everything that Secretlab stands for. With our goal to make esports athletes better, we're proud to support OG, elevate their performances with our award-winning chairs, and further help them create history."
Said Johan "N0tail" Sundstein, CEO and Captain of OG: "Secretlab, as a gaming product leader, has always been at the forefront in helping gamers perform better. This is most evident in how they've put their heart and soul into creating their high-performance gaming seats, so every gamer will be able to play at their best and fully enjoy their gaming experience. This resonates deeply with us at OG, and that's what makes Secretlab the perfect partner. With our players all outfitted with the best equipment, and we see our new award-winning Secretlab chairs as an integral member of our team. We're confident this partnership will take our entire organization—including our OG Seed and CS:GO rosters—to the next level."
About Secretlab
Secretlab was established in 2014 to create the pinnacle of gaming seats—each extensively designed and engineered with only materials of the highest grade to ensure absolute comfort and unparalleled support. Today, Secretlab is the global choice of gaming seats for the world's most premier gaming tournaments, top esports professionals and over 300,000 satisfied users from more than 50 countries worldwide, alongside rave reviews from international media publications. And we're only getting started.
To learn more about us, visit www.secretlab.co, or follow Secretlab on our Facebook,
Twitter (@secretlabchairs), and Instagram (@Secretlab) pages.
About OG
OG was founded by Johan "n0tail" Sundstein in August 2015. The team started to mark Dota 2 history during the Frankfurt Major in 2015, winning the first ever Valve sponsored Major. 
After winning the 2017 Kiev Major, they became the first and undefeated team in Dota 2 to win four Dota Major Championships. 
After a memorable victory at The International 2018, OG made history again in Shanghai in 2019 and became the first team to win the biggest esports tournament in the world twice, securing its legacy as one of the greatest Dota 2 team ever.
Recently. the club made its entry into one of the most iconic and competitive esport games worldwide: Counter Strike Global Offensive (CS:GO). 
For more information on OG, you can visit our website or follow us on: Twitter, Facebook and Instagram.