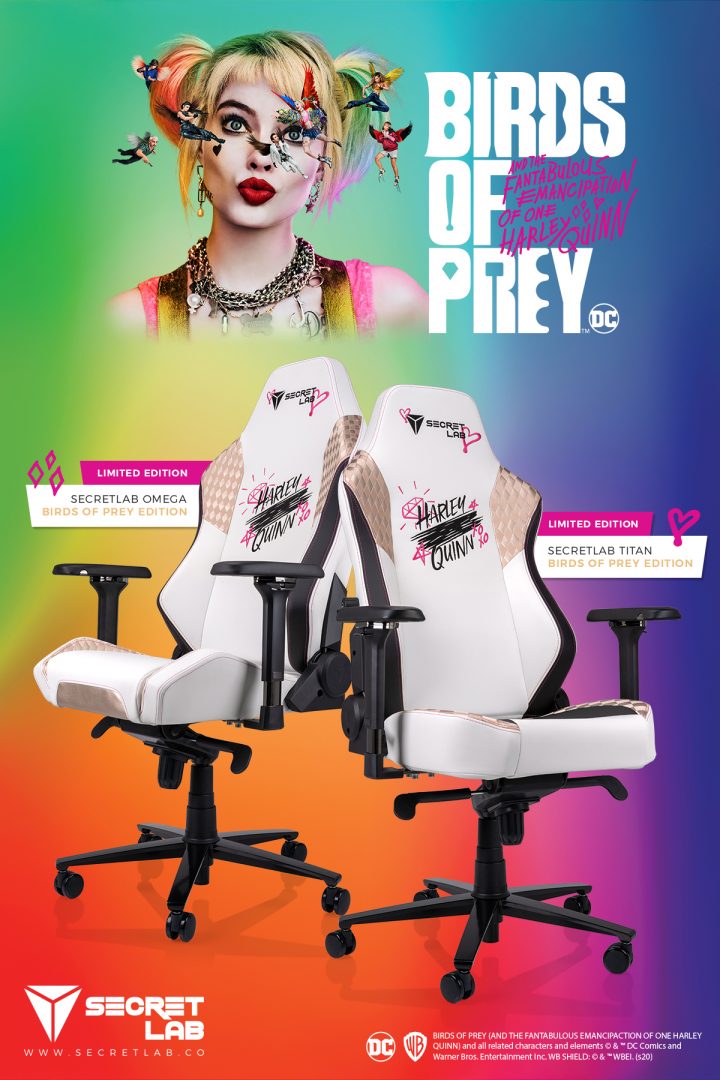 FEBRUARY 7, 2020—International gaming seat specialist Secretlab, in collaboration with Warner Bros. Consumer Products and DC, today launched their latest collaboration.
The Secretlab Birds of Prey Limited Edition—limited to 200 units for sale worldwide—is created in celebration of the DC character's starring role in the upcoming blockbuster Harley Quinn: Birds of Prey, which releases in theatres today (February 7).
This latest collaboration among Secretlab, Warner Bros. Consumer Products and DC comes after the roaring worldwide success of the Secretlab Dark Knight Edition gaming chair, which launched last year. The Secretlab Birds of Prey Limited Edition chair culminates in the perfect union between Secretlab's award-winning gaming chairs and the best-selling female character in comics (according to Business Insider).
Inspired by one of her many eye-catching, uniquely Harley outfits in the upcoming film, the Secretlab Birds of Prey Limited Edition is decked in a cream color base with gold diamond-motif leatherette on the backrest accents, as well as on the insides of the seatbase. The fan-favorite character's edgy and flamboyant nature is also echoed throughout the chair, from her scrawled signature on the front of the backrest, a pop-art twist of her iconic lipstick kiss on the back, to "graffiti-ed" heart shapes and XOXOs (symbolizing hugs and kisses from Harley) scribbled all over.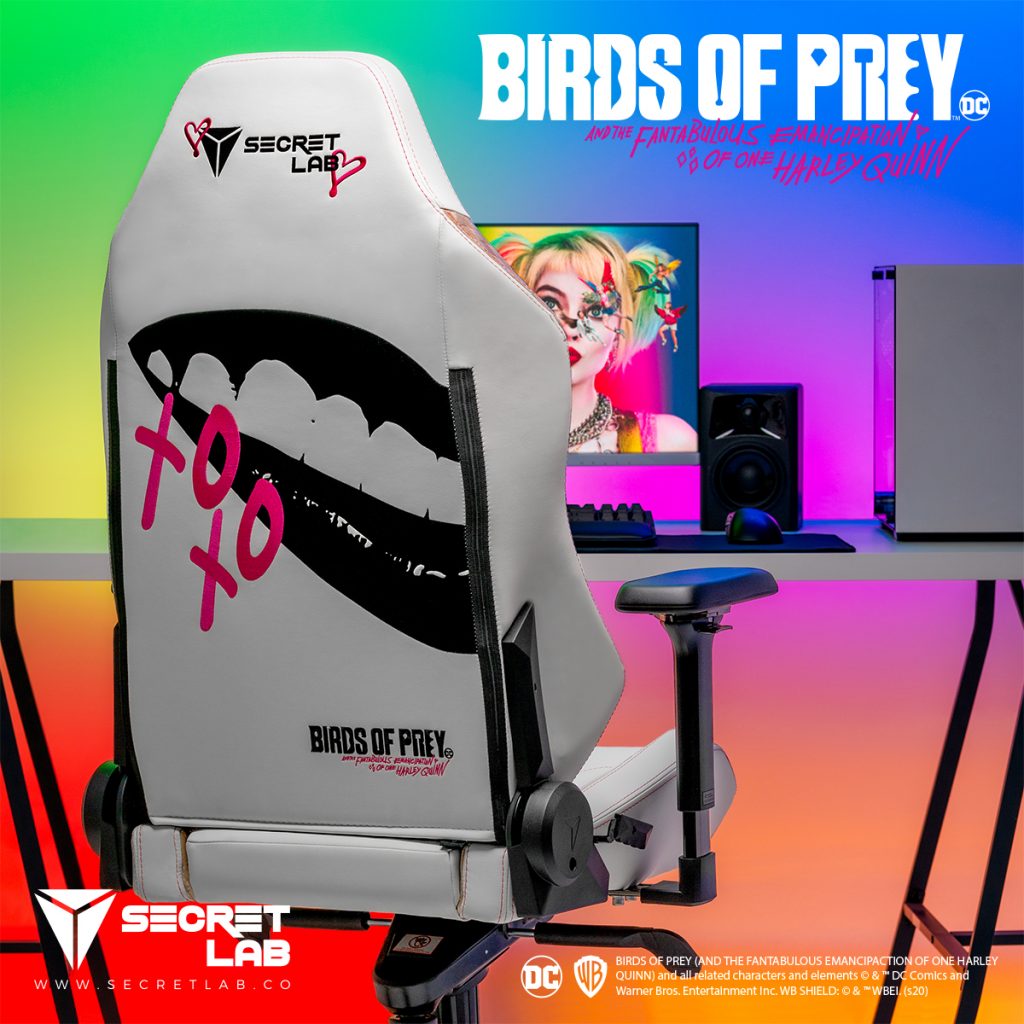 The Secretlab Birds of Prey Limited Edition will also incorporate the engineering and technology of the award-winning Secretlab Classics*, which comes with a suite of fully-adjustable features and extensively-tested materials, culminating in the pinnacle of sitting experience worthy of superheroes and anti-heroines alike. 
*Secretlab Classics is the official collection of our 2020 award-winning gaming chairs, which includes the Secretlab OMEGA 2020, the Secretlab TITAN 2020 and TITAN XL 2020, and all their Special Edition (SE) variants.
This limited edition will be available in two models: The OMEGA 2020 and Secretlab TITAN 2020, and with only 200 units produced worldwide for sale on Secretlab's website (https://secretlab.co/birdsofprey).
Said Ian Alexander Ang, co-founder and CEO of Secretlab: "Off the back of a successful Secretlab Batman-edition launch, we're excited to be collaborating again with Warner Bros and DC. This time, we're taking inspiration from and paying tribute to DC's most famous anti-heroine, one who inspired the world in a very different way from Batman. Today, Harley Quinn is a pop culture icon adored by millions around the world and this collaboration celebrates her legacy along with the upcoming Birds of Prey movie. The Secretlab Birds of Prey Limited Edition is inspired by Harley's latest iconic costume in the film and features one of the most unique designs we've created so far—incorporating street and luxury style elements to create a chair worthy of Harley Quinn."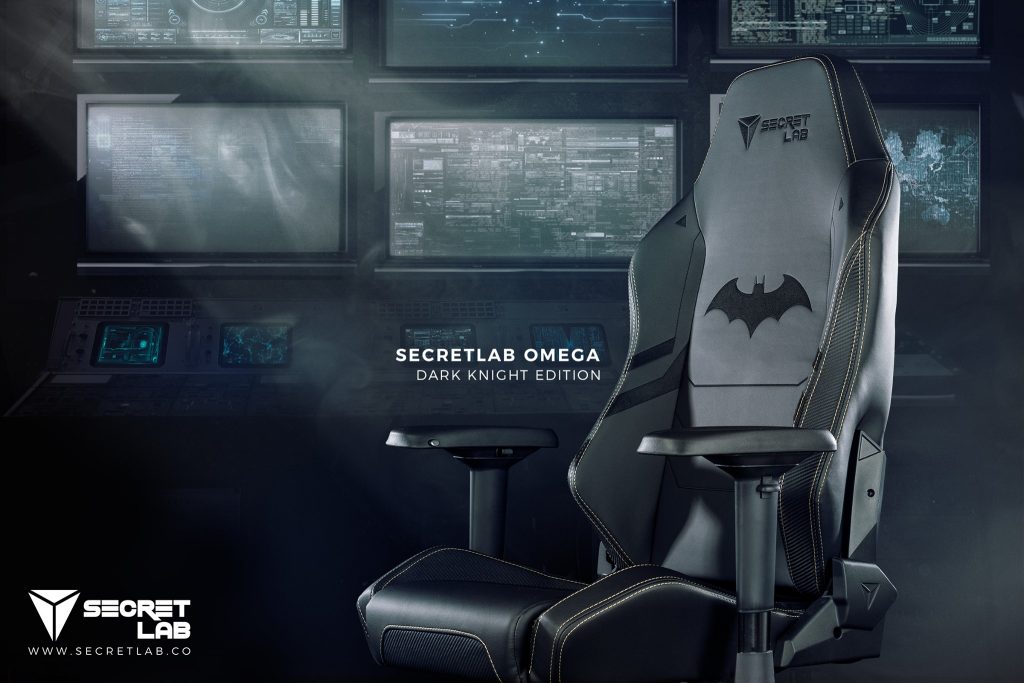 The Secretlab Dark Knight Edition, released in May 2019 to great acclaim.
Secretlab has also released other groundbreaking collaborations—with HBO's Game of Thrones, Blizzard Entertainment's Overwatch and Valve's Dota 2. The gaming seat industry leader is also partnered with the world's most premier esports tournaments such as Riot Games for its global esports tournaments—including the League of Legends World Championship—and Dota 2's The International, as well as top esports teams such as OG, G2 Esports, T1, Astralis, Cloud9 and Team Secret.
About Secretlab
Secretlab was established in 2014 to create the pinnacle of gaming seats—each extensively designed and engineered with only materials of the highest grade to ensure absolute comfort and unparalleled support. Today, Secretlab is the global choice of gaming seats for the world's most premier gaming tournaments, top esports professionals and over 300,000 satisfied users from more than 50 countries worldwide, alongside rave reviews from international media publications. And we're only getting started.
To learn more about us, visit www.secretlab.co, or follow Secretlab on our Facebook, Twitter (@secretlabchairs), and Instagram (@Secretlab) pages.
About Warner Bros. Consumer Products
Warner Bros. Consumer Products (WBCP), a Warner Bros. Entertainment Company, extends the Studio's powerful portfolio of entertainment brands and franchises into the lives of fans around the world.  WBCP partners with best-in-class licensees globally on an award-winning range of toys, fashion, home décor, and publishing inspired by franchises and properties such as DC, the Wizarding World, Looney Tunes and Hanna-Barbera. The division's successful global themed entertainment business includes groundbreaking experiences such as The Wizarding World of Harry Potter and Warner Bros. World Abu Dhabi. With innovative global licensing and merchandising programs, retail initiatives, promotional partnerships and themed experiences, WBCP is one of the leading licensing and retail merchandising organizations in the world.
About DC
DC is one of the largest English-language publishers of comics and graphic novels in the world and home to some of the most iconic and recognizable characters ever created. As a creative unit of WarnerMedia, DC is charged with strategically integrating its stories and characters across film, television, consumer products, home entertainment, interactive games and the DC UNIVERSE subscription streaming service. For more information visit dccomics.com.