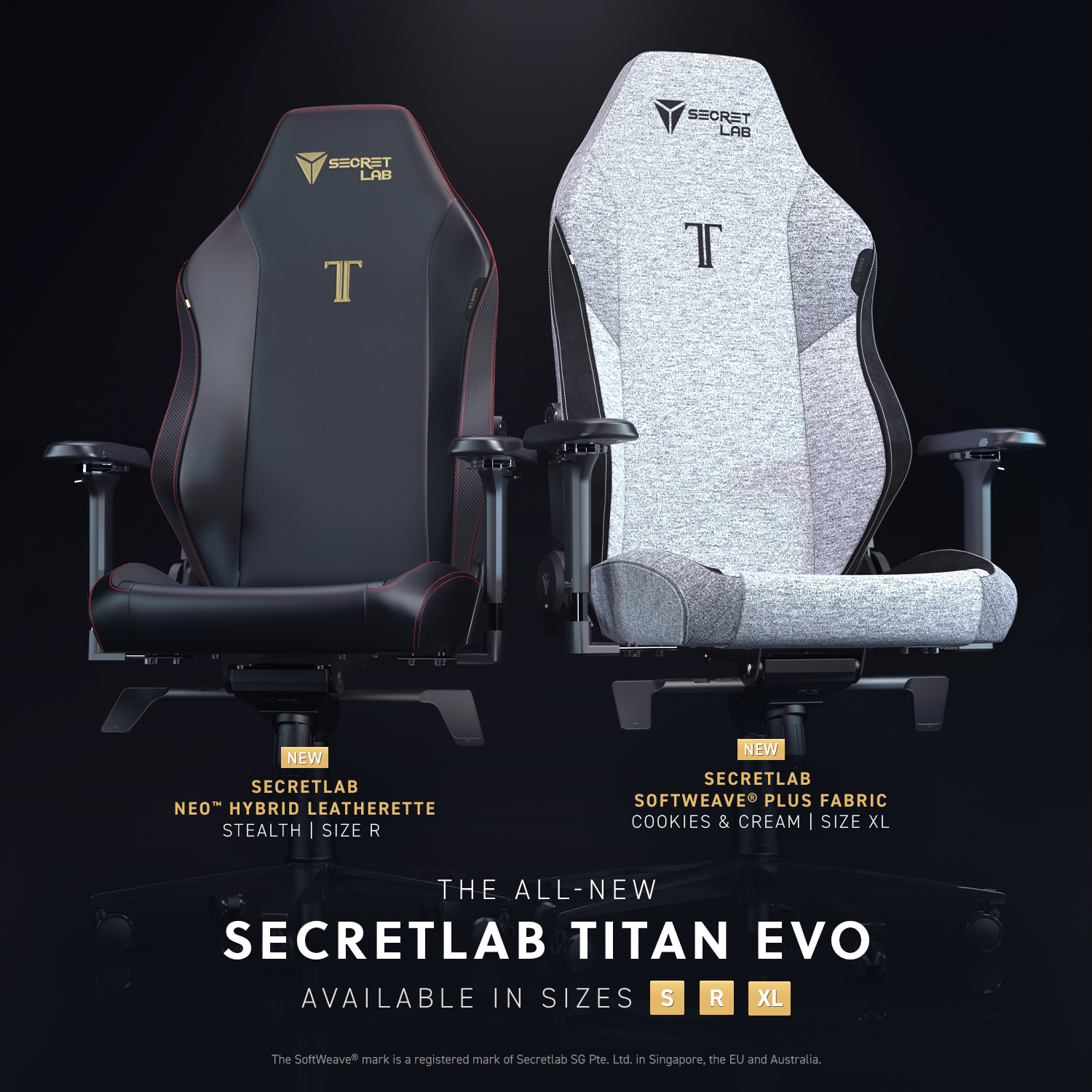 JULY 12, 2021 — The Secretlab 2020 Series brought pro-grade comfort to gamers and championship-winning teams worldwide, incorporating science-backed ergonomic design for unrelenting performance and comfort. The all-new Secretlab TITAN Evo builds on that success — our most technologically advanced gaming chair to date, it is the culmination of years of design, iteration and testing. It adds features that adapt to you for personalized comfort, employs cutting-edge materials for even better durability, and implements multiple quality-of-life upgrades. All while remaining faithful to the details that gave its predecessor a near legendary reputation among gamers and pros who accept no compromise. 
Here's what's new (and familiar) about the Secretlab TITAN Evo gaming seat. The next evolution is here.
What's new


New-generation upholstery
Secretlab SoftWeave® Plus fabric

. An upgraded and more advanced version of our SoftWeave® fabric engineered to be softer, more breathable, and even more durable. A new construction comprising interlacing loops of high-strength yarn fibers allows for smaller details to be incorporated into every stitch, enabling us to map complex designs in a multi-layered textile with different layers of color.

Comes in our best-selling styles and all-new colorways, including Arctic White, Cookies & Cream, BLACK3 , Plush Pink, Frost Blue and Mint Green.

 

Secretlab NEO™ Hybrid Leatherette. A new-generation premium leatherette that recreates the luster and resilience of napa leather, while being even tougher than our signature PRIME™ 2.0 PU leather. 12x more durable than regular PU leather, it remains incredibly plush and supple, with a unique top laminate and base layer reinforced with ultra-fine fibers.

Available in Stealth, BLACK, Classic, Ash and Royal. 
Support that adapts to you
All-new patent-pending 4-way L-ADAPT™ Lumbar System.

Redesigned with a new dimension of adjustability for total support for your lower back. Move it up and down or in and out, so you can adjust it to sit perfectly against your spine. A lattice of living hinges adapts readily to the unique curvature of your back.

 

Full-metal 4D armrests with new CloudSwap™ replacement system

. Swap out your armrest top to your preferred material in seconds. The magnetic CloudSwap

™ replacement system allows you to easily

upgrade to the Secretlab Technogel Premium Armrest Top — German-made memory gel conforms to your wrists and elbows in all directions for more even weight distribution and improved pressure relief. More materials to come in time.

 

Patent-pending Secretlab Magnetic Memory Foam Head Pillow.

No more fiddling with adjustment straps. Simply slide it up or down your backrest for the perfect fit. Filled with our signature dense, premium memory foam and infused with a layer of cooling gel for enhanced thermoregulation.
Advanced ergonomic form
One chair. Three sizes.

Enjoy the same dedicated lumbar support and research-backed ergonomic features with the Secretlab TITAN Evo gaming chair in Small, Regular and XL. Simply pick the size that fits you best.

 

Redesigned proprietary pebble seat base

. The new ergonomic seat base combines the best of the Secretlab OMEGA and TITAN, encouraging natural movement while still providing the right amount of comfort and support. It guides your body toward the middle of the seat for optimal support, while still leaving plenty of room for greater sitting freedom.

 

Multiple quality-of-life upgrades.

We've incorporated shorter hydraulics with improved design engineering of the seat base to cater to a wider range of users. In addition, the height, tilt and recline levers now sit at better angles and positioning for easier reach. We've also redesigned the feel of the recline handle and lumbar adjustment knobs for better grip.
What's familiar

Patent-pending cold cure foam formulation.

The same medium-firm consistency for the optimal balance between comfort and support that people love.

 

Multi-tilt mechanism.

Constructed from the same industrial-grade raw materials for toughness and then certified by internationally recognized authorities for safety and durability. Lean back with ease and lock the gaming chair at your preferred angle.

 

XL PU casters.

The large 6cm diameter helps the casters glide smoothly, while the PU coating ensures it is gentle on most floors.

 

Full-length ergonomic backrest with 165° of recline.

Enjoy complete support for your head and shoulders, no matter how you like to sit.

 

Easy, streamlined assembly.

The same pre-installed backrest bracket and magnetic side covers to simplify the assembly process.
About Secretlab
Established in 2014, Secretlab has redefined what people think of when it comes to gaming chairs. Driven by extensive research, development, and cutting-edge engineering, Secretlab's award-winning chairs are the top choice of the world's premier gaming tournaments, championship-winning teams and over 1,000,000 users worldwide. Today, Secretlab's proprietary technology and design innovations continue to push the boundaries in ergonomic comfort and the science of sitting, winning over 40 Editor's Choice and Best Hardware Awards from leading international publications and reviewers.
To learn more about us, visit www.secretlab.co, or follow Secretlab on our Facebook, Instagram (@Secretlab) and Twitter (@secretlabchairs) pages.