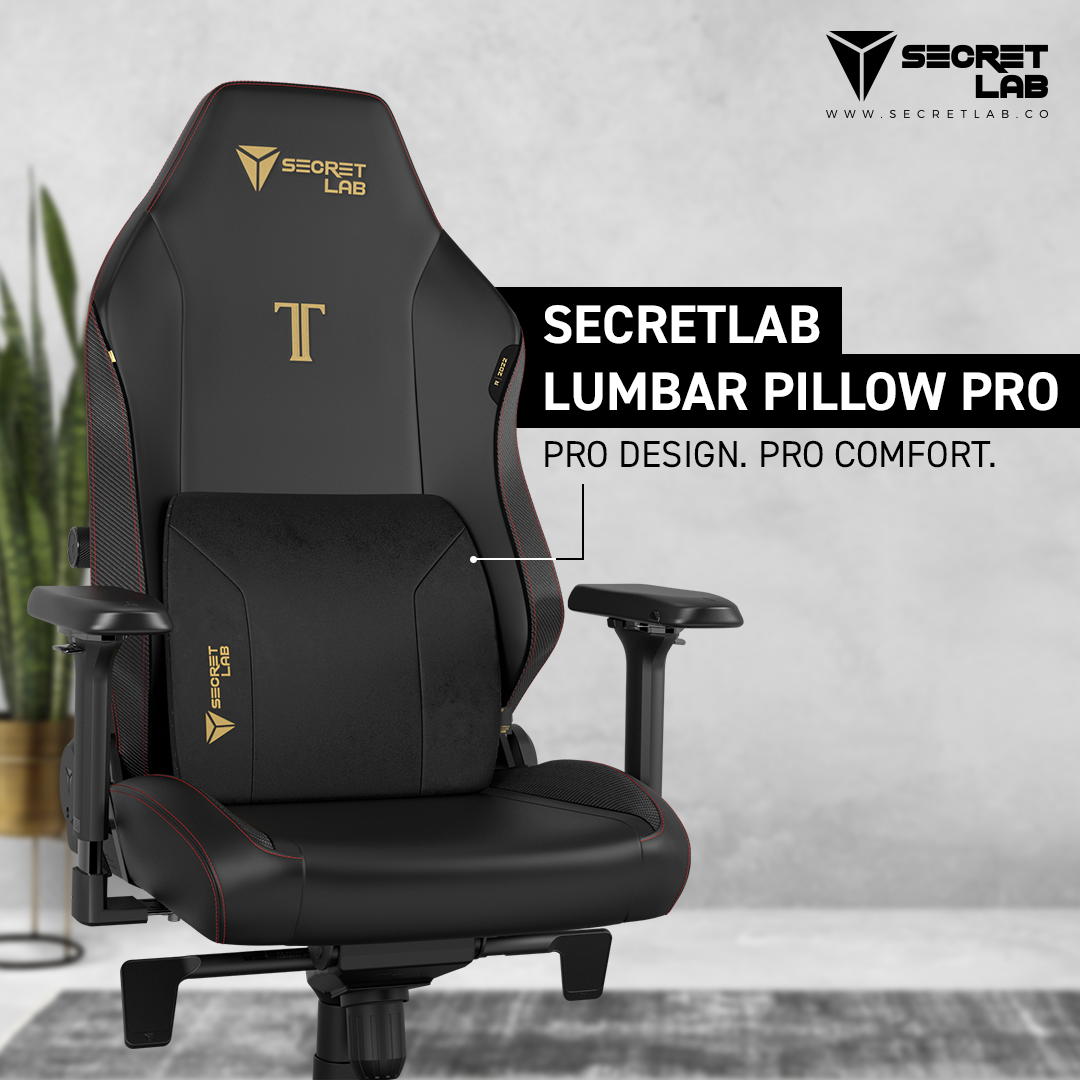 Designed for the Secretlab TITAN Evo. Made for the pros who want even more support.
Memory foam. It molds perfectly to the shape of your body and hugs you. When you get up, it springs back to its original shape, ever ready to cradle your back again. First developed by NASA-funded researchers in the 1960s to offer improved crash and vibration protection in airplane seats, this viscoelastic foam — or "slow spring back foam" as it was originally dubbed — evenly distributes your body weight and relieves pressure over the entire contact area.
Thanks to its unique ability to conform to the contours of your body and absorb shock, memory foam has found uses in multiple clinical applications and even sports equipment like football helmets.
Secretlab lumbar pillows are filled with dense, premium memory foam, specially formulated to adapt to your spine and provide the necessary support. Our standard lumbar pillows have been incredibly popular, but at Secretlab, we knew we could do even better.
For a start, our all-new Secretlab Lumbar Pillow Pro is taller and wider than our regular lumbar pillow. Having more support can be incredibly beneficial to pro users who spend up to 16 hours a day seated, which is why we made sure that our Lumbar Pillow Pro covers more of your back than ever for improved weight distribution.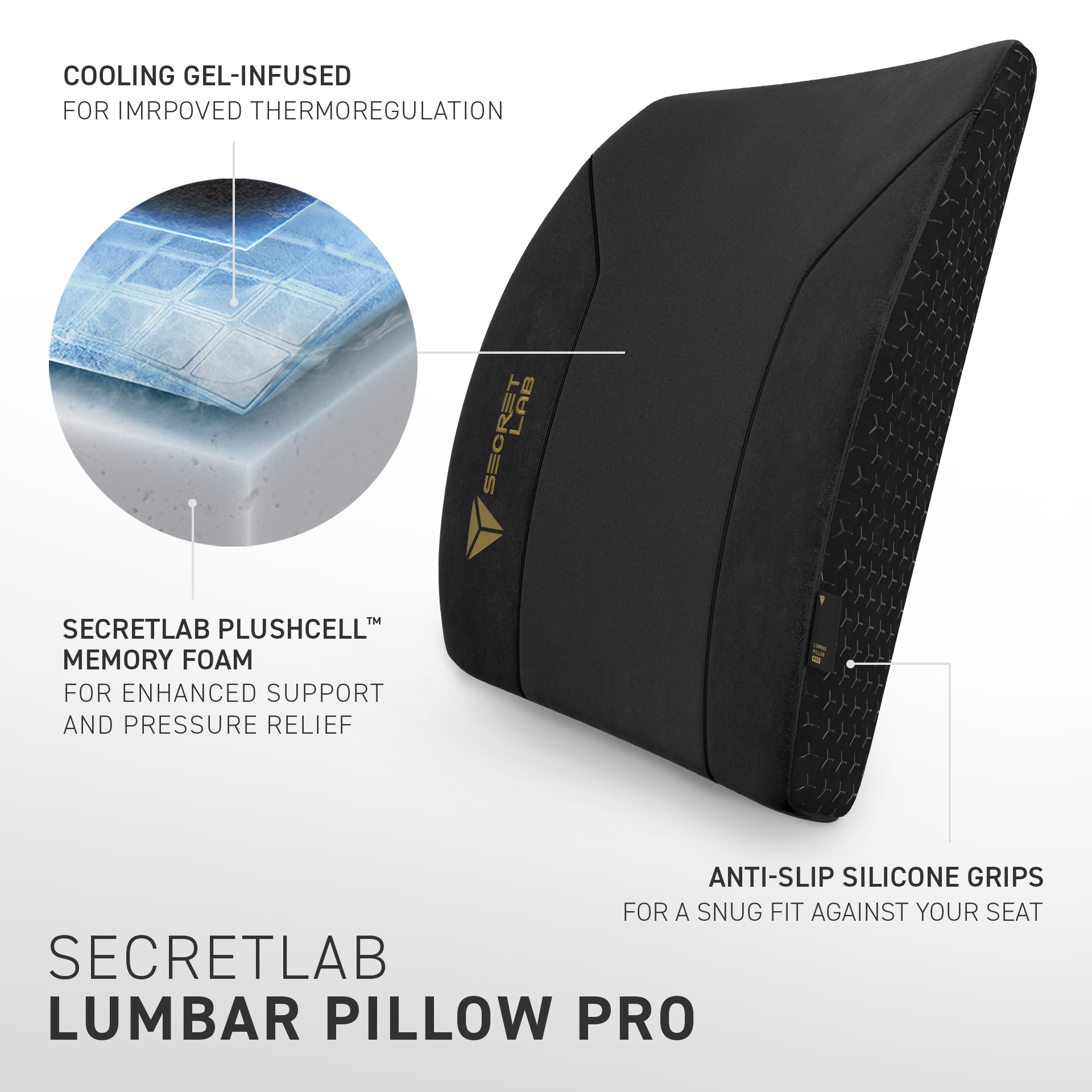 We know that things can get heated, especially when you're rushing to meet a deadline or trying to carry your team to another win. So we added a layer of cooling gel to whisk heat away and keep you cool.
The Lumbar Pillow Pro is designed to work intimately between your back and our 4-way L-ADAPT™ Lumbar Support System, the first of its kind on a gaming chair. Our L-ADAPT™ Lumbar Support moves up and down, and in and out, so you can adjust it to fit you just right on your gaming seat. For pros looking for even more support, we've optimized the thickness of our Lumbar Pillow Pro at 77mm, so you can still enjoy the full range of adjustability in four directions, complete with an added layer of cushioning for lasting comfort.
A re-engineered ergonomic arch fits more naturally into the curve of your lumbar spine for improved support. Anti-slip side grips keep it in place, even when you're not seated. Imagine never needing to prop your lumbar pillow back up ever again.
Here's an easy rundown of the differences you can see and feel.
Secretlab Lumbar Pillow Pro
Secretlab Lumbar Pillow
Dimensions
396mm (W) x 355mm (H)15.6" (W) x 14" (H)
290mm (W) x 290mm (H)11.4" (W) x 11.4" (H)
Memory foam
PlushCell™ Memory Foam
100% high-density, visco-elastic foam for enhanced support and pressure relief.
Memory Foam
Dense memory foam that provides support and long-lasting
durability.
L-ADAPT™ compatible
✔
–
Cooling gel
✔
–
Anti-slip side grips
✔
–
Which should you get?
Made for pros who require uncompromising performance and ergonomics
Special Edition designs inspired by your favorite game, movie, and more
Price
US$79
US$59
Shop the Secretlab Lumbar Pillow Pro today. Designed for the Secretlab TITAN Evo.