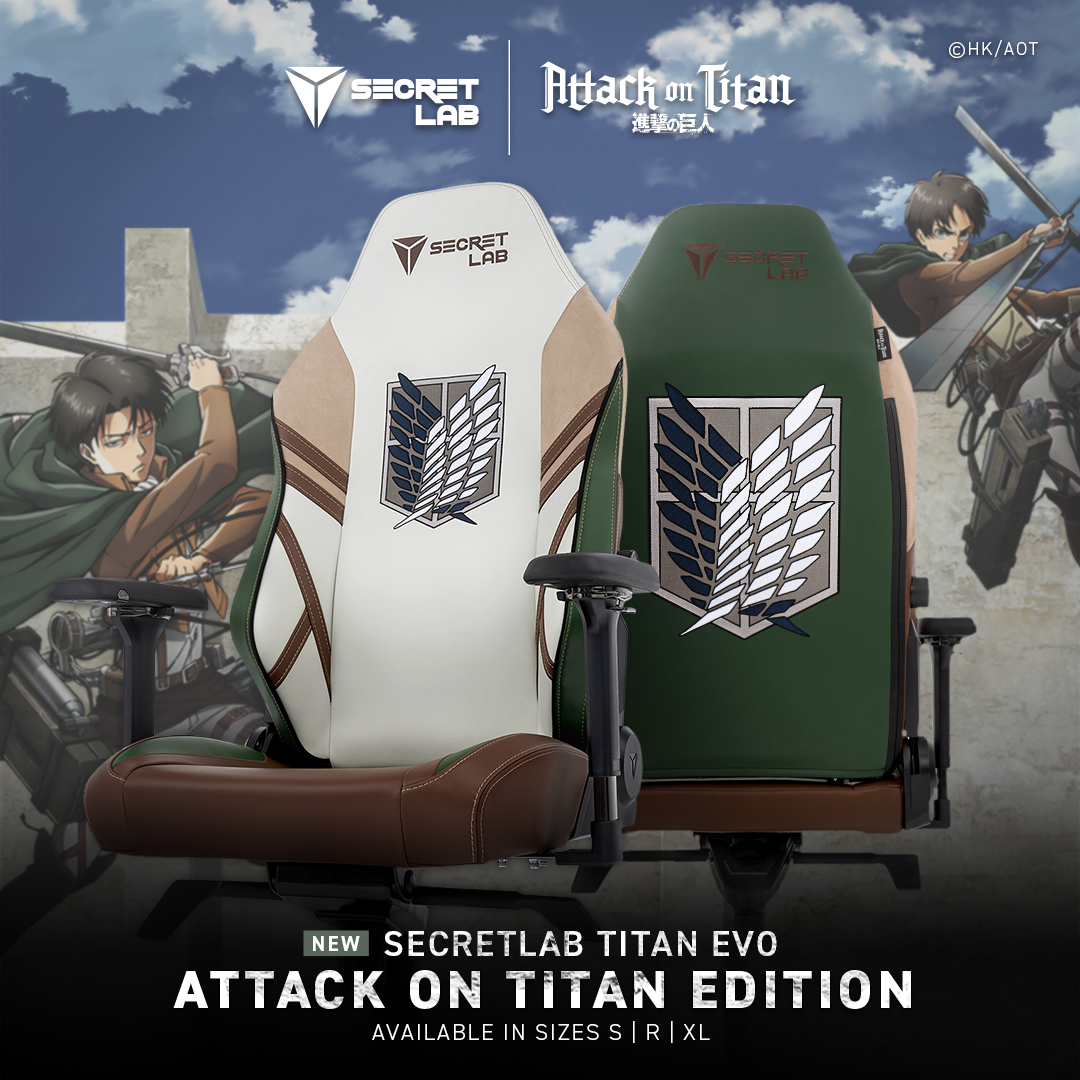 Secretlab and Funimation unveil officially licensed Attack on Titan Edition gaming seat to celebrate the final arc of the anime.
FEBRUARY 10, 2022 — Secretlab and Funimation commemorate the Final Season of one of the most popular anime series of the decade with the official Secretlab TITAN Evo Attack on Titan Edition gaming chair. Created for fans who've always wanted to join the ranks of the Scout Regiment, the chair marries Secretlab's state-of-the-art technology with elements of the Scout's uniform — it's sure to bring fans back to the beginning of humanity's fight against all odds.
Attack on Titan is a global phenomenon on the back of a meteoric rise in popularity since the manga began serialization in 2009. Hajime Isayama's portrayal of a post-apocalyptic world, rife with charismatic characters and gripping plot twists, has kept fans enamored for over a decade thanks to its key themes of hope and perseverance amid darker political and philosophical undertones.
The Secretlab Attack on Titan Edition chair incorporates elements of the Scout Regiment's uniform to create a nostalgic ode to the legendary series. Upholstered in Secretlab NEO™ Hybrid Leatherette in a tan color palette, the chair features harness strap detailing and khaki suede panels along its side wings, a play on the omni-directional mobility gear the Scouts are equipped with when facing the Titans in combat.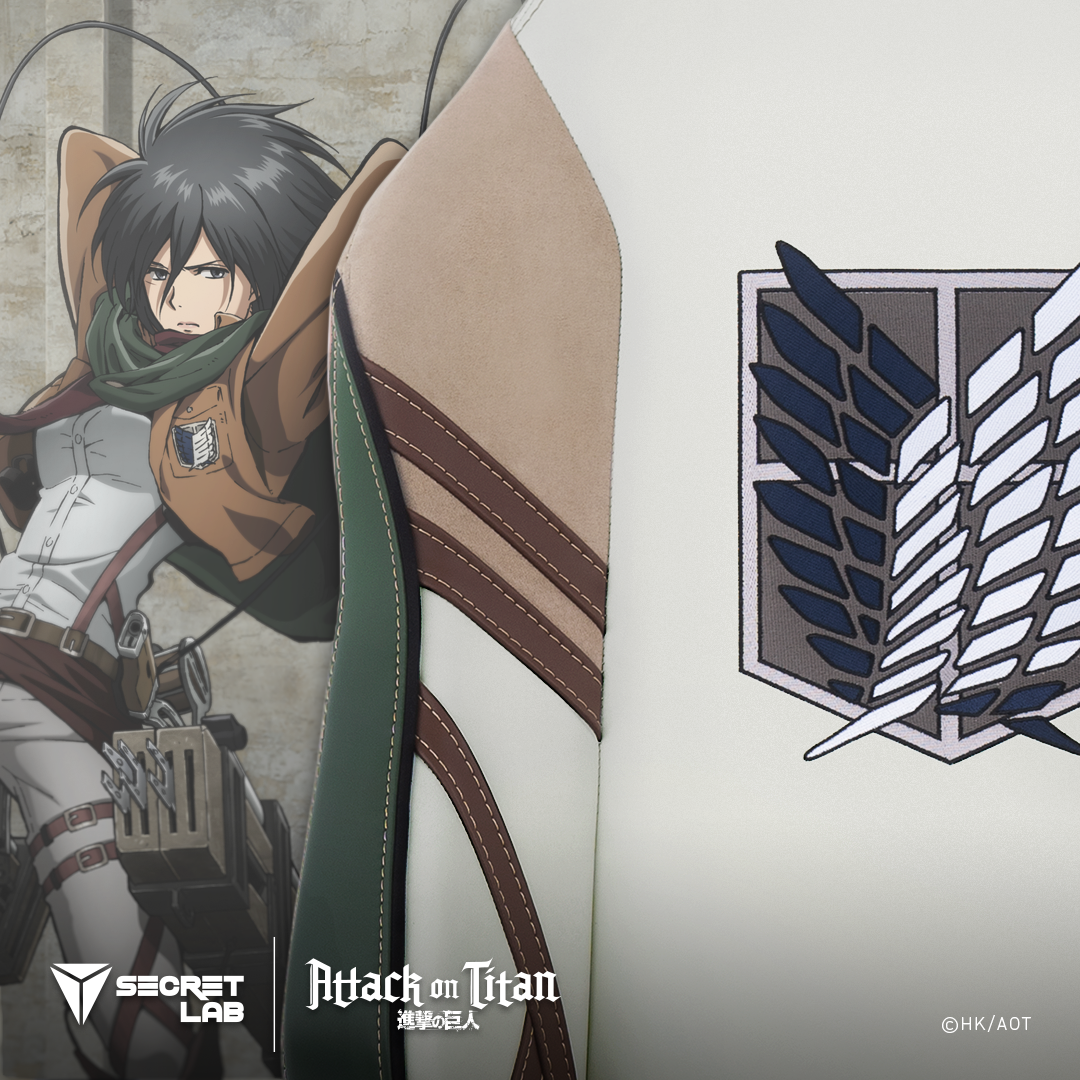 Represent humanity's bravest branch with the "The Wings of Freedom" insignia emblazoned on both sides of the chair's backrest — a poignant representation of mankind's eternal desire for freedom. The dark military green on the back of the chair pays homage to the hooded cape donned by the Scouts on their fearless expeditions outside the Walls.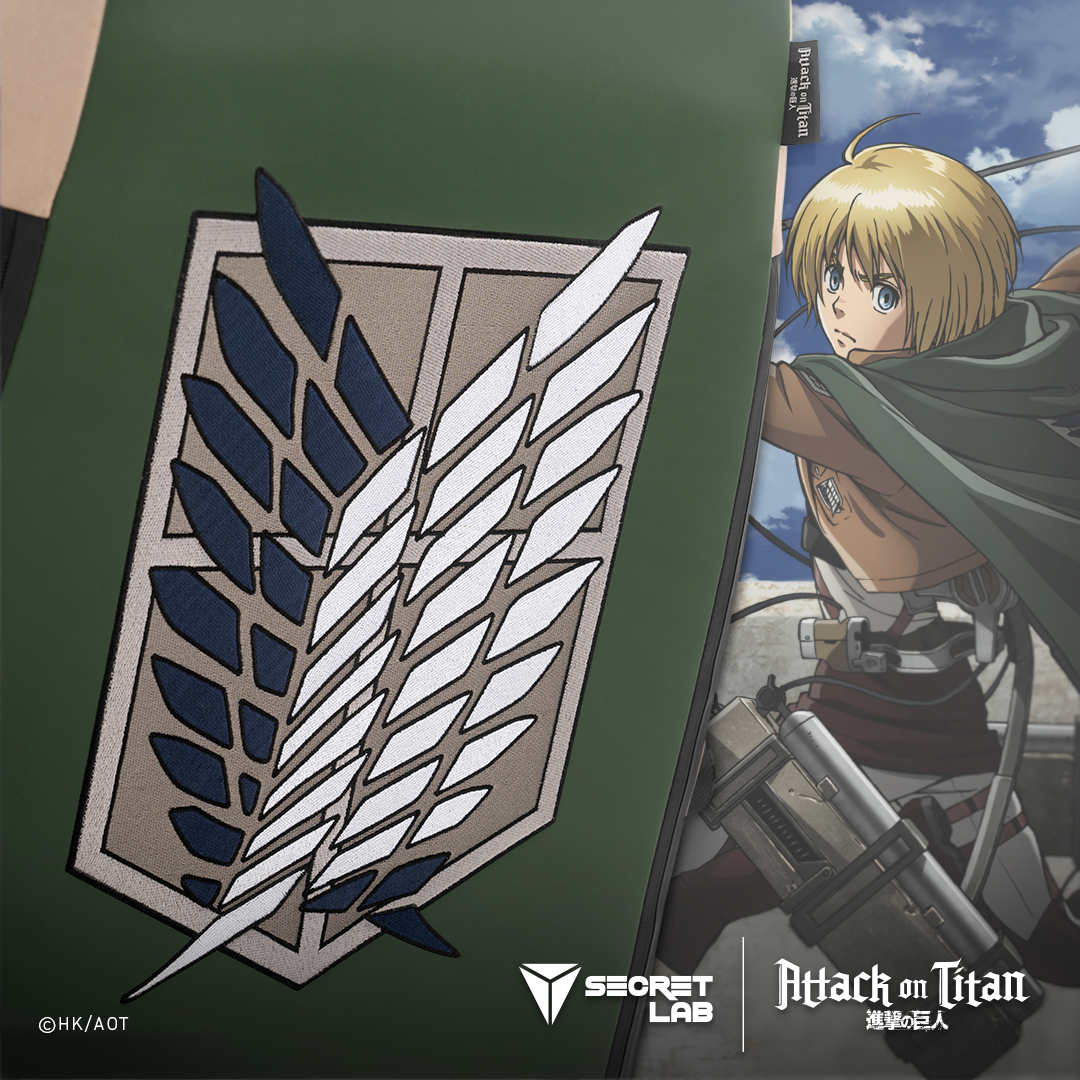 Every Attack on Titan Edition gaming chair is equipped with multiple patent-pending technologies and features of the Secretlab TITAN Evo. Fans can enjoy award-winning comfort in sizes Small, Regular or XL, whether they're revisiting their favorite volumes of the manga, or staying on the edge of their seats as they follow the latest storyline developments of the anime. Fans who have yet to catch Attack on Titan Final Season Part 2 can stream all the newest episodes on Funimation.

As a special treat for fans, every gaming chair also comes with a pack of Secretlab Leather Wipes Attack on Titan Edition. Inspired by the surrealistic "Cleaning Levi" scene from both the manga and anime, the leather wipes are specially formulated to keep chairs upholstered in Secretlab NEO™ Hybrid Leatherette and MAGPAD™ Desk Mats in pristine condition.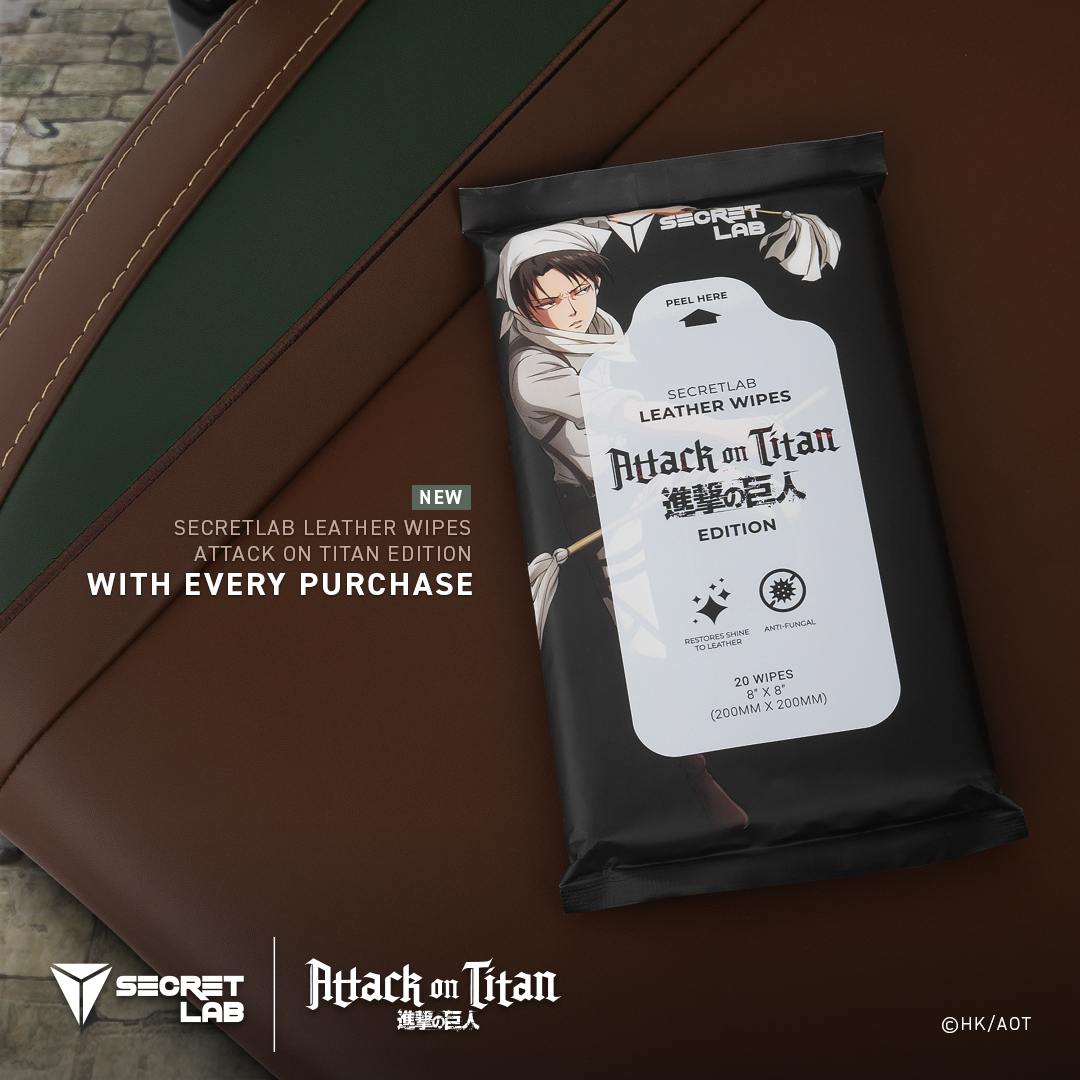 Said Ian Ang, co-founder and CEO of Secretlab:
"In my opinion, Attack on Titan is not just up there for the best anime of all time, but also for the best series of all time. We'll undoubtedly feel a sense of bittersweet loss when the series comes to an end. We've decided to commemorate the final season by designing a Secretlab x Attack on Titan special edition chair as memorabilia for hardcore fans who will remember all the epic moments and feelings Attack on Titan has given us through the years."
About Secretlab
Established in 2014, Secretlab has redefined what people think of when it comes to gaming chairs. Driven by extensive research, development, and cutting-edge engineering, Secretlab's award-winning chairs are the top choice of the world's premier gaming tournaments, championship-winning teams and over 1,000,000 users worldwide. Today, Secretlab's proprietary technology and design innovations continue to push the boundaries in ergonomic comfort and the science of sitting, winning over 40 Editor's Choice and Best Hardware Awards from leading international publications and reviewers.
To learn more about us, visit www.secretlab.co, or follow Secretlab on our Facebook, Instagram (@Secretlab) and Twitter (@secretlabchairs) pages.
About Funimation
If it's anime, it's Funimation.
As the market leader in anime, we proudly deliver incredible fan experiences across television, feature films, events, collectibles, and the Funimation App.
Headquartered in the US and connected by a global network, our anime-obsessed team serves the fandom in over 52 countries and 10 languages. With over 400 team members, we've built a global community where fans and their passion will always have a place to belong.
Funimation is an independently operated joint venture between US-based Sony Pictures Entertainment, and Japan's Aniplex, a subsidiary of Sony Music Entertainment (Japan) Inc., both subsidiaries of Tokyo-based Sony Group Corporation. Crunchyroll is now part of the Funimation Global Group.
Visit funimation.com and follow us on Facebook, Twitter and Instagram.