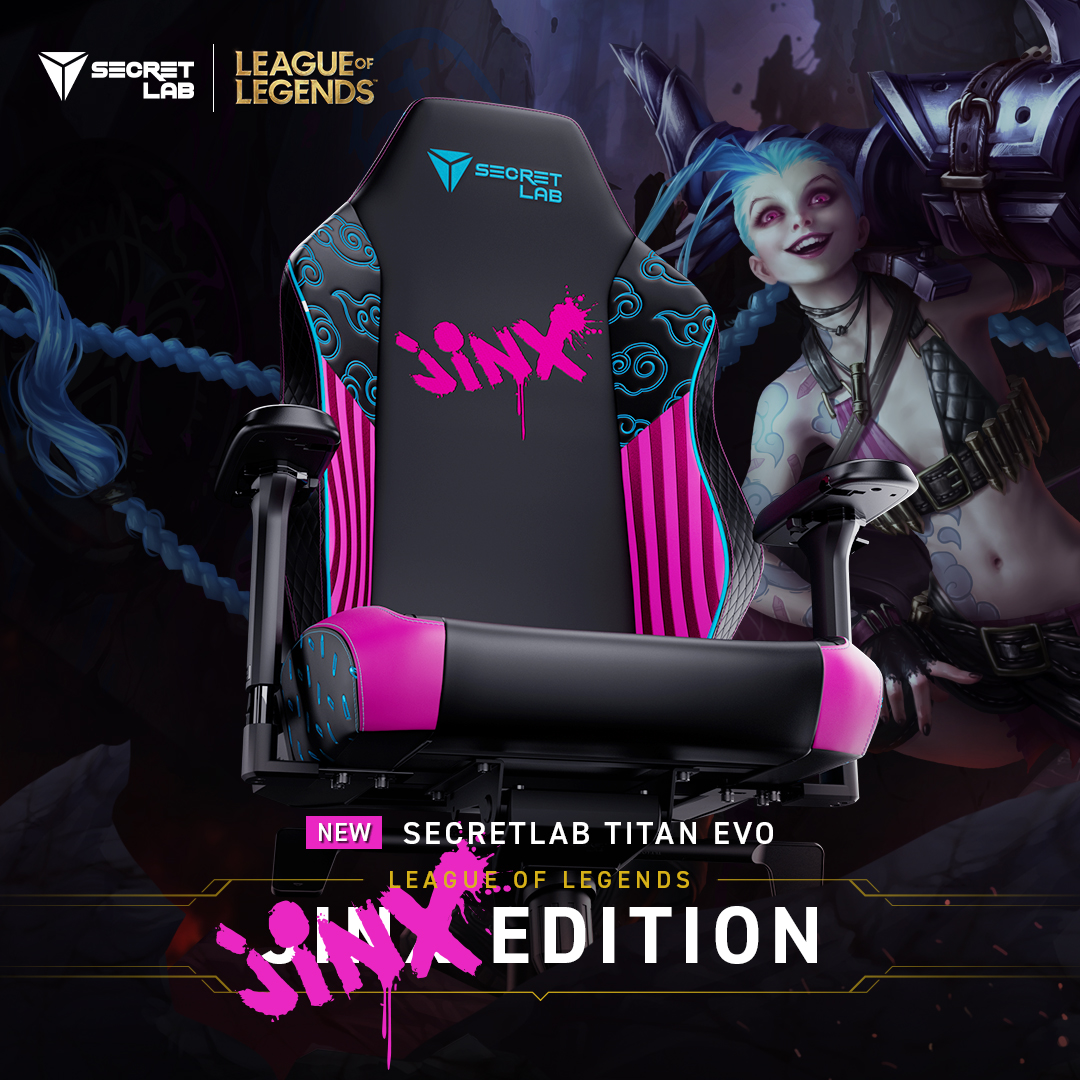 Get excited! Secretlab introduces the Jinx Edition gaming chair as the most chaotic addition to the League of Legends collection yet. Released in celebration of the highly-anticipated animated Netflix series, Arcane, the Secretlab Jinx Edition gaming chair is primed to take center stage in your personal dominion.
NOVEMBER 8, 2021 — Sit back in comfort and watch the chaos unfold as you unleash the loudest blasts and brightest explosions with the Secretlab League of Legends Jinx Edition. The gaming chair launches in conjunction with the release of League of Legends' first animated Netflix series, Arcane — which stars Jinx as one of the main characters — once again celebrating an exciting milestone for the League of Legends universe.
From headlining her own music video "Get Jinxed", to being featured as one of the main champions in Wild Rift, the Loose Cannon now takes center stage in the Secretlab League of Legends collection, paying tribute to the manic marksman's stories in Runeterra and the complex web of tales that connects the prosperous city of Piltover to the seedy underbelly of Zaun.
Upholstered in Secretlab NEO™ Hybrid Leatherette, fans can enjoy plush and supple comfort whether they're blowing up turrets with Jinx's Super Mega Death Rocket in-game, or reclining all the way back as they dive into the first act of Arcane. The chair also features all the ergonomic upgrades of the Secretlab TITAN Evo and comes in sizes S, R and XL.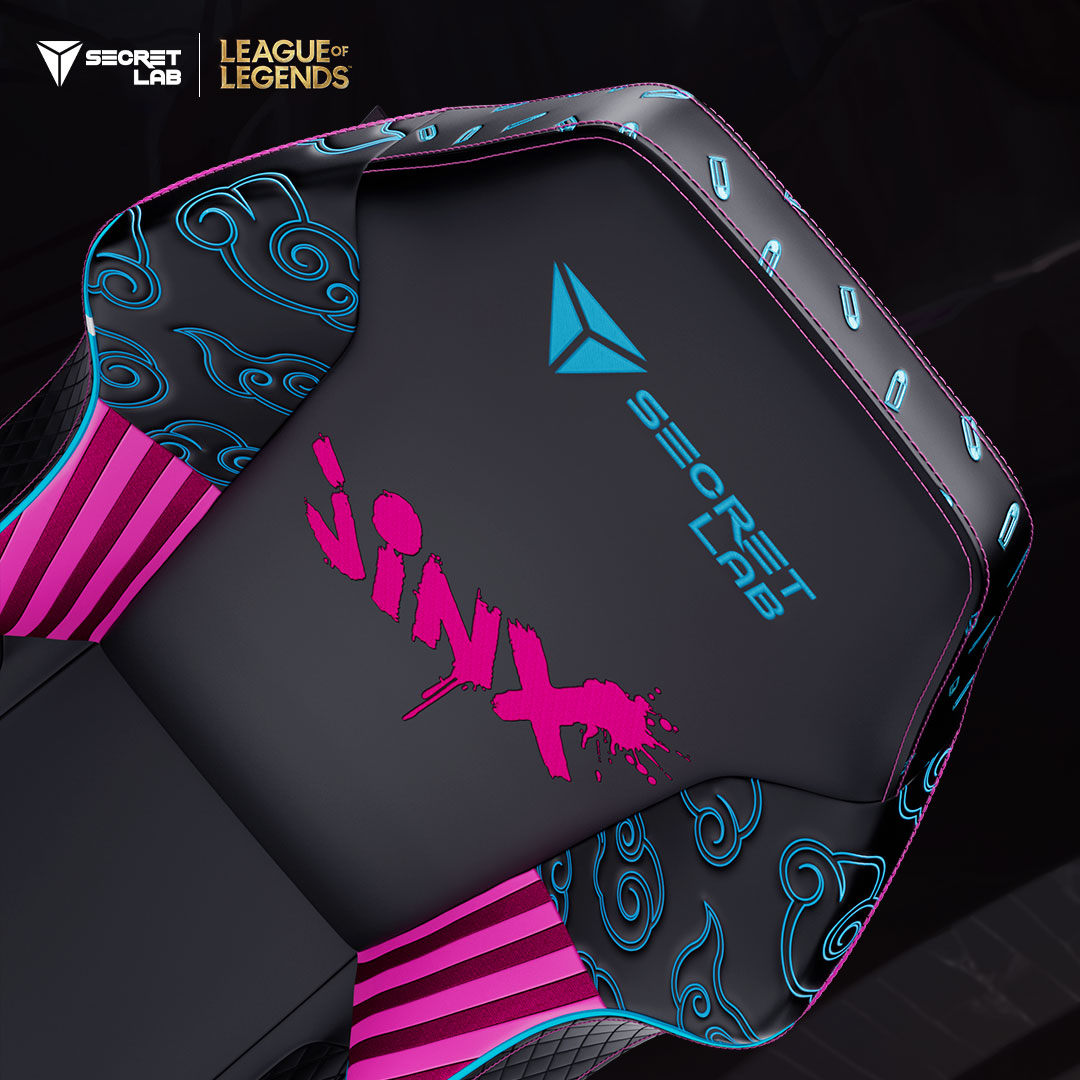 Not to be overshadowed by anyone, the Secretlab Jinx Edition gaming chair pays homage to the gun-toting, braid-rocking loose cannon with its striking blue and pink color palette. To showcase Jinx's love for deadly firepower, a smattering of bullets and clouds adorn the gaming chair's side wings and edges, while her iconic rocket launcher, Fishbones, is embroidered on the chair's back. "Jinx" is proudly emblazoned in a spray-on style to finish off the gaming chair's look — mirroring the champion's penchant for tagging her works of destruction with vivid graffiti.
Said Ian Ang, co-founder and CEO of Secretlab:
"I've personally always enjoyed Jinx's loud and explosive personality in-game, and our design team also had a lot of fun conveying her chaotic vibe through the Secretlab Jinx Edition, especially when they took turns to play Jinx as part of their research — one of the many perks of the job! We can't wait to catch Arcane when the first act drops, I know I'll be watching it in my Jinx chair."
About Secretlab
Established in 2014, Secretlab has redefined what people think of when it comes to gaming chairs. Driven by extensive research, development, and cutting-edge engineering, Secretlab's award-winning chairs are the top choice of the world's premier gaming tournaments, championship-winning teams and over 1,000,000 users worldwide. Today, Secretlab's proprietary technology and design innovations continue to push the boundaries in ergonomic comfort and the science of sitting, winning over 40 Editor's Choice and Best Hardware Awards from leading international publications and reviewers.
To learn more about us, visit www.secretlab.co, or follow Secretlab on our Facebook, Instagram (@Secretlab) and Twitter (@secretlabchairs) pages.

About Riot Games
Riot Games was founded in 2006 to develop, publish, and support the most player-focused games in the world. In 2009, Riot released its debut title, League of Legends, to worldwide acclaim. League has gone on to be the most-played PC game in the world and a key driver of the explosive growth of esports. As League enters its second decade, Riot continues to evolve the game while delivering new experiences to players with VALORANT, Legends of Runeterra, League of Legends: Wild Rift, Teamfight Tactics, and multiple work-in-progress titles, while exploring the world of Runeterra through multimedia projects across music, comic books, and more. Founded by Brandon Beck and Marc Merrill, and led by CEO Nicolo Laurent, Riot is headquartered in Los Angeles, California, and has 2,500+ Rioters in 20+ offices worldwide.
For more information about Riot Games, visit the company's website at riotgames.com, or follow Riot Games on Twitter, Instagram, and Facebook (@riotgames) and League of Legends on Twitter, Instagram, and Facebook (@leagueoflegends).