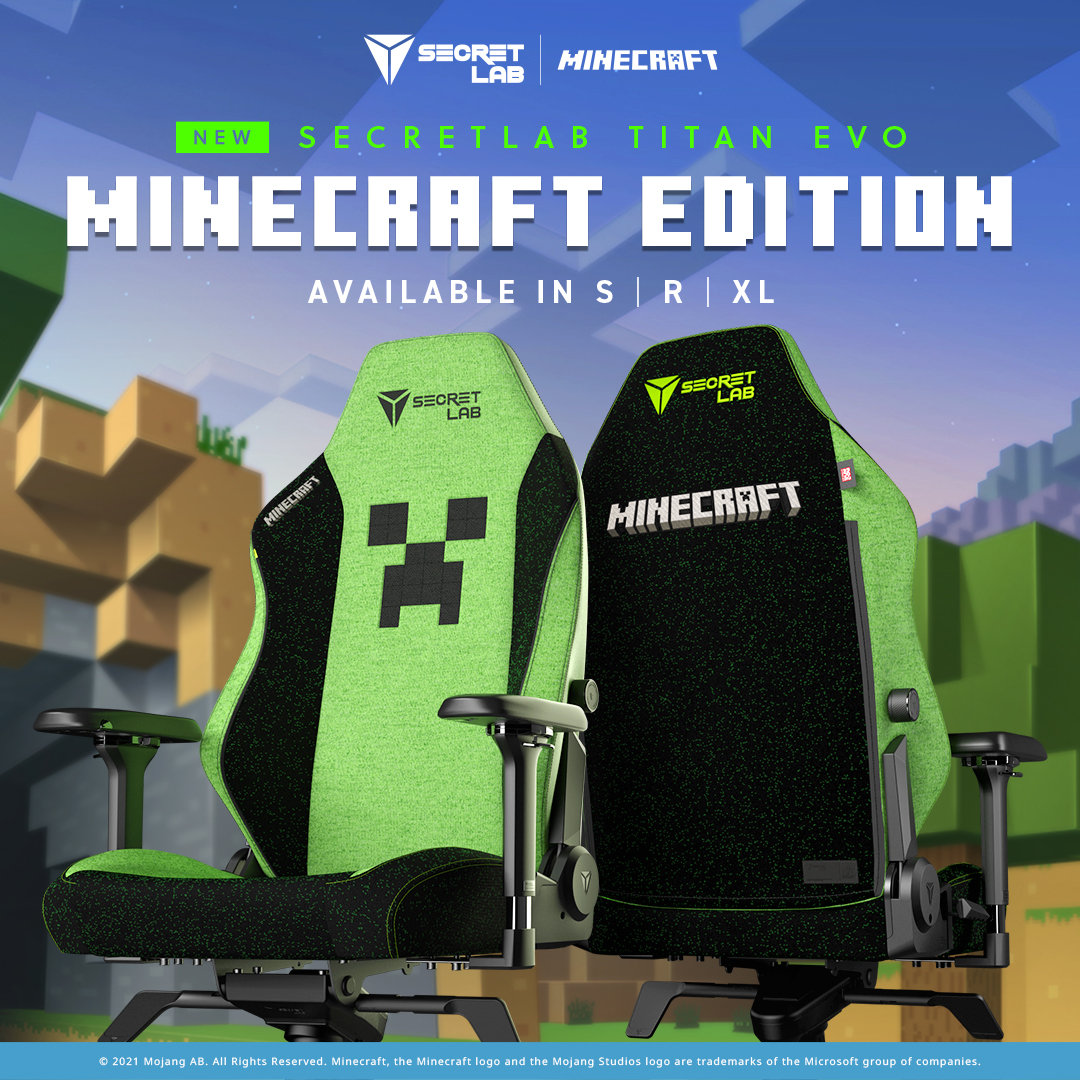 The world's best-selling video game meets the world's most popular gaming chair. The first-ever Special Edition model available in SoftWeave® Plus fabric, the Secretlab Minecraft Edition gaming chair brings to life the game's most iconic mob in never-before-seen fashion.

OCTOBER 16, 2021 — Creepers. You probably dread them but they'll always be around — might as well get comfortable with them. Minecraft's iconic mob is front and center with the Secretlab TITAN Evo Minecraft Edition gaming chair, designed in collaboration with Mojang Studios. Launching in conjunction with Minecraft Live 2021, the Secretlab Minecraft Edition celebrates the global Minecraft community's imaginativeness and passion for infinite exploration.
Twelve years after its initial launch, more than 140 million people play Minecraft each month in every country and territory around the world. With more than 238 million copies sold worldwide, Minecraft is the best-selling game of all-time and a cultural phenomenon that spans the globe. Minecraft once again topped the charts in 2020 as the most-watched video content on YouTube with more than 200 billion views. 
Inspired by Minecraft players' explosive relationship with the iconic Creeper, the Secretlab Minecraft Edition brings the game's most recognizable enemy mob to life, combining Minecraft's signature pixel art style with all the proprietary features of the all-new Secretlab TITAN Evo.

The Secretlab Minecraft Edition gaming chair is upholstered in Secretlab SoftWeave® Plus fabric, an advanced version of the original, highly popular SoftWeave® material. Upgraded to be even more breathable and durable, players now stay cool and comfortable as they explore Minecraft's endless landscape.
A new structure of interlacing yarn fibers makes it possible to achieve the chair's unique pixelated texture — the black-and-green speckled fabric mimics the grass block, one of the core building blocks of Minecraft, and the Creeper itself.
Said Ian Ang, co-founder and CEO of Secretlab:
"I thought the Creeper's backstory was extremely interesting — it's hard to imagine that the most iconic mob in the game was created by mistake and was originally intended to be a pig. The new knitting technique used in the Secretlab SoftWeave® Plus fabric has opened up limitless design possibilities for us, and we couldn't think of a better way to start than with the Creeper and what is probably the most influential game of the decade."
About Secretlab
Established in 2014, Secretlab has redefined what people think of when it comes to gaming chairs. Driven by extensive research, development, and cutting-edge engineering, Secretlab's award-winning chairs are the top choice of the world's premier gaming tournaments, championship-winning teams and over 1,000,000 users worldwide. Today, Secretlab's proprietary technology and design innovations continue to push the boundaries in ergonomic comfort and the science of sitting, winning over 40 Editor's Choice and Best Hardware Awards from leading international publications and reviewers.
To learn more about us, visit www.secretlab.co, or follow Secretlab on our Facebook, Instagram (@Secretlab) and Twitter (@secretlabchairs) pages.