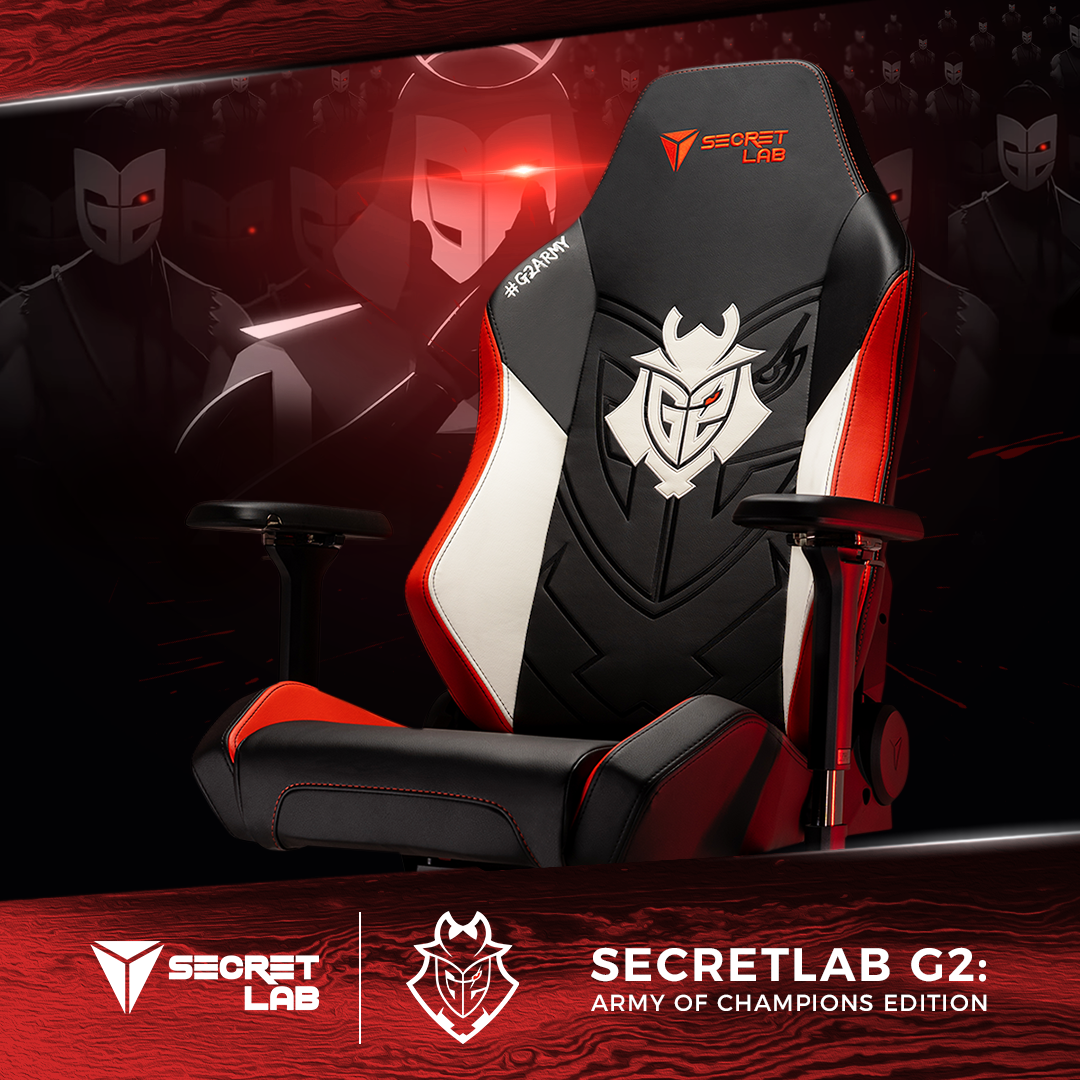 JANUARY 9, 2020—Secretlab, the partner for League of Legends' (LoL) global tournaments and top gaming chair manufacturer, today announced its partnership with G2 Esports, one of the leading entertainment assets in esports. In 2019 G2's LoL team made headlines in their historic run taking the LEC Spring and Summer Split titles, 2019 Mid Season Invitational, and only narrowly missing out on first at the 2019 World Championships.
Secretlab will be the official chair sponsor of G2's ten teams, including its ultra-successful League of Legends team—the reigning and six-time LEC champions, its elite Rainbow Six Siege players—the back-to-back Six Invitational world champions, and Rocket League—the finalists at the Rocket League Season 7 World Championship. G2 also boasts a line-up of top streamers and content creators, making the esports organisation one of the most renowned and loved by fans around the world.


In celebration of G2's growing dominance and success, Secretlab and G2 have created the Secretlab G2: Army of Champions Edition gaming seat. The chair is boldly cast in black, red and white—the signature colours of G2. It also features the G2 logo embroidered in two distinct styles on the front and back of the chair's backrest—showcasing Secretlab's intricate and precise technology that brings the incredible design to life. Finally, the chair features a call out to the players and fans of G2 with #G2Army proudly sewn into the right shoulder of the backrest.

The Secretlab G2: Army of Champions Edition will incorporate the technologies and upgrades of Secretlab's industry-leading 2020 Series, allowing the team's professional players to practice with maximised focus while seated in unparalleled comfort for countless hours each day. G2 fans can also sit like the pros with the special edition now available in two models (the Secretlab OMEGA and Secretlab TITAN) for pre-order on Secretlab's website (https://secretlab.co/g2).
Said Ian Alexander Ang, co-founder and CEO of Secretlab: "We're proud to support G2 Esports, whose incredible drive for success is shared by all of their talented players across their teams including League of Legends—who came close to being the first team to complete a historic Grand Slam, championship-chasing Rainbow Six Siege, Rocket League, and CS:GO, as well as their renowned streamers, proving why they are the most dominant force in Europe and potentially the world. With Secretlab, every player of the #G2Army will be equipped with only the best gaming equipment, none more crucial than a high-performance gaming seat, to further elevate their performances into more championship success."
Lindsey Eckhouse, Commercial Director of G2 Esports, commented on the partnership: "We take it seriously when it comes to deciding what equipment and hardware to use and Secretlab consistently provides top-quality products for our pro players who spend countless hours training and competing from their seats. Our G2 League of Legends and CS:GO players experienced firsthand the unmatched quality and comfort of Secretlab's gaming chairs on the global stage last year. Now, the pinnacle of sitting experiences is available to our entire #G2Army with the Secretlab G2 Edition, uniting our fans and players on a whole new level."
G2 Esports joins Secretlab's roster of top, winning esports teams such as Astralis, T1, Cloud9 and Team Secret. Secretlab is also the gaming seat of choice for premier esports tournaments such as the League of Legends' World Championships, Valve and Dota 2's The International, as well as the StarLadder Major Berlin 2019—one of Valve's only two official Counter-Strike: Global Offensive Major tournaments for 2019.

About Secretlab
Secretlab was established in 2014 to create the pinnacle of gaming seats—each extensively designed and engineered with only materials of the highest grade to ensure absolute comfort and unparalleled support. Today, Secretlab is the global choice of gaming seats for the world's most premier gaming tournaments, top esports professionals and over 300,000 satisfied users from more than 50 countries worldwide, alongside rave reviews from international media publications. And we're only getting started.
To learn more about us, visit https://secretlab.co, or follow Secretlab on our Facebook,
Twitter (@secretlabchairs), and Instagram (@Secretlab) pages.
About G2 Esports
G2 Esports is one of the leading entertainment assets in esports, bringing together some of the best competitive players in the world and biggest personalities in gaming. Co-founded by legendary League of Legends player-turned-team owner, Carlos 'ocelote' Rodriguez, and veteran esports entrepreneur and investor, Jens Hilgers, G2 Esports has consistently remained in the top-five most successful esports teams since its inception in 2014. With dozens of victories under its belt in some of the largest esports titles in the world and 50+ players spread across 10 teams competing in the world's largest events, G2 has a truly global footprint.