UNITED STATES, APRIL 11—International gaming chair maker Secretlab, in collaboration with Warner Bros. Consumer Products and DC, today announced a co-branded Dark Knight-edition Secretlab gaming chair to commemorate Batman's 80th anniversary.
The Secretlab Batman-edition chair culminates in the perfect union between Secretlab's award-winning chairs and the most beloved comic character for the most fitting homage to the world's greatest detective.
The Batman Edition will be available for both the award-winning Secretlab OMEGA 2020 and Secretlab TITAN 2020. The co-branded line can be purchased directly via Secretlab's website.
Said Ian Alexander Ang, co-founder and CEO of Secretlab: "To create a chair worthy of Super Heroes, we took inspiration from the greatest of them all—Batman, a name synonymous with the pursuit of excellence and familiar to every household in the world. We then engineered a chair for a high-performance sitting experience, worthy of even the Dark Knight himself, using top-of-the-line materials, high-precision engineering and a stunning design—exactly how each award-winning Secretlab chair is built. "
Designed to capture the essence of the Dark Knight himself, Batman's emblem is emblazoned via a precise, intricate stitching, and the chair's complemented by suede black accents to exude a distinctive feel synonymous with the world's most beloved caped crusader.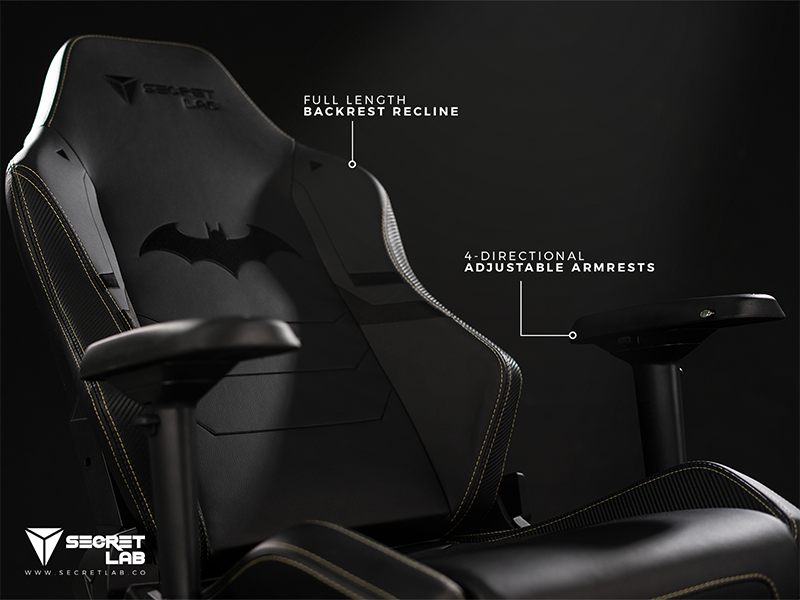 The Batman-edition will also come with all the respective award-winning features of the Secretlab Classics* gaming chair models—such as the multi-tilt mechanism and four-directional armrests, as well as the velour memory-foam lumbar pillow and inbuilt lumbar support system respectively—to provide superior support and cushioning for the user.
*Secretlab Classics is the official collection of our 2020 award-winning gaming chairs, which includes the Secretlab OMEGA 2020, the Secretlab TITAN 2020 and TITAN XL 2020, and all their Special Edition (SE) variants.
Made with perfect core materials (such as Secretlab's signature cold-cured foam and robot-welded carbon structural steel for the chair's foundation) as well as equipped with the models' full suite of adjustable features—the Batman-edition gaming seat is designed for unparalleled comfort and the ultimate sitting experience.
About Secretlab
Secretlab was established in 2014 to create the pinnacle of gaming seats—each extensively designed and engineered with only materials of the highest grade to ensure absolute comfort and unparalleled support. Today, over 100,000 satisfied users have upgraded their seating experiences in more than 50 countries worldwide, alongside rave reviews from international media publications. And we're only getting started.
To learn more about us, visit www.secretlab.co, or follow Secretlab on our Facebook, Twitter (@secretlabchairs), and Instagram (@Secretlab) pages.
About Warner Bros. Consumer Products
Warner Bros. Consumer Products (WBCP), a Warner Bros. Entertainment Company, extends the Studio's powerful portfolio of entertainment brands and franchises into the lives of fans around the world.  WBCP partners with best-in-class licensees globally on an award-winning range of toys, fashion, home décor, and publishing inspired by franchises and properties such as DC, the Wizarding World, Looney Tunes and Hanna-Barbera. The division's successful global themed entertainment business includes groundbreaking experiences such as The Wizarding World of Harry Potter and Warner Bros. World Abu Dhabi. With innovative global licensing and merchandising programs, retail initiatives, promotional partnerships and themed experiences, WBCP is one of the leading licensing and retail merchandising organizations in the world.
About DC  
Home to iconic brands DC (Superman, Batman, Green Lantern, Wonder Woman, The Flash), DC Vertigo (Sandman, Fables) and MAD, DC is the creative division charged with strategically integrating its content across Warner Bros. Entertainment and WarnerMedia. DC works in concert with many key Warner Bros. divisions to unleash its stories and characters across all media, including but not limited to film, television, consumer products, home entertainment and interactive games. Publishing thousands of comic books, graphic novels and magazines each year, DC is the largest English-language publisher of comics in the world.