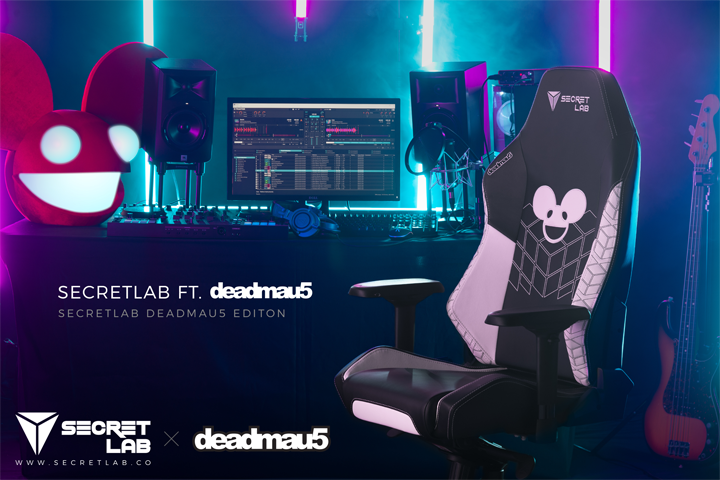 UNITED STATES, MARCH 31—Internationally renowned electronic dance music producer and mau5trap label head deadmau5, in collaboration with award-winning gaming seat maker Secretlab, today launched the world's first co-branded deadmau5 gaming chair.
The Secretlab deadmau5 Edition will be the dance music legend's first-ever official gaming product and a world's-first union of dance music and gaming in a sleek, ultra-comfortable gaming chair. The deadmau5 Edition features deadmau5's iconic mouse mask moniker, combined with the award-winning features of Secretlab's OMEGA 2020 and TITAN 2020 lines. It will be available for sale on Secretlab's website.
A diehard gamer at heart, the multiple JUNO-Award winning musician debuted his Secretlab deadmau5 Edition chair to the world as the centrepiece of his cubev3 set—said to be the most impressive showcase during this weekend's Ultra Miami festival.
Said deadmau5, whose real name is Joel Zimmerman: "Producing music means I spend most of my hours seated, and I really needed a comfortable, fully-adjustable and incredibly well-constructed chair. I am extremely selective about the gear for peak performance. After trying out Secretlab's chairs, they were so superior in quality and comfort, it was the only choice I wanted not just for myself, but for all of my fans through a world's-first Secretlab deadmau5 gaming chair. That, and I love gaming, so there's no reason not to enjoy the best comfort throughout work and play."
Said Ian Alexander Ang, CEO and co-founder of Secretlab: "Gamers today no longer consist of geeky boys camped out in their basements. It is a healthy hobby that many professionals—from elite athletes to internationally-acclaimed musicians such as Joel—now enjoy. We want to be part of the movement to educate the public on this and that's why we co-created the world's first deadmau5 gaming product with Joel. From now on, whether Joel is dropping award-winning beats or intensely demolishing his gaming opponents, our award-winning chairs will comfortably have his back."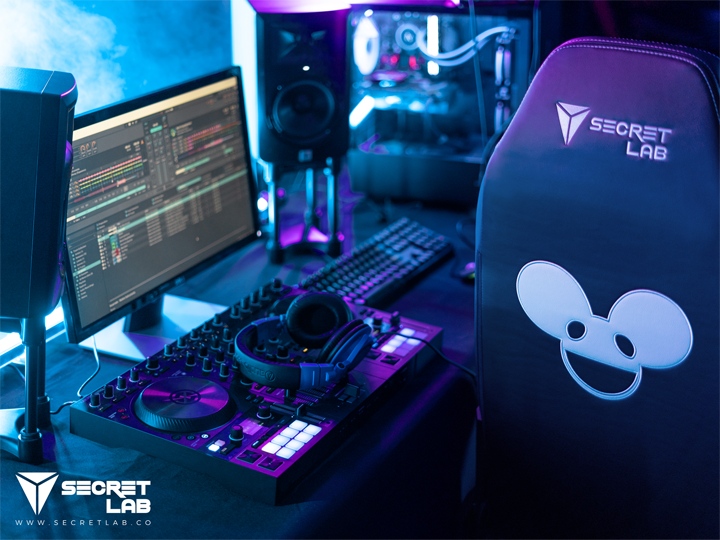 About Secretlab
Secretlab was established in 2014 to create the pinnacle of gaming seats—each extensively designed and engineered with only materials of the highest grade to ensure absolute comfort and unparalleled support. Today, Secretlab is the chair of choice for top esports professionals, elite athletes, international artistes, and over 100,000 satisfied users from more than 50 countries worldwide. To top it off, Secretlab chairs have consistently scored rave reviews from international media publications. And we're only getting started.
To learn more about us, visit www.secretlab.co, or follow our Facebook, Twitter (@secretlabchairs), and Instagram (@Secretlab) pages.
About deadmau5
Joel Zimmerman, more commonly known as deadmau5 (pronounced 'dead mouse'), is one of the world's most respected electronic music producers of modern times. Enjoying international chart success with his platinum-certified single "Ghosts 'n' Stuff," as well as "Professional Griefers," "Sofi Needs A Ladder" and "I Remember," he has also released seven critically acclaimed albums: an orchestral album where's the drop?, W:/2016ALBUM/ and  > album title goes here < (both reached #1 on the Billboard Dance/Electronic Chart), 4×4=12 (recognized for having sold over 1,000,000 copies in the United States), For Lack Of A Better Name, Random Album Title and while(1<2). The multiple JUNO Award-winning and GRAMMY®-nominated artist's ability to push the boundaries of his talent grows at an equal rate to his fan base, which counts almost 15 million over his combined social media channels. His latest music offerings which includes original productions, remixes and collaborations with featured guests like Rob Swire ("Monophobia"), Lights ("Drama Free"), Shotty Horroh, Scene of Action and more can be found on the mau5ville: level 1, 2 & 3 series.  deadmau5 kicked off 2019 with his first ever film score for the Jonas Akerlund-directed spy thriller Polar available worldwide now via Netflix with its soundtrack released on mau5trap.