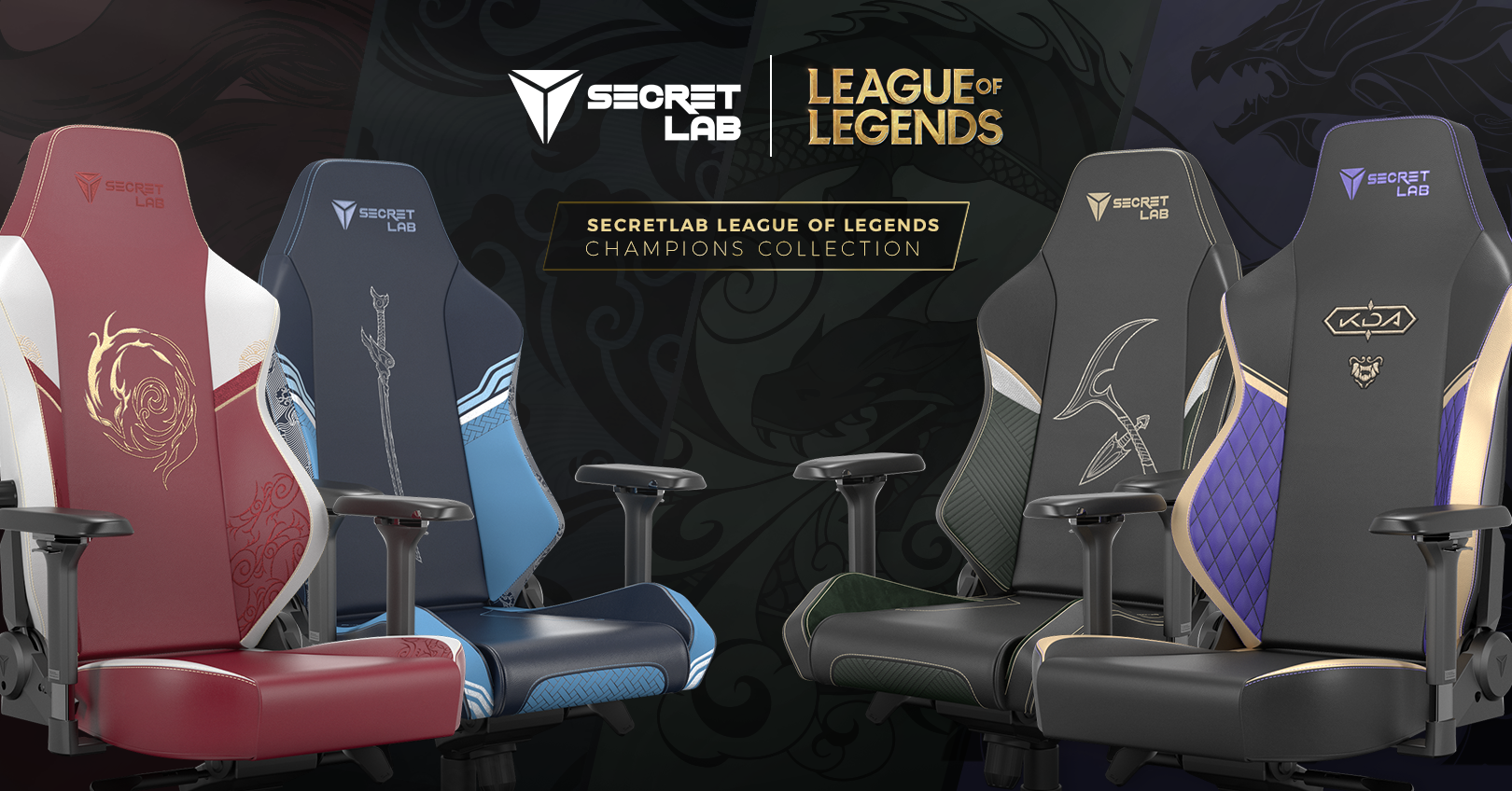 Featuring seats inspired by crowd-favorite champions Ahri, Akali, and Yasuo, as well as virtual pop phenomenon K/DA, the Secretlab League of Legends Champions Collection will let gamers main their favorite champion in real life.
AUGUST 12, 2020 — Secretlab and Riot Games today revealed the world's first official League of Legends Champions chairs, a designer capsule collection inspired by the magic-filled lands of Ionia and virtual pop girl group sensation K/DA. The Secretlab League of Legends Champions Collection builds on Secretlab's longstanding partnership with Riot Games and commemorates the global phenomenon that is League of Legends, which celebrated its 10th anniversary last year. 
It combines the lasting comfort Secretlab seats are known for with League of Legends' vibrant and explosive art style, representing the most ambitious and collaborative project between Secretlab and Riot Games to date. The Secretlab League of Legends Champions Collection joins Riot's exclusive selection of official League of Legends merchandise, and is one of the few ways gamers and collectors will be able to obtain a piece of the League of Legends universe.    
Already the chair of choice at Riot Games' premier global tournaments and top-tier pro circuits, including the World Championship and the LCS and LEC, Secretlab is Riot Games' top pick to support both elite League of Legends athletes and the millions of players around the world. League of Legends Esports has become the most popular global esport, hitting a record-breaking viewership of 21.8 million AMA (Average Minute Audience) during the 2019 World Championship Final. 
Secretlab's Champions collection is the first of its kind in the game's over 10-year history — it includes pieces that bring to life fan-favorite Ionian champions Akali, Ahri, and Yasuo, and a special purple-and-gold K/DA Edition colorway, based on Akali's pop star incarnation as a member of K/DA. 
To create this one-of-a-kind capsule, Secretlab's in-house design team worked closely with League of Legends' character artists to realize each champion in stunning detail, from the carefully-selected color palette to gorgeous custom embroidery and subtle motifs on the side wings. They studied the gameplay, lore, and original character design of each champion, identifying what gave them their unique character and how these elements could be applied to Secretlab's signature silhouette. 
The Secretlab League of Legends seats are styled to instantly evoke their individual champions — in order to achieve this, Secretlab experimented with different materials, textures, and cutting-edge print and embroidery techniques, eventually arriving at bold designs that deliver never-before-seen interpretations of some of the game's most iconic champions.   
The Secretlab League of Legends Champions Collection will let gamers immerse themselves in Ionia and the rich lore of League of Legends, allowing fans who main Akali, Ahri, and Yasuo to step into the shoes of their favorite champion and become the true embodiment of their play style.
Featuring all the upgrades of the award-winning Secretlab Classics*, the Secretlab League of Legends Champions Collection is primed to take center stage in any setup and offer unique and timeless statement pieces to League of Legends fans looking to level up their experience of the game in world-class comfort.
*Secretlab Classics is the official collection of our 2020 award-winning gaming chairs, which includes the Secretlab OMEGA 2020, the Secretlab TITAN 2020 and TITAN XL 2020, and all their Special Edition (SE) variants.
The Secretlab League of Legends Champions Collection is available in two models: the OMEGA 2020 and TITAN 2020. 
Secretlab League of Legends K/DA Edition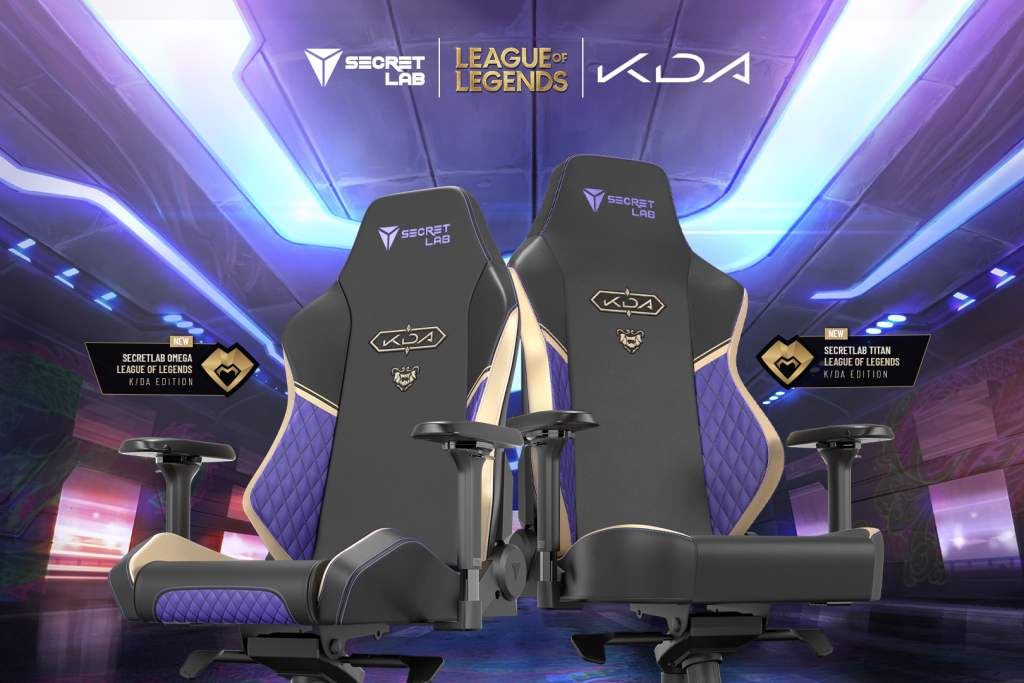 The Secretlab League of Legends K/DA Edition captures the dark allure and snazzy beats that propelled POP/STARS to the top of the World Digital Songs chart. Inspired by Akali, the show-stealing rapper of the group, this special edition seat is upholstered in decadent purple and gold and features Akali's signature dragon stitched in elaborate gold thread on the rear. Drawing heavily on Akali's one-of-a-kind look of luxe and grunge, the chair also boasts diamond-quilted side wings that recall Akali's stunning K/DA get-up.
Secretlab League of Legends Akali Edition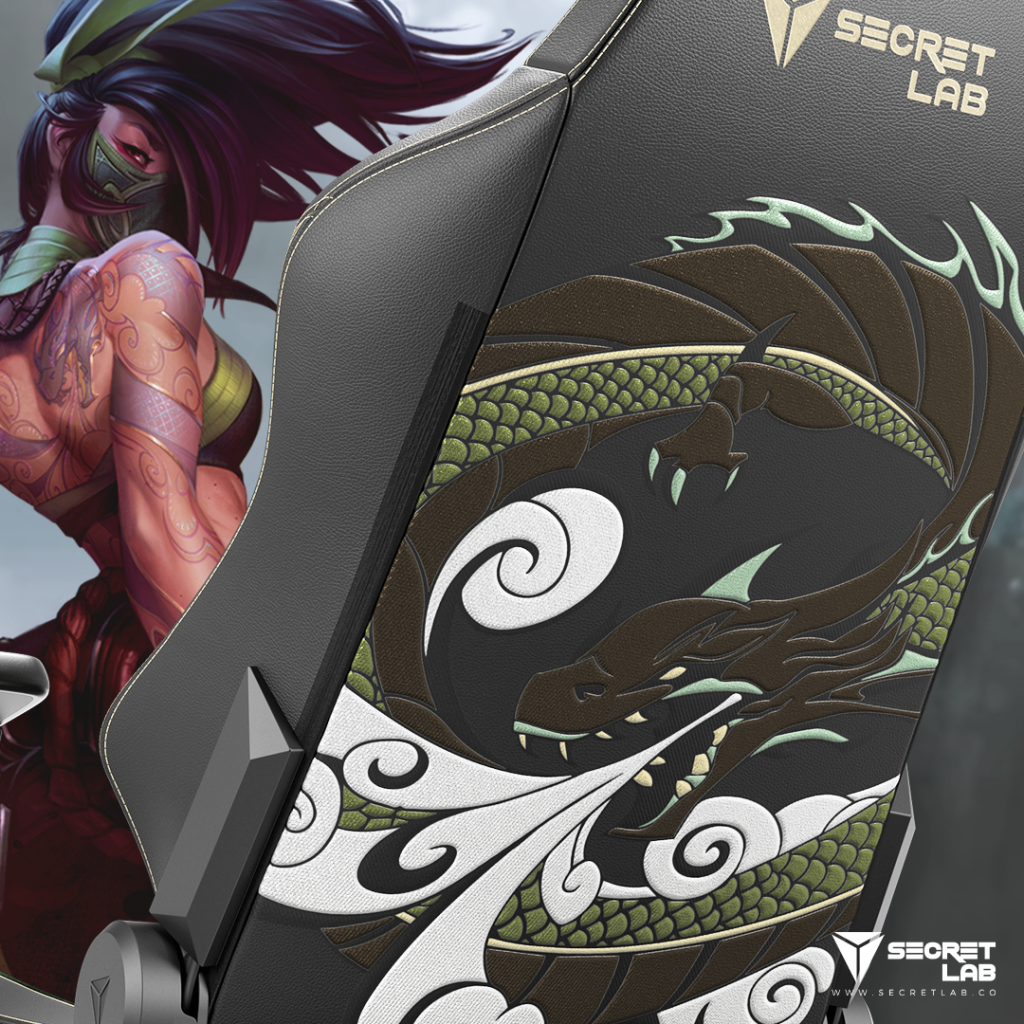 Adorned with Akali's signature kama blade and kunai dagger, the Secretlab League of Legends Akali Edition gives expression to her rebellious nature. A sprawling dragon tattoo covers the rear, a nod to gamers who want to channel the aesthetic of the rogue assassin. The wings and seat base similarly feature details drawn from Riot Games' 2018 rework of Akali's classic skin, paying tribute to one of Ionia's most stalwart defenders. 
Secretlab League of Legends Ahri Edition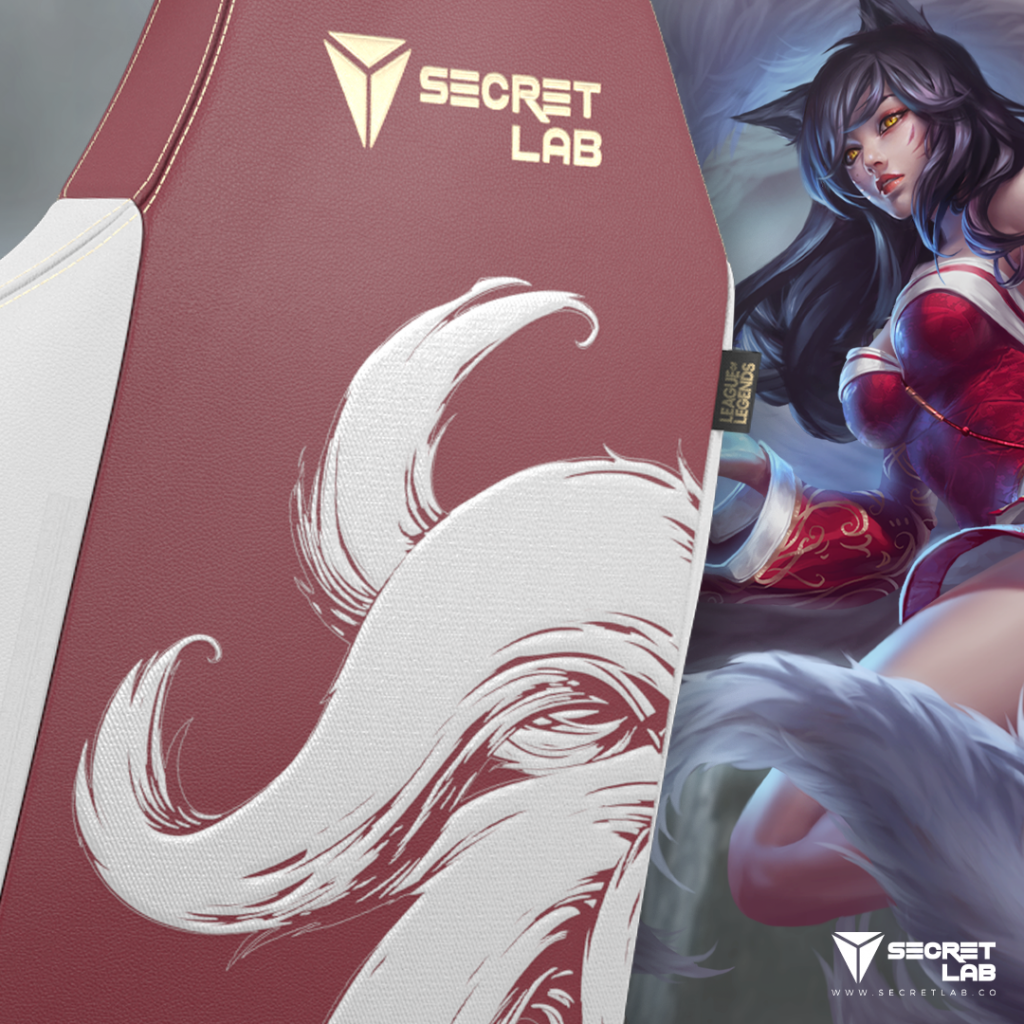 Upholstered in a deep wine red, the Secretlab League of Legends Ahri Edition incorporates intricate patterns from Ahri's garb and features her nine tails and fox fire embroidered in gorgeous detail on the backrest. Designed to charm, the Ahri Edition seat embodies class and an intoxicating mystique that evokes Ahri's potent magic.  
Secretlab League of Legends Yasuo Edition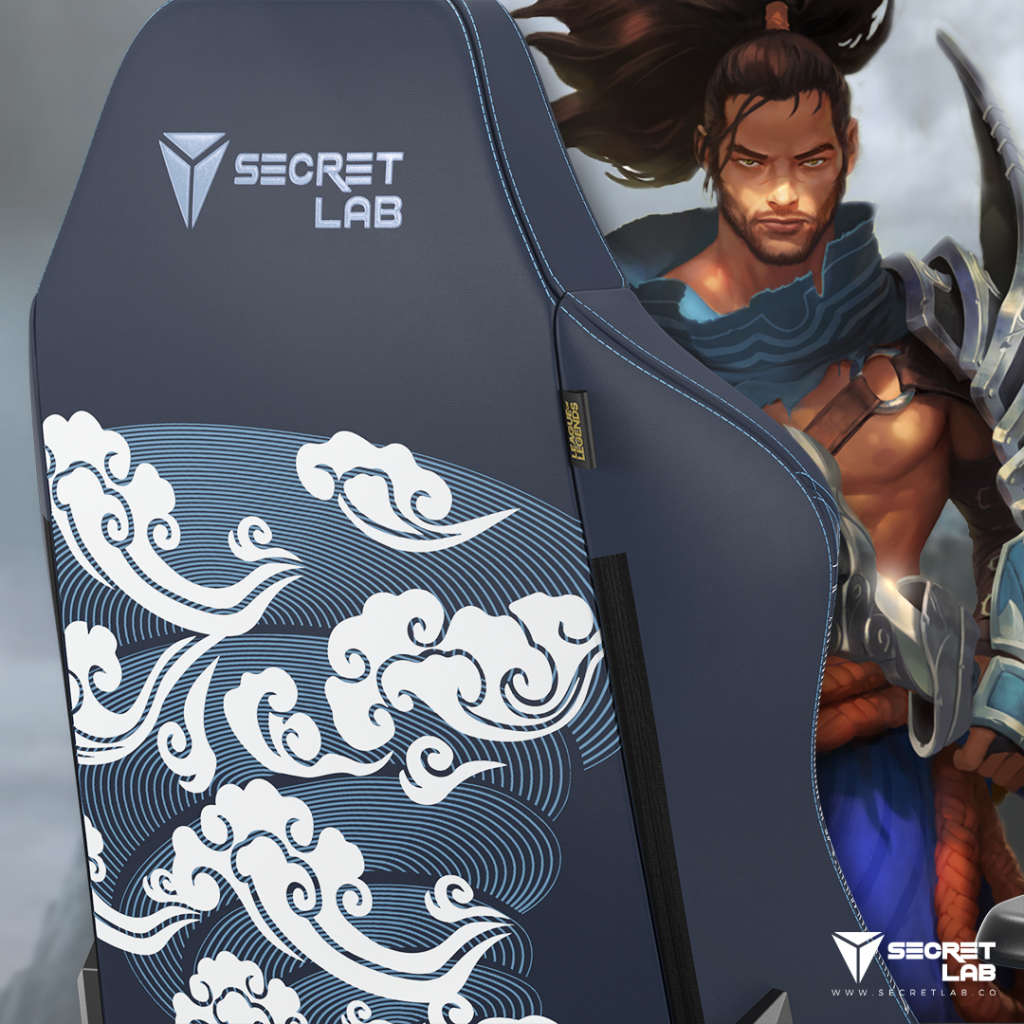 Featuring the master swordsman's katana and a veritable tempest at its back, the wings of the Secretlab League of Legends Yasuo Edition are embellished with the wind and clouds in the style of traditional ukiyo-e art and detailing inspired by Yasuo's armor. Clad in a mesmerizing deep navy and weave detailing influenced by the rope around Yasuo's waist, the chair is a faithful rendition of Yasuo's classic skin. 
Said Ian Alexander Ang, co-founder and CEO of Secretlab: 
"We're thrilled to build on our longstanding partnership with Riot Games for its global esports tournaments and bring the world's first ever official League of Legends Champions seats to millions of gamers, giving them the opportunity to own a chair that is truly representative of the look and feel of the League of Legends universe and its champions. There are few things more exciting than seeing your favorite game or champion brought to life in a physical product, and the Secretlab League of Legends Champions Collection is a treat for League of Legends players with their stylish designs and painstaking attention to detail. We worked with Riot Games to select some of the most popular and iconic champions to include in this one-of-a-kind collection, taking care to stay faithful to the character design while also bringing out specific elements that fans have come to know and love."
Said Christian Bayley, Director of Consumer Products at Riot Games:
"Secretlab was a great partner for this creative collaboration and successfully captured the most distinctive elements of each champion with great finesse for each chair. With their vibrant, eye-catching designs, the Secretlab League of Legends Champions Collection will help League of Legends players elevate their experience of the world of Runeterra. This is the first collection of its kind since the game was released over a decade ago and we can't wait for fans to finally get their hands on these seats and express their love for the game and the champions in a unique and different way. "
About Secretlab
Secretlab was established in 2014 to create the pinnacle of gaming seats—each extensively designed and engineered with only materials of the highest grade to ensure absolute comfort and unparalleled support. Today, Secretlab is the global choice of gaming seats for the world's premier gaming tournaments, top esports professionals and over 500,000 satisfied users from more than 60 countries worldwide, alongside rave reviews from international media publications. And we're only getting started.
To learn more about us, visit www.secretlab.co, or follow Secretlab on our Facebook,
Twitter (@secretlabchairs), and Instagram (@Secretlab) pages.
About Riot Games
Riot Games was founded in 2006 to develop, publish, and support the most player-focused games in the world. In 2009, Riot released its debut title, League of Legends, to worldwide acclaim. League has gone on to be the most-played PC game in the world and a key driver of the explosive growth of esports. 
As League enters its second decade, Riot continues to evolve the game while delivering new experiences to players with Teamfight Tactics, Legends of Runeterra, VALORANT, League of Legends: Wild Rift, and multiple work-in-progress titles, while exploring the world of Runeterra through multimedia projects across music, comic books, TV, and more.
Founded by Brandon Beck and Marc Merrill, Riot is headquartered in Los Angeles, California, and has 2,500+ Rioters in 20+ offices worldwide. Riot has been featured on numerous lists including Fortune's "100 Best Companies to Work For," "25 Best Companies to Work in Technology," "100 Best Workplaces for Millennials," and "50 Best Workplaces for Flexibility."