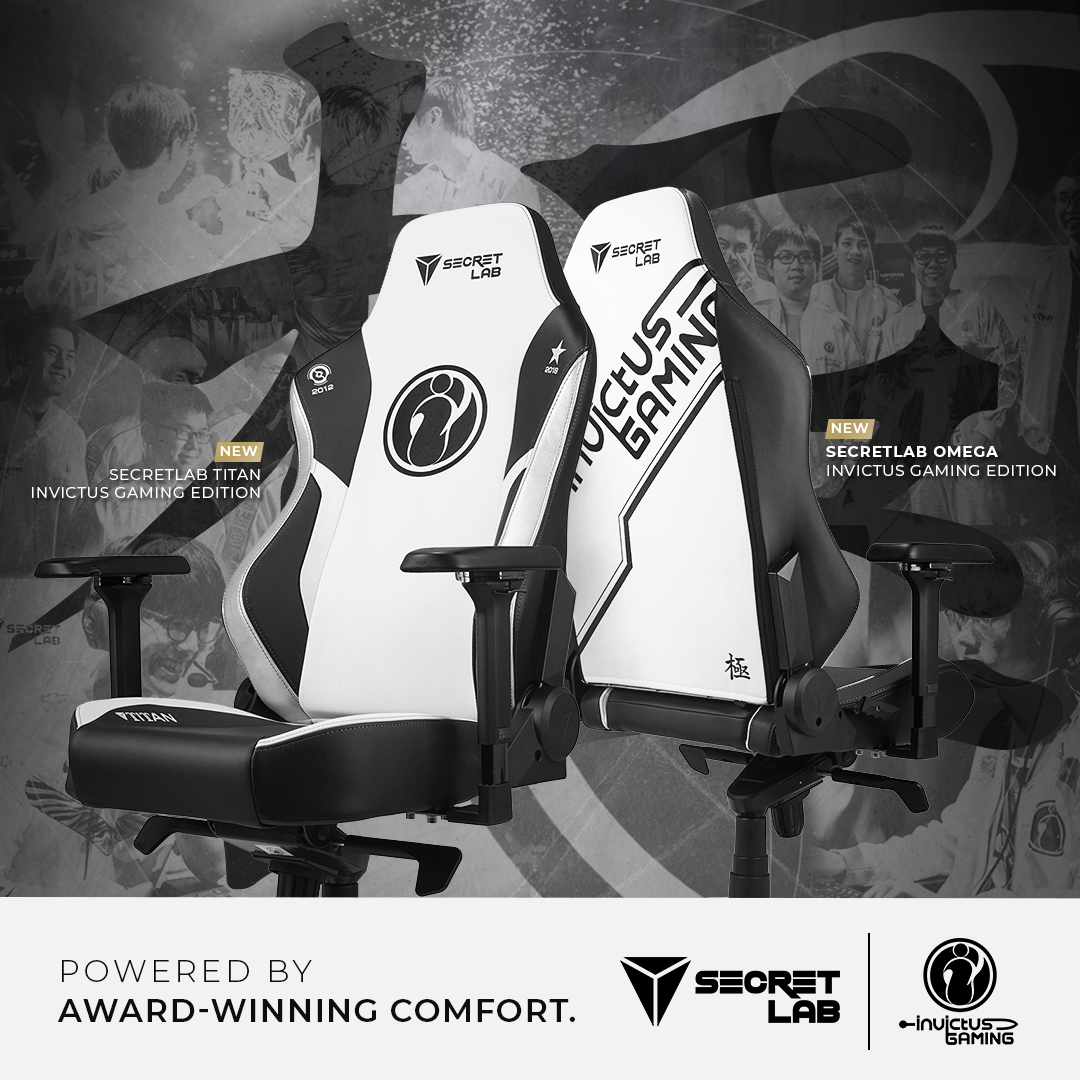 JULY 15, 2020 — International gaming seat specialist Secretlab today announced a partnership with Invictus Gaming, alongside its expansion into China, the world's largest games market. Invictus Gaming joins Secretlab's roster of championship-winning teams — home to one of the world's best League of Legends teams, it is also brimming with raw talent and a presence in major esports titles like Dota 2, Hearthstone, Counter-Strike: Global Offensive, and StarCraft II.
First founded in 2011, Invictus Gaming has played a pioneering role in shaping and driving the Chinese esports scene, which is expected to pull in $385.1 million in revenue this year, accounting for the lion's share of the projected $1.1 billion in global esports revenue in 2020. 
Invictus Gaming put China on the world map as a global esports powerhouse when they won The International 2012, and they swept Fnatic in a clean 3-0 series at the finals of the 2018 League of Legends World Championship, the first ever Chinese team to lift the Aegis and Summoner's Cup. It immediately followed its World championship win with a first place finish at the League of Legends Pro League (LPL) Spring 2019, China's top-tier League of Legends pro circuit, cementing its reputation as a force to be reckoned with. 
Today, iG are reputed to be one of the most daring and offensive-minded teams in the LPL, becoming the first team to rack up 10,000 kills in the league. Top laner Kang "TheShy" Seung-lok spearheads this formidable play, but Song "Rookie" Eui-jin's stunning consistency and stellar performance in the mid-lane has been the backbone of the team this summer and he is shaping up to be an early front-runner for MVP in the LPL Summer Split.
Together with Secretlab, iG is looking forward to even more success on the world stage, all while supported by Secretlab's award-winning seats. At the highest levels of play, even the smallest performance advantage matters, and iG will not settle for anything less than world-class comfort as they work to forge an enduring legacy for themselves in the biggest global arenas.
Engineered for high performance and all-day comfort, the Secretlab Invictus Gaming Edition pays homage to the most recognizable name in Chinese esports, drawing inspiration from the fan-favorite 2018 jersey design. The white backrest is offset by the striking black accents and detailing, while iG's historic wins at The International 2012 and the 2018 League of Legends World Championship are immortalized on the side wings. 
The Secretlab Invictus Gaming Edition will launch as a China exclusive first.
Said Ian Alexander Ang, co-founder and CEO of Secretlab: 
"Invictus Gaming made history as the first Chinese team to win both the League of Legends World Championship as well as Dota 2's The International, and their League of Legends roster is currently stacked with some of the most skilled players in the game. Being a former pro, I am a huge fan of watching TheShy at work with his aggressive playstyle and mechanical mastery; this is the result of extreme talent combined with tireless hard work. iG are just getting started, and we're excited to be able to support them and Invictus Gaming in adding more trophies to their name."
Said VK, CEO of Invictus Gaming
"Secretlab is the undisputed world leader in high-performance gaming seats. Their entry into China could not have come at a better time, and we're thrilled to be able to work with them to outfit our players with the comfort they need to perform at their best. iG's players have consistently been competing on Secretlab chairs on the global stage, such as at Worlds and The International, and now they'll be able to take advantage of the same performance edge and support during training."
About Secretlab
Secretlab was established in 2014 to create the pinnacle of gaming seats—each extensively designed and engineered with only materials of the highest grade to ensure absolute comfort and unparalleled support. Today, Secretlab is the global choice of gaming seats for the world's premier gaming tournaments, top esports professionals and over 500,000 satisfied users from more than 60 countries worldwide, alongside rave reviews from international media publications. And we're only getting started.
To learn more about us, visit www.secretlab.co, or follow Secretlab on our Facebook,
Twitter (@secretlabchairs), and Instagram (@Secretlab) pages.
About Invictus Gaming
Invictus Gaming is a world-leading esports organization based in Shanghai, China. Founded in 2011, it is the most prestigious Chinese esports brand with the most winning titles and superstar players; famously known as The International 2012 Champion and League of Legends 2018 World Champion. Invictus currently features over 70 world class players across 6 major esports titles (League of Legends, DOTA 2, CS:GO, Hearthstone, PUBG, StarCraft 2) with millions of fans and supporters all over the world. As one of the most influential teams in esports, Invictus Gaming continues to promote and improve industry development with the aim to build a better professional esports ecosystem for players, fans and partners.