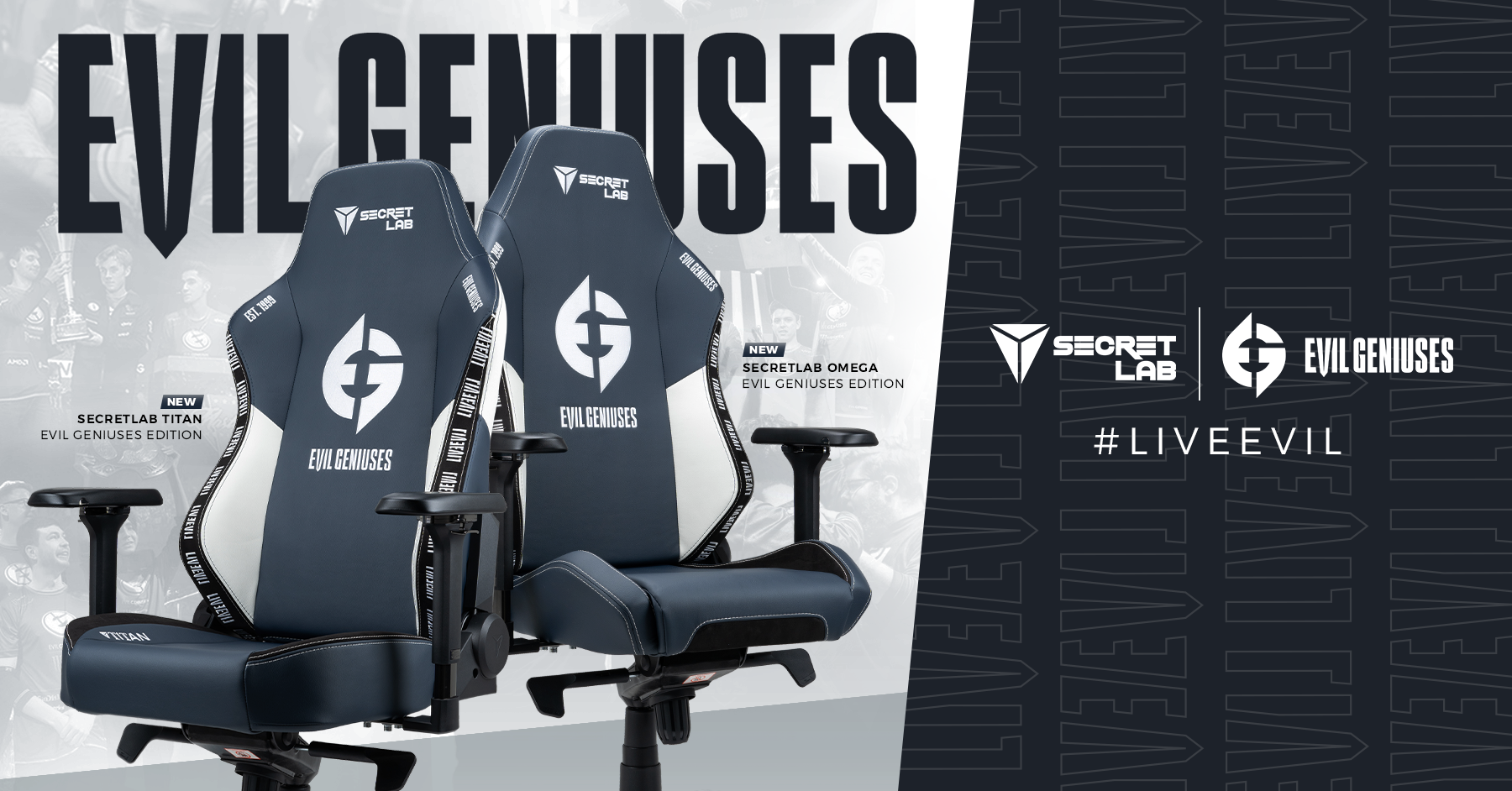 JULY 21, 2020 — Secretlab, the world leader in high-performance gaming seats, today announced a partnership with Evil Geniuses (EG), one of the original and most iconic esports organizations  in the world. First established in 1999, Evil Geniuses' competitive success has propelled it to become one of the world's three most successful organizations in terms of esports earnings, all of which are partnered with Secretlab. This collaborative partnership cements Secretlab's position as the choice of the world's winningest esports organizations, as they look to build toward even greater successes on the world stage.
With the final phase of its rebranding completed in May, Evil Geniuses has set its sights on continuing its pedigree of dominance. Over its 21-year history, Evil Geniuses has established a presence across all the major esports. EG's Dota 2 team were the first North American champions at The International 2015, bringing home US$6.6 million in prize money. Today, Evil Geniuses continues to field some of the world's best Dota 2 players — they sit on top of two of Dota 2's four regional leaderboards and are currently North America's top ranked team.
The organization re-entered the League of Legends Championship Series (LCS) during the  Spring Split after a 5-year hiatus and has also emerged as one of the top teams in Counter-Strike: Global Offensive. With these entries into the world's predominant esports and the resources of Chicago-based PEAK6 Investments behind it, EG is better positioned for competitive and business success now more than ever.
In order to achieve its vision, EG needs to work with the best. With the choice of Secretlab, the world leader in high-performance gaming seats, EG has equipped its athletes with the comfort and support they need to perform at their peak, and the Secretlab Evil Geniuses Edition chair heralds a future of continued excellence for both Secretlab and Evil Geniuses.
The Secretlab Evil Geniuses Edition chair is equipped with all the features of the award-winning Secretlab Classics*, including the upgraded Secretlab Classics* PRIME 2.0™ PU leather, patent-pending cold-cure foam, and a wide range of adjustments. It is the embodiment of the new direction Evil Geniuses is headed into, celebrating its long history while looking boldly toward the next chapter.
*Secretlab Classics is the official collection of our 2020 award-winning gaming chairs, which includes the Secretlab OMEGA 2020, the Secretlab TITAN 2020 and TITAN XL 2020, and all their Special Edition (SE) variants.
The chair's design parallels the organization's distinct visual identity, with the juxtaposition of midnight blue and white on the chair's front and back. "Est. 1999" is stitched onto the wings, a callback to the organization's founding 21 years ago. The chair also features the "Live Evil" slogan running along its sides, signifying the boldness and daring the brand is known for.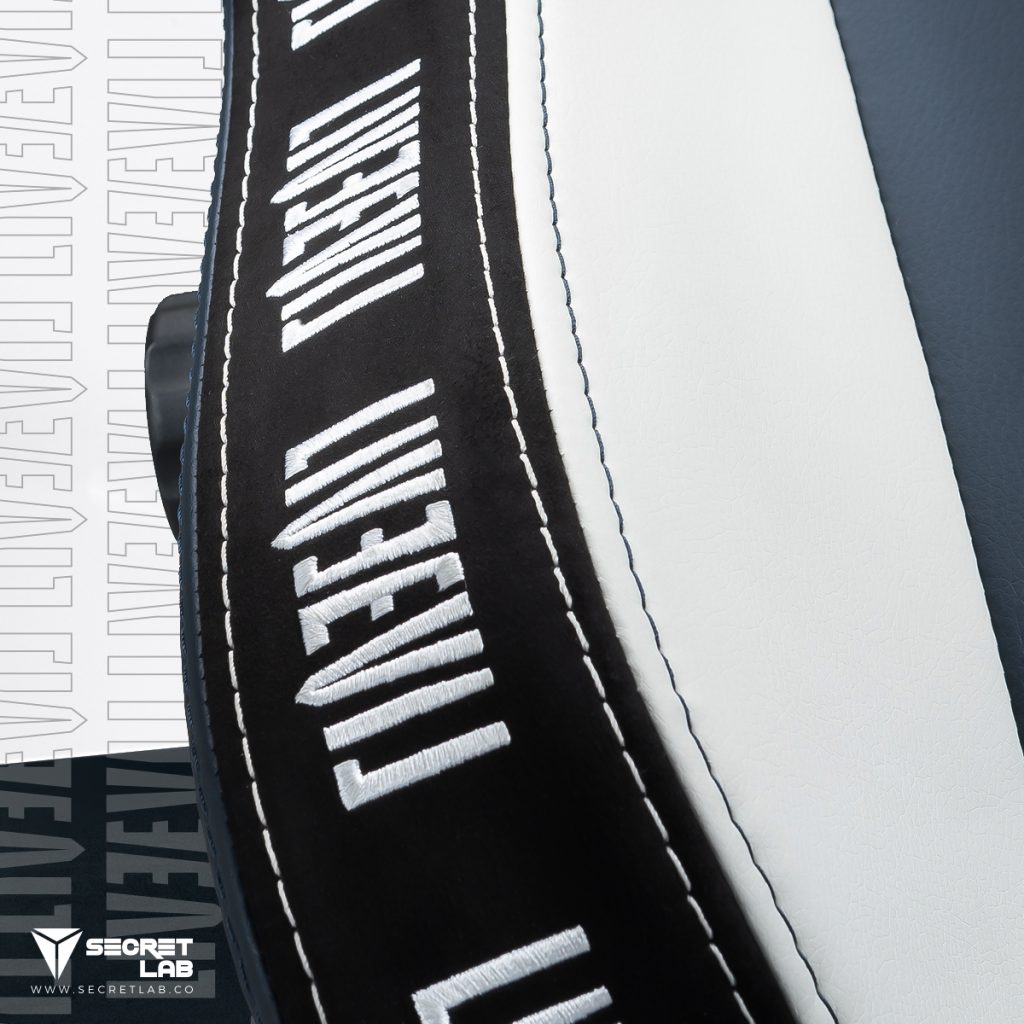 The Secretlab Evil Geniuses Edition chair will be available to buy in two variants: the OMEGA 2020 and TITAN 2020.
Said Ian Alexander Ang, co-founder and CEO, Secretlab:
"As a former competitive StarCraft player, I remember watching Evil Geniuses put up some truly incredible performances in StarCraft II with players like Jaedong, IdrA and Stephano. Huk's acquisition by Evil Geniuses in 2011 also saw him join forces with IdrA, a momentous twist to the longest running rivalry in StarCraft II. Fast-forward to 2015, and Evil Geniuses were lifting the Aegis at The International 2015, the first ever North American team to do so. Evil Geniuses are primed to grow into even more of an esports powerhouse, and with their recent re-entry into Counter-Strike: Global Offensive and the League of Legends Championship Series, I look forward to them finding further success at the highest tiers of the world's biggest esports."
Said Nicole LaPointe Jameson, CEO, Evil Geniuses:
"As one of the original esports organizations, we're constantly looking toward securing a greater competitive edge, both to honor our storied history and to deliver unforgettable victories for our fans. We've found a partner in Secretlab that shares our values and commitment,  and we feel like they've perfectly captured Evil Geniuses' roots and ambitions in the Secretlab Evil Geniuses Edition. EG aspires to be nothing less than the very best in all of our ventures. As the global leader in performance gaming seats, Secretlab is set to provide our players with the comfort and support they need to always perform at the highest level."
About Secretlab 
Secretlab was established in 2014 to create the pinnacle of gaming seats—each extensively designed and engineered with only materials of the highest grade to ensure absolute comfort and unparalleled support. Today, Secretlab is the global choice of gaming seats for the world's most premier gaming tournaments, top esports professionals and over 500,000 satisfied users from more than 60 countries worldwide, alongside rave reviews from international media publications. And we're only getting started.
To learn more about us, visit www.secretlab.co, or follow Secretlab on our Facebook, Twitter (@secretlabchairs), and Instagram (@Secretlab) pages. 
About Evil Geniuses
Evil Geniuses, one of the original and most recognizable brands in esports, was founded over 20 years ago on the belief that passion, commitment, and innovation could transform a beloved interest into a global phenomenon. Today, that same drive and dedication serve as the foundation of our legendary organization. From our top-tier esports teams to our industry-changing technology, our goal has always been — and will continue to be — delivering excellence.