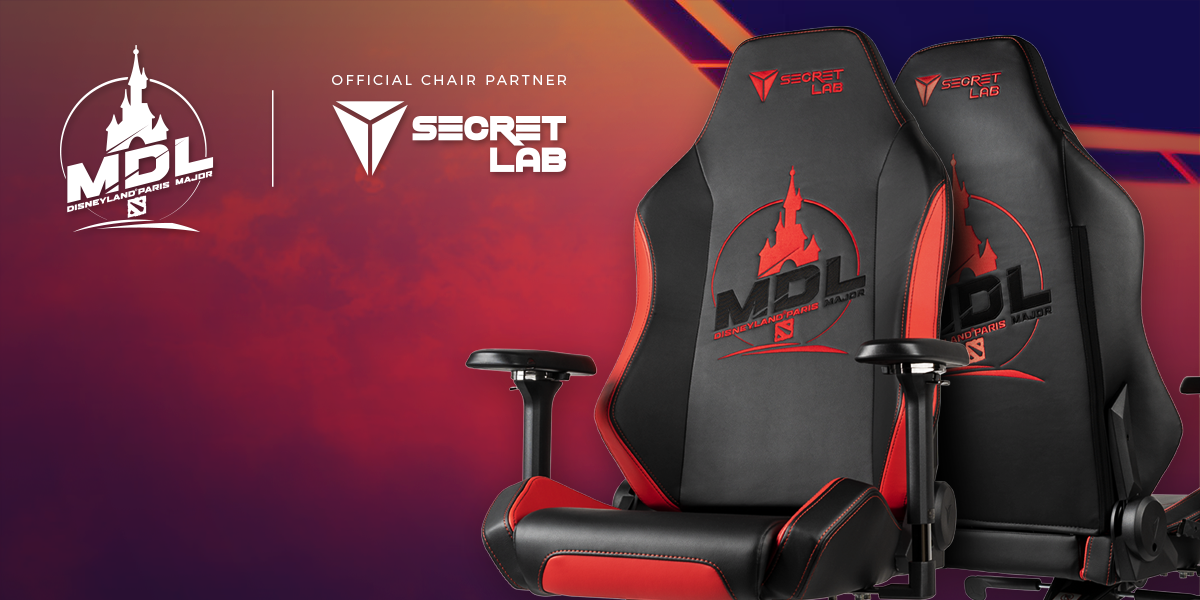 MAY 4, PARIS—International gaming seat specialist Secretlab today announced a partnership with Mars Media and Disneyland Paris to become the official choice of gaming seats for the highly-anticipated MDL Disneyland® Paris Major, the first-ever Dota 2 Major to be held in France.
The MDL Disneyland Paris Major, which kicks off tomorrow (May 4), is the 4th Major of this season's Dota 2 Pro Circuit. It will host 16 of the world's best Dota 2 teams—including current world #1 and #2 seeds Team Secret and Virtus.pro, as well as reigning and past The International Champions OG, Team Liquid and Evil Geniuses—as they fiercely battle for the tournament's USD$1 million prize pool and qualifying points to The International 2019.
In celebration of the momentous tournament, Secretlab, Mars Media and Disneyland Paris co-designed a Secretlab MDL Disneyland Paris Major Edition chair, equipped with Secretlab's award-winning suite of adjustable features, made from industrial-grade raw materials and internationally certified for quality and durability—the hallmark of the Secretlab brand.
The co-branded gaming seats will be used for by the players, casters and staff for the matches and training sessions during the course of the 9-day tournament—co-produced by Mars Media and Paris Disneyland, whose partnership was facilitated by Lagardere Sports.
Said Ian Alexander Ang, co-founder and CEO of Secretlab: "As the prestige of esports tournaments increase globally, so do the expectations of the overall quality of tournaments and the equipment being used. We've seen an increase in adoption of Secretlab chairs for premier tournaments, such as the MDL Disneyland Paris Major, to accommodate the world's best esports professionals. We're proud to support this groundbreaking tournament with our award-winning, ultra-comfortable chairs—giving these internationally-renowned, top Dota 2 players and casters the most magical sitting experience in Disneyland Paris so they can deliver and sustain their peak performances."
Said Zhang Yu, CEO of Mars Media: "With this lineup of the world's best Dota 2 teams and players, combined with the excitement of the first Dota 2 Major in France, we needed to provide the best equipment to match the demands and expectations of these most-incredibly talented professionals. Secretlab was the only choice to partner with—their award-winning gaming seats provide unparalleled comfort and the best sitting experience, particularly as how hard-fought and long-drawn these top-tier Dota 2 matches can last."
Said Aymeric Magne, Director of Disneyland® Paris Event Group: "This is the first time we're hosting a Dota 2 Major, and our first esports event since 2010. With Disneyland Paris set to grow into a major esports partner in Europe, it was important to partner with the leading gaming brands in the world who can provide and complement the spectacular experience we're promising the top professionals and our visitors over these 9 days. Secretlab, for their internationally-acclaimed chairs and standing as a top gaming product company, just ticked all the boxes."
About Secretlab
Secretlab was established in 2014 to create the pinnacle of gaming seats—each extensively designed and engineered with only materials of the highest grade to ensure absolute comfort and unparalleled support. Today, Secretlab is the global choice of gaming seats for premier gaming tournaments (such as the MDL Disneyland® Paris Major), top esports professionals and over 100,000 satisfied users from more than 50 countries worldwide, alongside rave reviews from international media publications. And we're only getting started.
To learn more about us, visit www.secretlab.co, or follow Secretlab on our Facebook, Twitter(@secretlabchairs), and Instagram (@Secretlab) pages.
About MDL
The Mars Dota 2 League (MDL) is one of the most prestigious Dota 2 events in the world and has welcomed the best teams the scene has to offer for the past five years. Having rewarded over 2,7 million dollars in prize-money makes MDL one of the most lucrative franchises in the esports industry.
About Mars Media
Mars Media is an events organizer, studio and content producer based in Shanghai, China. Founded in 2012, Mars Media has then become one of the leaders in the esports industry in China, and is better known for hosting the Mars Dota 2 League and the Dota 2 Professional League.
About Disneyland® Paris Event Group
Disneyland® Paris Event Group is the division in charge of imagining, organising, producing and hosting events at Disneyland® Paris, Europe's top tourist destination. Its teams combine their event expertise with the Disney DNA to bring powerful and unique experiences to life. Every year, nearly 850 events are organised on behalf of professionals, individuals and the general public via two distinct brands: Business Solutions and Live Events.
About Disneyland® Paris
Europe's number one tourist destination, Disneyland Paris® has welcomed more than 320 million visits since opening in 1992 (13.4 million visits in 2016). The resort boasts two spectacular theme parks (Disneyland Park® and Walt Disney Studios Park® ) and seven themed Disney® Hotels with 5,800 rooms (more than 2,700 rooms are available in Selected and Associated Hotels). Two full-service convention centres and a world-class 27-hole golf course are also present. In addition to this, the destination is home to Disney Village® – one of the largest entertainment complexes in the Ile-de-France region. Spread over more than 30,000m², Disney Village proposes themed dining, shopping and cinema experiences. Disneyland Paris comprises 59 attractions, 63 shops, and 55 restaurants.