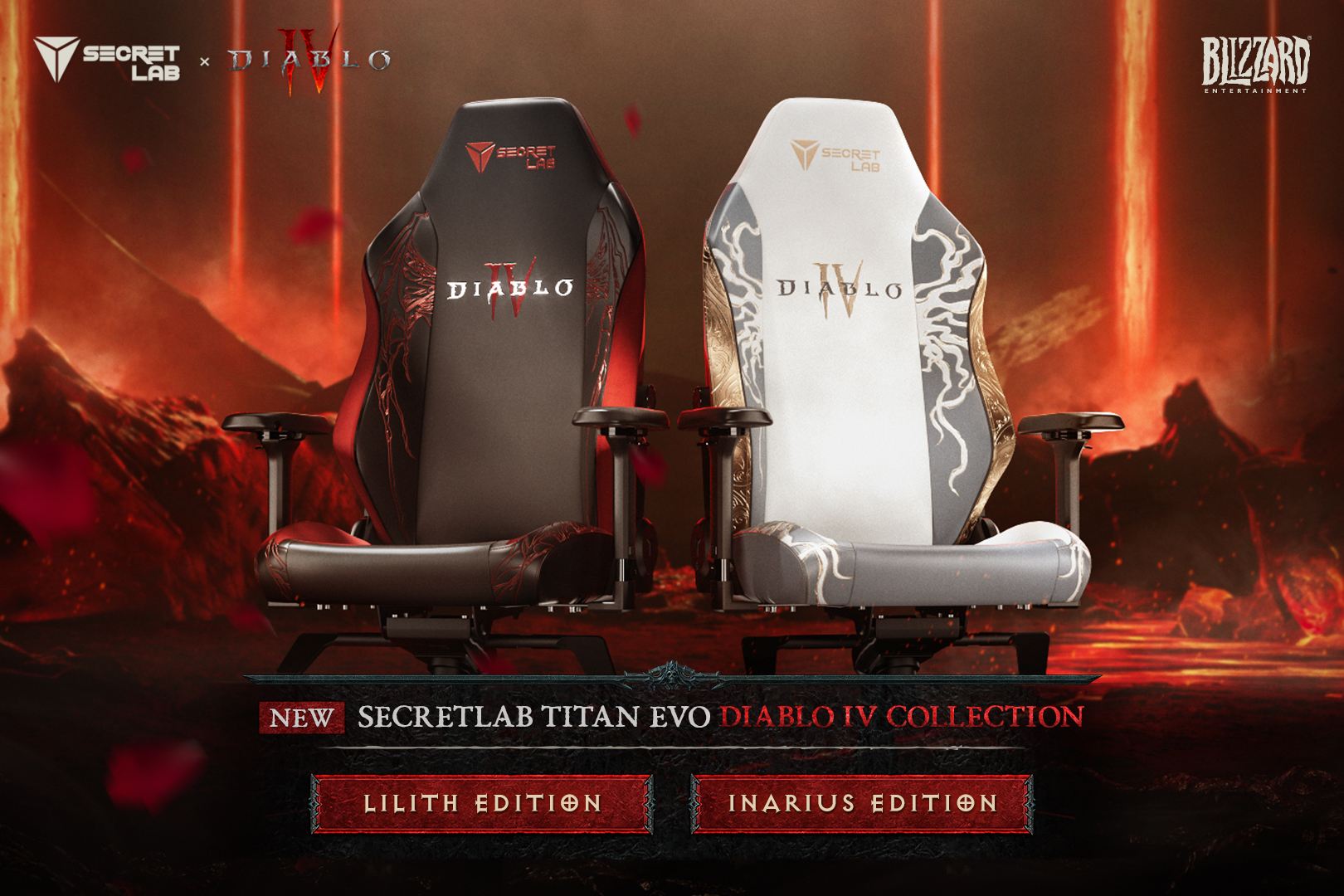 Go without fear into the heart of the unknown. Pursue Lilith across Sanctuary while supported by research-backed ergonomics.
May 23, 2023 — The Mother of Sanctuary has returned to claim the mortal realm, but you don't have to face the Daughter of Hatred alone. Vanquish Lilith's infernal legions from the fully supportive Secretlab Diablo® IV Lilith and Inarius Edition chairs, designed in collaboration with Blizzard Entertainment.
Diablo IV is the next release in the Diablo universe after more than a decade. It marks a highly anticipated return for millions of fans around the world, hearkening back to the series' dark roots. Totaling nearly 62 million hours played, the Diablo IV beta weekends were the largest beta in Diablo history, a testament to the legions of fans waiting to step back into the pits of Hell.
As a pioneer in the action role-playing game space, Diablo came to define the genre and eventually spawned an entire generation of ARPG games. 1997's Diablo was hailed as "a nearly flawless gaming experience" by PC Gamer, lauded for its captivating gameplay, atmospheric musical score, and stellar replay value with randomly generated dungeons and a wide variety of enemies, items, levels, and quests.
Diablo IV builds on that rich legacy, returning players to a Sanctuary that is descending into madness. Outfitted with all the pioneering ergonomic features of the award-winning TITAN Evo, the Secretlab Diablo IV Collection is engineered to keep you comfortably supported for hours on end as you explore the vast open world, loot dungeons, and conquer world bosses. Never break a sweat during your quest for legendary gear, even if you're playing on the Torment World Tier.
"I fell in love with the world of Diablo from the very first game. No other game has come close to recreating Sanctuary's bleak landscape and its tales of heroism and sacrifice, and fans are hungry for Diablo IV's dark return. The Secretlab Diablo IV Collection pays tribute to the creators of Sanctuary and the duality between the High Heavens and Burning Hells. We've recreated Lilith and Inarius in intricate detail, both mirroring and in direct opposition to each other,"

Alaric Choo, co-founder and Chief Strategy Officer at Secretlab.
The Secretlab Diablo IV Collection is only available in limited quantities at launch. Fans who order now will receive their chair in time for the launch of Diablo IV.
Secretlab Diablo IV Lilith Edition
Embrace Lilith's return when you sit on the Secretlab Diablo IV Lilith Edition chair. Sin is your birthright — break the chains and discover who you were meant to be.
Upholstered in black Secretlab NEO™ Hybrid Leatherette and blood-red suede accents, the Lilith Edition chair was forged in the depths of the Burning Hells. The horned visage of the Blessed Mother adorns its rear, wrought in intricate embroidery. Her wings extend to the front of the chair, taking on a membranous form echoing the ritual that summoned her back to Sanctuary.
Available in sizes R and XL.
Secretlab Diablo IV Inarius Edition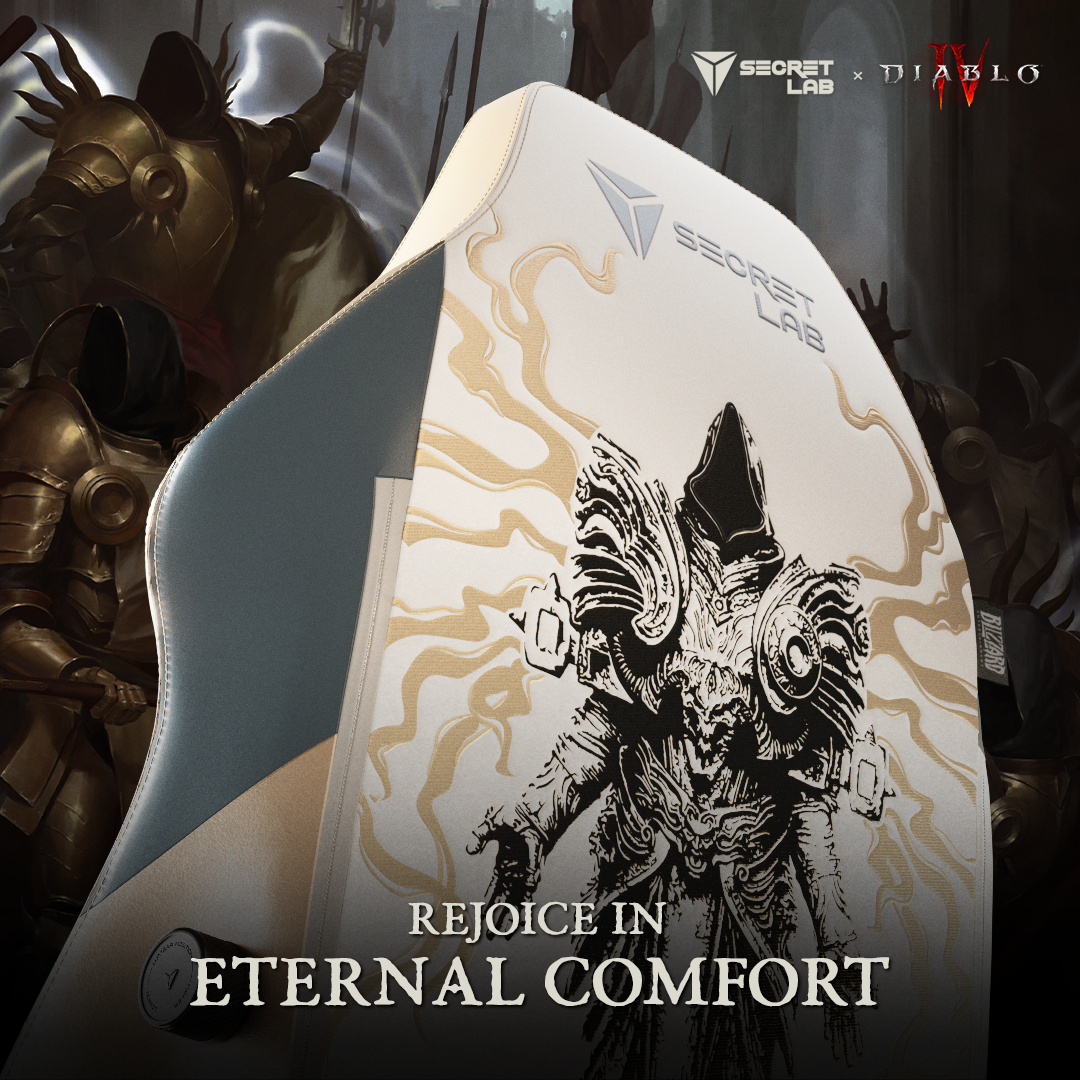 Cleanse your soul for Inarius with the Secretlab Diablo IV Inarius Edition chair — and hold fast to the light.
The rogue archangel Inarius is revealed in his full glory on the rear of the chair, a fitting tribute to the Holy Father. Stark white Secretlab NEO™ Hybrid Leatherette calls to mind the light of the High Heavens, while Inarius' brilliant wings wrap around to the front, accented by gold and gray panels.
Available in sizes R and XL.
About Secretlab
Established in 2014, Secretlab has redefined what people think of when it comes to gaming chairs. Driven by extensive research, development, and cutting-edge engineering, Secretlab's award-winning chairs are the top choice of the world's premier gaming tournaments, championship-winning teams and over 2,000,000 users worldwide. Today, Secretlab's proprietary technology and design innovations continue to push the boundaries in ergonomic comfort and the science of sitting, winning over 60 Editor's Choice and Best Hardware Awards from leading international publications and reviewers.
To learn more about us, visit www.secretlab.co, or follow Secretlab on our Facebook, Instagram (@Secretlab) and Twitter (@secretlabchairs) pages.
About Blizzard Entertainment, Inc.
Best known for blockbuster hits including World of Warcraft®, Hearthstone®, Overwatch®, the Warcraft®, StarCraft®, and Diablo® franchises, and the multi-franchise Heroes of the Storm®, Blizzard Entertainment, Inc. (www.blizzard.com), a division of Activision Blizzard (NASDAQ: ATVI), is a premier developer and publisher of entertainment software renowned for creating some of the industry's most critically acclaimed games. Blizzard Entertainment's track record includes twenty-two #1 games and multiple Game of the Year awards. The company's online gaming service, Battle.net®, is one of the largest online-gaming services in the world, with millions of active players.