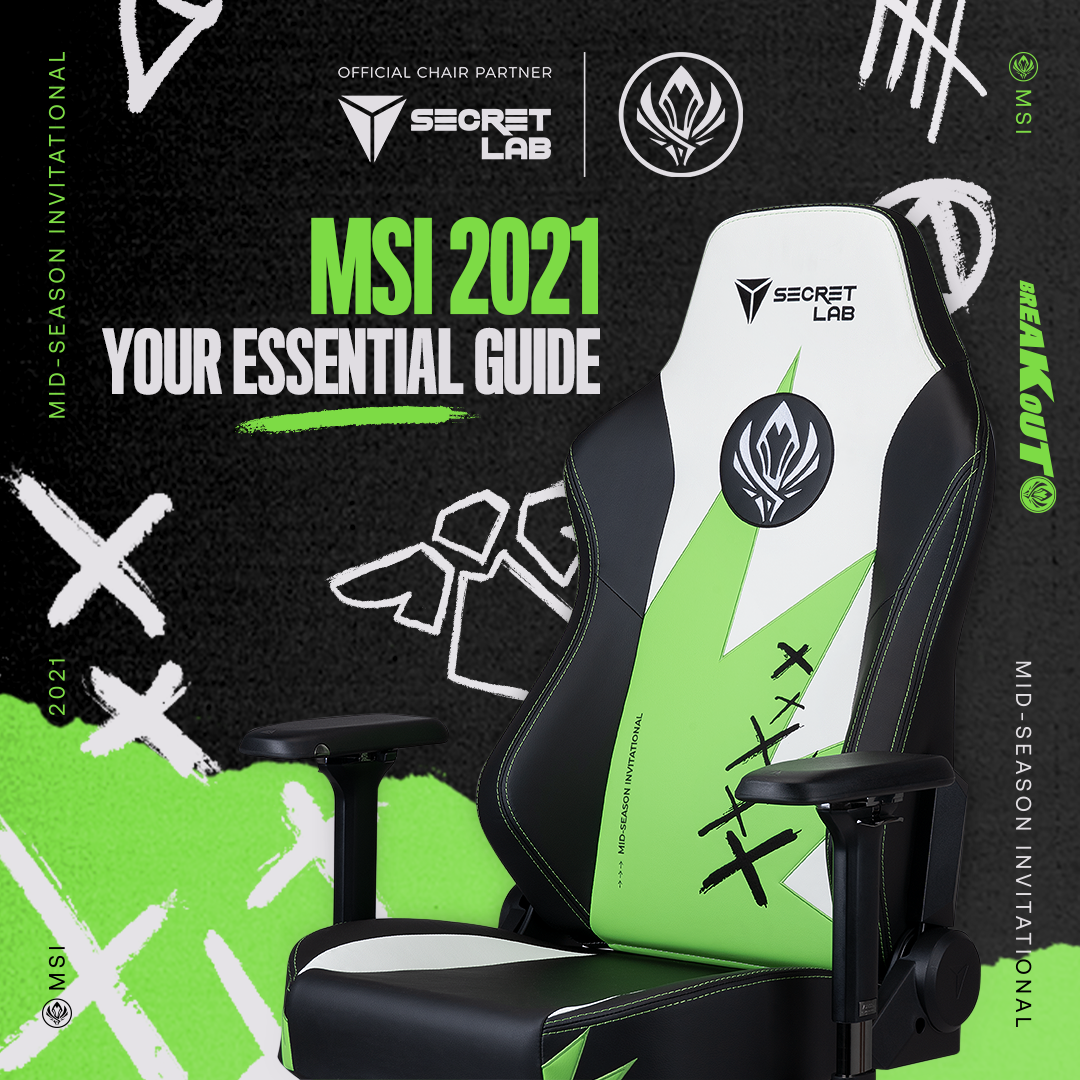 The biggest event of the League of Legends mid-season meets tournament-grade comfort. With a new format and Worlds on the horizon, the stakes are higher than ever.

Starting May 6, 11 of the world's best League of Legends teams will gather in Reykjavik, Iceland, heralding the return of international League of Legends competition once again. After its absence last year due to the Covid-19 pandemic, the 2021 Mid-Season Invitational (MSI) will play host to the Spring Split champions of each region, among them reigning World Champions DWG KIA (formerly DAMWON Gaming), MVPs, and hungry rookie stars.
From the League of Legends World Championship to top-tier regional leagues like the LCS, LEC, LCK and premier global tournaments like MSI, Secretlab is the trusted choice of the world's biggest esports competitions, supporting the world's best players as they fight to stake their claim in LoL Esports history.
How to watch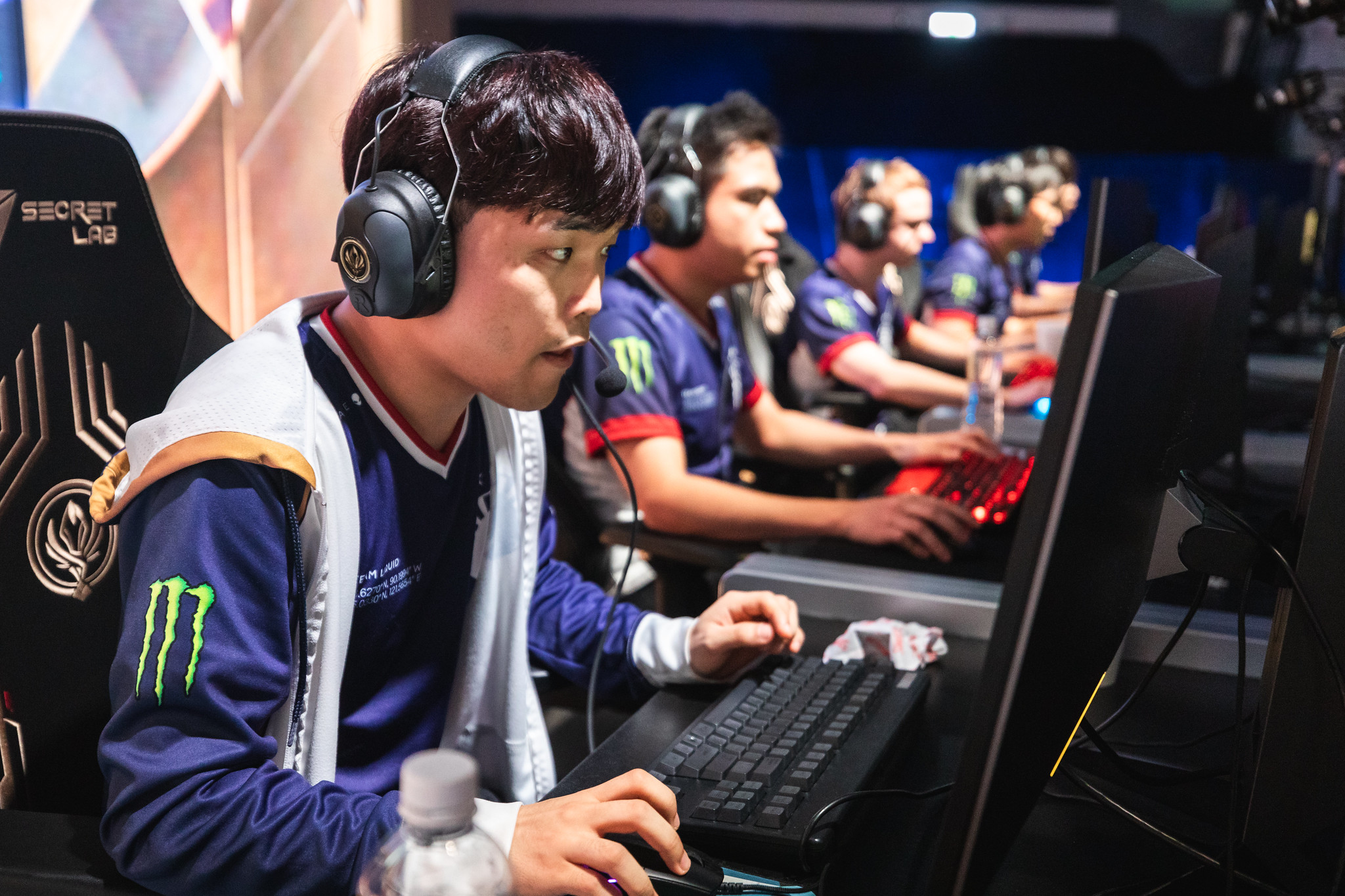 MSI 2021 runs from Thursday, May 6 to Sunday, May 23. The opening match isn't one you want to miss — 2020 world champions DWG KIA will take on LCS juggernaut Cloud9 at 6AM PT on May 6.
Watch Missions full of in-game rewards and Drops are returning for MSI 2021 as well. Simply log into lolesports.com and tune in to live games or VODs from the current split of a professional league to earn Blue Essence, a Hextech Chest and Key, and an lolesports.com exclusive Emote.
In addition, we've teamed up with Riot Games for exclusive Drops rewards during the first semi-final match on May 21 and the grand final on May 23. Log into lolesports.com and watch the designated games to receive a Secretlab-exclusive in-game icon and stand a chance to win a Secretlab TITAN MSI 2021 Edition chair.
For the full match schedule, please refer to the official LoL Esports website.
A new format: Groups, Rumble, Knockout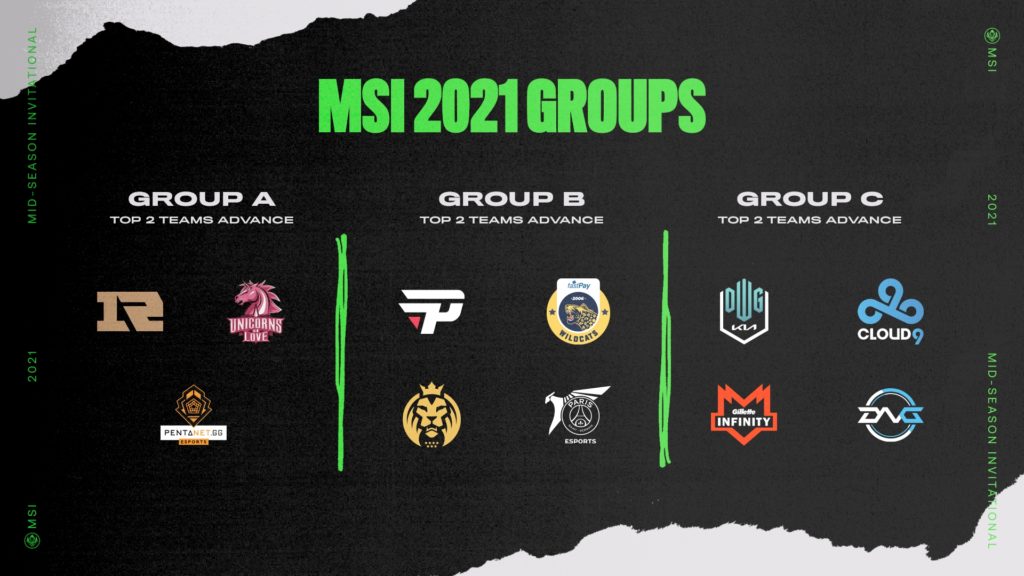 MSI 2021 introduces a new format, giving teams even more of an incentive to put in their best performance. Riot Games is doing away with the play-in stage this year, instead splitting all 12 regions into four tiers based on the last two years of international tournaments, such as the 2020 World Championship. However, the VCS will not be in Reykjavik due to Vietnam's travel restrictions, which is why only 11 teams will be playing in May.
Tier 1: China (LPL), Europe (LEC), Korea (LCK)
Tier 2: North America (LCS), Vietnam (VCS), Southeast Asia (PCS)
Tier 3: Turkey (TCL), CIS (LCL), LATAM (LLA)
Tier 4: Japan (LJL), Brazil (CBLOL), Oceania (LCO)
Next, Riot's Global Director of Operations, Tom Martell, conducted the group draw using software to randomly assign teams to different groups.
Group A
Royal Never Give Up (LPL)

Unicorns of Love (LCL)

Pentanet.GG (LCO)
Group B
MAD Lions (LEC)

PSG Talon (PCS)

fastPay Wildcats (TCL)

paiN Gaming (CBLOL)
Group C
DWG KIA (LCK)

Cloud9 (LCS)

DetonatioN FocusMe (LJL)

Gillette Infinity (LLA)
Each of these groups will play a best-of-one, double round robin. The top two teams from each group will then advance to Stage 2 of the competition, the Rumble stage. The six remaining teams will play another best-of-one, double round robin, with the top four advancing to the playoff bracket, or the Knockout stage.
In the playoffs, teams will play a single elimination, best-of-five bracket, consisting of the semi-finals and grand final.
Prize updates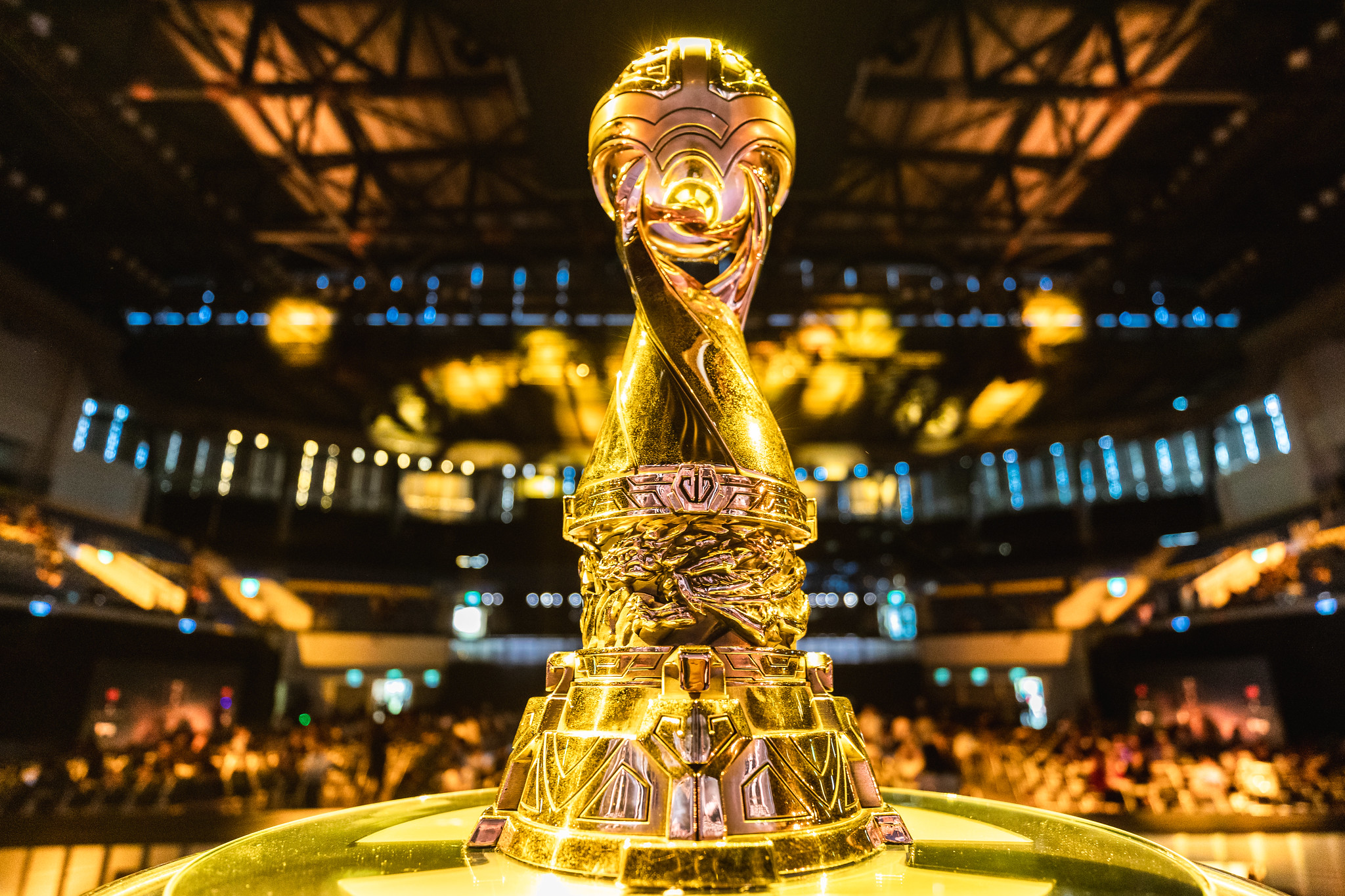 This year, the MSI champion's league will receive an additional regional team spot at the upcoming 2021 World Championship, the most prestigious LoL Esports event of the year.
At the end of MSI, the final global power rankings for 2021 will also be calculated. The highest ranking league will get an additional slot as well, unless that region also won MSI. If that happens, the slot will be passed down to the second highest ranking league in the power rankings.
Finally, teams will duke it out for a starting prize pool of US$250,000, on top of profits obtained from the sale of skins and accessories of each team. At MSI 2019, the prize pool reached US$1,000,000.
Who to look out for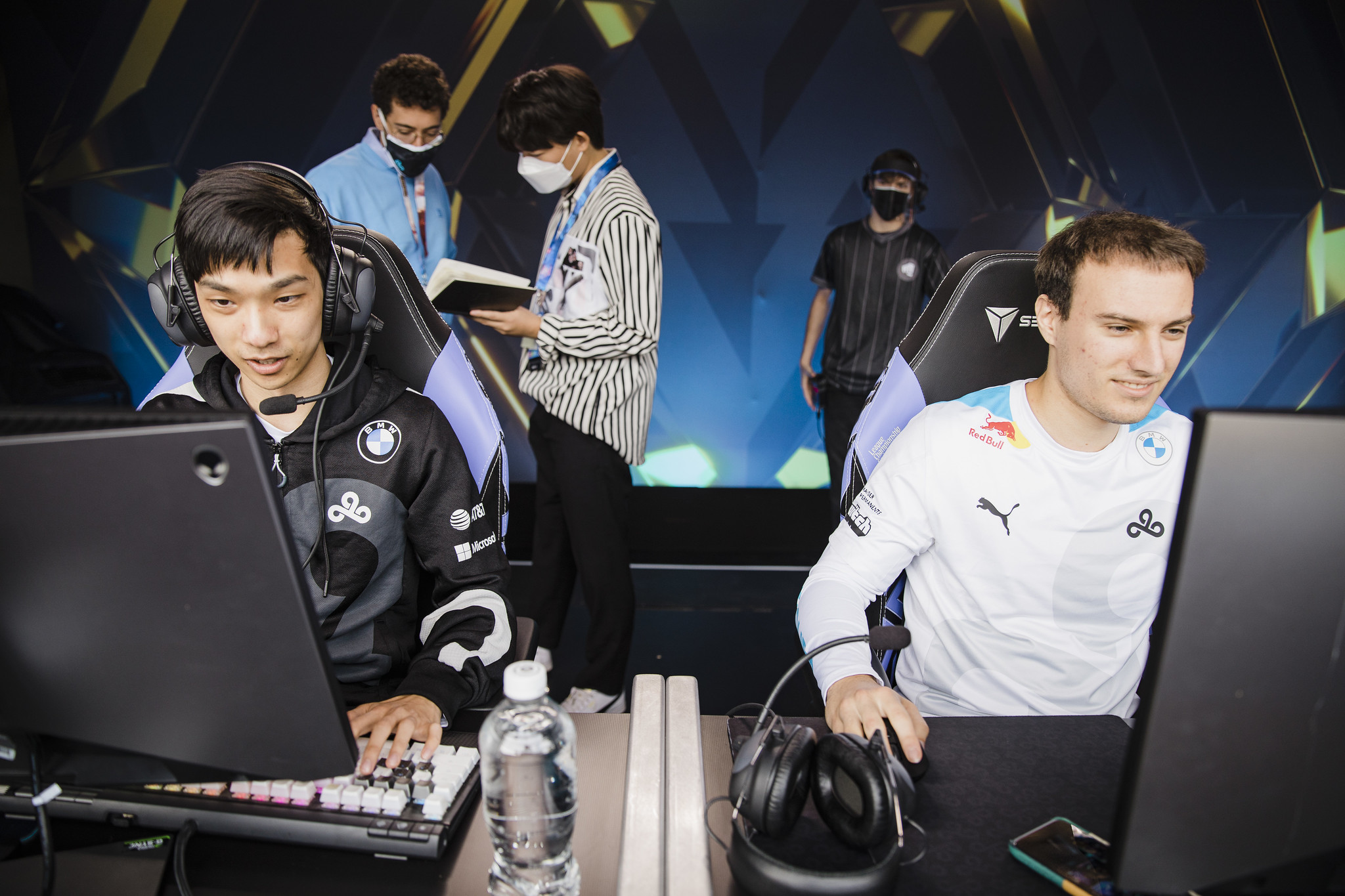 MSI 2021 marks the first time in a long while that the world's best League of Legends teams will get to play each other on LAN. As the reigning champions of Worlds 2020 and the LCK, all eyes are on DWG KIA to take home yet another title. But strong contenders from the LPL, LEC and LCS are primed to give them a run for their money.
As the champions of the LPL, one of the strongest regions in competitive League of Legends, expectations are high for Royal Never Give Up, particularly with a star player like top laner Li "Xiaohu" Yuan-Hao.
You'll want to keep an eye out for LEC champions MAD Lions as well, after their surprisingly dominant performances during the Spring Split.
Finally, there's LCS winner Cloud9, who now boast LEC champion Perkz on their roster. Cloud9's impressive performance during the Spring Split leaves no doubt that they are the best in North America, and now they'll need to show the same flair on the world stage.
Secretlab is proud to be the choice of gaming seats for the 2021 Mid-Season Invitational.