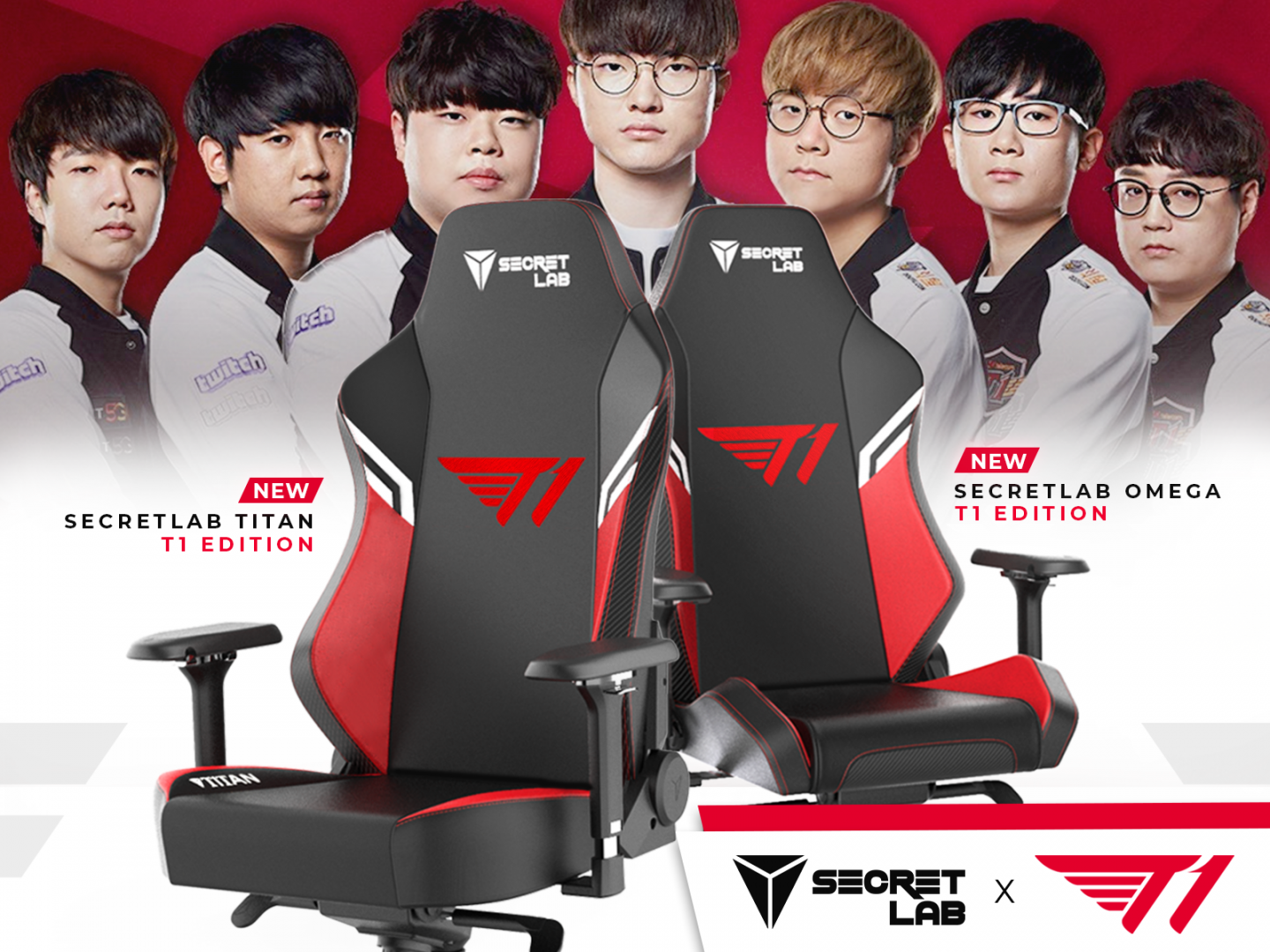 OCTOBER 25, 2019—Secretlab, the global partner for League of Legends' (LoL) tournaments, further commits its support for the LoL scene today with its announced partnership with world-renowned esports organisation, T1 Entertainment & Sports (T1). Secretlab will be the official chair sponsor across all of T1's competing categories, including the ultra-successful T1 League of Legends Champions Korea (LCK) team, Dota 2, PUBG, Fortnite, Hearthstone and Apex Legends.
Secretlab and T1 have created the Secretlab T1 Edition gaming chair, designed to celebrate T1's history of success and future accomplishments. The dominant colorway of black and red pays homage to T1's roaring success over the years, while the chair's backrest is also intricately embroidered with T1's new logo that symbolizes the furthering of its rich legacy.

The Secretlab T1 Edition gaming chair will also be used by the team's professional players to practice and compete in unparalleled comfort, allowing each player to precisely adjust to suit individual sitting preferences and needs. The Secretlab T1 Edition will be based off Secretlab's award-winning Secretlab Classics* gaming seats, and will be available in the TITAN 2020 and OMEGA 2020 models.
*Secretlab Classics is the official collection of our 2020 award-winning gaming chairs, which includes the Secretlab OMEGA 2020, the Secretlab TITAN 2020 and TITAN XL 2020, and all their Special Edition (SE) variants.
The Secretlab T1 Edition gaming chair will be released for sale at a later date.
The T1 LoL team is one of the most decorated teams in esports and is amongst the most successful teams in esports history.  The team has won three World Championships (2013, 2015, 2016), as well as five other major titles, including the 2016 and 2017 LoL Mid-Season Invitationals. More recently, the team won their eighth League of Legends Champions Korea (LCK) Championship, and qualified for LoL World Championship Quarter Finals.  
Ian Alexander Ang, CEO and co-founder of Secretlab, said: "T1's unparalleled success stems from their desire and hunger to be the best. Their unyielding determination to succeed has seen them turn around a difficult year and clinch the LCK 2019 Summer Split—and now playing for a world-record 4th Worlds title. As an organization and down to each individual player, T1 only demands for the best. That's why they approached us to provide their players with our award-winning gaming seats to enable them to continue and further the T1 legacy. We're proud to keep their top-level players seated in utmost comfort and game in peak performance during trainings and throughout their games at Worlds."
"Secretlab is the perfect gaming chair partner for T1," said Joe Marsh, CEO of T1. "The quality of their product is unparalleled and provides the best experience for our teams.  We want to ensure our players are comfortable and equipped with the proper tools for optimal performance at all times, which is why we train with Secretlab gaming chairs and chose them for this year's Mid-Season Invitational and Worlds."
T1 joins Secretlab's roster of top, winning esports teams such as Astralis, Cloud9 and Team Secret. Secretlab is also the gaming seat of choice for premier esports tournaments such as the League of Legends' World Championships, Valve and Dota 2's The International, as well as the recently-concluded StarLadder Major Berlin 2019, one of Valve's only two official Counter-Strike: Global Offensive Major tournaments for 2019.
Lagardère Sports, which is the exclusive commercial agent for T1, facilitated the gaming chair partnership with Secretlab.
About Secretlab
Secretlab was established in 2014 to create the pinnacle of gaming seats—each extensively designed and engineered with only materials of the highest grade to ensure absolute comfort and unparalleled support. Today, Secretlab is the global choice of gaming seats for the world's most premier gaming tournaments, top esports professionals and teams, and over 250,000 satisfied users from more than 50 countries worldwide, alongside rave reviews from international media publications. And we're only getting started.
To learn more about us, visit https://secretlab.co, or follow Secretlab on our Facebook, Twitter (@secretlabchairs), and Instagram (@Secretlab) pages.
About T1 Entertainment & Sports
T1 Entertainment & Sports is a global esports joint venture that owns and operates the ultra-successful T1 League of Legends (LoL) Champions Korea (LCK) team, along with teams in competitive gaming segments that include Fortnite, Dota 2, PUBG, Super Smash Bros., Hearthstone and Apex Legends.  The T1 LoL LCK team, previously known as SK Telecom T1, has won three LoL World Championships (2013, 2015, 2016).  T1 unites esports enthusiasts around the world through its gaming culture and lifestyle, content creation, entertainment and merchandise.  SK Telecom and Comcast Spectacor launched T1 in October 2019 and have global operations based in Seoul, Philadelphia, and Los Angeles.  For more information on T1, please visit T1.gg.