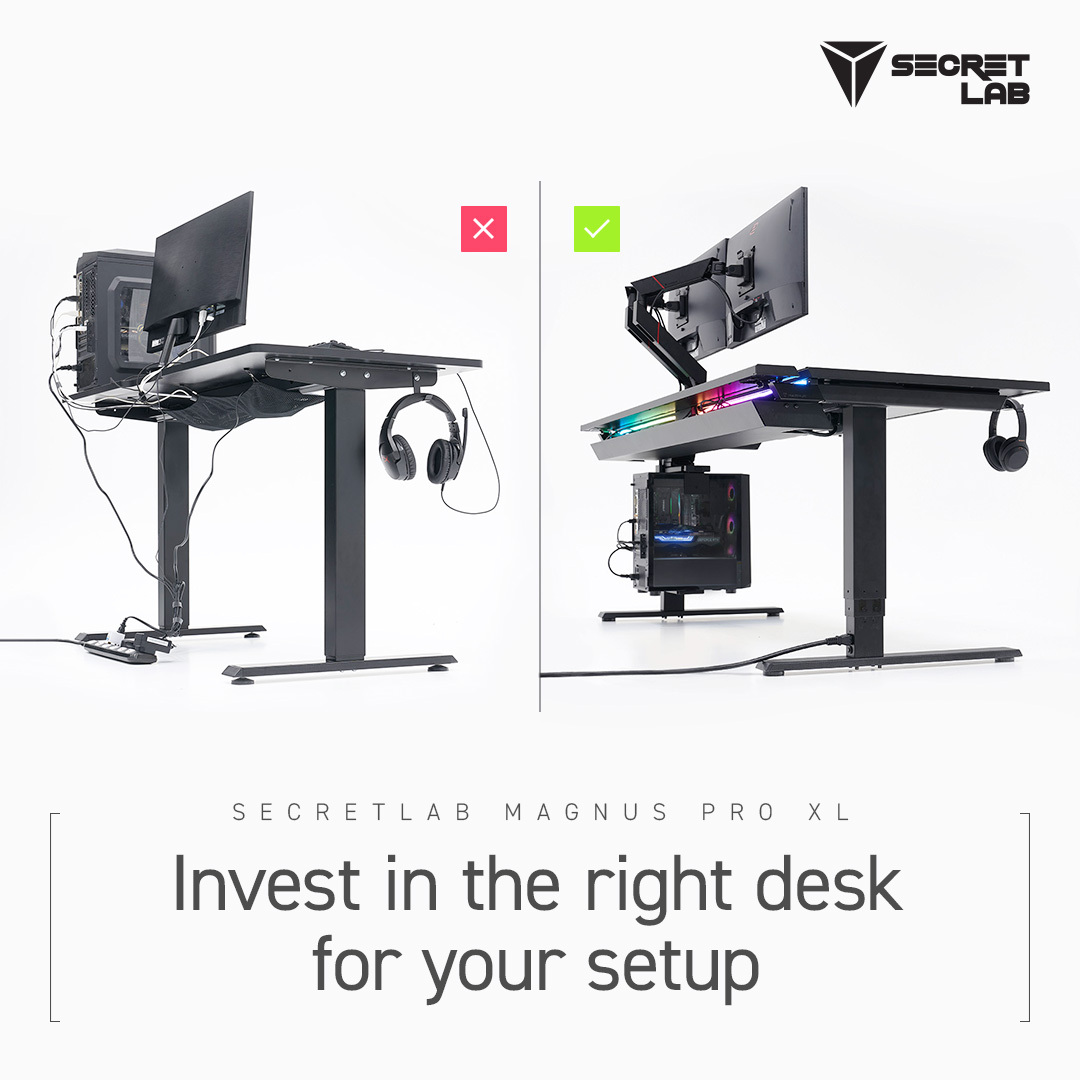 Investing in the right desk for your workspace can instantly elevate your productivity and motivation. Combining precise height adjustability on demand with intuitive cable management, personalization made simple, and more space than you ever thought possible, the Secretlab MAGNUS Pro XL was designed to truly be a worthwhile investment for the long-term.
You don't have to take our word for it — but hear us out.
Especially in the last couple of years, sit to stand desks have seen a rise in popularity, fast becoming a staple consideration for every workspace or home office. However, we realized that most sit stand desks in the market don't offer much in the way of interchangeability and cable management — or much at all. In order to bring innovation and incredible functionality to the literal table, we've had to reimagine what sit to stand solutions can do to create the ultimate desk for anyone demanding an excellent experience.
Similar-sized sit stand desks in the market cost around the same or more, particularly from the established high-end brands. Here's how MAGNUS Pro XL stacks up against the rest: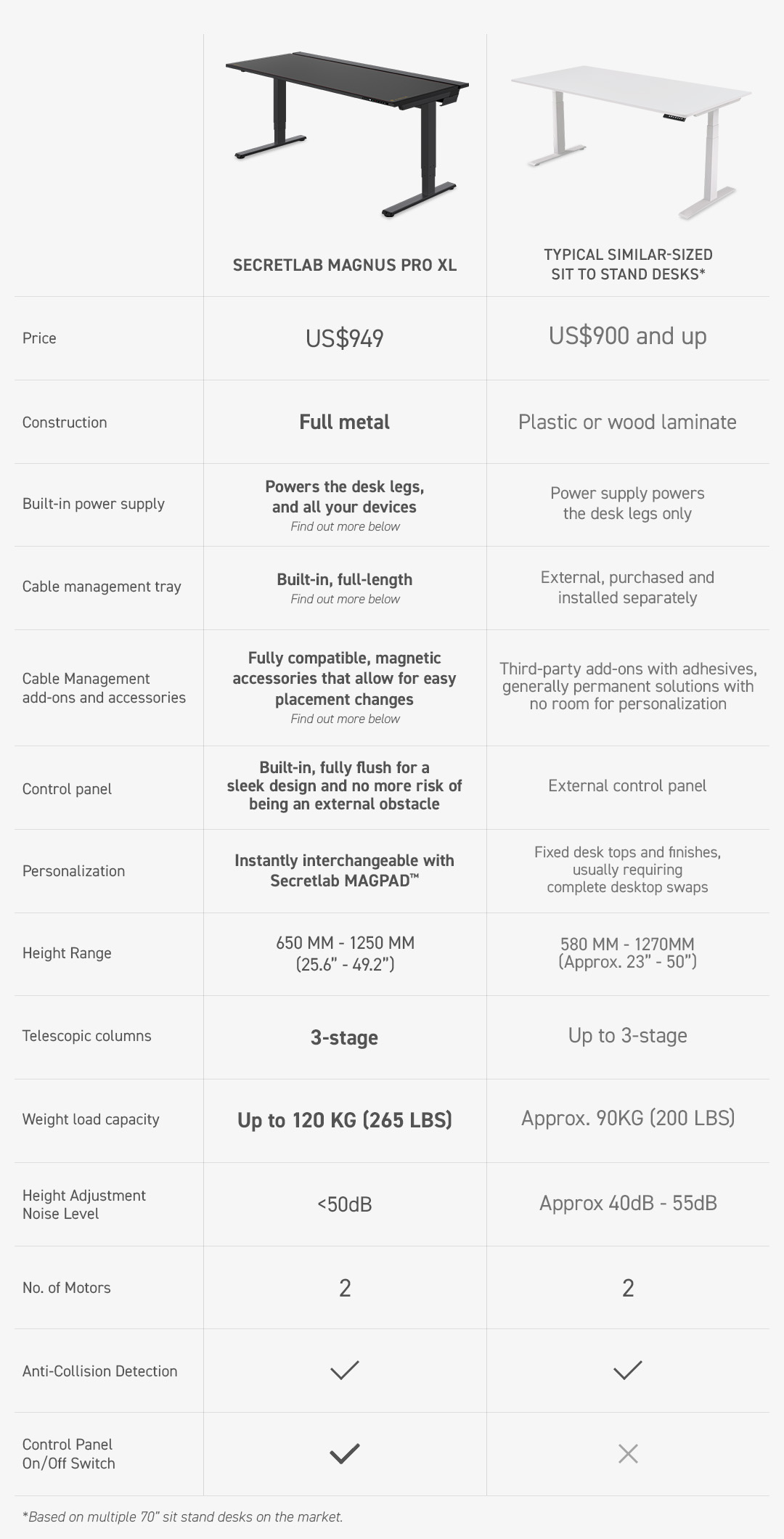 Here's how the Secretlab MAGNUS Pro XL stands out: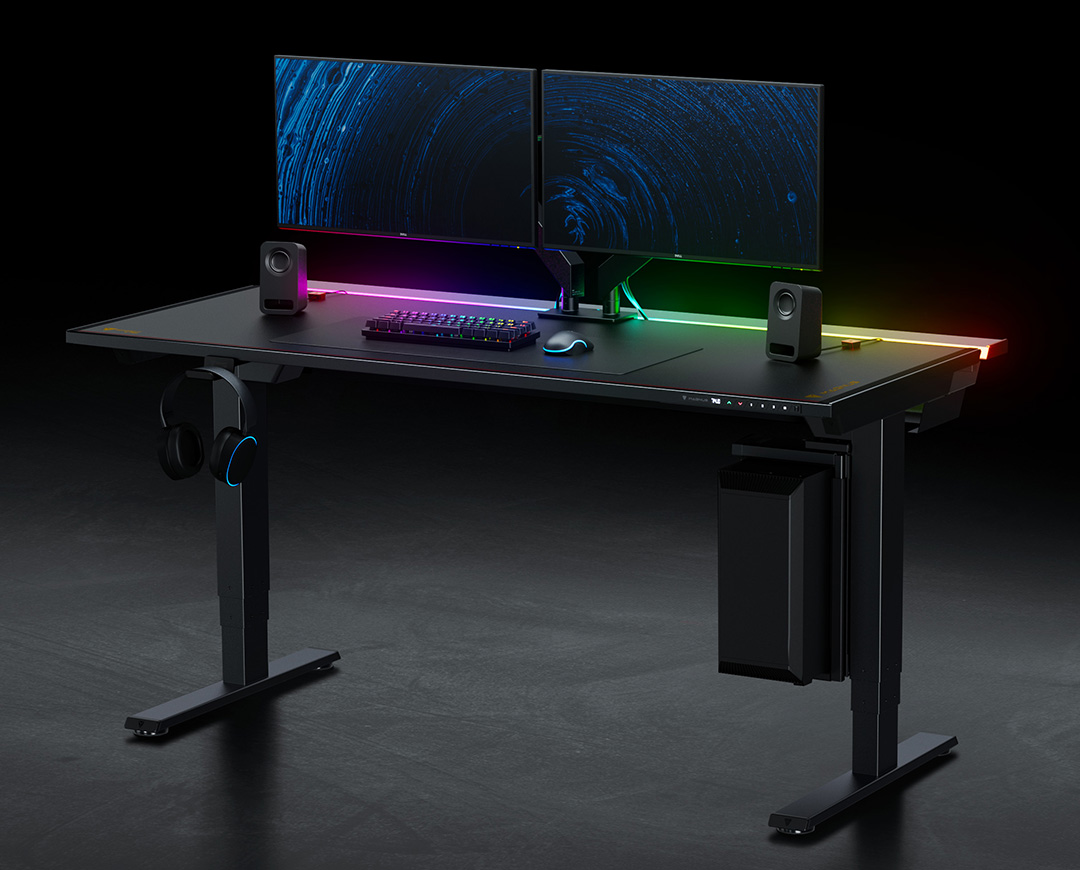 1. Better Than Your Average Sit-to-Stand Desk
Conventional sit stand desks all offer the same motorized legs for height adjustability. Ours goes further by eliminating cable clutter with the most elegant way to power the desk and your devices all at once — without any additional cables hanging slack off the desk, or moving with every change in height.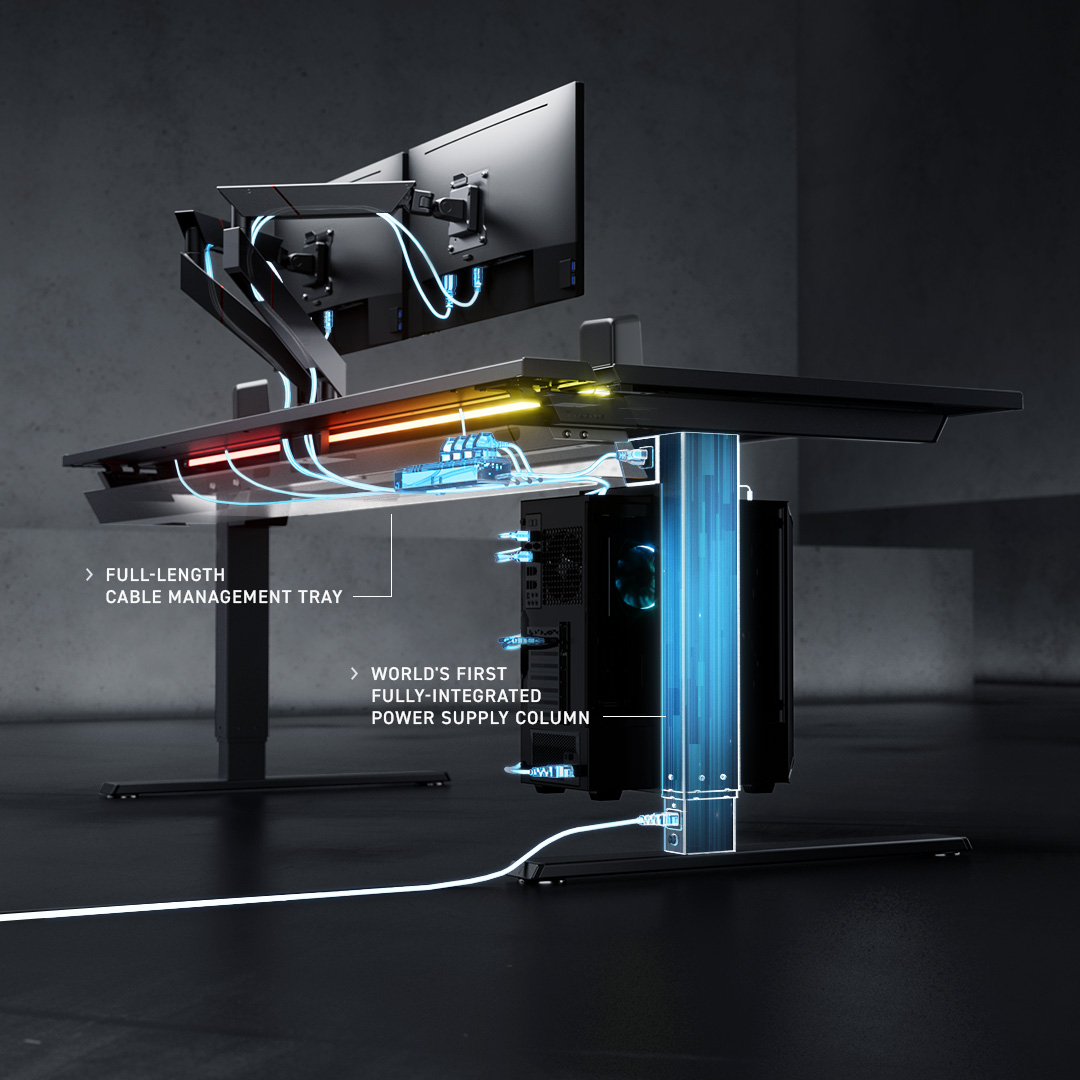 World's first fully-integrated power supply column
Our patent-pending power solution fully conceals a single cable within the desk leg, leading to a power socket built into the MAGNUS Pro XL itself. This lets you connect a power strip and power both the desk and your devices with just one cable.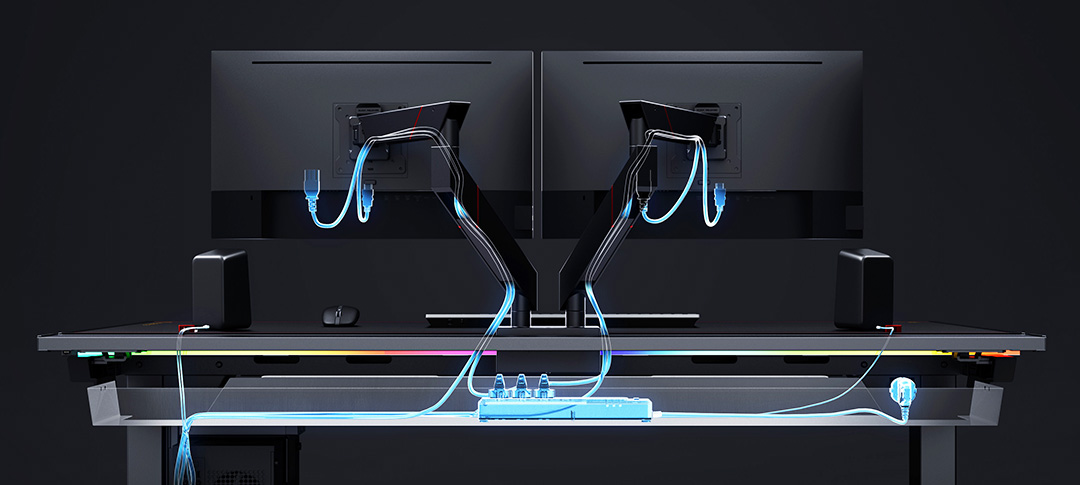 Full-length cable management tray
Built into the MAGNUS Pro XL and spanning the entire length of the desk, there is more than enough space for all your cables, power bricks and power strip. Most typical sit stand desks will require you to purchase separate external cable trays and these are rarely full-length, and usually only allow one particular spot to drop your cables into. By integrating the full-length cable management tray (valued at $99) into the MAGNUS Pro XL, you can organize and store your cables with ease.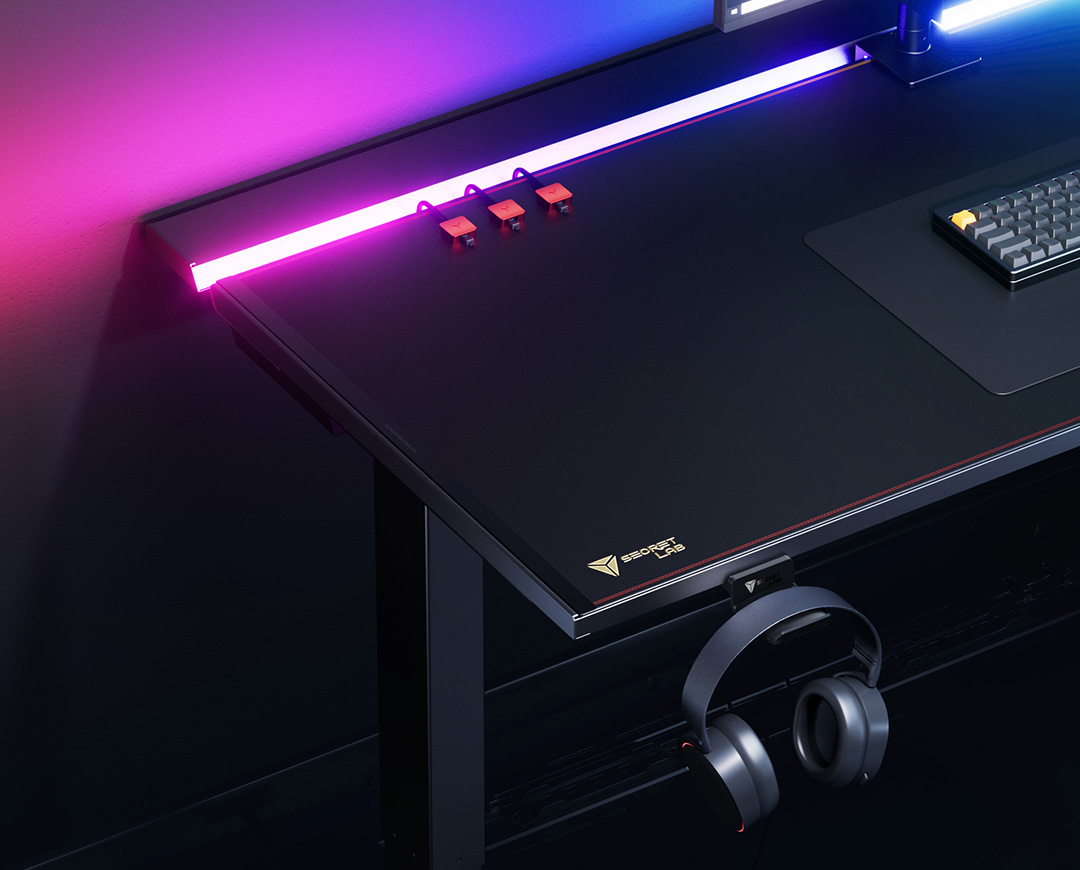 Magnetic cable management add-ons
Most typical sit stand desks require you to purchase your accessories from elsewhere, which makes finding the right fit a challenge. Our custom-engineered add-ons are exclusively designed for full compatibility with Secretlab MAGNUS desks, so you never have to worry about finding the perfect fit. Outfitted with strong magnets and seamless minimalist design, enjoy effortless organization without having to "screw" around with drill holes.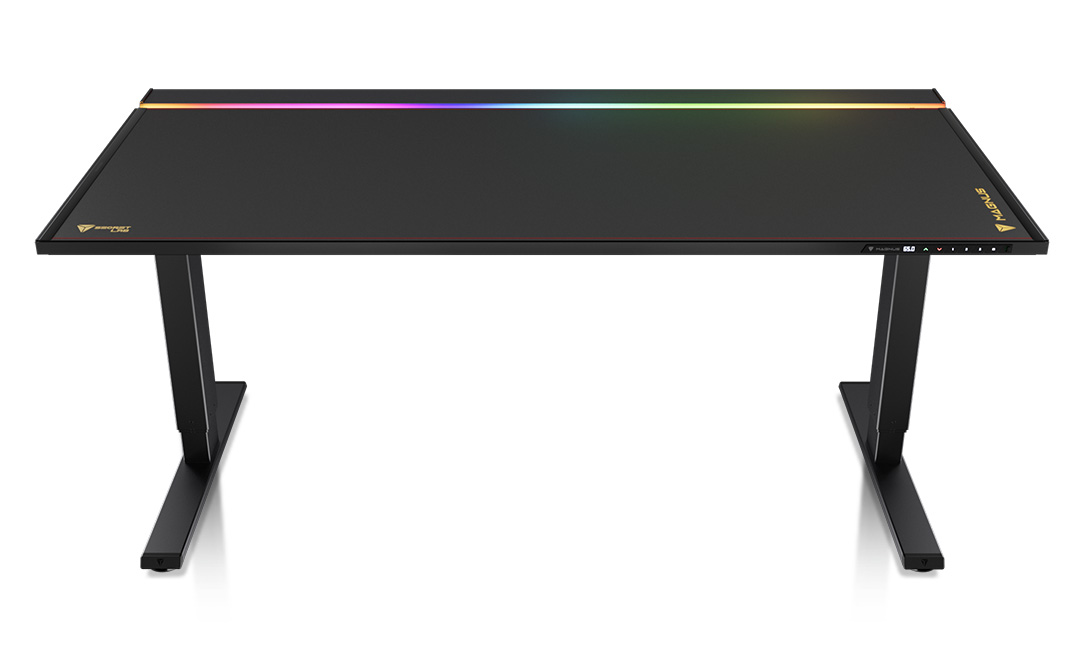 2. More Than Just A Flat Tabletop
At its core, Secretlab MAGNUS Pro XL combines incredible simplicity with unmatched levels of control, and more space than meets the eye. By making design decisions grounded in data and feedback drawn from testers and users, Secretlab went beyond creating a desk that does it all, by engineering simple solutions that make a real difference.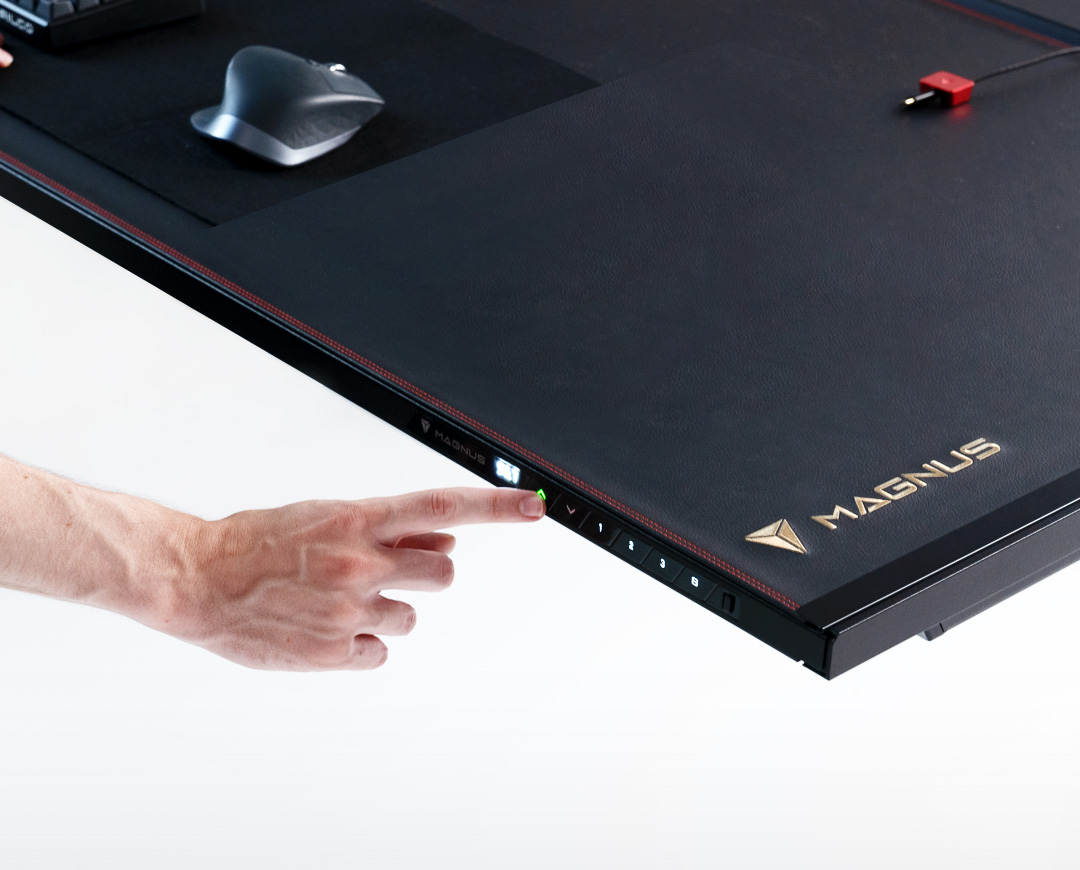 Built-in control panel. Illuminated by bright backlit LEDs, the control panel has been integrated right into the edge of the MAGNUS Pro XL for a cleaner, more seamless look. This also means you can freely glide around your desk without accidentally bumping into any obstacles, or having the control panel get in the way of your chair's armrests.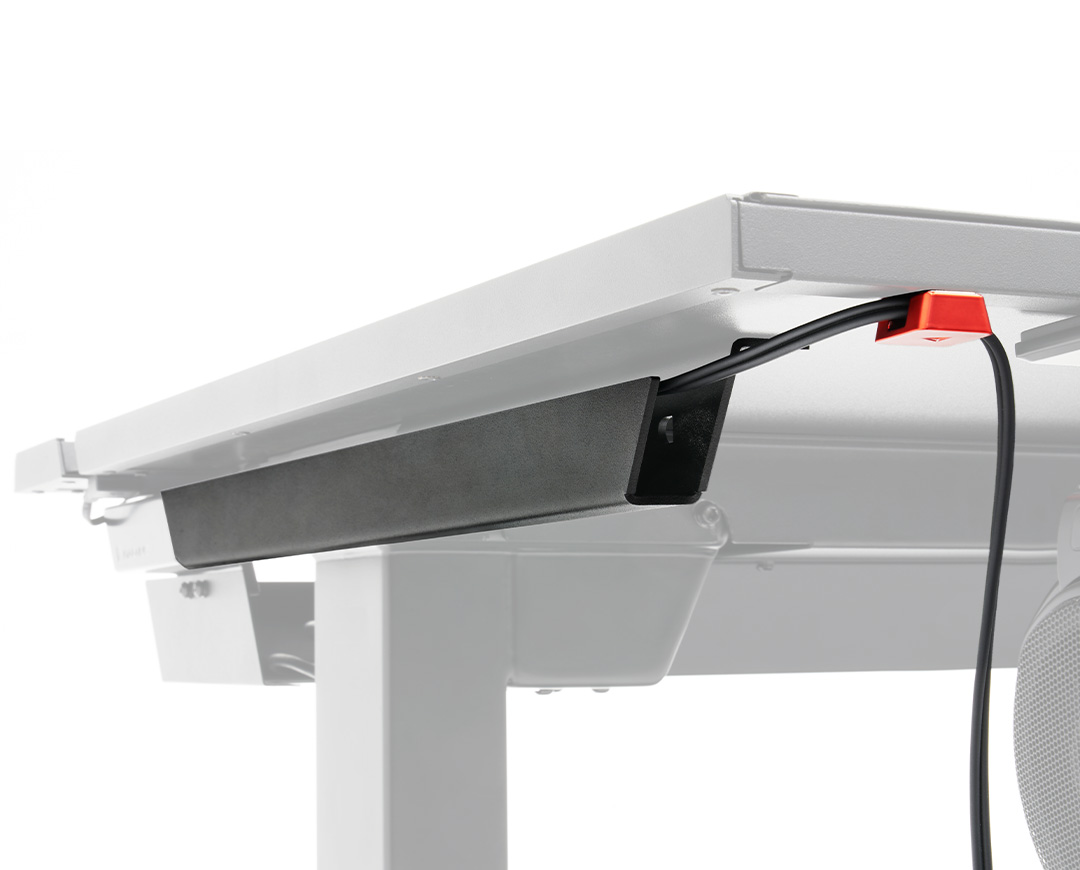 Side routing channels. With the MAGNUS Pro XL, you also get built-in cable routing channels on either side of the desks. Simply run your wires through our custom-fabricated magnetic cable anchors and cable routing solutions, and only have what you need visible and at easy reach. Keeping your work area clutter-free is now an actual breeze, with plentiful more space on your desktop.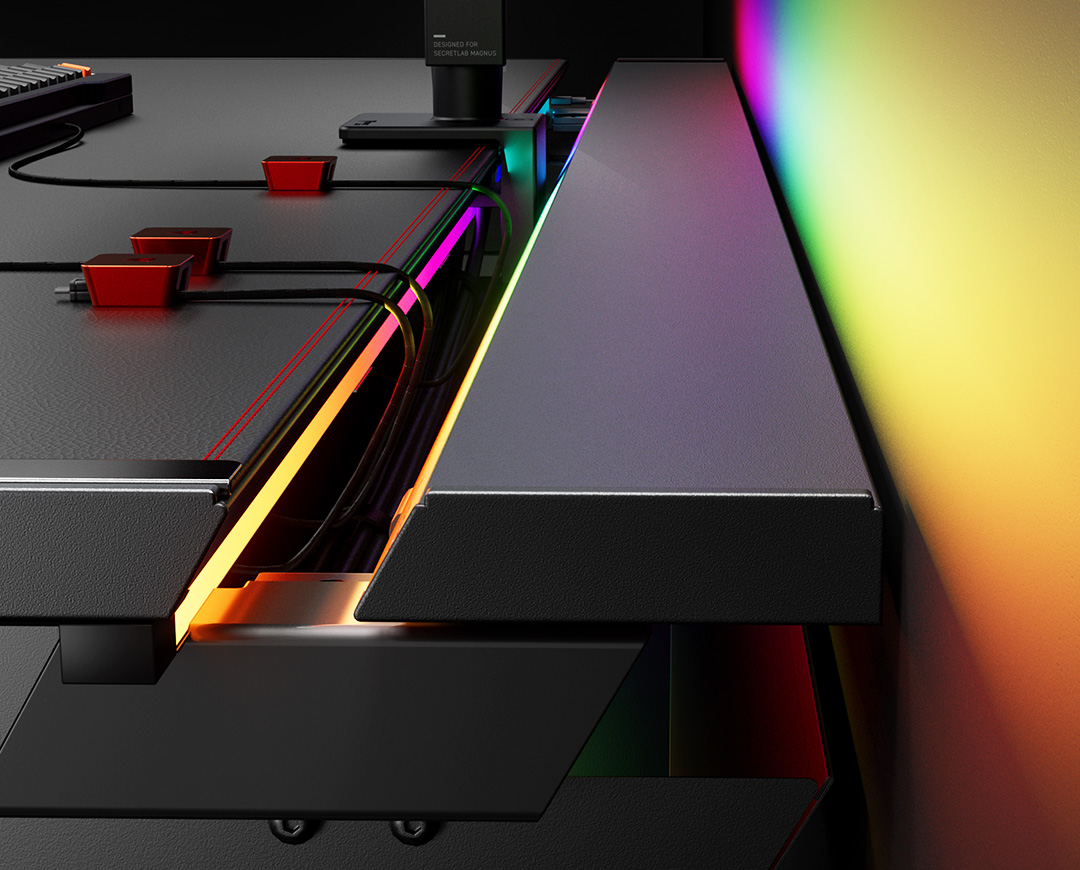 Offset gap. Don't settle for loose cables hanging off the back of your desk. The offset gap in front of the rear hinged cover lets you drop your cables into the full-length cable management tray, or even clamp the new Secretlab Single or Dual Monitor Arms. The hinge on the easy-access flip cover slides forward when open, so you never have to worry about the wall getting in the way.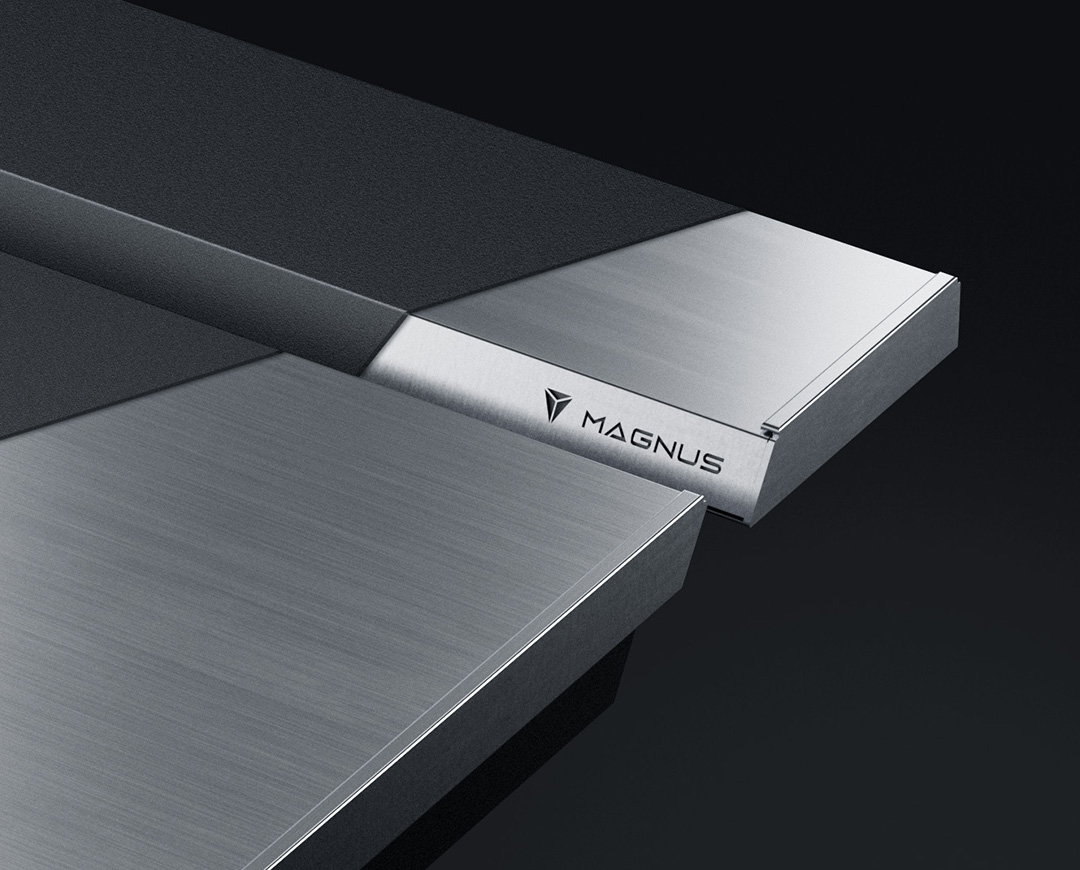 3. Engineered To Go Above And Beyond
Never settling for anything less than best-in-class, Secretlab MAGNUS Pro XL delivers an elevated experience to power users who are looking to push the limits of their performance and productivity. Whether it's aesthetics, materials used, near-excessive testing for durability or safety standards, the MAGNUS Pro XL does it better and takes your setup to a new level.
Magnetically attachable RGB lighting strip. More often than not, setting up your RGB lighting means having to painstakingly attach the LED strip to the back of your desk using adhesive tape. Now you can easily plug your MAGNUS Pro XL into Nanoleaf's expansive smart lighting ecosystem with the Secretlab MAGRGB™ Diffused LED Strip (Smart Lighting Edition). Just magnetically snap the LED Strip onto the underside of your MAGNUS Pro XL and you're good to go.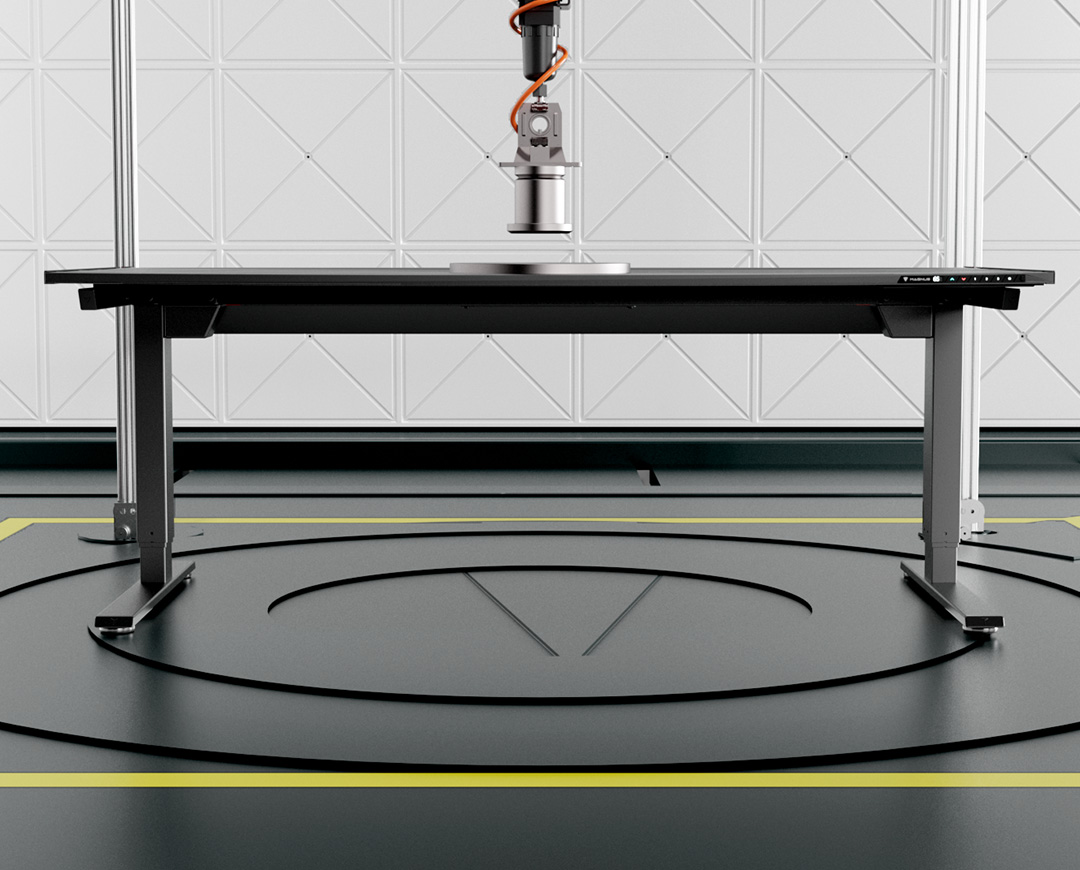 Quality beyond the surface. Tested to 4x industry standards. Every MAGNUS Pro XL desk is crafted with the highest quality metal alloys and tested beyond the limits, achieving up to 4X the required international standards for load tests. World-class metal alloy chassis construction and special powder-coated finish on the outer surface allows for enhanced durability against daily usage marks.
Shop Secretlab MAGNUS Pro XL.