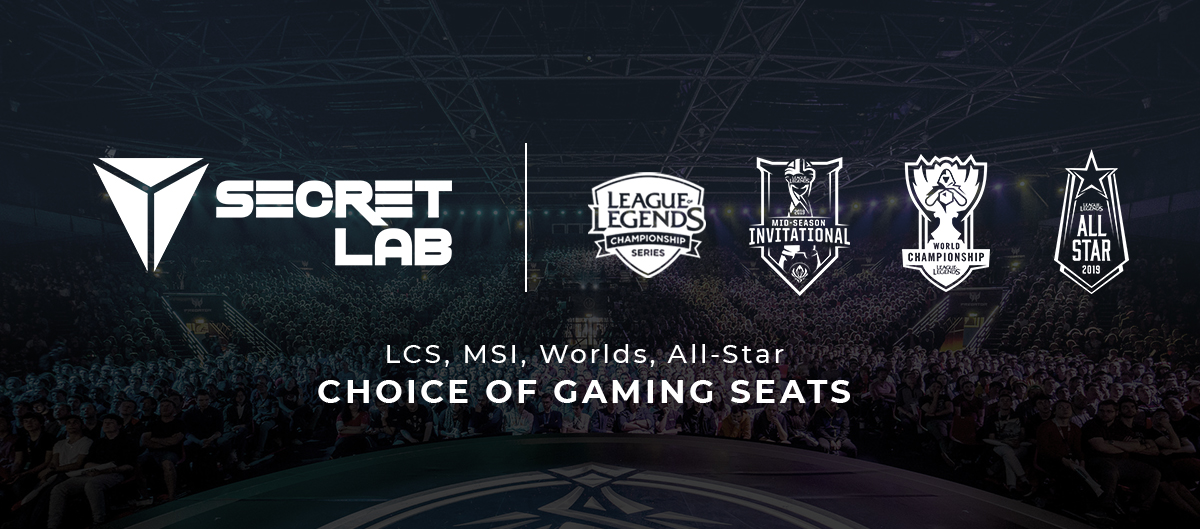 Secretlab, international gaming seat specialist, today announced a multi-year global partnership with Riot Games—the developer, publisher, and league operator behind the world's most-played game and most-viewed esports title, League of Legends.
Secretlab will become the choice of gaming seats for the League of Legends Championship Series (LCS) in North America and the three premier global events: The Mid-Season Invitational, the All-Star Event, and the pinnacle of the League of Legends' competitive calendar, the World Championship, which in 2018 broke all esports viewership records with 99.6 million fans tuning in to watch the World Finals.
The LCS, which will be the first in the series of the events, will be returning for its seventh year of competition on January 26.
Secretlab joins League of Legends Esports' other global sponsors Mastercard and Alienware, both of whom had recently announced their partnership with Riot Games.
"The best League of Legends athletes require the best equipment. Secretlab's award-winning chairs offer seating that's optimized for peak performance and comfort, making Secretlab the obvious choice for top League of Legends players competing for the highest stakes."
—Naz Aletaha, Head of Global Esports Partnerships at Riot Games.
Secretlab will also be the first global partner to sell the official chairs of LCS and League of Legends global esports events. Fans can also look forward to upgrading their seating experience with the Secretlab League of Legends Esports tournament-edition chairs. The same gaming seats used by professional players at the premier League of Legends tournaments will be available for purchase throughout the season.  
Said Ian Alexander Ang, co-founder and CEO of Secretlab: "Partnering with the world's most premier esport to provide seating for their global tournaments is exactly what we set up Secretlab to do—creating the ultimate seating experience for gamers through the highest-caliber engineering and using materials of the highest grade. We are incredibly proud to provide our ultra-comfortable chairs to support the standards required by the most skilled League of Legends professional players in the world for 2019 and beyond."
About Secretlab
Secretlab was established in 2014 to create the pinnacle of gaming seats—each extensively designed and engineered with only materials of the highest grade to ensure absolute comfort and unparalleled support. Today, over 100,000 satisfied users have upgraded their seating experiences in more than 50 countries worldwide, alongside rave reviews from international media publications. And we're only getting started.
To learn more about us and our award-winning chairs, visit www.secretlab.co, or follow us on Facebook, Twitter (@secretlabchairs), and Instagram (@Secretlab).
About League of Legends Esports
League of Legends is a premier global sport with 13 professional esports leagues, over 100 professional teams, and over 850 salaried athletes worldwide, overseen and operated by Riot Games. League of Legends esports games are broadcast live to millions of fans in 18 different languages across the globe, with viewership of the regular season averaging 90 million hours-watched live, week-over-week worldwide.
The League of Legends World Championship tournament consistently reaches new viewership milestones each year, easily rivaling those of major traditional sporting event finals. The 2018 World Championship Finals broke all esports viewership records with 99.6 million unique viewers, peaking at an unbelievable 44 million concurrent viewers, and garnering an average minute audience of 19.6 million.
The League of Legends Championship Series (LCS) is the professional League of Legends esports league in North America. NA LCS is overseen and operated by Riot Games under the leadership of Chris "Chopper" Hopper, Head of Esports for North America.