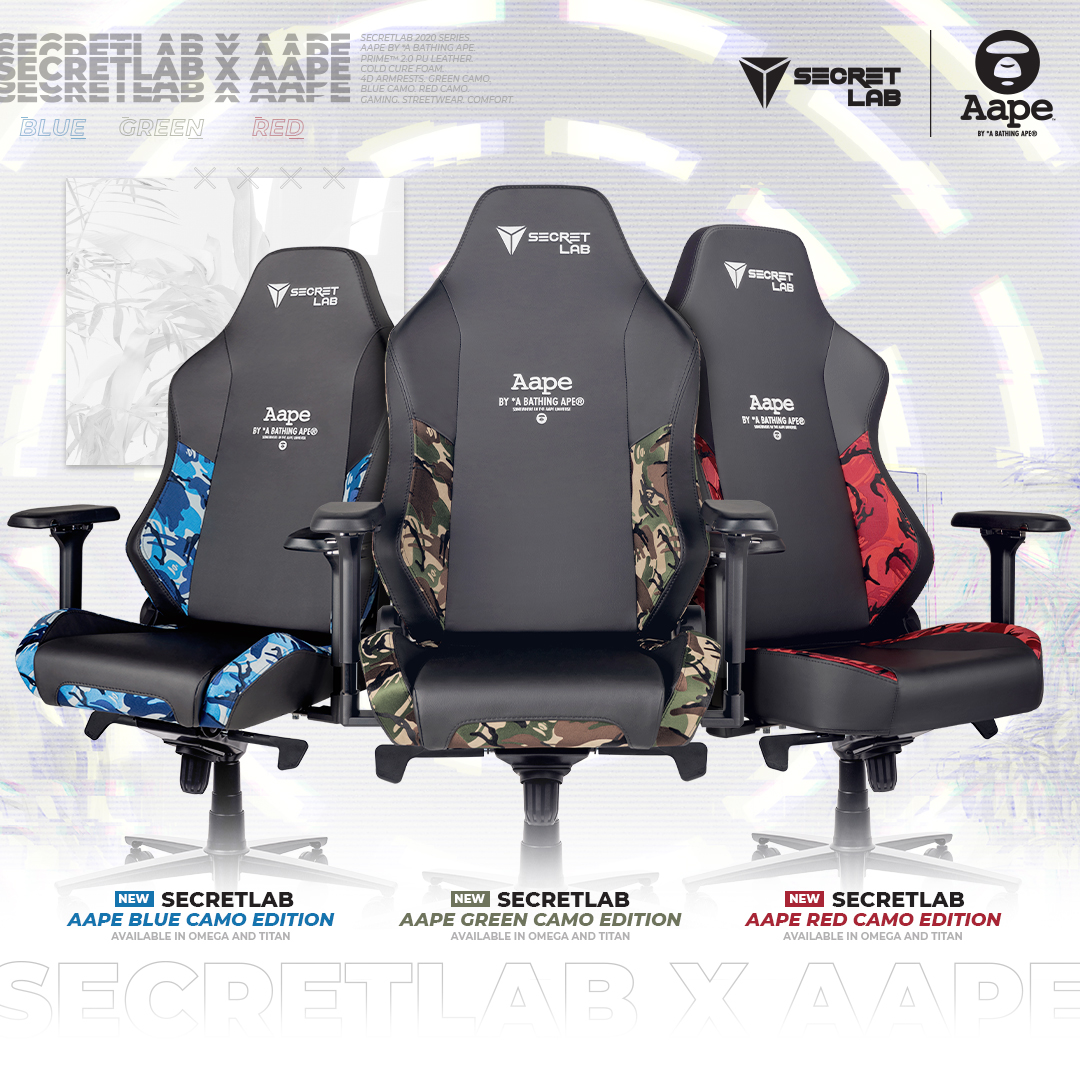 The capsule collection is the first ever gaming chair in the streetwear space, capturing the design and aesthetics of streetwear icon AAPE with intricately embroidered panels in AAPE's signature camo print.
MARCH 22, 2021 — Two industry leaders come together as Secretlab collaborates with AAPE BY *A BATHING APE®, the youthful diffusion line of cult Japanese streetwear label BAPE, on a limited edition designer gaming chair collection. The Secretlab AAPE Collection brings together form, function, fashion and design, anchoring the AAPE label in pride of place at the setup of gamers and transforming it into a statement piece for modern gamers with a taste for street fashion.
Very limited quantities of each colorway will be offered through two separate drops, and only a lucky few will manage to get their hands on one of these exclusive collector's items. Customers who extend the warranty on their Secretlab AAPE Edition chair will also receive a limited edition Secretlab x AAPE lanyard and keychain, featuring a short strap with AAPE's Moonface logo printed in white on a black base. It is only obtainable through the Secretlab AAPE Collection.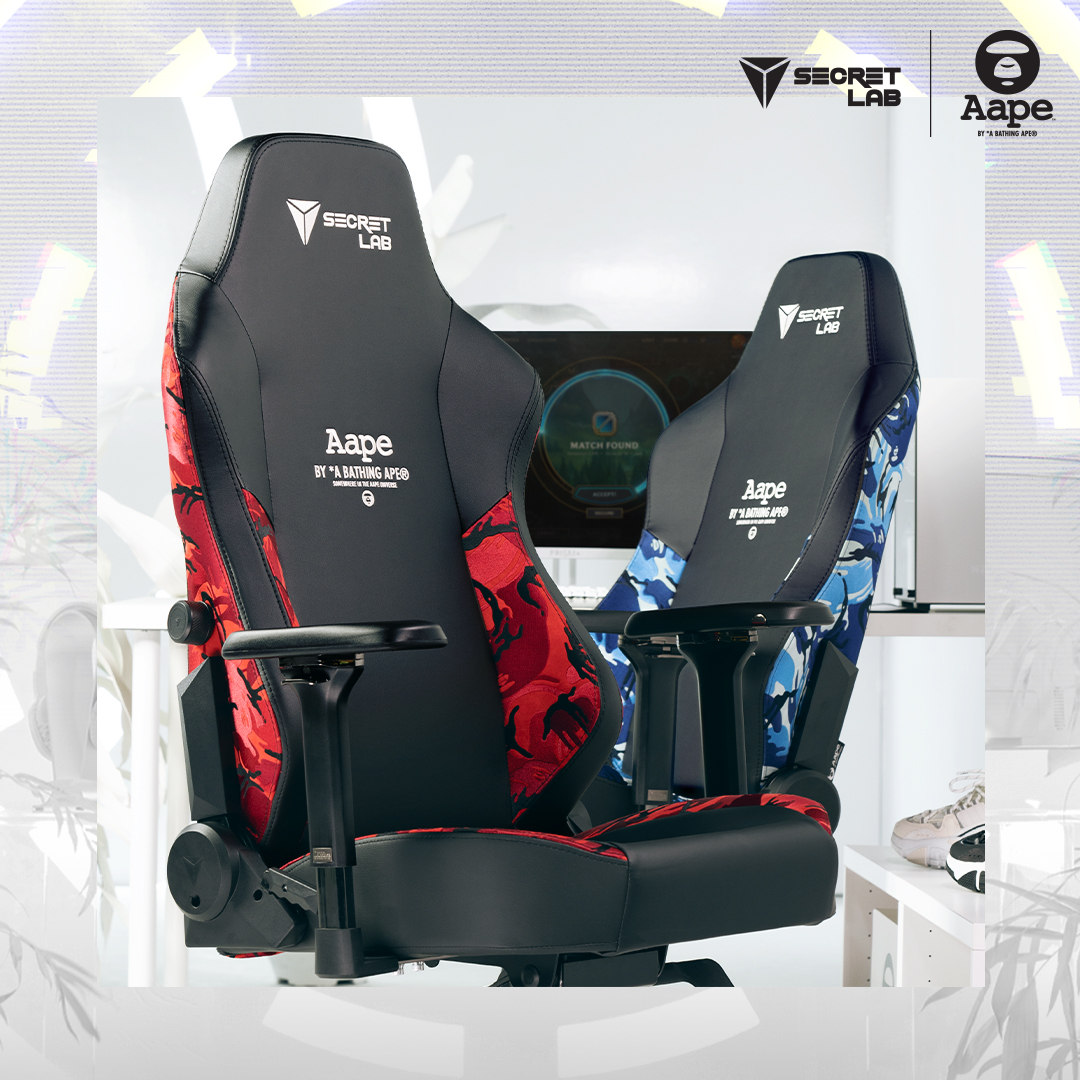 Secretlab and AAPE designers worked closely together to meld elements of streetwear, fashion and gaming, combining Secretlab's extensive experience in high-performance technical leathers with AAPE's signature camo prints and Moonface logo.
Instantly recognizable to AAPE veterans and streetwear aficionados, the chairs feature the AAPE branding emblazoned on the rear in monospaced typeface detailing and are embellished with the label's iconic hyper-flat and oversized camo prints in military green, blue, and red, rendered in intricate embroidery on the side panels.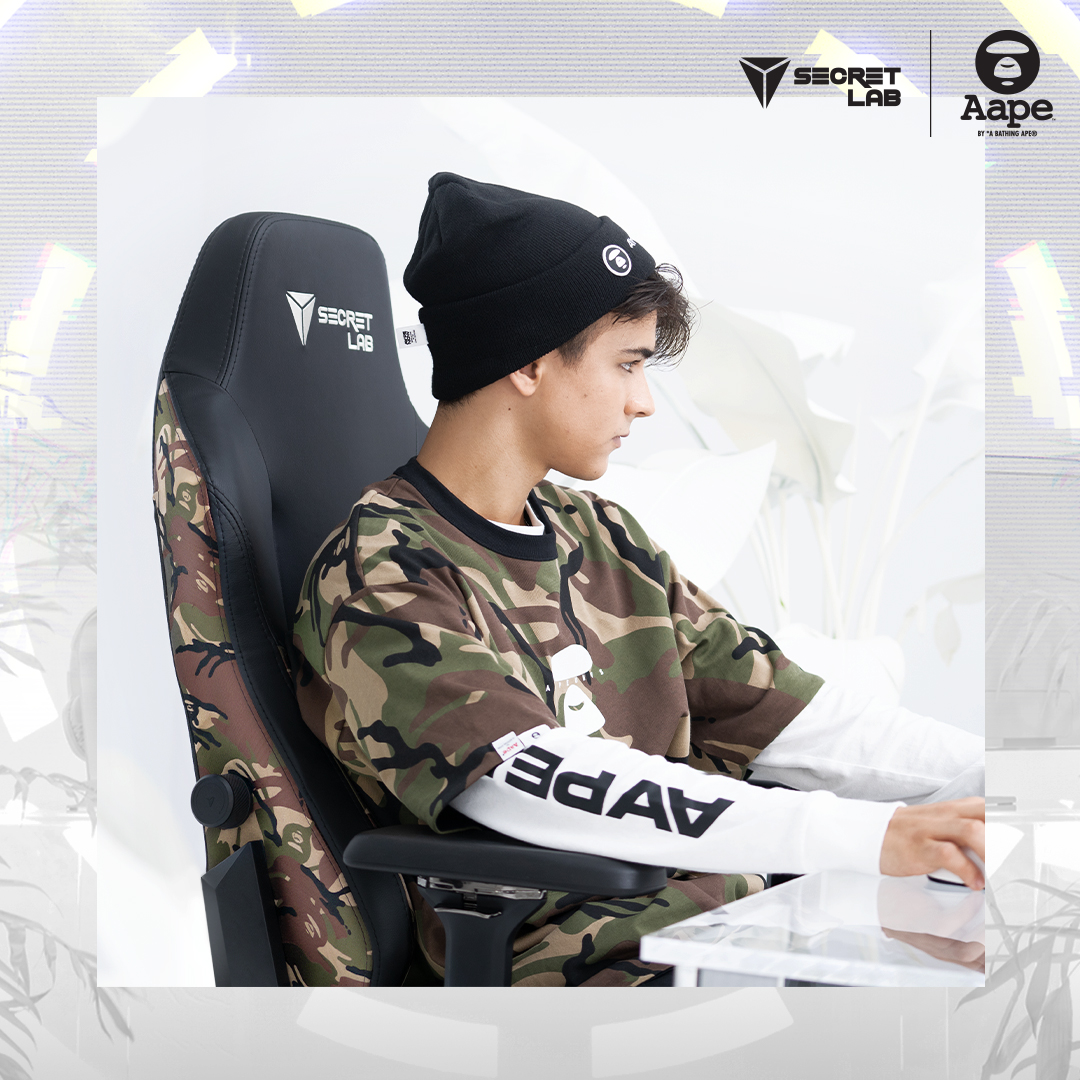 The collection defines a new genre within the world of streetwear, marrying the uncompromising functionality that gamers love with the contemporary design sensibility of a beloved Japanese streetwear pioneer. It pushes the limits of the traditional gaming chair, elevating it into a one-of-a-kind streetwear icon that will appeal to the high-fashion crowd.
Upholstered in the new and improved Secretlab Classics* PRIME™ 2.0 PU leather and outfitted with all the features of the award-winning Secretlab Classics*, the Secretlab AAPE Collection serves up the same incredible comfort and craftsmanship that has made Secretlab the choice of the world's biggest esports tournaments, teams, and brands. 
*Secretlab Classics is the official collection of our 2020 award-winning gaming chairs, which includes the Secretlab OMEGA 2020, the Secretlab TITAN 2020 and TITAN XL 2020, and all their Special Edition (SE) variants.
Said Ian Alexander Ang, co-founder and CEO of Secretlab: 
"At Secretlab, we're constantly looking to redefine what a gaming chair can be. Gaming chairs are relatively unexplored in the fashion scene — I've always found this odd, especially when gamers devote so much time to getting their setups to look perfect. The Secretlab AAPE Collection paves the way for streetwear brands looking to forge a connection with a new generation of fashion-savvy gamers, but more importantly, it turns the gaming chair into a fashion piece that speaks volumes about their owner's personal style." 
Said an AAPE representative: 
"Secretlab is the world leader in high-performance gaming seats, and we're thrilled to collaborate with them to bring to life our designs and aesthetic in their chairs. From the stitching and embroidery to the color-matching of the camo prints, no detail was overlooked in this partnership — fans will be able to showcase their appreciation for both gaming and AAPE in comfort. We can't wait for them to get their hands on these limited edition seats!"  
About Secretlab
Secretlab was established in 2014 to create the pinnacle of gaming seats — each designed and engineered using the highest quality materials and manufacturing techniques to ensure absolute comfort and unparalleled support. Today, Secretlab is the undisputed world leader in gaming seats and the top choice of the world's premier gaming tournaments, top esports professionals and over 1,000,000 satisfied users from more than 60 countries worldwide, winning also rave reviews from international media publications and over 30 Editor's Choice and Best Hardware awards. And we're only getting started.
To learn more about us, visit www.secretlab.co, or follow Secretlab on our Facebook,
Twitter (@secretlabchairs), and Instagram (@Secretlab) pages.
About AAPE BY *A BATHING APE®
AAPE BY *A BATHING APE® was launched in 2012 as a brand new young and hip diffusion line under A BATHING APE®. AAPE targets the young menswear market. It aims to create a collection of simple, light and fashionable clothes for the new generation of fashionistas aged 15 – 25 years old. With comfortable cuttings, the clothes are for everyday wear. AAPE logo stems from A BATHING APE®'s classic ape Moonface Logo. The simple round face is like a younger version of the original ape logo. The sharp graphic design strikes a timeless memory at the first sight. AAPE's affordable price range is also a major selling point. However, the quality of the clothes is not sacrificed but maintains in sync with the mainline. It's bound to become a most sought-after brand for the young fashion-loving fans.
Follow Facebook (@AAPE.STORE) and Instagram (@aapestore), to learn more about AAPE BY *A BATHING APE®.