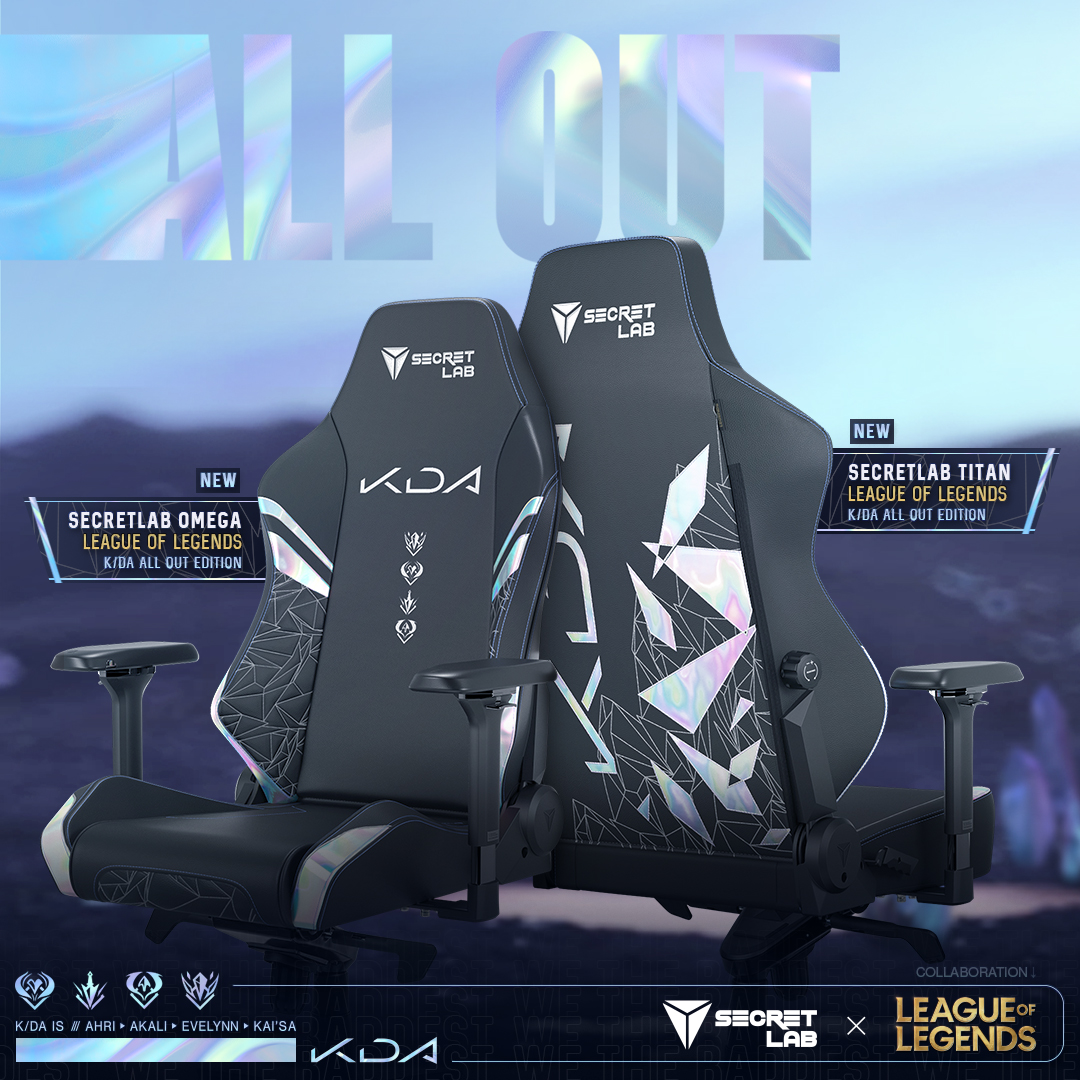 The latest addition to the League of Legends Champions Collection, the Secretlab K/DA ALL OUT Edition heralds the comeback and evolution of global pop sensation K/DA and their never-before-seen new look.
OCTOBER 30, 2020 — Secretlab, the world leader in high-performance gaming seats, and Riot Games today dropped the Secretlab League of Legends K/DA ALL OUT Edition, the latest designer addition to the groundbreaking League of Legends Champions Collection. It celebrates the hotly-anticipated comeback of virtual pop girl group K/DA after a 2-year hiatus, paying homage to a global phenomenon beloved and watched by hundreds of millions of fans worldwide.  
Bringing to life K/DA's grand new look, the Secretlab League of Legends K/DA ALL OUT Edition will allow gamers and fans to experience the group's stunning iridescent visual concept in person.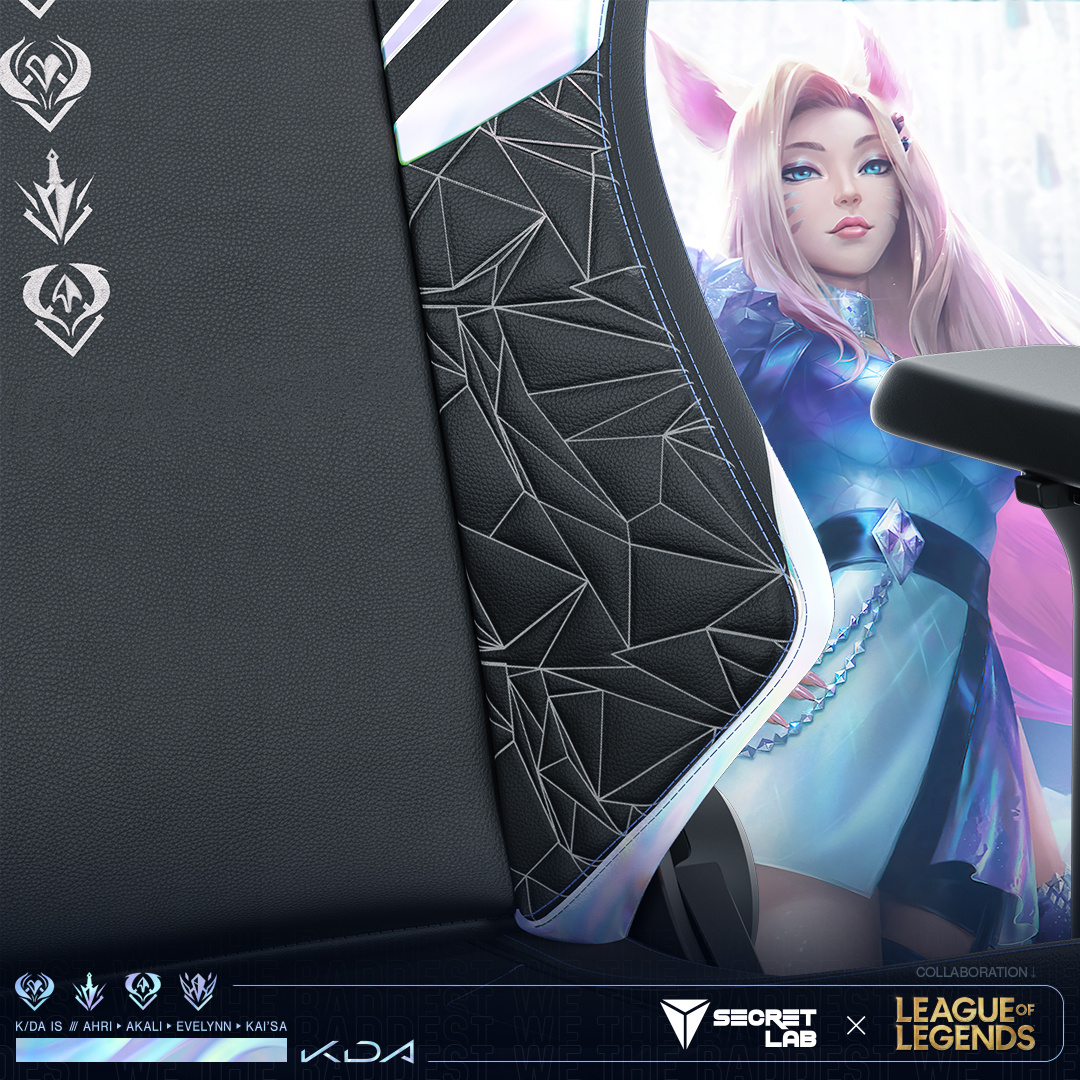 Upholstered in an all-new custom-made iridescent leatherette and intricately cut leather pieces inspired by fractal patterns, the chair is a never-before-seen work of art that will immediately become the statement piece of any setup.
The Secretlab League of Legends K/DA ALL OUT Edition joins the top-selling K/DA POP/STARS Edition seat — inspired by Akali's rapper incarnation — in commemorating the growth of this iconic virtual pop legend, charting their trailblazing path in melding fantasy and reality, and the worlds of gaming, music, and pop culture.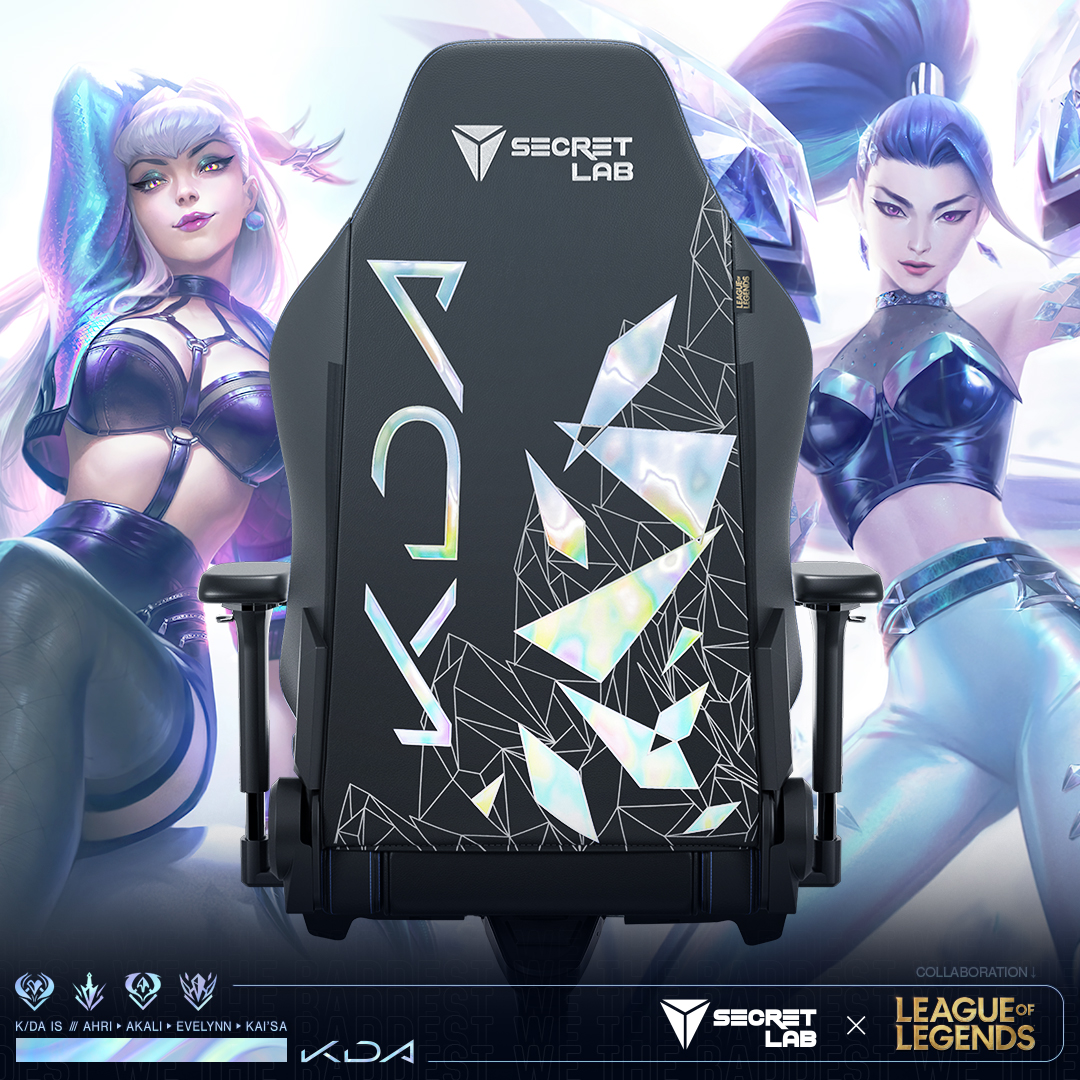 Alongside artists at Riot Games, Secretlab's design team drew inspiration from K/DA's bold and experimental visual style, incorporating new materials and cutting-edge techniques to deliver a brilliant prismatic effect that embodies the group's signature new look.
K/DA stormed onto the world stage in 2018 with 'POP/STARS', which shot to the top of the  iTunes K-pop and Billboard digital charts and to date has garnered over 375 million views on YouTube. With the debut of pre-release single 'THE BADDEST', K/DA now has two consecutive singles that opened at the top of Billboard's World Digital Song Sales chart, testament to the group's sheer stature in popular culture. Ushering in a new era for K/DA and their newest collaborator, Seraphine, the Secretlab League of Legends K/DA ALL OUT Edition seat captures the effusive beats of their latest hit single and the way they've brought together legions of gamers and fans of music and art.
The Secretlab League of Legends K/DA ALL OUT Edition is available to buy for both the Secretlab OMEGA 2020 and TITAN 2020.
Said Ian Ang, co-founder and CEO of Secretlab: 
"K/DA is one of the most popular virtual pop groups of this generation and also the first ever virtual band with roots in a game — they've successfully bridged the gap between pop culture and gaming, and virtual reality and the real world. Their debut with POP/STARS at Worlds 2018's finals blew us away, myself included, and we've all been waiting two long years for their return with even more groundbreaking performances. The Secretlab League of Legends K/DA ALL OUT Edition chair celebrates their comeback and status as a true modern pop sensation, letting fans show off a piece of their favorite band while immersing themselves in their debut EP."
Said Christian Bayley, Director of Consumer Products at Riot Games:
"Secretlab has been an excellent partner in all our creative collaborations. They successfully captured the most distinctive elements of each champion with the Secretlab League of Legends Champions Collection, and the latest K/DA ALL OUT Edition chair similarly brings to life K/DA's new visual style in brilliant fashion. " 
About Secretlab
Secretlab was established in 2014 to create the pinnacle of gaming seats—each extensively designed and engineered with only materials of the highest grade to ensure absolute comfort and unparalleled support. Today, Secretlab is the global choice of gaming seats for the world's premier gaming tournaments, top esports professionals and close to 1 million satisfied users from more than 60 countries worldwide, alongside rave reviews from international media publications. And we're only getting started.
To learn more about us, visit www.secretlab.co, or follow Secretlab on our Facebook,
Twitter (@secretlabchairs), and Instagram (@Secretlab) pages.
About Riot Games
Riot Games was founded in 2006 to develop, publish, and support the most player-focused games in the world. In 2009, Riot released its debut title, League of Legends, to worldwide acclaim. League has gone on to be the most-played PC game in the world and a key driver of the explosive growth of esports. As League enters its second decade, Riot continues to evolve the game while delivering new experiences to players with VALORANT, Legends of Runeterra, League of Legends: Wild Rift, Teamfight Tactics, and multiple work-in-progress titles, while exploring the world of Runeterra through multimedia projects across music, comic books, and more. Founded by Brandon Beck and Marc Merrill, and led by CEO Nicolo Laurent, Riot is headquartered in Los Angeles, California, and has 2,500+ Rioters in 20+ offices worldwide. 
For more information about Riot Games, visit the company's website at riotgames.com, or follow Riot Games on Twitter, Instagram, and Facebook (@riotgames) and League of Legends on Twitter, Instagram, and Facebook (@leagueoflegends).