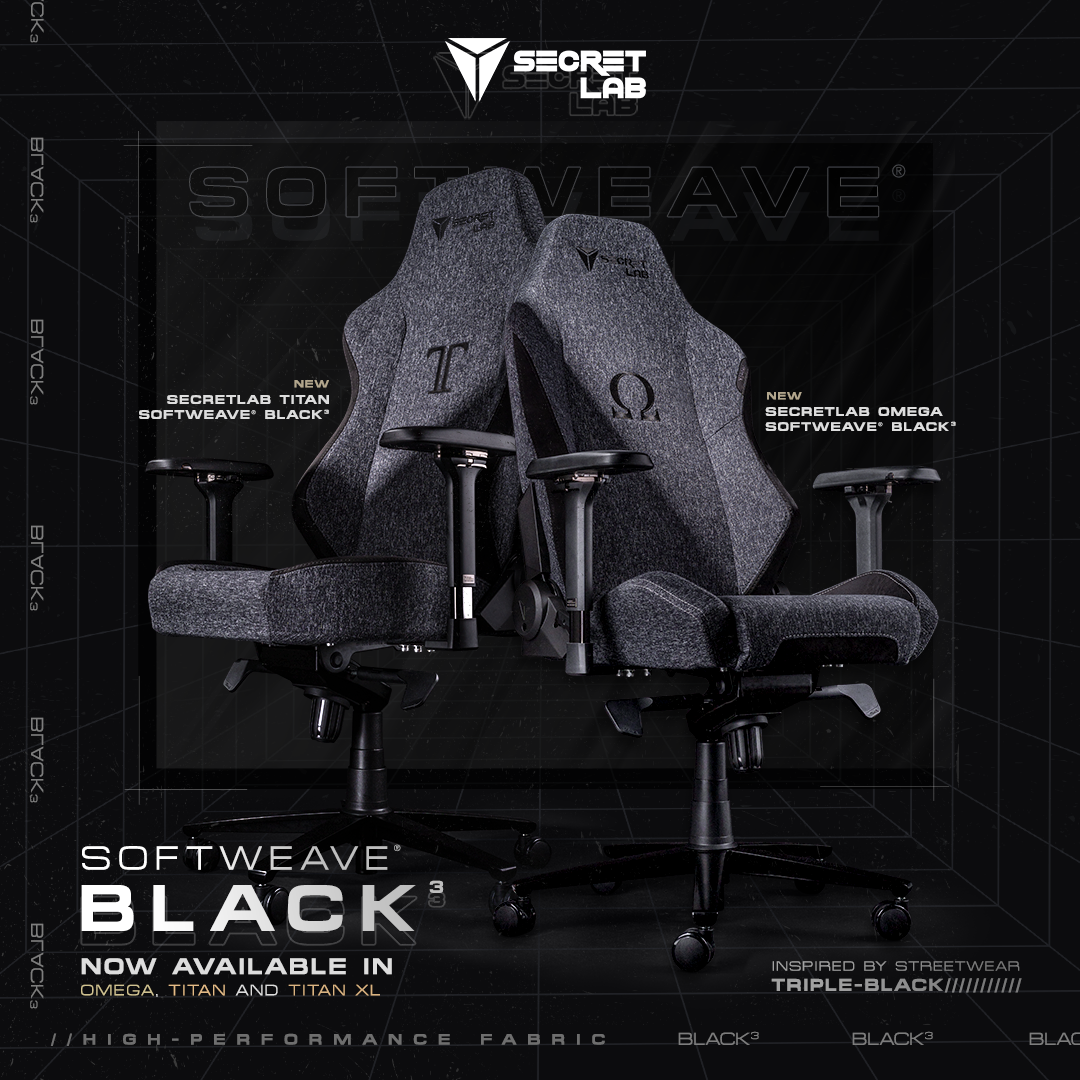 At once somber, enigmatic and timeless, black is a classic that never goes out of style. The Secretlab SoftWeave® BLACK³  — released today (August 27) — pays homage to the exquisite Triple Black colorway with its signature tri-color weave, effectively transforming a high-performance gaming chair into an everyday icon of comfort and style. 
Equipped with all the features of the Secretlab Classics*, including customizable ergonomic support and full-metal 4D armrests, the Secretlab SoftWeave® BLACK³  is engineered to be the perfect choice and statement piece for your battlestation or home office. Designed with the world's top esports professionals such as the likes of Team Liquid, Cloud9, and G2 Esports in mind, it'll keep you seated in world-class comfort all day long. 
*Secretlab Classics is the official collection of our 2020 award-winning gaming chairs, which includes the Secretlab OMEGA 2020, the Secretlab TITAN 2020 and TITAN XL 2020, and all their Special Edition (SE) variants.

High-performance fabric that's soft and breathable
Stay cool throughout the warm summer months or a marathon gaming session over the weekend. Taking cues from the high-performance textiles favored by streetwear brands and tech giants, Secretlab SoftWeave® Fabric is put through a meticulous grinding process to produce a soft, breathable, and fluffy texture. Custom-made from densely-woven short yarn and featuring high tensile strength, SoftWeave® Fabric has been expertly designed and tested to retain its form and structure, even after extended use. 
Exceedingly comfortable to the touch, it exudes a casual elegance and feels oh-so-good under the skin. Experience superior comfort and breathability, no matter how long you're seated for.

Unique, tri-color weave
Upholstered in a custom tri-color weave featuring three different shades of black, the Secretlab SoftWeave® BLACK³ oozes a casual and understated elegance. You'll find the model name embroidered vertically on the gaming chair's rear, evoking a stylish asymmetry that calls to mind the individualism that streetwear is known for.

Minimalist and timeless
Engineered from top-of-the-line materials, the Secretlab SoftWeave® BLACK³ is a perennial and versatile classic designed to be right at home in any setup. With its iconic Triple Black-inspired finish, the Secretlab SoftWeave® BLACK³  is stripped down to its details and shape, able to stand out as the centerpiece of your setup or blend in seamlessly with the rest of your workstation.
It reflects what gamers are already wearing, taking the support and performance that Secretlab gaming seats are known for into the domain of trendy, everyday comfort, in the same way athleisure transformed performance sportswear into fashion staples suitable for daily wear. Take in the immaculate black-on-black stitching and its stealthy good looks — this is a design piece that will transform your setup into a premium and stylish space.
The Secretlab SoftWeave® BLACK³ is available in three models: the Secretlab OMEGA 2020, TITAN 2020, and TITAN XL 2020.