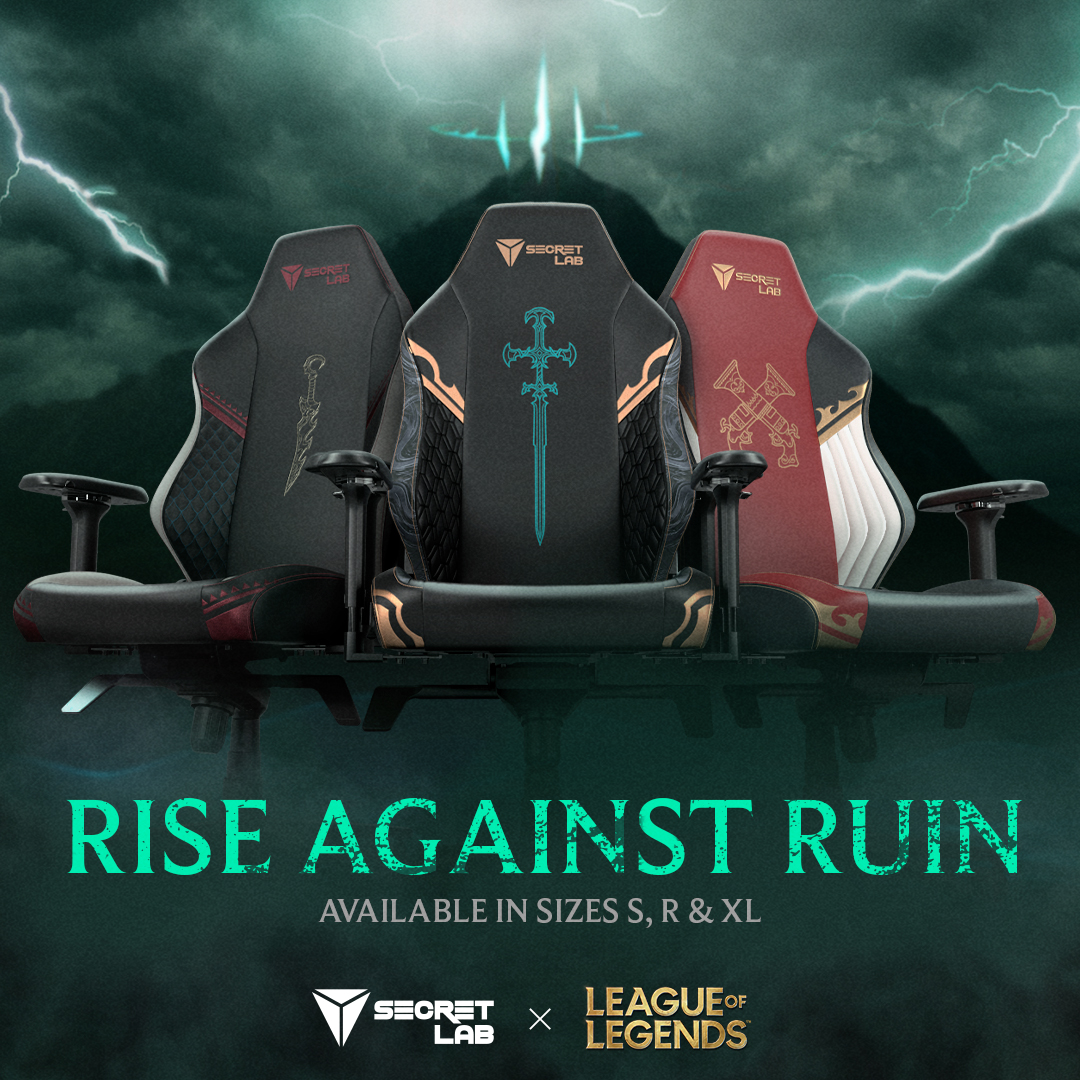 The Black Mist is here. Featuring gaming chairs inspired by Viego, Miss Fortune and Pyke, the Secretlab League of Legends Ruination Collection pays homage to the Ruined King himself and the most iconic defenders of Bilgewater.
JULY 24, 2021 — International gaming seat specialist Secretlab is teaming up again with Riot Games on another collection of designer gaming chairs for League of Legends fans. Created specially for fans who love the rich lore of League of Legends, the Secretlab League of Legends Ruination Collection drops as Viego, The Ruined King, and the sinister Black Mist threaten to consume Runeterra. 
With an enduring legacy built up over a decade, League of Legends is a global phenomenon that has far surpassed its status as the world's most-watched esport. With music videos, comic books, short stories and the upcoming Netflix animated series Arcane, the world of Runeterra is continuing to expand and evolve over different media and across platforms to reach and excite players.
The Secretlab League of Legends Ruination Collection marks the latest chapter in the League of Legends universe, allowing players to step into the shoes of Viego, Miss Fortune and Pyke and immerse themselves in one of the darkest chapters of Runeterra's history. 
Secretlab worked closely with designers at Riot Games to combine the distinctive aesthetic of Viego, Miss Fortune and Pyke with the advancements of the brand new Secretlab TITAN Evo gaming chairs. Upholstered in the new and upgraded Secretlab NEO™ Hybrid Leatherette, the Secretlab League of Legends Ruination Collection draws on unique elements from each champion's armor, abilities and lore, bringing them to life with intricate embroidered details.
Secretlab League of Legends Viego Edition
The Secretlab League of Legends Viego Edition gaming chair is inspired by one of the most formidable figures in Runeterra. With Viego's arrival, you'll be able to command the Black Mist to wreak havoc on your enemies. Wield the full power of the Blade of the Ruined King, embroidered on the backrest — it'll let you show your opponents who truly reigns sovereign.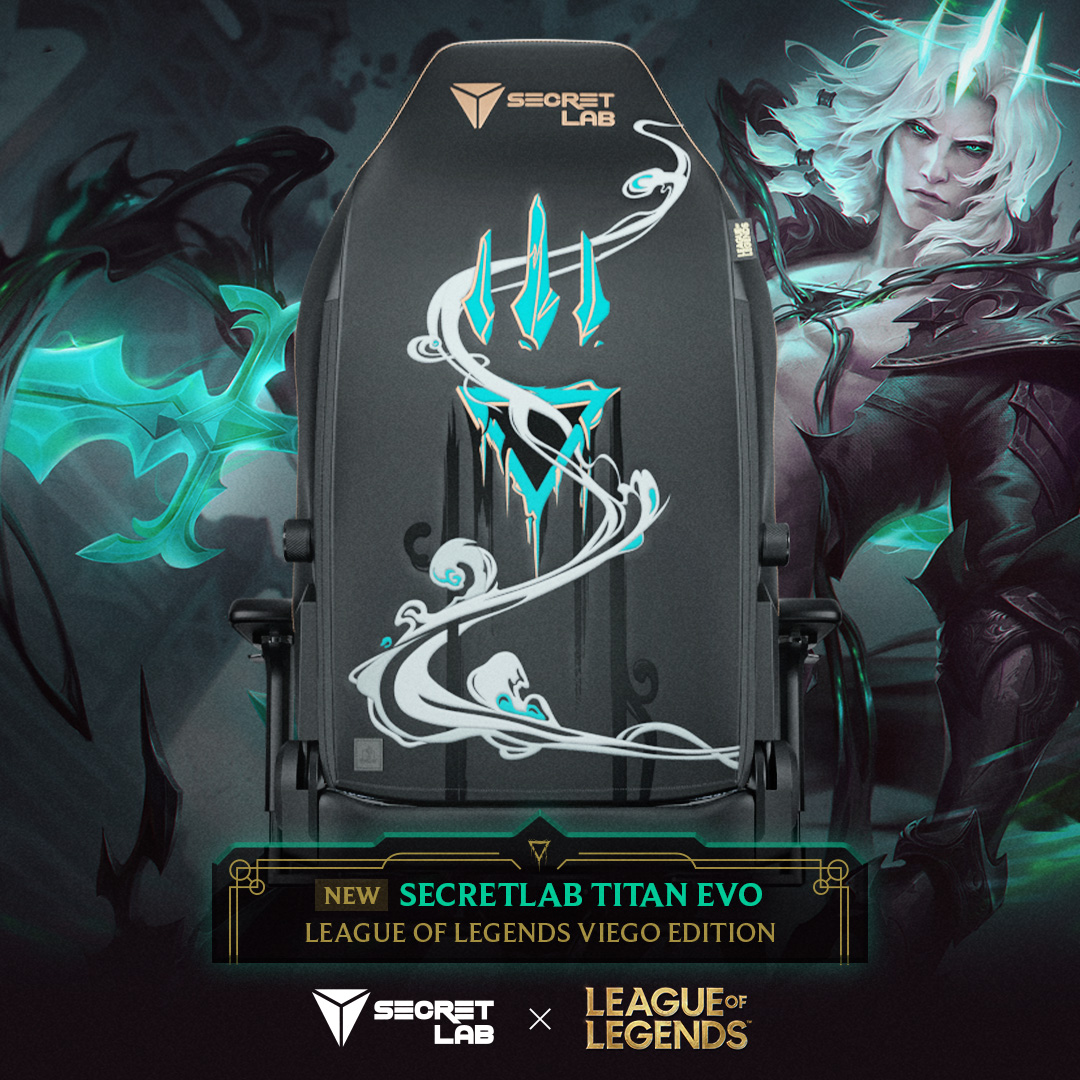 Secretlab League of Legends Miss Fortune Edition
Inspired by the famed Bilgewater captain, the Secretlab League of Legends Miss Fortune Edition pays homage to Sarah Fortune's notoriety as a bounty hunter. Featuring her iconic pistols and upholstered in deep red leatherette, it is the perfect fit for the marksman looking to comfortably decimate their foes in a rain of bullets.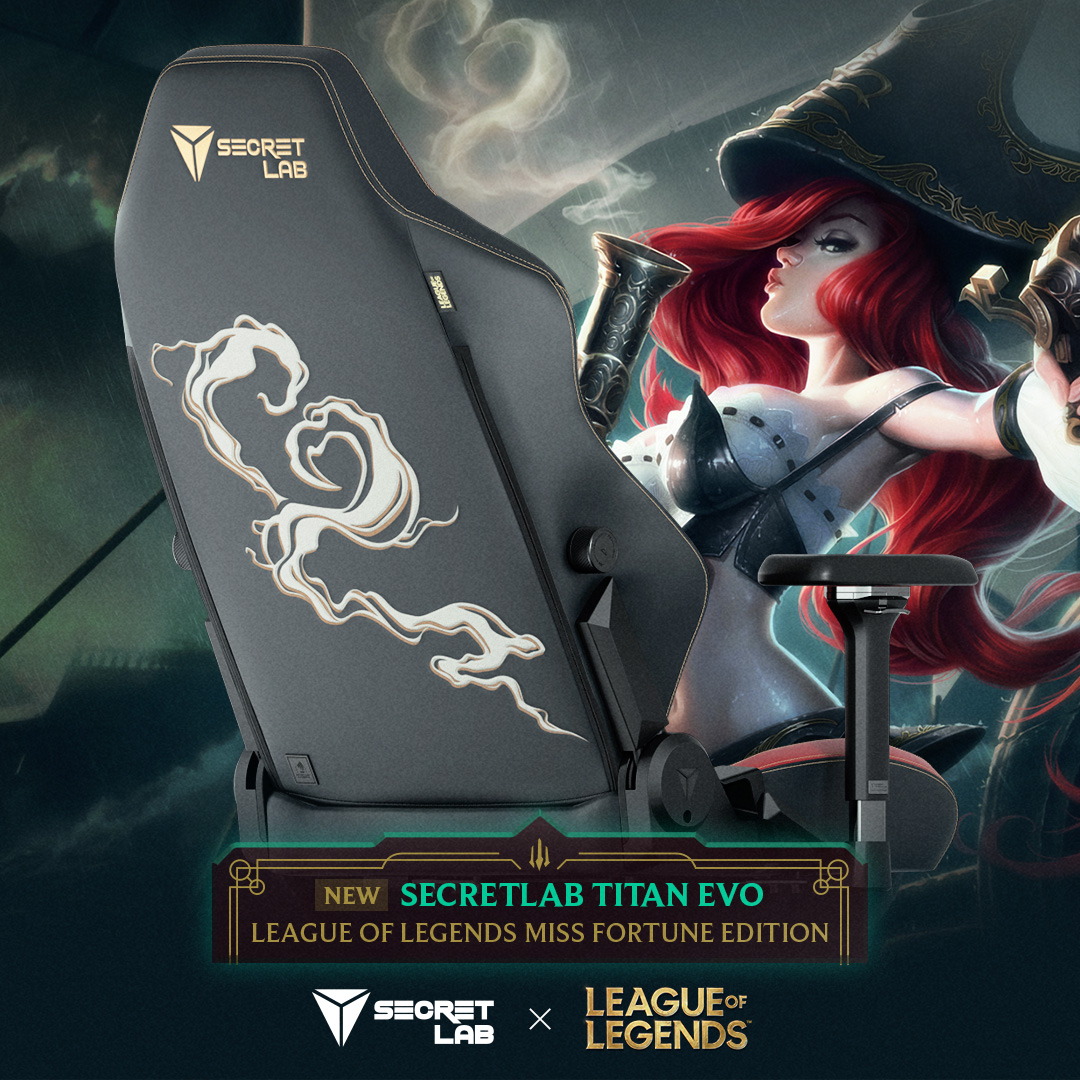 Secretlab League of Legends Pyke Edition
Taking inspiration from the depths of the ocean and the Bloodharbor Ripper himself, the Secretlab League of Legends Pyke Edition features the distinctive scales of a jaull-fish on its side wings. Skewer your opponents and execute them with your ultimate — they'll never see it coming.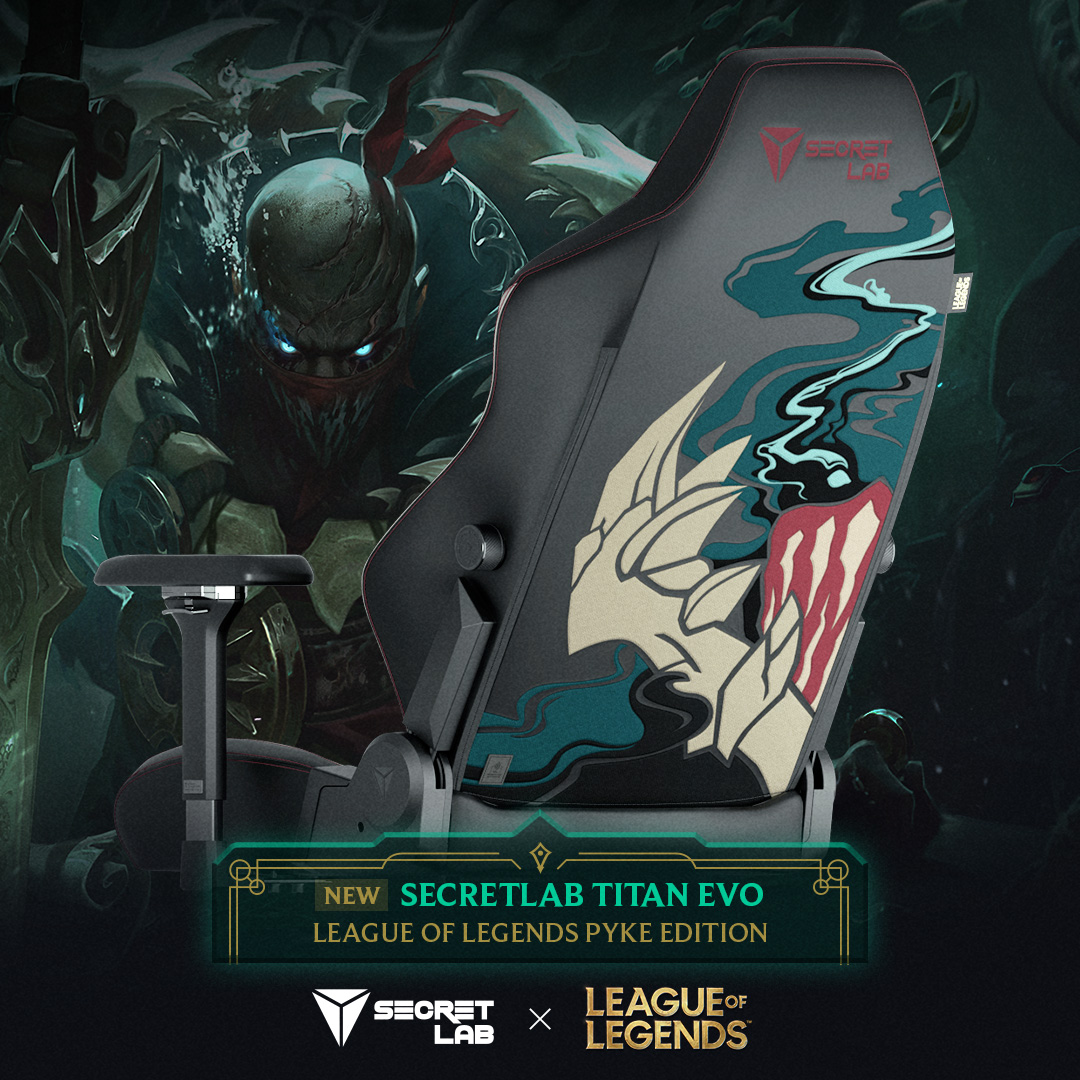 Said Ian Ang, co-founder and CEO of Secretlab:
"We've worked closely with Riot Games over the years to keep both pro players and fans comfortable, supporting the biggest regional leagues, global tournaments and each major milestone in the League of Legends universe with custom-designed gaming chairs. This meant we couldn't go without creating chairs to mark the arrival of Viego and the Black Mist. Our designers enjoyed every moment spent immersing themselves in League of Legends' rich lore once again to perfect even the smallest design elements and ensure our chairs faithfully recreate the spirit and aesthetic of their respective champions."
Said Ryan Cosby, VP Marketing, Riot Entertainment:
"We are thrilled to continue our partnership with Secretlab. They have been a fantastic collaborator when it comes to celebrating major events in the League of Legends universe, helping to enhance the player experience and providing opportunities for personalized fandom. We can't wait to see our community across the globe react to this summer's new Ruination collection and experience this latest chapter of Runeterra both in and out of the game."
From chairs designed for global tournaments like the League of Legends World Championship and Mid-Season Invitational to collections inspired by the champions of Ionia, and virtual girl group K/DA and their chart-topping hits, Secretlab and Riot Games have worked together to delight fans at a variety of major milestone for League of Legends. Backed by years of research into performance ergonomics, Secretlab chairs have kept both the world's best players and millions of League of Legends players around the globe comfortable with their award-winning seats.
About Secretlab
Established in 2014, Secretlab has redefined what people think of when it comes to gaming chairs. Driven by extensive research, development, and cutting-edge engineering, Secretlab's award-winning chairs are the top choice of the world's premier gaming tournaments, championship-winning teams and over 1,000,000 users worldwide. Today, Secretlab's proprietary technology and design innovations continue to push the boundaries in ergonomic comfort and the science of sitting, winning over 40 Editor's Choice and Best Hardware Awards from leading international publications and reviewers.
To learn more about us, visit www.secretlab.co, or follow Secretlab on our Facebook, Instagram (@Secretlab) and Twitter (@secretlabchairs) pages.
About Riot Games
Riot Games was founded in 2006 to develop, publish, and support the most player-focused games in the world. In 2009, Riot released its debut title, League of Legends, to worldwide acclaim. League has gone on to be the most-played PC game in the world and a key driver of the explosive growth of esports. As League enters its second decade, Riot continues to evolve the game while delivering new experiences to players with VALORANT, Legends of Runeterra, League of Legends: Wild Rift, Teamfight Tactics, and multiple work-in-progress titles, while exploring the world of Runeterra through multimedia projects across music, comic books, and more. Founded by Brandon Beck and Marc Merrill, and led by CEO Nicolo Laurent, Riot is headquartered in Los Angeles, California, and has 2,500+ Rioters in 20+ offices worldwide. 
For more information about Riot Games, visit the company's website at riotgames.com, or follow Riot Games on Twitter, Instagram, and Facebook (@riotgames) and League of Legends on Twitter, Instagram, and Facebook (@leagueoflegends).