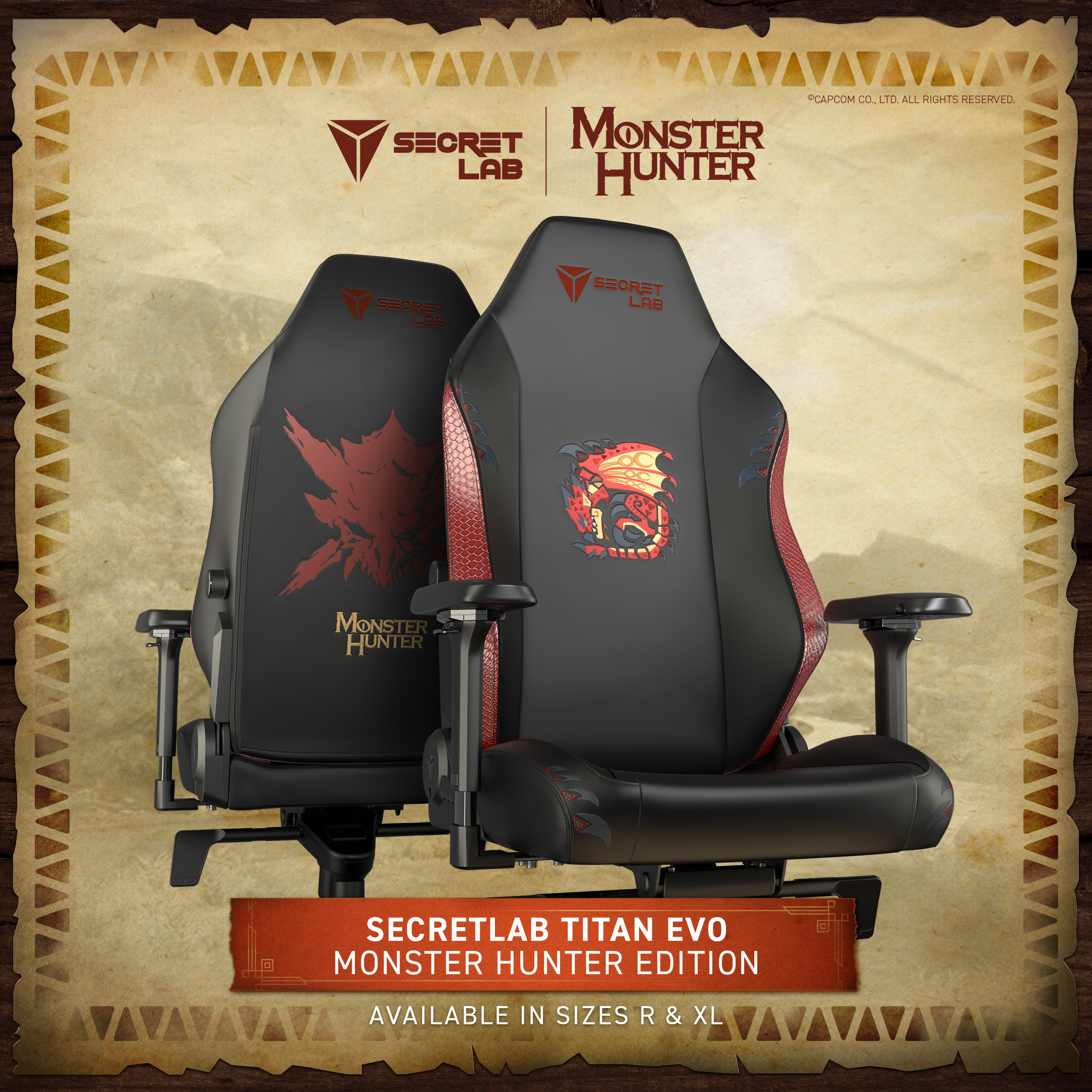 Gear up for the hunt! The Secretlab Monster Hunter Edition gaming chair celebrates the most iconic monster in the franchise with a custom leatherette designed to evoke its scales.
SEPTEMBER 20, 2021 — Rathalos, the "King of the Skies" and icon of the Monster Hunter™ video game franchise, now takes flight in the all-new Secretlab TITAN Evo Monster Hunter Edition gaming chair. Co-designed with pioneering Japanese game developer and publisher Capcom, the new gaming chair celebrates the unrelenting grit of Monster Hunter players against 17 years of the fiery Flying Wyvern's reign.
Available in the all-new Secretlab TITAN Evo Series, the Secretlab Monster Hunter Edition features the signature iconography of Rathalos embroidered on its backrest. Inspired by the Rathalos armor set, the side wings feature a unique and intricate texture that evokes Rathalos' scales, made possible by the use of a custom leatherette selected by Secretlab material engineers.
A leader in the gaming industry, Capcom has charted the industry's shift from arcade machines to video game consoles and PC, and has developed multiple all-time classics from the Street Fighter™ series to Resident Evil™ and more. With the 2018 release of Monster Hunter: World™, currently the best-selling title in Capcom's history, the franchise has been propelled to massive worldwide success. Over the years, Monster Hunter has inspired multiple spin-off video games, an anime series, a manga, and a blockbuster film starring Milla Jovovich, a testament to the franchise's global popularity.  
With the recent releases of Monster Hunter Rise™ and Monster Hunter Stories™ 2: Wings of Ruin, the award-winning and top-selling Monster Hunter series continues to reach new heights and challenge players of all levels. The ergonomic upgrades of the Secretlab TITAN Evo will give even the most seasoned hunters a leg up in the toughest expeditions, while allowing them to complete their Rathalos armor set with the official gaming chair.  
Open now for limited pre-order — be among the first in the world to own the first-ever Secretlab Monster Hunter Edition gaming chair and gear up for the release of Monster Hunter Rise on PC in early 2022.
Said Ian Ang, co-founder and CEO of Secretlab:
"The Secretlab Monster Hunter Edition is not just profoundly inspired by its core gameplay mechanic — crafting weapons and armor from slain monsters, it also celebrates the true-hearted players who've travelled massive lands to uncover and take on larger-than-life monsters in a variety of vast, living, breathing ecosystems. And at the core of the series, Rathalos reigns supreme. Now fans will be able to honor its legacy with materials befitting the emblematic King of the Skies."
About Secretlab
Established in 2014, Secretlab has redefined what people think of when it comes to gaming chairs. Driven by extensive research, development, and cutting-edge engineering, Secretlab's award-winning chairs are the top choice of the world's premier gaming tournaments, championship-winning teams and over 1,000,000 users worldwide. Today, Secretlab's proprietary technology and design innovations continue to push the boundaries in ergonomic comfort and the science of sitting, winning over 40 Editor's Choice and Best Hardware Awards from leading international publications and reviewers.
To learn more about us, visit www.secretlab.co, or follow Secretlab on our Facebook, Instagram (@Secretlab) and Twitter (@secretlabchairs) pages.
About Capcom
Capcom is a leading worldwide developer, publisher and distributor of interactive entertainment for game consoles, PCs, handheld and wireless devices. Founded in 1983, the company has created hundreds of games, including groundbreaking franchises Resident Evil™, Monster Hunter™, Street Fighter™, Mega Man™, Devil May Cry™ and Ace Attorney™. Capcom maintains operations in the U.S., U.K., Germany, France, Hong Kong, Taiwan and Tokyo, with corporate headquarters located in Osaka, Japan. More information about Capcom and its products can be found at www.capcom.com or www.capcom-unity.com.
Capcom, and the Capcom logo are registered trademarks of Capcom Co., Ltd. in the U.S. or other countries. Ace Attorney, Devil May Cry, Mega Man, Monster Hunter, Resident Evil and Street Fighter are trademarks and/or registered trademarks of Capcom Co., Ltd. and/or its subsidiaries, in the U.S. and/or other countries. All other trademarks and trade names are the property of their respective owners.